These 8 Healthy Toddler Indian Breakfast Ideas are not only super fast to make with some prep-work but they are also filled with protein ,fiber as well as other essential vitamins and minerals for growing toddlers!
They are also so good, that they will be on repeat at your house for weeks.
Hi Friends,
One of the great things about a lot of these recipes is that they are a great way to sneak lots of extra veggies into your child's meals!
Having your children try and eat different fruits and vegetables when they're younger will help develop a healthy palette.
Disclosure: This post contains affiliate links, which means I can earn a small commission if you purchase through the link at no additional cost to you. Thank you for your support!
These plates are from Re-Play Recycled(affiliate link). They're my favorite and liked by my daughter as well.
It seems like the rest of you parents are in need of healthy and easy to make meals for your little one as much as I am.
These 8 breakfasts are the ones which i regularly prepare and serve over and over again because they are
Easy to make early morning when i am in a hurry to go to office with some prep work done previous night .
Lot of these ideas posted below has one main base ingredient ie idli/dosa batter.You can make N no of recipes with it.Have tried to include lot of vegetable puree or finely chopped vegetables.
Dhwani likes to eat yogurt with any meal as a side.So she eats yogurt in her breakfast along with fruits and either dosa ,idli ,sandwich or toast with peanut butter or avocado pretty much every day.
Tips for feeding your toddler (1 to 3 years)
Offer meals and snacks around the same time each day.
Eat meals and snacks prepared at home more often.  Prepare healthy homemade recipes and avoid processed food.
Let your toddler decide how much to eat from the foods you offer. It is normal for toddlers to refuse to eat new foods, change their minds about foods they ate before, or want the same food every day. Continue to offer a variety of familiar foods and new foods at each meal. Quantity of food intake will change from kid to kid.
Always supervise your toddler while eating. Cut foods into bite size pieces to avoid choking. 
Offer water between meals. Sipping on milk or juice between meals can decrease appetite. If you give your toddler juice, please offer only 100% fruit juice prepared at home and limit it to 4-5 oz a day.
Always try to add fruits and vegetables that are in season and locally grown.
Other Recipe Collections to Try from my blog
40+ Kids Healthy Lunch Box Recipes
15 Instant Pot Indian Rice Recipes
7 Easy & best Veg Sandwich Recipes Indian Style
8+ Instant Pot Vegetarian Soup Recipes
HERE ARE 8 HEALTHY INDIAN BREAKFAST IDEAS FOR YOUR TODDLER THAT YOU CAN TRY RIGHT AWAY!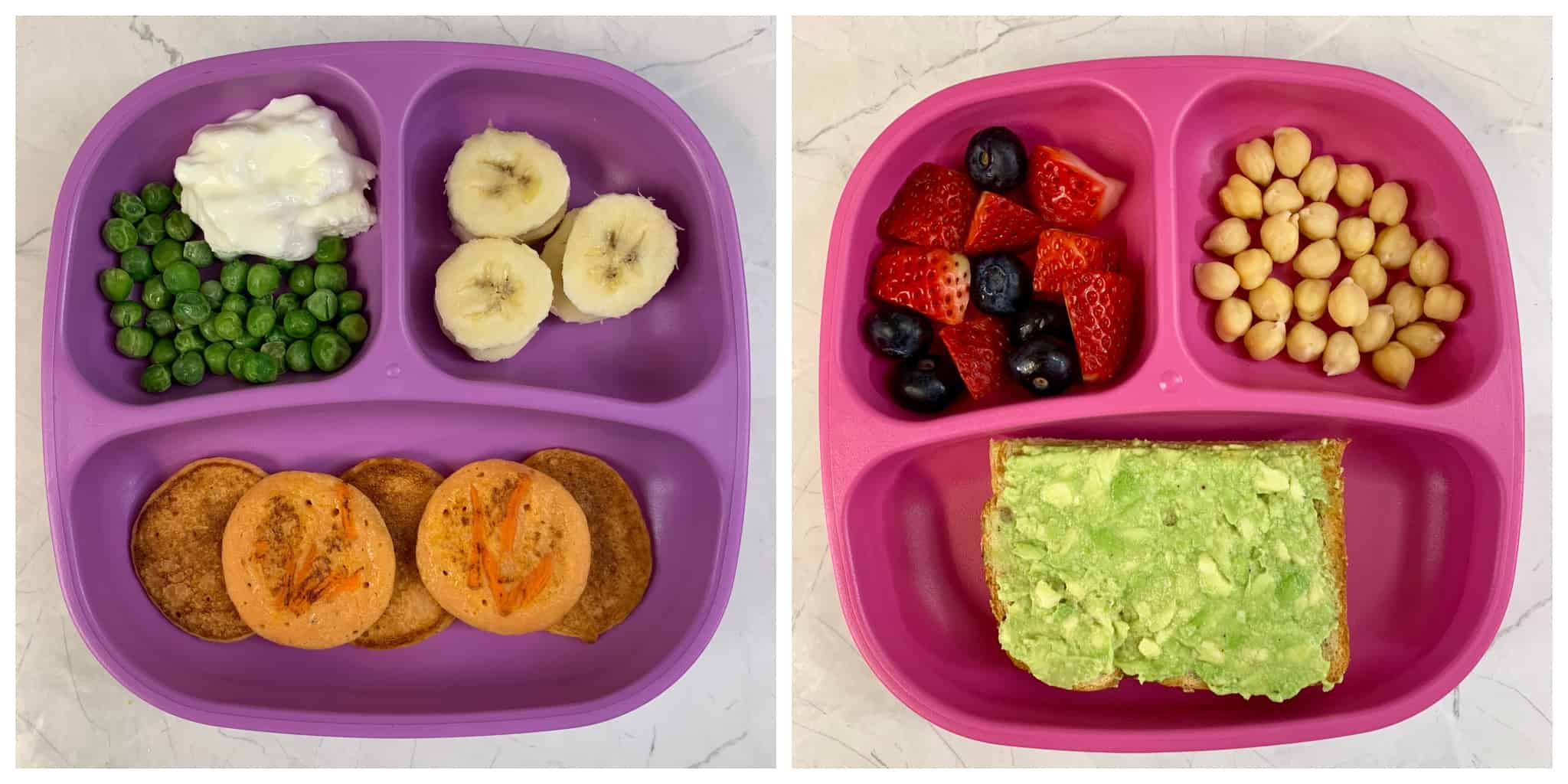 Breakfast on Left – Carrot Coin Dosa + Sliced Banana + Steamed Peas & Organic Yogurt
To make Carrot Coin Dosa – in a small bowl, mix together 1/2 cup plain dosa batter and 1/4 cup of carrot puree until well incorporated. In a dosa pan/griddle drop about 1 tbsp of dosa batter each on the tawa to make coin sized dosa's.
Breakfast on Right – Avocado Toast + Boiled Chick Peas + Blueberries & Strawberries
Simple as can be! Mash up half avocado ,salt and pepper and smear this thick mixture on toasted whole wheat or brown bread on one side.
Get some protein by adding cooked/canned chickpeas(garbanzo beans)
Also added washed Organic Blueberries & Strawberries which are cut into bite sized.
Breakfast on Left – Neer Dosa + Honey + Sliced Red Grapes
To make neer dosa: Soak 1/2 cup of white or brown rice overnight and grind soaked rice with 1/4 cup of water to make smooth paste. Add more water later.
Make sure the batter is very thin, just like butter milk otherwise the dosa will not turn out proper.Here is the detailed neer dosa recipe.
Breakfast on Right – Lemon Idli + Steamed Carrot & Organic Yogurt + Chopped Pineapple
To Make Lemon Idli :Toss steamed mini idli in tempering (ghee, mustard seeds ,turmeric powder, hing, salt lemon juice) for 1 minutes.Here is the detailed lemon idli recipe.
Chopped steamed carrot with some organic homemade yogurt.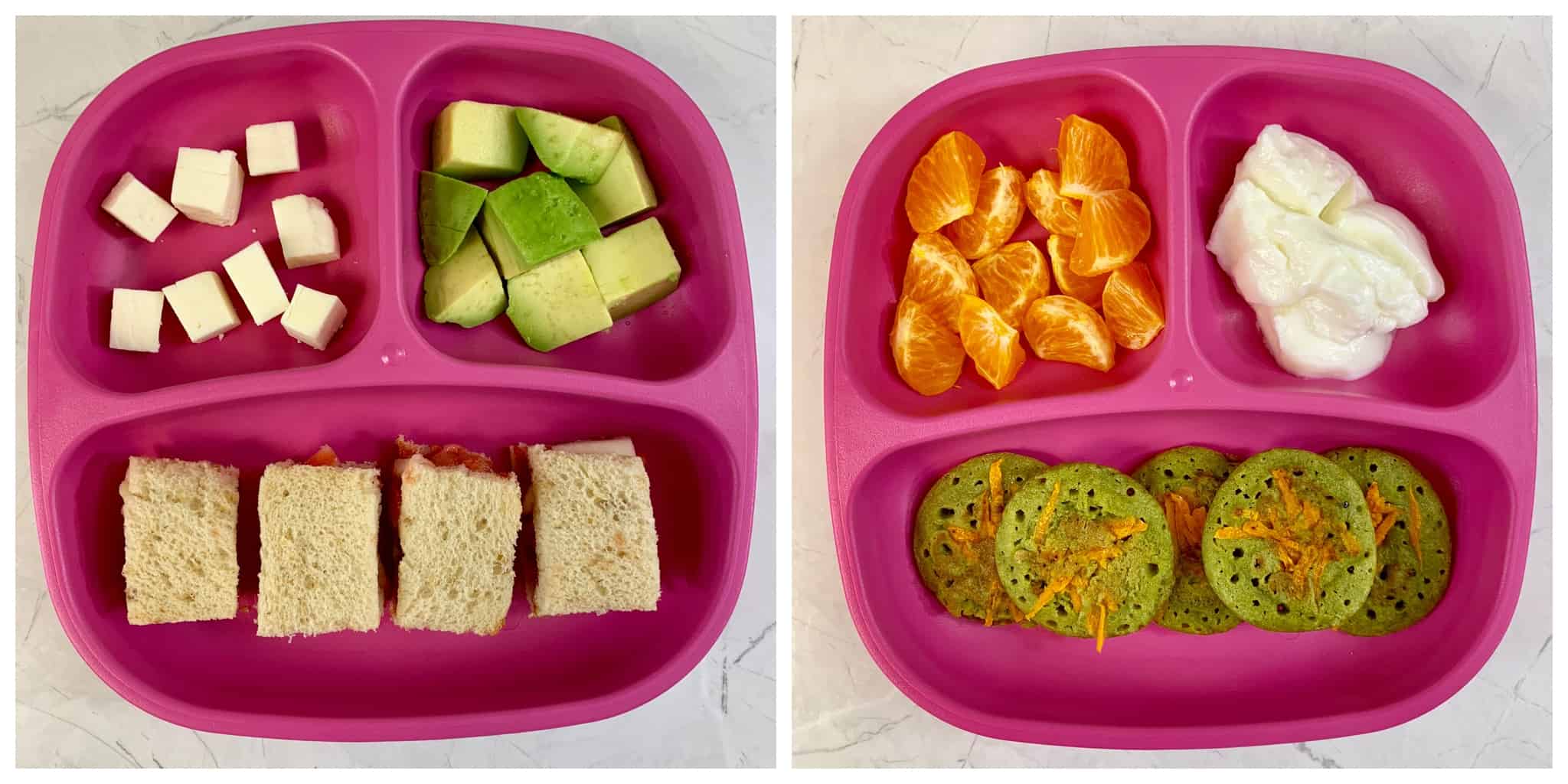 Breakfast on Left – Fruit Sandwich + Avocado Cubes + Paneer Cubes
To make Fruit Sandwich – simply place two slices of bread (I used whole wheat) onto a cutting board. Cut off the crusts and spread roughly 1 teaspoon fruit jam on both slices and then layer seasonal fruits like banana ,strawberry and apple. Place the other bread on top. Cut into equal pieces and serve. Detailed Video recipe here.
I have added raw paneer (cottage cheese) cubes which are a great source of protein.
Breakfast on Right – Spinach Coin Dosa + Organic Yogurt + Orange
To make Spinach Coin Dosa – in a small bowl, mix together 1/2 cup plain dosa batter and 1/4 cup of spinach puree until well incorporated. In a dosa pan/griddle drop about 1 tbsp of dosa batter each on the tawa to make coin sized dosa's.Here is the detailed Spinach Coin Dosa Recipe
You can beef up the meal by adding in a bit of yogurt and get some active cultures in their digestive system.
Breakfast on Left – Ragi Dosa + Sprouted Moong & Pomegranate Salad + Organic Yogurt
To Make Ragi Dosa:In a small bowl, mix together 1/2 cup plain dosa batter and 1/4 cup of sprouted ragi flour until well incorporated. In a dosa pan/griddle drop about 2 tbsp of dosa batter each on the tawa to make mini sized dosa's.
 To Make Moong Sprouts and pomegranate salad – any sprouts are fine, moong is colorful & fun ,also adding pomegranate gives sweetness to salad, toss both well with some salt and pepper.
Breakfast on Right – Vegetable Paniyaram + Organic Yogurt + Orange & Strawberries
Pin It For Later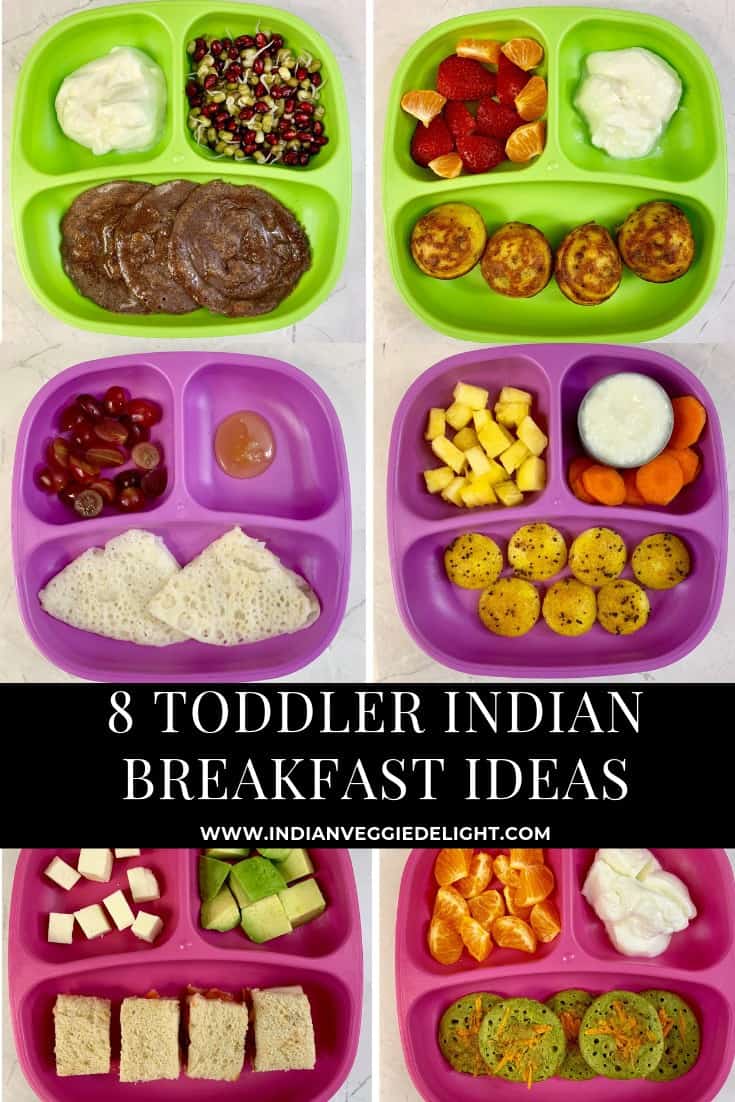 ♥ We LOVE to hear from you If you make this recipe, please share your food photo with hashtag #indianveggiedelight on Facebook or Instagram, so we can see it and others can enjoy it too! Thank you ♥
Subscribe to my Youtube Channel for healthy & tasty video recipes. Looking for Instant Pot recipes, check out my Instant Pot Recipes board on Pinterest.