Collection of over 20+ quick and easy Air Fryer Roasted Vegetables recipes that can be a perfect veg side dish for your next busy weeknight or holiday dinners. From sweet potato fries to carrot fries, from cauliflower, green beans, or potatoes, here is your ultimate guide to roasting vegetables in the air fryer.
If you're wondering what to make for dinner in the air fryer, you've come to the right place. These crisp roasted vegetable recipes in the air fryer are everything you want to eat, perfectly tender and packed with so much flavor.
An Air fryer is an amazing kitchen appliance that can air fry, roast, bake, broil, dehydrate and reheat foods. It works by circulating hot air around the food, allowing the use of little oil and still getting crispy food. You can cook from fresh or frozen vegetables.
I used my Instant Vortex Plus 6 Quart Air Fryer for this recipe. I love this because you can get the food in a single layer all at once, and dinner is ready in 30 minutes or less. Any air fryer brand like Cosori 5.8QT, Cuisinart Air Fryer Oven, Ninja Foodi, Instant Pot Duo Crisp works here.
Jump to:
Why You Should Roast Your Veggies in the Air Fryer
One of my favorite ways to use an air fryer at home is by roasting veggies!
It cooks faster than the oven (almost less than half the time of roasting in the oven).
Healthy, crisps to perfection with 95% less oil.
Easy to clean up.
These are perfect for the holidays, too. Also, check out Indian Party Menu Ideas if you plan to host an event at your home.
Here are 20+ Easy Air Fryer Roasted Vegetable Recipes
Air Fryer Roasted Vegetable Medley
Ingredients to make air fryer vegetables
Vegetables: I used quick-cooking mixed vegetables like red onion, red bell pepper, broccoli, zucchini, and cauliflower to match the roasting time in this recipe. You may pair root vegetables like sweet potato, carrots, beets, pumpkin, or butternut squash together.
Olive oil: Using good quality Extra-virgin Olive oil adds the best flavor and crisps up the vegetables while air frying.
Seasonings: Garlic powder, salt, and freshly ground black pepper adds a nice flavor to these air fryer veggies.
How to Air Fry Vegetables
Cut the vegetables roughly the same size for even cooking.
Transfer all the vegetables to a medium bowl. Add olive oil and season with garlic powder, salt, and pepper. Toss them well, so they are all coated with the seasoning.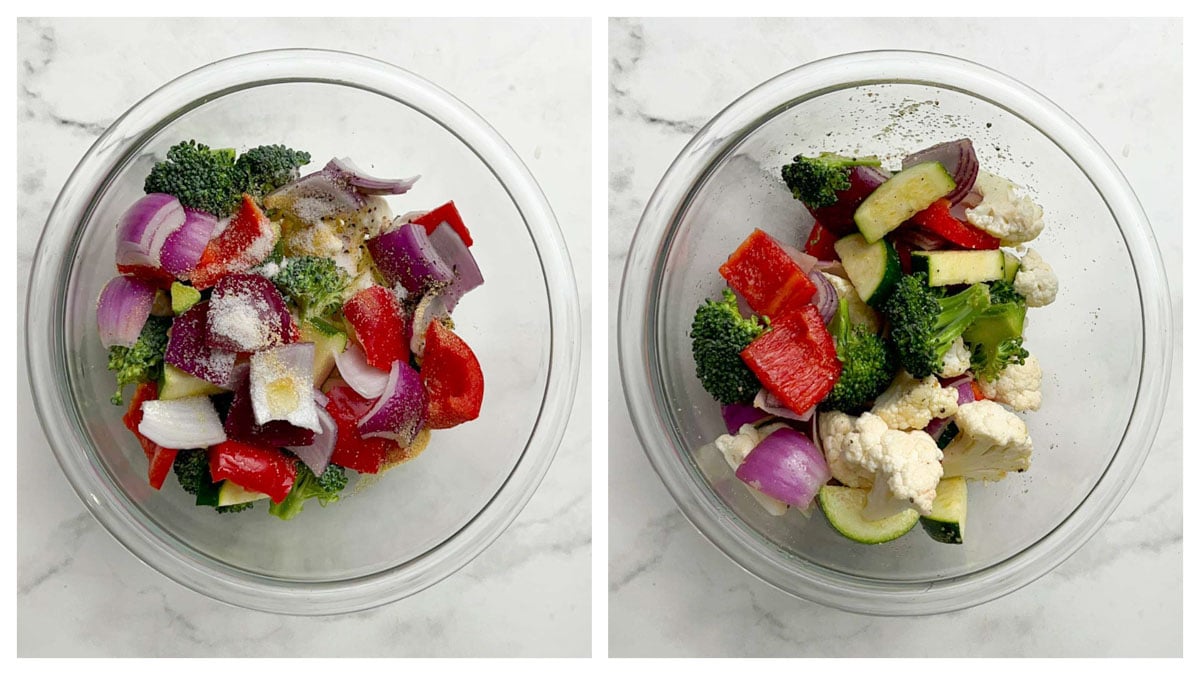 Preheat the air fryer to 380°F (193°C). Add the seasoned vegetables to the air fryer basket and spread them in a single layer (cook in batches if required). Spray some oil on top if required.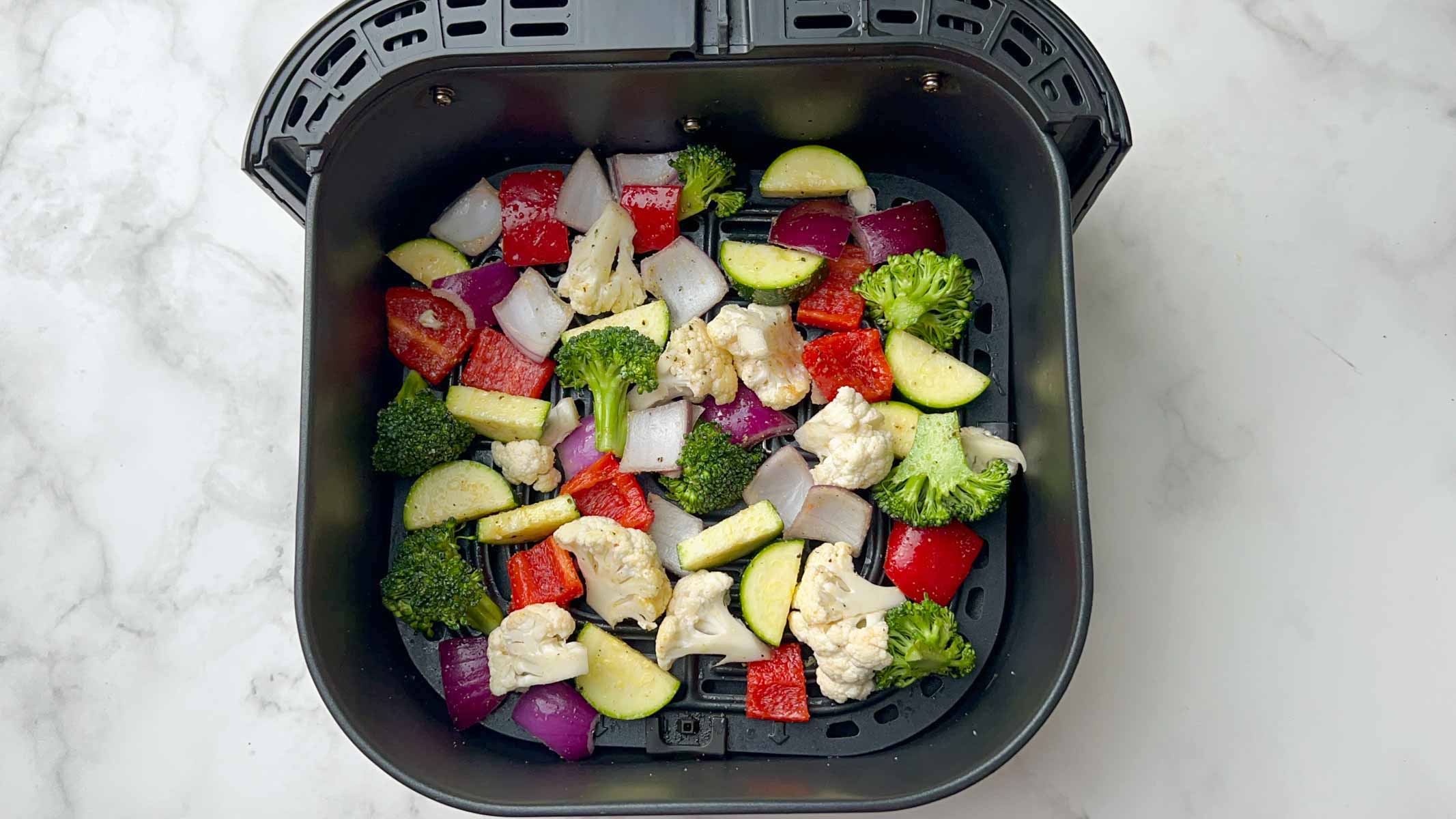 Air fryer them at 380°F (193°C) for 8-10 minutes or until slightly brown and crisp. Shake the basket halfway through. Mine was cooked perfectly in 10 minutes.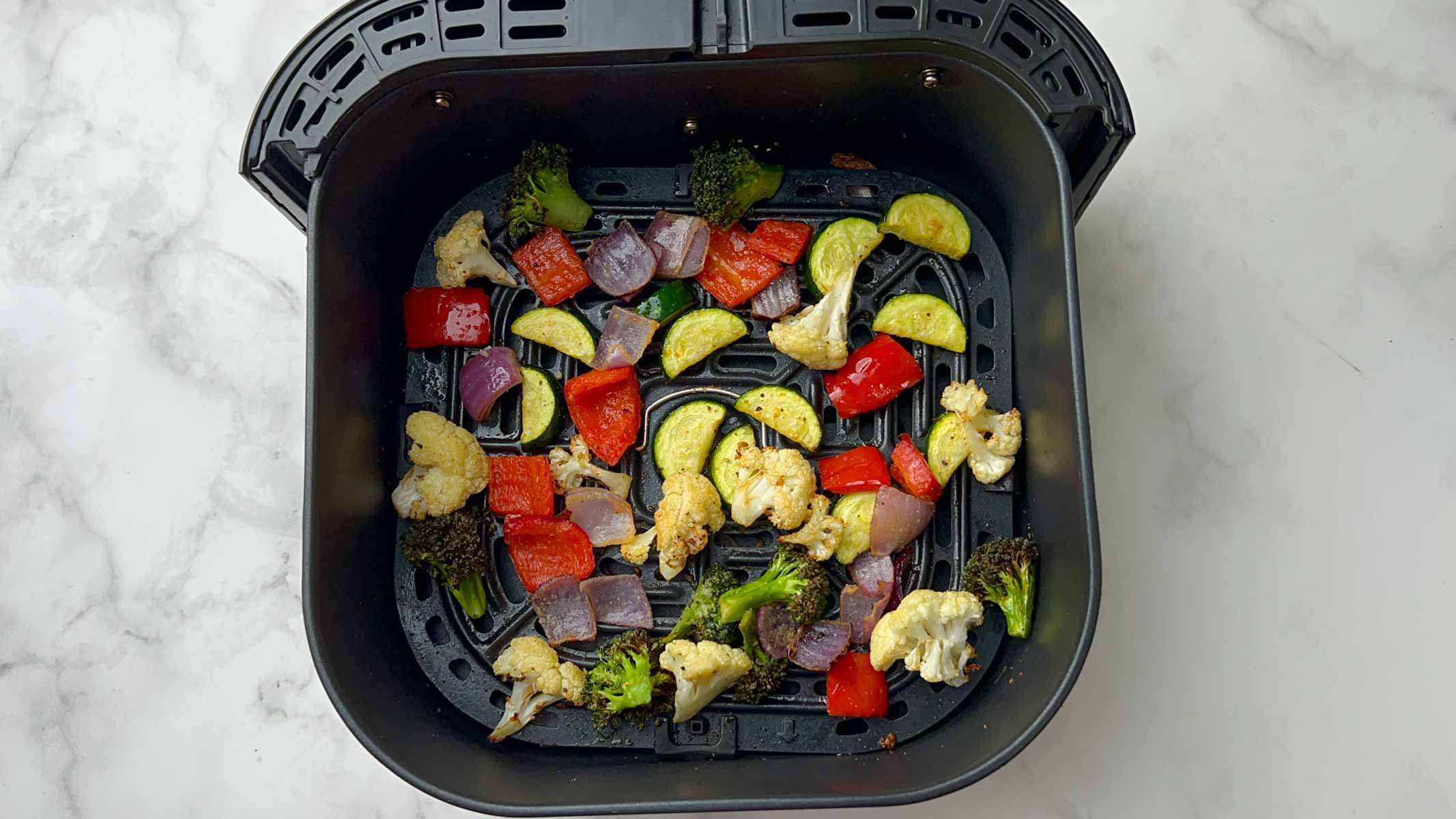 Air Fryer Roasted Vegetables are ready. Remove to a serving plate, squeeze some lime juice and serve it immediately with a tasty dipping sauce on the side.
Tips for Air Frying Roasted Vegetables
Cut veggies of the same size: Cut the veggies about the same size, which helps quick and even cooking.
Work in batches: Make sure to spread the vegetables in a single layer in the air fryer basket, leaving some space between each other to avoid uneven cooking. Don't overcrowd. Cook in batches if needed.
Shake the basket halfway: It's important to shake the basket halfway through to allow the veggies to be cooked evenly.
Frozen Veggies: if using frozen veggies, add extra few minutes to the cooking time, which includes the time required to thaw the vegetables during the cooking process. Also, make sure not to overcrowd the frozen veggies in the basket, allowing the water to evaporate, making the veggies crispy.
Frequently Asked Questions
Other Recipe Collections to Try from my blog
18+ Instant Pot Vegetarian Soup Recipes
Subscribe to my Youtube Channel for healthy & tasty video recipes. Looking for Instant Pot recipes, then check out my Instant Pot Recipes board on Pinterest.