Looking for Vegetarian/Vegan Curry recipes to make in your Instant Pot? Here is my collection of 25+ Best Instant Pot Pressure Cooker Indian Curry Recipes from my blog. You can also find 200+ pressure cooker recipes which also include Indian rice, beans, lentils, and dessert recipes.
I have prepared all these dishes in my electric pressure cooker, Instant Pot DUO60 6 QT. You can use any equivalent electric pressure cooker like Mealthy Multipot.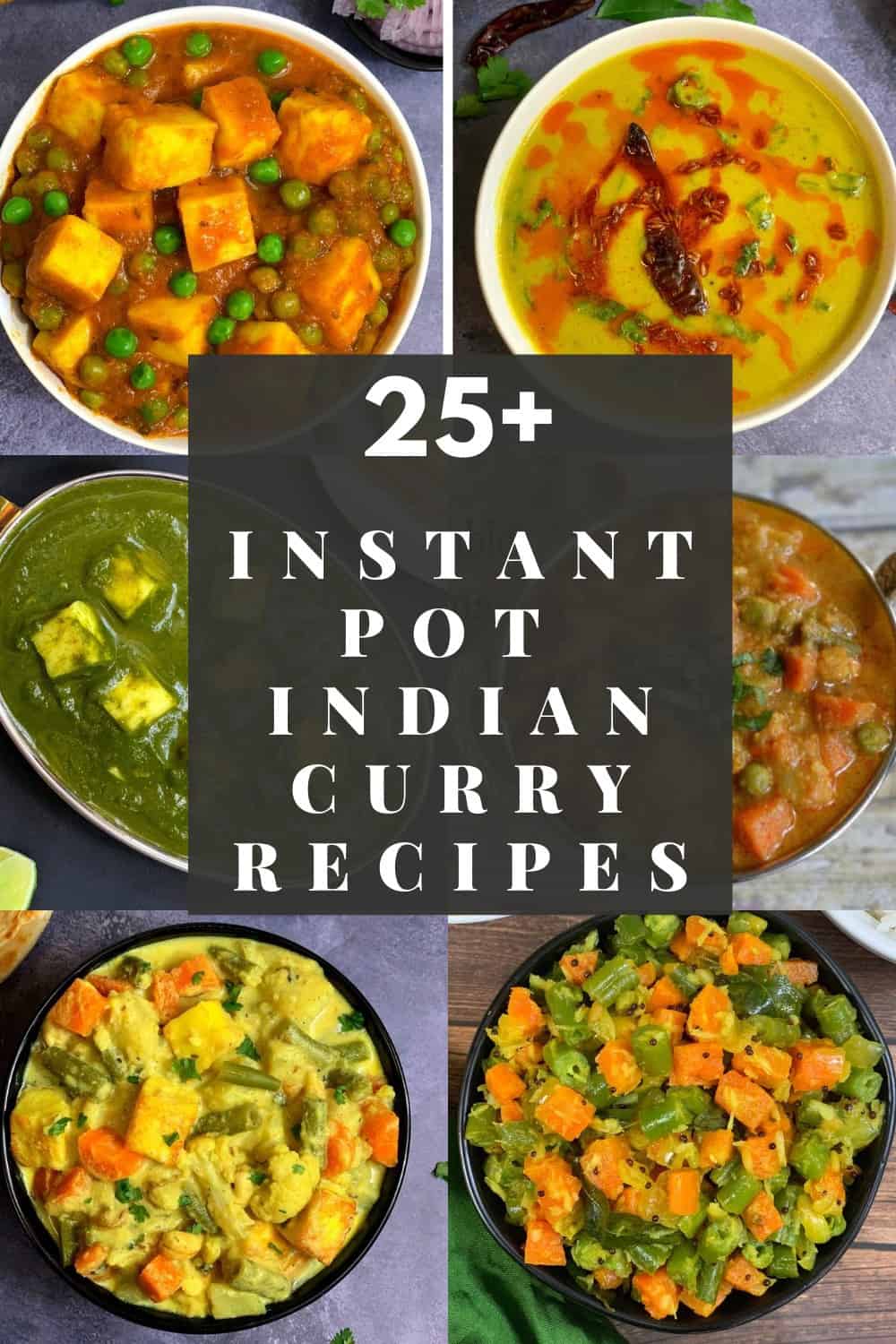 The word "Curry" generally refers to a spicy gravy preparation—for example, Popular Restaurant-style Punjabi curries like Chana Masala, Dal Makhani, Paneer Makhani, Kadhi, or South Indian Kurma, Poriyal all of these can be made in the Instant Pot.
Yup, there's no need to order take-out Indian Food next time when you can make these simple homemade curry yourself. These curries pair perfectly with naan/roti or rice.
You can buy the naan/roti from the frozen section in Indian grocery stores or use stone fire mini naan. You can also make perfect basmati rice in the instant pot.
If you are new to Indian cooking and spices. Here is the read on Basic Spices for Indian Cooking. You can easily find these spices in the nearest Indian grocery stores or on Amazon.
Also, check out Indian Party Menu Ideas if you plan to host an event at your home.
Why Make Curries in the Instant Pot?
Curries are my favorite thing to cook in my pressure cooker because it's so quick, easy, one-pot, hands-off, and less messy for cleaning.
You can also cook both the curry and rice together (provided they have similar cooking times) using the pot-in-pot method (PIP) in your Instant Pot. This helps to reduce the cooking time in the Instant pot as two meals are cooked at the same time.
Some Instant pot curry recipes may call for a quick release (i.e., opening up the valve immediately after the pressure cooking time). Be careful, as the hot liquids can spill out along with the steam resulting in a huge mess in the kitchen.
Why do I get a BURN notice on my Instant Pot?
When you get a burn notice on your Instant Pot, it may be for one of two reasons.
You don't have enough liquid in your Instant Pot.
Often while sauteing, small bits of food happen to stick to the pot. If they are not removed before pressure cooking, due to heat, they get burnt. So make sure you deglaze the inner pot with some water. This is the best way to avoid getting burn notice.
Why pressure takes so long to build up in Instant pot?
Few curry recipes may have a lot of liquid in the pot, hence it takes a while for an Instant pot to build the pressure. Once the pressure builds up, cooking will be faster.
Best Instant Pot/Pressure Cooker Accessories
Here are 25+ Instant Pot Pressure Cooker Indian Curry/Sabzi Recipes
Let's have a look at the 25+ Instant Pot Vegetarian & Vegan Indian Curry Recipes, which will offer you a variety of options. They also include vegan, gluten-free, and low-carb recipes.
I hope you found your favorite Indian Curry to make in the Instant Pot. This recipe collection list is only bound to grow more and more, as I cook more interesting recipes. So do make sure, to bookmark this page by clicking the heart icon ❤️ on the right-hand side.
If you are looking for Lentils recipes, then do check out the Indian Lentil & Beans Instant Pot Collection.
You Might Also Enjoy These Recipe Collections
DID YOU MAKE ANY OF THESE 25+ INSTANT POT INDIAN CURRY RECIPES?
I'D LOVE TO KNOW HOW THEY TURNED OUT! LEAVE A COMMENT AND A ⭐️ RATING BELOW? SO WE CAN SEE IT AND OTHERS CAN ENJOY IT TOO! THANK YOU ♥
Subscribe to my Youtube Channel for healthy & tasty video recipes.