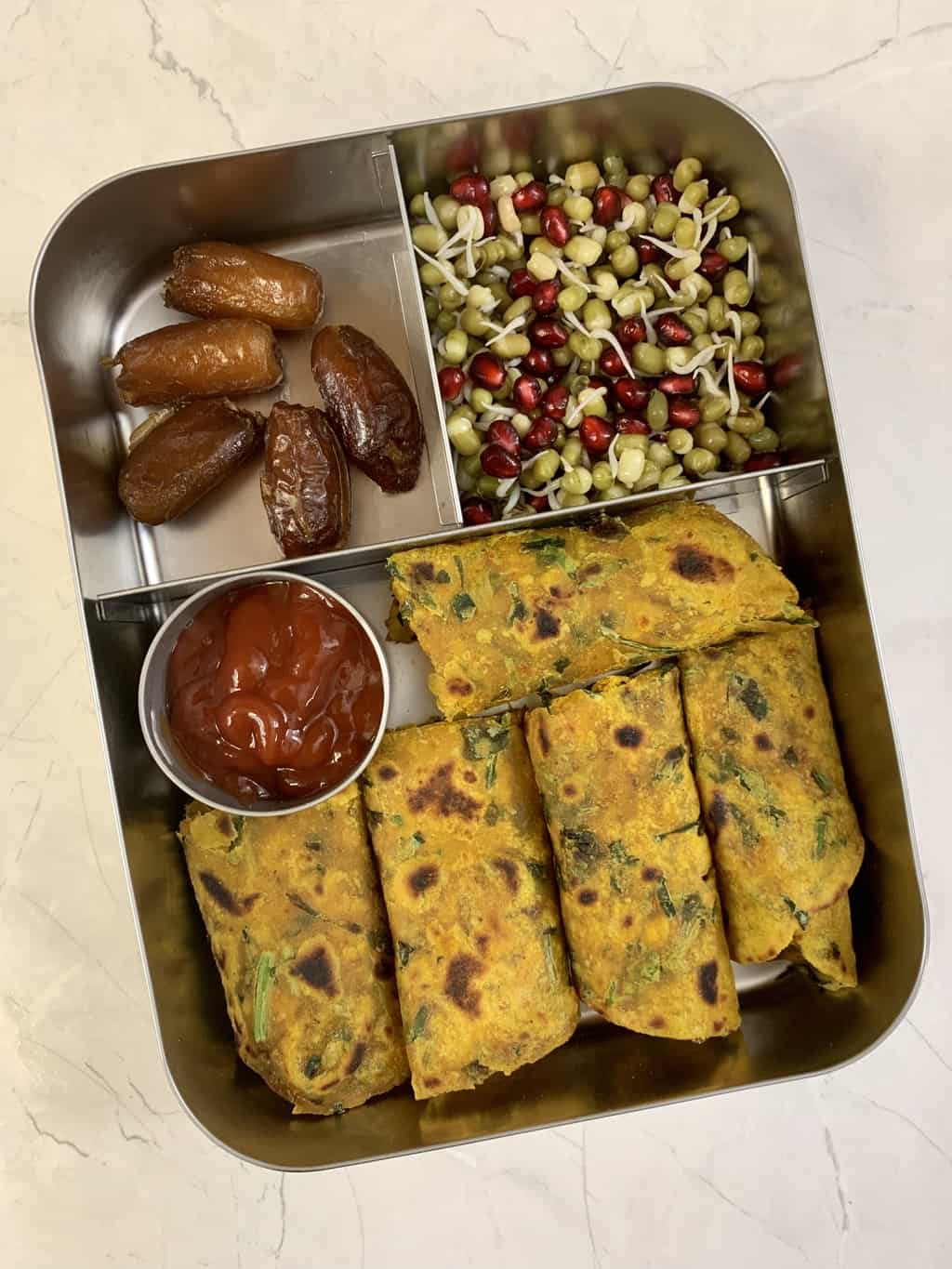 Disclaimer: I am not a nutritionist or a dietician, I am doing what is best for my kid to create a balanced lunch.
KIDS LUNCH BOX #19 – Methi Paratha + Ketchup + Moong Sprouts & Pomegranate Salad + Dates
Here is what I packed for school lunch…
LUNCH – Methi Paratha – Here is the Recipe Link
SNACK – Tomato Ketchup –few squeezes for dipping.
SNACK – Moong Sprouts & Pomegranate Salad- This is a very simple ,healthy and colorful salad.I have steamed/boiled sprouted moong for 5 minutes till they are little soft.Drain the water and added pomegranate arils , limejuice ,salt ,pepper.thats it.
SNACK – Dates – Also known as Khajoor are very nutritious and rich in iron.I have used pitted dates (de-seeded).
Prep Work For The Previous Evening
You can prepare dough in the night and refrigerate in airtight container.
The sprouts need about a day's time to get ready. Soak the whole green moong for 4-6 hours. Drain the water , cover with a moist muslin cloth and set aside to sprout.
Keep a cup of pomegranate arils ready for the salad.
Notes
Packed in a stainless steel tiffin box called Lunchbots which is Eco-Friendly, Dishwasher Safe, BPA-Free and is easily available on Amazon .Do not use plastic lunch boxes to your kids, they are toxic.
For the soft chapati, it is important to cover the dough and set aside for at least 20 minutes.
You can increase or decrease quantity based on your child's appetite.
Pin It For Later
♥ We LOVE to hear from you If you make this recipe, please share your food photo with hashtag #indianveggiedelight on Facebook or Instagram, so we can see it and others can enjoy it too! Thank you ♥
Subscribe to my Youtube Channel for healthy & tasty video recipes.