Today's lunch box suits both adults and kids as well. Flaxseed Roti or Phulka with Beetroot Chickpeas Stir Fry, a heavenly combo. This use to be one of my lunch box item when I was a kid, today i'm packing the same for my loved ones. This Lunch box can be prepared under 20 minutes if you have done preparation work previous evening.Please try and let me know!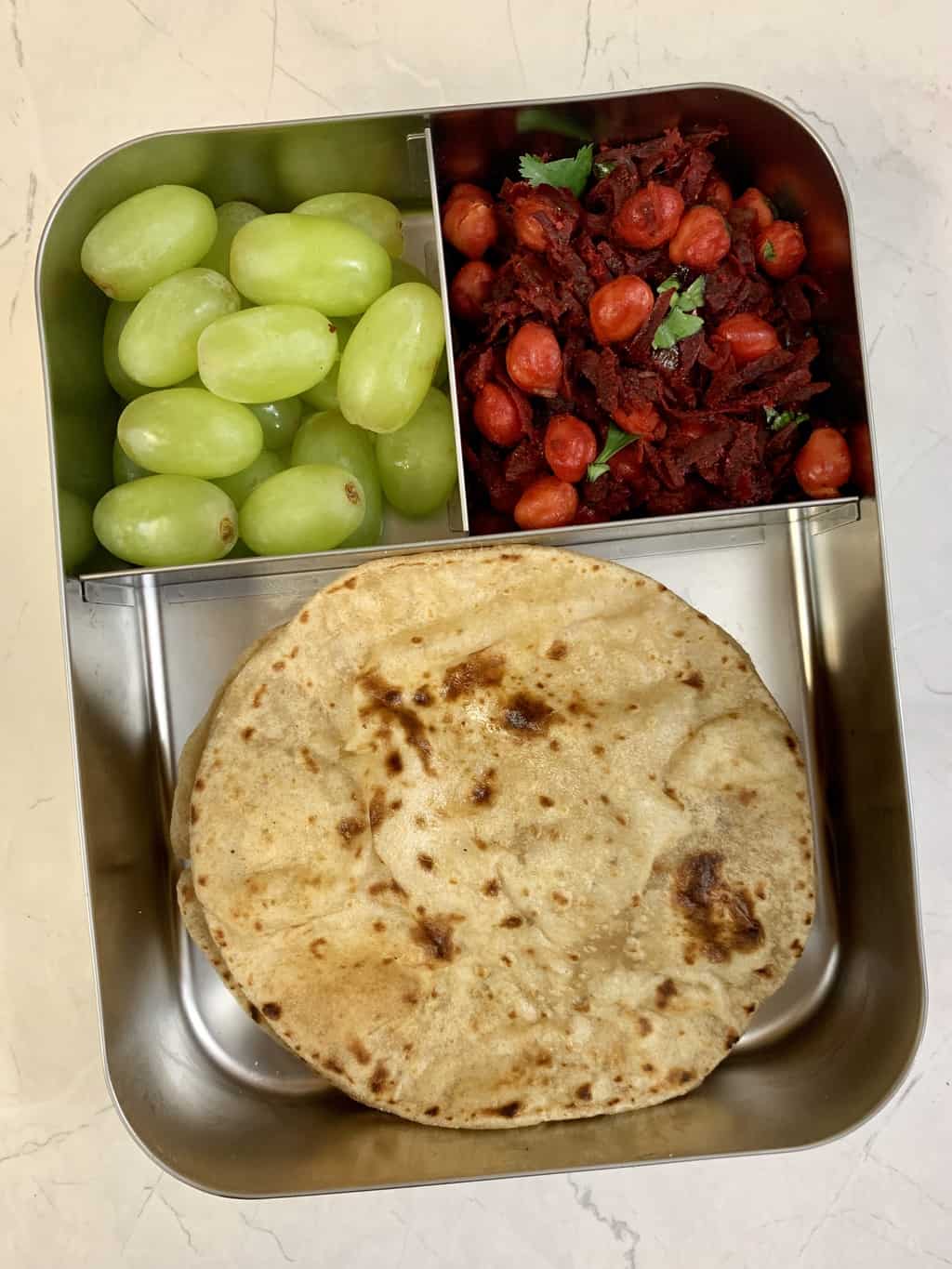 Disclaimer: I am not a nutritionist or a dietician, I am doing what is best for my kid to create a balanced lunch.
KIDS LUNCH BOX #27 - Flaxseed Roti + Beetroot and Chickpea Stir Fry + Green Grapes
Here is what I packed for school lunch…
LUNCH - Flaxseed Roti - These Rotis or phulka are loaded with nutrients since flaxseeds contain nature's richest plant sources of Omega 3 fatty acids. I usually always have ground flaxseed powder in my freezer. Dont forget to smear some ghee on top of this roti when they are warm. Keep them soft.
Ingredients
Whole wheat or Multigrain flour - 1 cup
Salt, as needed
Oil - 1 tsp
Flaxseed meal - 1 tablespoon
water - as needed to make the dough
Instructions
In a wide bowl, add the wheat flour, salt, and flaxseed meal and mix them.
Slowly add water to the flour mixture and start forming a dough.
knead the dough until it is soft and smooth. I usually knead it for about 5 minutes. The dough should not be too soft or too stiff.
Cover the dough and let it rest for at least 20 minutes.
Make balls from the dough. I was able to get 6 balls.
Dust a dough ball with sufficient flour and start rolling it using a rolling pin. Keep the thickness of the dough as even as possible.
Heat up a tawa/skillet on medium heat and place the roti|phulka and let it cook for a minute or so until bubbles appear. Flip it to the other side and let it stay on the pan for about 30 seconds.
Now transfer this directly onto the flame or on a steel wire grill placed over the flame.
Let the phulkas puff up and then flip it once and let it cook on the other side as well. This does not take long at all and is done within a few seconds.
Remove the phulka from the flame and keep it warm in between kitchen cloth or in a covered container.
Smear a little bit of fresh ghee when warm and serve.
Can I make my own flaxseed meal?
I usually dry roast flax seeds on low heat for 5 minutes. Cool them and Place the roasted flaxseeds in the blender. Blend on high for 20-30 seconds until the seeds are ground and resemble powder. Use as needed in recipes. Store unused flaxseed meal in an airtight container in the refrigerator. In the same type of container, ground flaxseed usually lasts for about six months in the freezer.
Lunch - Beetroot and Chickpea Stir Fry - Here is the Beetroot and Chickpea Stir Fry Recipe Link
SNACK - Green Grapes - Wash the grapes before packing them into the lunch box.
Prep Work For The Previous Evening
You can prepare the dough at night and refrigerate it in an airtight container.
Chop the grated beetroot the previous evening and refrigerate.
You can soak chickpeas for 6-8 hours the previous day and pressure cook the previous evening and refrigerate.
Notes
Packed in a stainless steel tiffin box called Lunchbots which is Eco-Friendly, Dishwasher Safe, BPA-Free, and easily available on Amazon. Do not use plastic lunch boxes for your kids, they are toxic.
For the soft chapati, it is important to cover the dough and set it aside for at least 20 minutes.
You can increase or decrease quantity based on your child's appetite.
♥ We LOVE to hear from you If you make this recipe, please share your food photo with hashtag #indianveggiedelight on Facebook or Instagram, so we can see it and others can enjoy it too! Thank you ♥
Subscribe to my Youtube Channel for healthy & tasty video recipes.