KIDS LUNCH BOX #3 – Carrot Rice + Cucumber + Fruittella
I am sure there are a lot of parents out there looking for quick, healthy meal ideas for their kids lunch box. So, I've decided to start a weekly series where I share some of the meals I've been feeding my daughter Dhwani.
Disclaimer: I am not a nutritionist or a dietician, I am doing what is best for my kid to create a balanced lunch.
Carrot Rice is a healthy recipe that you can prepare for your loved ones on lazy weekends or for lunch box for both kids as well as adults as it is an easy-to-make recipe which can be made within minutes.Carrots are a particularly good source of beta-carotene, fiber, vitamin K, potassium and antioxidants.Carrots have a number of health benefits.
Keep eyesight sharp: Vitamin A protects ocular health.
Strengthen the immune system: Vitamin A also helps cells grow.
Promote regularity: The fiber fills you up and contributes to good digestion and absorption.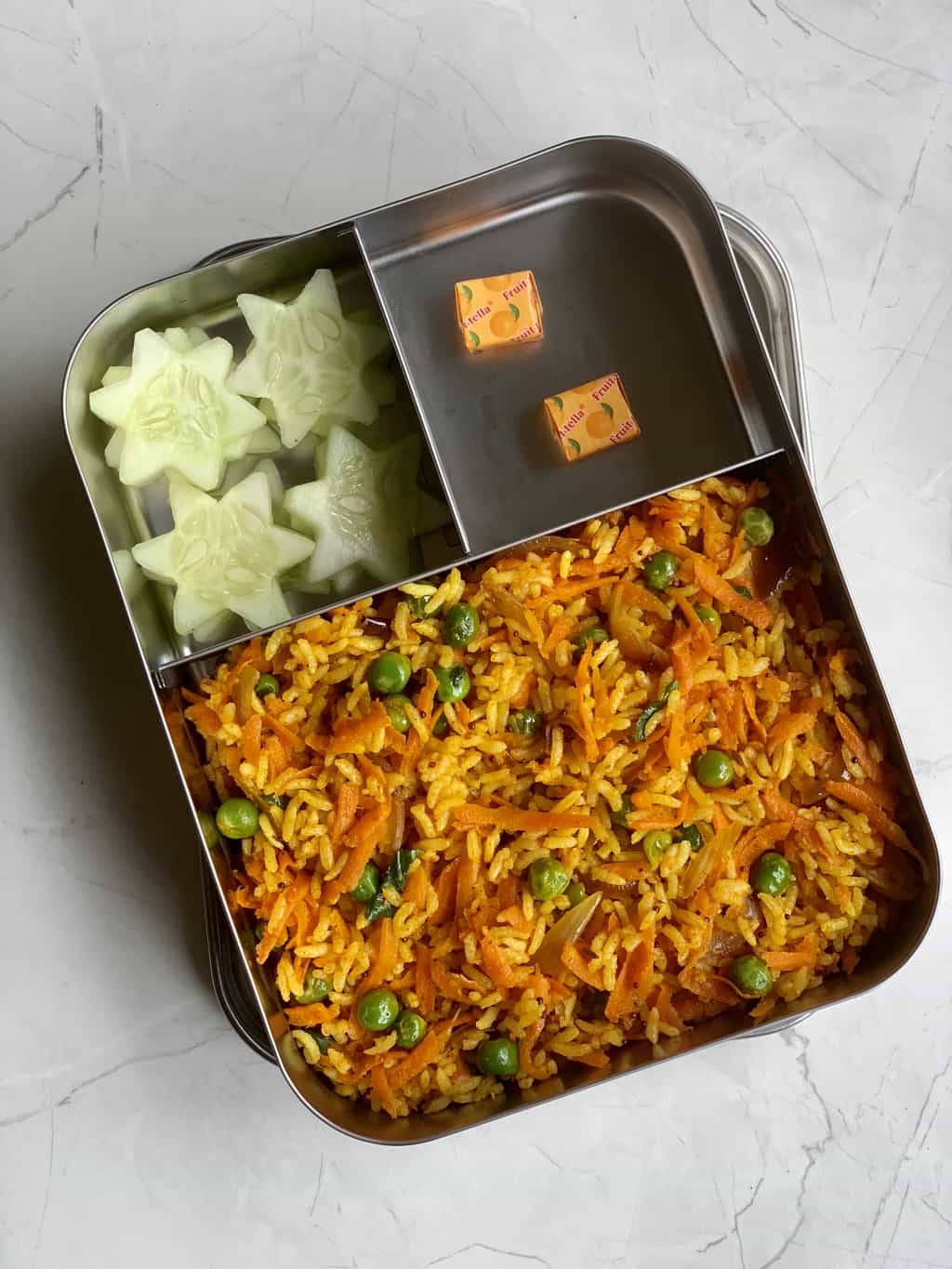 Here is what I packed for school lunch…
LUNCH – Carrot Rice –Simple, healthy, delicious & quick carrot rice recipe for the busy days. To make Carrot Rice (Click on the highlighted link to get the detailed recipe) .I followed same recipe but made half of this recipe which is good for 1 person .
Snack – Cucumber – Star shapped cucumber slices.Peel cucumber and cut in to round slices then using a star shapped cookie cutter cut into star shape.Note: Taste cucumber before packing into the box sometimes cucumber can be bitter.
Snack – Fruittelas – Sometimes i like to pack some candies or chewy sweets like fruittelas as some surprise treats
Prep Work For The Previous Evening
1. Remove the peel and grate 1 large carrot about [1/2 cup] and refrigerate in an air tight container.
Notes
Packed in a stainless steel tiffin box called Lunchbots which is Eco-Friendly, Dishwasher Safe, BPA-Free and is easily available on Amazon .
You can increase or decrease quantity based on your child's appetite.
Pin It For Later
♥ We LOVE to hear from you If you make this recipe, please share your food photo with hashtag #indianveggiedelight on Facebook or Instagram, so we can see it and others can enjoy it too! Thank you ♥
Subscribe to my Youtube Channel for healthy & tasty video recipes.