Delicious pasta covered in a creamy spinach sauce along with healthy caramelized makhana (foxnuts/lotus seed) and raspberries makes a perfect lunch combo.
This recipe is the perfect example of how you can hide veggies in food to trick the kids into eating them otherwise, they wouldn't touch a bowl full of spinach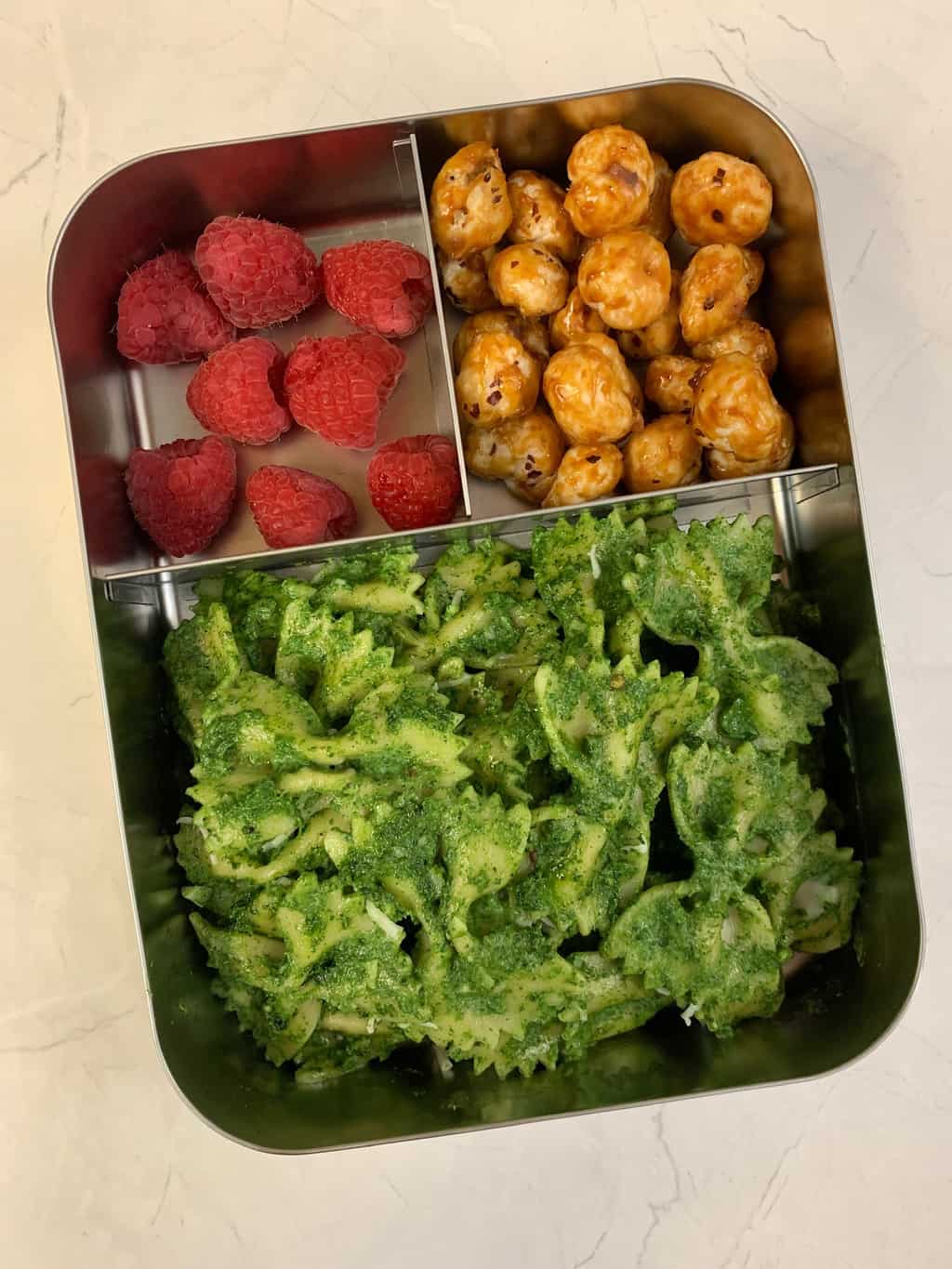 Disclaimer: I am not a nutritionist or a dietician, I am doing what is best for my kid to create a balanced lunch.
KIDS LUNCH BOX #30 - Creamy Spinach Pasta + Caramel Makhana + Raspberries
Here is what I packed for school lunch…
LUNCH - Creamy Spinach Pasta - Here is the detailed Spinach Pasta Recipe Link
Tried this recipe?
Don't forget to give a ★ rating below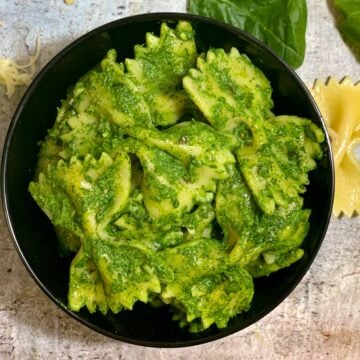 Creamy Spinach Pasta
An easy and delicious pasta covered in a creamy spinach sauce everyone will love.
Ingredients
1

cup

dried farfalle pasta

(1.5-2 cups cooked farfalle pasta)

1

cup

spinach puree

(made from 3-4 cups of raw spinach and ½ cup water). I dint blanch spinach in this recipe.

2

garlic cloves

minced

3-4

tablespoons

heavy cream

(or cream cheese, alfredo sauce)

2-3

tablespoons

mozzarella cheese

shredded

1

tablespoon

olive oil

(or butter)

1

teaspoon

dried oregano

¼

teaspoon

black pepper powder
salt

to taste
Instructions
Cooking Pasta
Bring a large pot of water to a rolling boil. Stir in the salt.

Then, according to the package instructions, cook the pasta (about 10-12 minutes), occasionally stirring, until al dente or softer according to the desired texture. I used Farfalle, but you can use your favorite pasta.

Once the pasta is cooked, drain excess water and keep it aside. Note: Reserve ¼ cup of the pasta water before draining the pasta. The pasta water contains starches that will help the spinach sauce stick to the pasta and make the sauce extra creamy.
For Spinach Puree
Add 3-4 cups of raw fresh spinach in a high-speed blender (like Vitamix) or food processor along with ½ cup of water. Blended to make a smooth puree.
For Making Spinach Pasta
Then, heat olive oil in a pan on medium flame. Add minced garlic and saute for a few seconds until fragrant.

Next, add prepared spinach puree & sauté it for about 2-3 minutes till the raw smell of the spinach goes away.

Add in the cream or homemade white sauce, seasonings like dried oregano, salt, and freshly crushed black pepper. Give a quick stir and cook for a minute.

Follow it by adding boiled Farfalle pasta. Add the reserved pasta water if needed, it adds silky richness and extra flavor to the sauce. Toss everything well and cook on high flame for another 1 minute. Taste and adjust the seasoning at this stage if necessary.

Sprinkle grated cheese on top. Mix well.

Serve on a plate and sprinkle some cheese over it for garnish. 
Notes
Variations
Spinach: If you don't have time to make spinach puree, you can finely chop the spinach and add them.
Pasta: Any medium pasta varieties like penne, farfalle, macaroni, shell, and rotini work great. This sauce also goes well with cheese-filled tortellini or ravioli. You can also use pasta noodles like spaghetti, fettuccini, or linguine. Try using whole wheat, lentils, or veggie pasta for kids.
Protein: You can serve green sauce pasta with crispy tofu, paneer, or tempeh. You may also add boiled chickpeas or white beans to boost up plant-based protein.
Veggies: You can also add boiled sweet corn, green peas, cherry tomatoes, sauteed or roasted mushroom, asparagus, broccoli, bell pepper, roasted mixed veggies, to make this a healthy spinach pasta. Make sure to pre-cook the veggies before mixing them with the pasta.
Cream: You can substitute heavy cream with half and half, cream cheese, white alfredo sauce, mayonnaise, or even coconut cream.
Low-Carb: You may use Zucchini noodles for a low-carb option.
Fresh Herbs: You can blend a few fresh basil leaves, cilantro, or parsley along with spinach to enhance the flavor of the spinach sauce.
Tips to Make the Best Spinach Pasta
Salting the Pasta water: Be sure to add salt while cooking pasta for the best flavor.
Thick Pasta sauce: The green pasta sauce should not be too thick otherwise, after mixing the cooked pasta, the dish becomes very dry. You may add some reserved pasta water to thin it out.
Thin Pasta sauce: If the sauce seems thin when you start to mix in the boiled pasta. Don't worry, just keep tossing for another 1-2 minutes. The starches from the pasta will mix into the sauce to give a perfect consistency.
Frozen Spinach: I prefer fresh spinach, but frozen would work, too, if it's thawed and excess water squeezed. 
Cheese: You can also add cheese directly to the sauce. You may sprinkle fresh Parmesan cheese for extra depth of flavor.
Note: Nutrition values are my best estimates. If you rely on them for your diet, use your preferred nutrition calculator.
Nutrition
Calories:
113
kcal
Carbohydrates:
54
g
Protein:
4
g
Fat:
10
g
Saturated Fat:
3
g
Cholesterol:
0
mg
Sodium:
201
mg
Potassium:
133
mg
Fiber:
4
g
Sugar:
2
g
Vitamin A:
145
IU
Vitamin C:
0.5
mg
Calcium:
151
mg
Iron:
2
mg
SNACK - Caramel Makhana - Here is the Caramel Makhana recipe link.
SNACK - Raspberries - I always use organic berries and I wash them before packing them into the lunch box.
Prep Work For The Previous Evening
You can cook plain pasta the previous evening and prepare spinach sauce in the morning and mix it together.
You can prepare caramel makhana one day before and store this in an airtight container for up to 1 week.
Notes
Packed in a stainless steel tiffin box called Lunchbots which is Eco-Friendly, Dishwasher Safe, BPA-Free and is easily available on Amazon. Do not use plastic lunch boxes to your kids, they are toxic.
You can increase or decrease quantity based on your child's appetite.
♥ We LOVE to hear from you If you make this recipe, please share your food photo with hashtag #indianveggiedelight on Facebook or Instagram, so we can see it and others can enjoy it too! Thank you ♥
Subscribe to my Youtube Channel for healthy & tasty video recipes. Looking for Instant Pot recipes, check out my Instant Pot Recipes board on Pinterest.