Mushroom Biryani is simple, tasty and healthy and takes less time to prepare since there is less chopping involved for the busy mornings.I pack this for Dhwani and my lunchbox ,however i make it less spicy.I always use organic mushrooms and they are loaded with vitamins and minerals and good way to sneak in your diet.I also paired with some yogurt and cucumber ,they help in soothing if your child feels heat.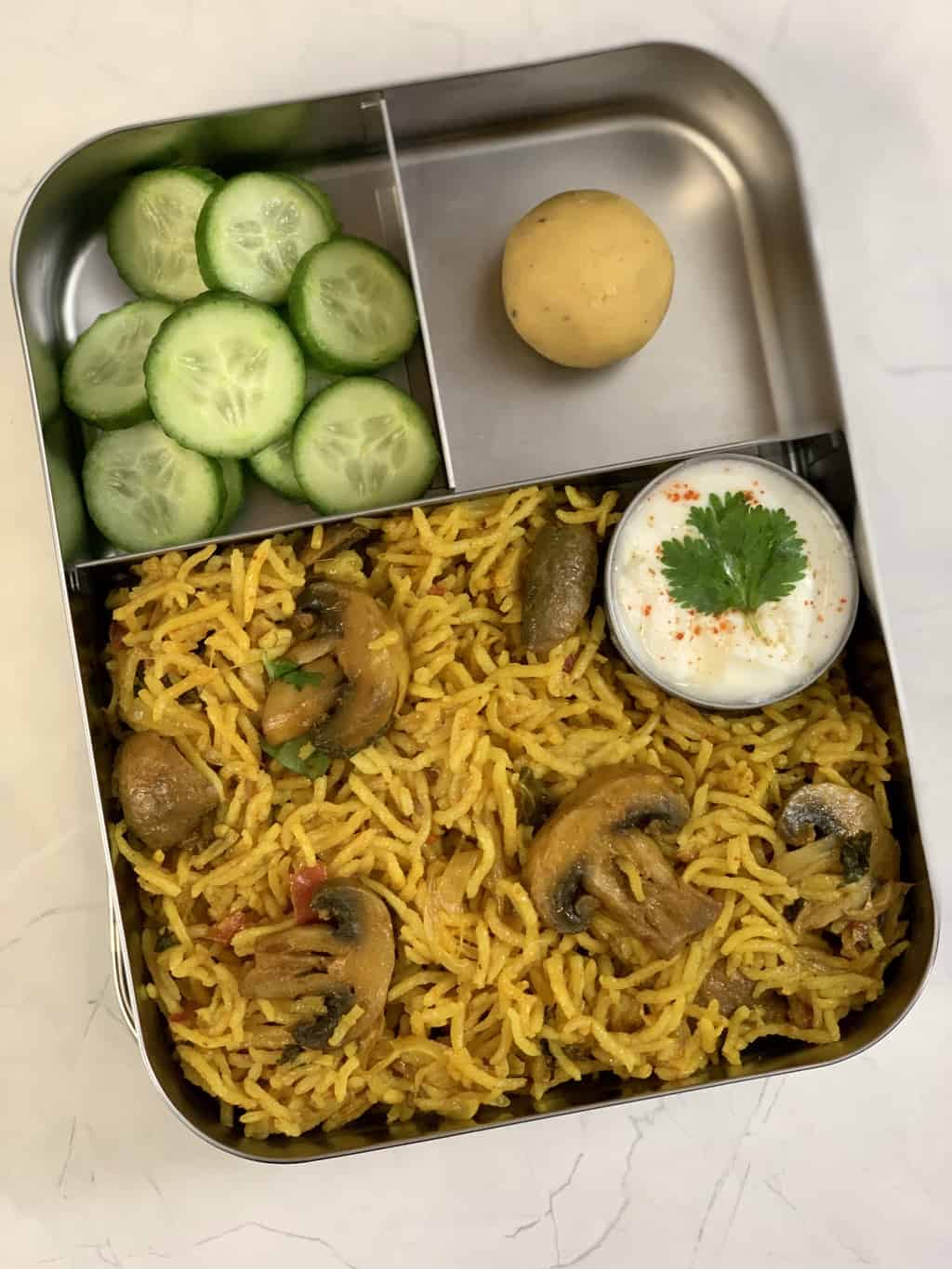 Disclaimer: I am not a nutritionist or a dietician, I am doing what is best for my kid to create a balanced lunch.
KIDS LUNCH BOX #33 – Mushroom Biryani & Yogurt + Besan Ladoo + Cucumber
Here is what I packed for school lunch…
LUNCH – Mushroom Biryani & Yogurt – Here is the Recipe Link
You can adjust spices for this Mushroom rice according to your child's preference and also i have paired with some yogurt incase they feel the heat.Incase you dont want large mushroom chunks ,chop them small.

SNACK – Besan Ladoo – These ladoo's were sent by my mom from India.
SNACK – Cucumber– I wash and cut them in to circles or sticks before packing to the lunch box.
Prep Work For The Previous Evening
You can prepare besan laddo's before and these can stored upto 2-3 weeks outside at room temperature.These are healthy and tasty.
Notes
Packed in a stainless steel tiffin box called Lunchbots which is Eco-Friendly, Dishwasher Safe, BPA-Free and is easily available on Amazon .Do not use plastic lunch boxes to your kids, they are toxic.
You can increase or decrease quantity based on your child's appetite.
Pin It For Later
♥ We LOVE to hear from you If you make this recipe, please share your food photo with hashtag #indianveggiedelight on Facebook or Instagram, so we can see it and others can enjoy it too! Thank you ♥
Subscribe to my Youtube Channel for healthy & tasty video recipes.