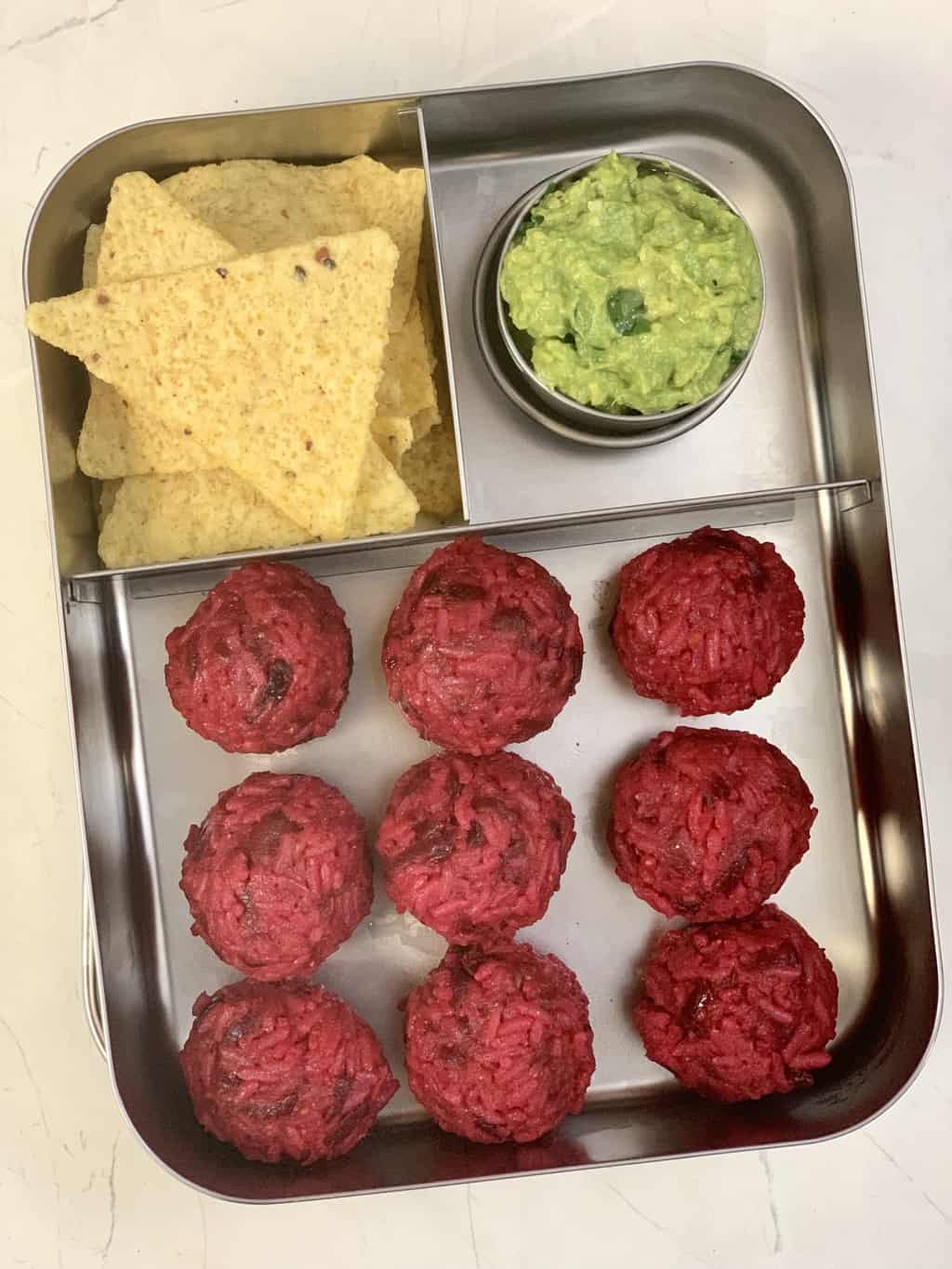 Disclaimer: I am not a nutritionist or a dietician, I am doing what is best for my kid to create a balanced lunch.
KIDS LUNCH BOX #40 – Beetroot Rice Ball + Guacamole + Tortilla Chips
Here is what I packed for school lunch…
LUNCH – Beetroot Rice Ball – Here is the Recipe Link for Beetroot stir fry. I have also added chickpea (chole) to the beetroot stir fry for some protein.
I have mixed beetroot stir fry with some ghee, rice and made it into bite sized balls. So it's easier for the kids to eat without any mess. You can do a similar way for rice and sambar.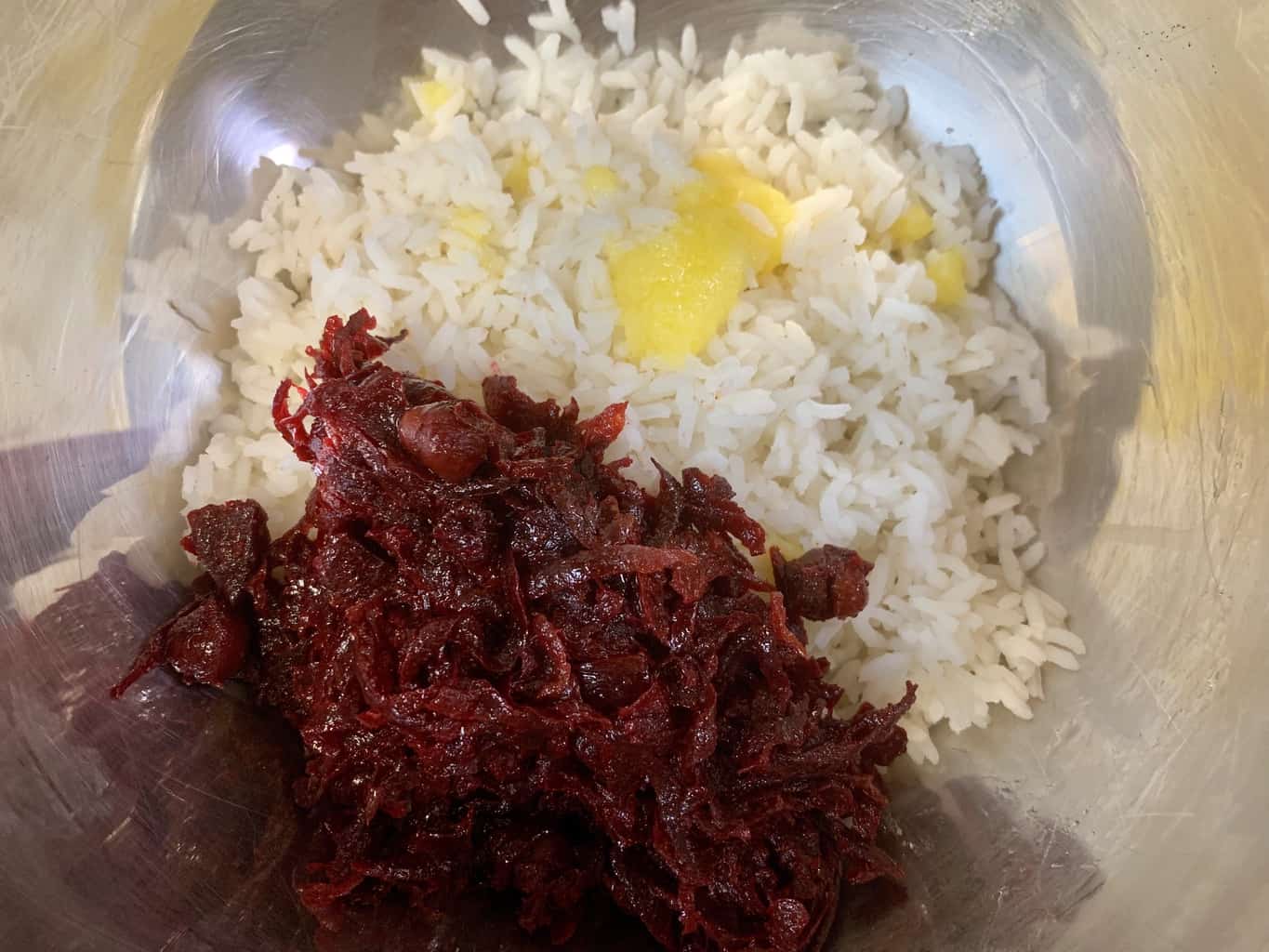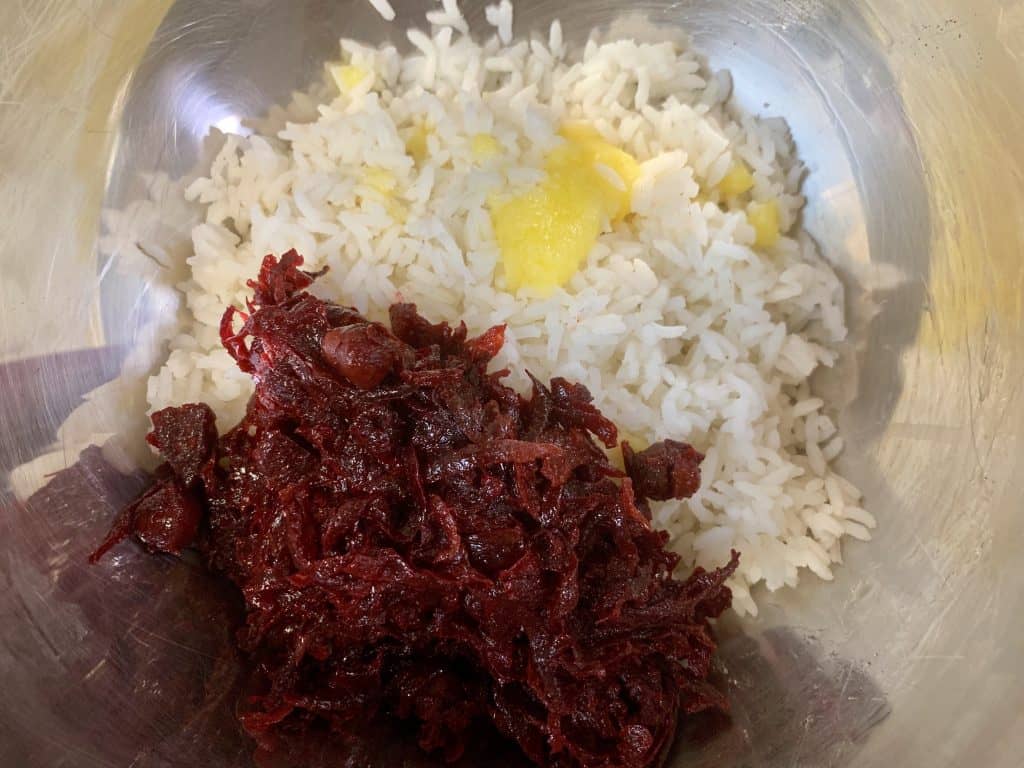 Important Notes:
1)Use fresh soft hot rice to make this beetroot rice ball. When rice is hot, mash a bit so that when mixed with beetroot subji, it can be made in the shape of a ball and does not break. If the rice is dry, then you cant make a ball.
SNACK – Guacamole – In a large bowl, combine the mashed avocados, onion, chili, cilantro, lime juice, salt, and pepper. Stir well. Do not add tomato it will release water when stored for long.
SNACK – Tortilla Chips – I have used store brought tortilla chips for the guacamole.
Prep Work For The Previous Evening
You can grate beetroot the previous evening OR even make subji the previous day.
Notes
Always add lime juice to guacamole else it will turn black.
Packed in a stainless steel tiffin box called Lunchbots which is Eco-Friendly, Dishwasher Safe, BPA-Free and is easily available on Amazon. Do not use plastic lunch boxes to your kids, they are toxic.
You can increase or decrease quantity based on your child's appetite.
♥ We LOVE to hear from you If you make this recipe, please share your food photo with hashtag #indianveggiedelight on Facebook or Instagram, so we can see it and others can enjoy it too! Thank you ♥
Subscribe to my Youtube Channel for healthy & tasty video recipes.