These Healthy Indian Phool Makhana (Lotus Seed) recipes are not only super fast to make with some prep work but are also filled with protein, fiber, and other essential vitamins and minerals for growing toddlers, and great for weight loss.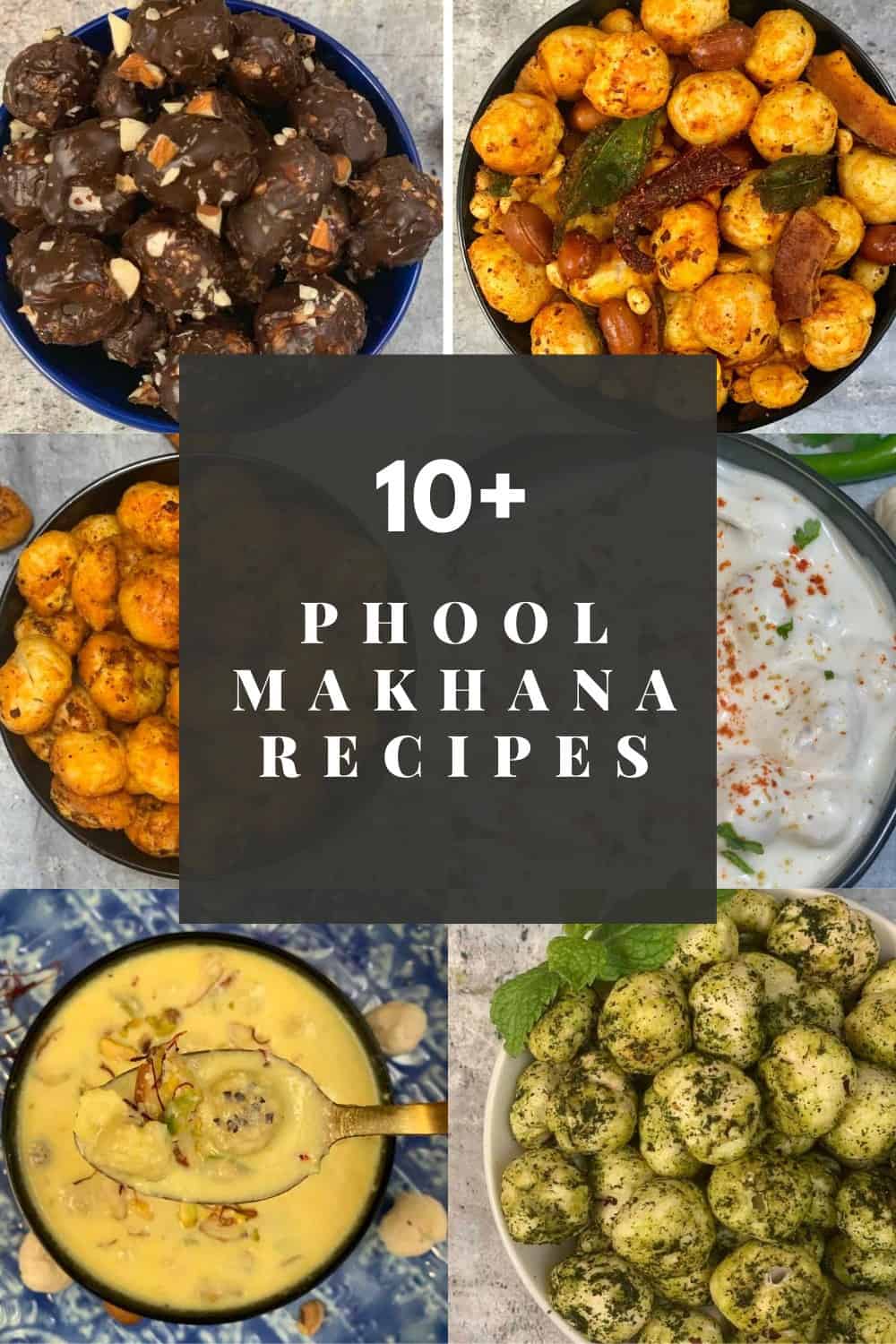 Jump to:
What is Makhana?
Makhanas are popularly known as lotus seeds, fox nuts, Euryale ferox, gorgon nuts, and phool makhana. It's actually the puffed lotus seeds or the puffed fox nuts that have high nutritional and medicinal values and are mostly grown in the state of Bihar in India.
How much Makhana to eat in a day?
One to two handfuls of Makhana should be ok and enough to give you positive health benefits.
Health Benefits of Makhanas
Makhanas are packed with the goodness of protein, potassium, phosphorus, carbohydrates, fiber, magnesium, iron, and zinc. These essential nutrients make this munchy a perfect go-to healthy snack.
Here are a few health benefits which will convince you to add them to your diet.
An anti-aging enzyme in these seeds is said to help repair damaged proteins.
They are low in calories, making them an ideal snack for weight loss.
Makhanas are recommended for diabetics too due to their low glycemic index.
They are beneficial to those suffering from high blood pressure, heart diseases, and obesity due to their high magnesium and low sodium content.
– Source food.ndtv.com
12+ Phool Makhana Recipes are below
Let's have a look at the easy collection of Indian recipes using Phool Makhana that includes snacks, diet, weight loss, dessert, curry, and fast recipes.
Other Recipe Collections to try from my blog
DID YOU MAKE ANY OF THESE MAKHANA RECIPES?
I'D LOVE TO KNOW HOW THEY TURNED OUT! LEAVE A COMMENT AND A ⭐️ RATING BELOW? SO WE CAN SEE IT AND OTHERS CAN ENJOY IT TOO! THANK YOU ♥
Subscribe to my Youtube Channel for healthy & tasty video recipes. Looking for Instant Pot recipes, then check out my Instant Pot Recipes board on Pinterest.