Kids Lunch boxes, are those, that often require a lot of thought and planning that needs to go into it.  We like our children to eat the food they like and yet be healthy at the same time. So here is a simple lunch box of tomato rice with some carrot raita and grapes which is healthy and can be prepared in less than 20 minutes.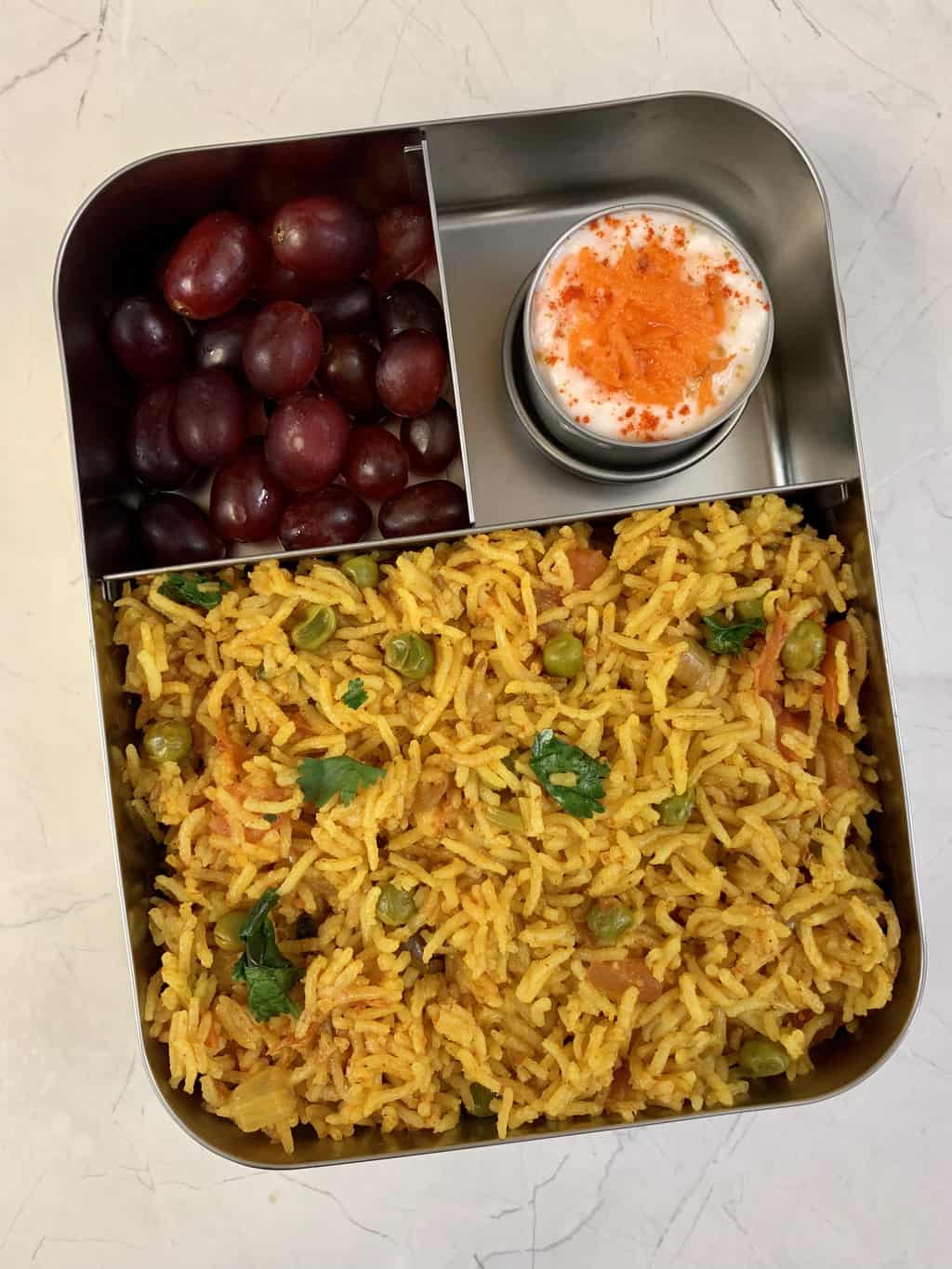 Disclaimer: I am not a nutritionist or a dietician, I am doing what is best for my kid to create a balanced lunch.
KIDS LUNCH BOX #13 – Tomato Rice using Coconut Milk + Carrot Raita + Red Grapes
Some kids school lunch box ideas to try…
Here is what I packed for school lunch…
LUNCH – Tomato Rice using Coconut Milk – Please find the Detailed Recipe Here .I have followed same recipe but added 1/2 cup of peas to the recipe.If you dont have coconut milk ,you can skip it.I try avoiding using store brought coconut milk since it has preservatives.I made this recipe in Instant Pot (Pressure cooker).
SNACK – Carrot Raita – simple yogurt(curd) made with salt ,pepper, cumin (jeera) powder and grated or minced carrot.
SNACK – Red Grapes – Wash it before packing into the box.
Prep Work For The Previous Evening
You can prepare coconut milk in the night.Blend together 1/2 cup of shredded coconut with 1 cup of water.Drain the mixture and it yields 1/2 cup of coconut milk.Refrigerate in an airtight container.
Notes