Namaste dear viewers,
Little Background About Me
My name is Bhavana Patil, I am from Harihar, a small yet beautiful town in Karnataka, India. 22 years of my life were well spent in Aditya Birla Colony in Kumarapatnam, Harihar. Here I was very fortunate to meet people from various states of India. That's where my love affair with food started.
My best childhood memory has to be sharing a lunchbox with my friends. Festival foods added more joy. Anand Bazaar [A Food Mela], regularly held at our Colony, was an event we never missed. Staying right next to a National Highway meant lots of Dhaba food, access to a lot of mouth-watering street food & adding all the cool juice joints, sugarcane shops & on & on.
Mom's food tasted delicious and flavorful & she often served it with a lot of love. Tasty food always drew a larger crowd & garnered a lot of Compliments from immediate family & friends. I moved to Bangalore in Nov 2008 & started my IT journey. Having your own money to spend & lots of options to choose from to eat meant more fun.
In 2013, I moved to the United States, continued my IT journey, and made more friends - which meant more Potlucks & more food. I tried different cuisines & which gave my taste buds a lot more to crave for.
My Family
In 2015-2016 various Social Media platforms were abuzz with so many food-related videos and posts. That motivated me to start a youtube food channel. But like always - nope, I took a back step & gave up on my idea. In May 2016, we were blessed with our beautiful daughter Dhwani. I was motivated to start her youtube channel & capture all the beautiful moments in our life. What started as a fun project, gradually brought us a lot of happiness every time we looked back & watched those videos.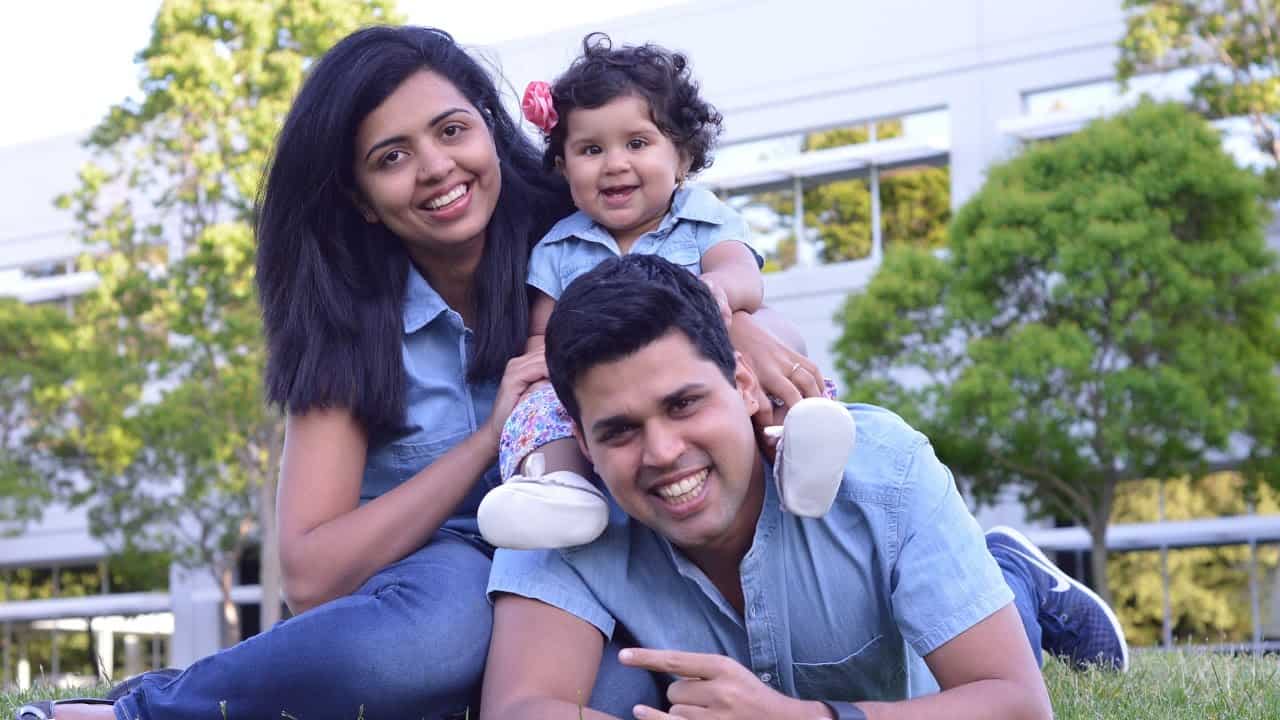 My Blogging Journey
Finally, in Dec 2016, with constant support from my Husband, Naveen & motivation from a very dear friend Rekha Rao, I posted my first youtube food video. That was it, there was no looking back from that point.
Once you start something you are madly passionate about - you end up putting all your energy into making it work. Ups & downs are part and parcel of the journey, but it's totally worth it. In mid-2017, I launched Indian Veggie Delight blog & started to work on it as a part-time hobby. Being a full-time Mom, having a full-time IT job & also blogging as a hobby took a toll, but motivating comments and constant positive feedback from close friends kept driving me.
Oh god, What should I cook today? This is a question that haunts most of us. Finding an easy answer to that question is the driving force behind my blog. Improvising food recipes & making them easy to cook is my passion.
I am extremely proud of my Instant Pot recipes, Low Carb/Keto recipes & Kids Lunch Box recipes, to name a few. Seeing my family members enjoying the delicious food, especially my 6-year-old daughter Dhwani is something that I thoroughly enjoy. I highly recommend you visit those links & try those recipes & share your feedback.
Partnering with Mediavine in Sept 2019 & with Adthrive in August 2020, within 4 years of my blogging journey, has been a Dream come true for me. In August 2020, I quit my IT journey & decided to concentrate on full-time Food blogging. Also, there is so much more to accomplish, I am looking forward to it. Every minute, every hour & every passing day, I am in love with food blogging. Sharing a recipe that your family loves & spreading happiness through food is something that I will Cherish the most for the rest of my life 🙂 Your motivational comments & helpful feedbacks inspire me more.
Thanks again for stopping by & reading about me 🙂 Happy Cooking.
Few ways you can find me
Follow Indian Veggie Delight on Facebook, Instagram, Pinterest, and Youtube, to receive the latest updates on new recipes and tips.
Dont hesitate to contact me at indianveggiedelight@gmail.com, If you have any questions or feedback about a recipe.