Looking for easy Vegetarian Indian Breakfast recipes? Here are the best, 25+ morning breakfast dishes, including South traditional delights like Idli, Dosa, and Upma, to North Indian favorites such as Aloo Paratha and Poori, that your family will love.
This extensive collection of breakfast recipes is from all over India. Perfect for your busy mornings or weekend brunches.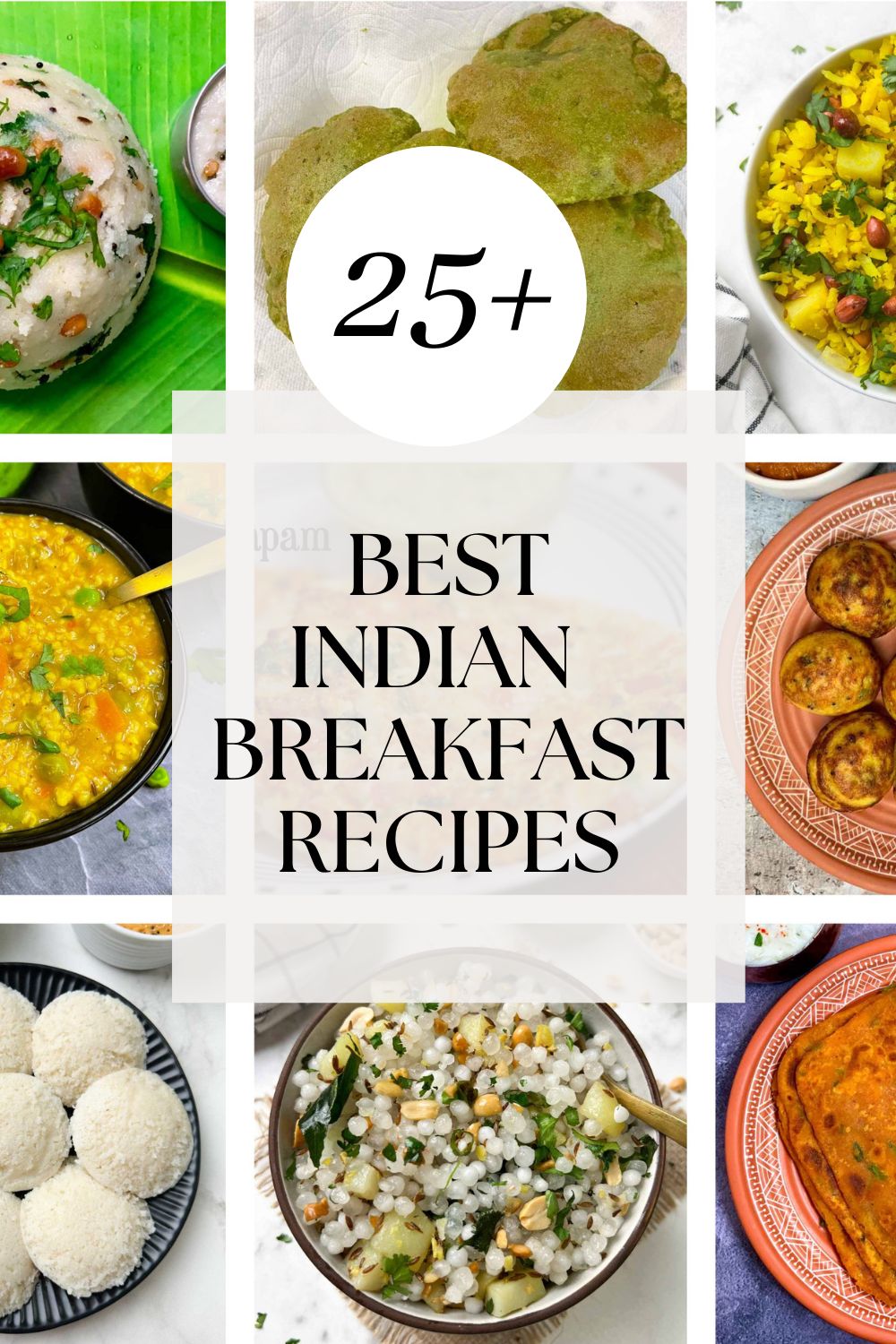 Breakfast is the first meal of the day, usually eaten in the morning. The word "breakfast" literally means "to break fast" from the night before.
Have you ever wondered why nutritionists and other health professionals advise making your morning meal the biggest? Well, that's because breakfast provides you with much-needed energy to start your day. When it comes to healthy and nutritional breakfast, Indian food tops the chart.
Indian cuisine has a number of breakfast varieties that differ from region to region. Parathas are a favorite food in North India, while traditional idli, dosa, upma, appam, etc., and other dishes are favorites in South India.
Similar to this, West Indians adore dhokla, poha, khakhras, vada pav, and other foods. The list goes on and on, providing us with too many options. Read on if you want to learn more about them in-depth.
Jump to:
What do Indians Eat for Breakfast?
In India, each region and culture have its distinctive breakfast.
North India: Nothing compares to a hearty North Indian breakfast. This cuisine is just what you need to fill you up entirely, whether it be Parathas, Chole Puri, Moong Dal Cheela, or plain Poha.
South India: South Indian cuisine is perhaps the first thing that comes to mind when we think of a healthy and light breakfast. The nicest thing about this cuisine is that anyone can enjoy it. A South Indian breakfast plate typically includes a variety of dishes like Idli (savory steamed rice cakes) along with sambar, chutney, and Medu vada, Dosa (Indian rice & lentil crepes), or Upma prepared with semolina, vermicelli, or puffed rice.
West India: West India is a hot, dry region. Food is prepared in various ways across the states in Western India. For instance, food from Rajasthan is spicy, food from Gujarat is sweet, and food from Maharashtra and Goa is tangy and rich. In Maharastra, Vada pav, and Pav bhaji are popular breakfast choices. Dhokla, Khaman, Thepla, Fafda, Jalebi are part of Gujarati Breakfast.
East India: Due to its geographic location, Eastern India's cuisine has a considerable influence from both Chinese and Mongolian cuisines, which adds to its charm. Litti Chokha, Aloo Puri are some popular breakfast choices. This aloo puri combo is well-known not just in East India but all around the country. For those who are unfamiliar, puri is a fluffy flatbread that is often prepared with atta or maida and deep-fried.
Most Indians love to have their breakfast with a cup of tea (chai) or coffee.
If you are looking for low-carb or keto breakfast ideas, check out these Keto/Low-carb recipes.
Accompaniments To Pair Up With Indian Breakfast Dishes
Achaar (Pickle): Pickle (achaar) is a flavorful, tangy, and delightful condiment that is popular in India. Also, why not? They are incredibly adaptable and work with almost anything. You may prepare pickles using a number of ingredients, including garlic, mango, carrot, lemon, cauliflower, and more.
Chutney: In India, chutneys come in a variety of flavors. Classic mint chutney is a favorite accompaniment of North Indians. South Indians, however, like their famous coconut chutney. Shengdana chutney is a favorite among the Maharashtrian people.
How to Plan Your Breakfast?
Meal planning: List down a week's breakfast plan on the weekend, using an excel meal planning template or software. This helps to save a lot of time every morning thinking about what to cook. Also, shop for groceries on the weekend itself, prep the veggies, and store them in the refrigerator. You can also make idli and dosa batter on the weekend, and your breakfast is ready in 10 minutes.
Plan for variety: Eating the same breakfast every day can be boring, so make sure to pick interesting and healthy recipes that your family will love.
Plan for accompaniments: Indian breakfast dishes are usually served with accompaniments such as chutneys, chutney podis, sambhar, and curries. So make sure to plan ahead and use them for more than one meal.
Plan for dietary restrictions: Most Indian breakfasts are vegetarian, however, few contain dairy or gluten. So if you are having guests for breakfast, be sure to plan according to their dietary restrictions.
Quick breakfasts: If you don't have time to cook on a busy morning, go for breakfast smoothies like peanut butter banana smoothies, avocado banana smoothies, milkshakes like mango milkshake, strawberry milkshake or sweet lassi as they come in handy.
Why You'll Love These Breakfast Recipes
Easy to make
It can be made in less than 20 minutes.
Healthy
Delicious
It can also be served as brunch or any meal of the day
Mostly Vegetarian and few vegan, gluten-free
Popular Indian Breakfast Recipes
Let's have a look at some of the popular Indian vegetarian breakfast recipes from all over India that will delight your taste buds and jumpstart your day.
All these recipes are perfect for adding to your breakfast diet. Try them at home, and let us know how you all liked them in the comments below. For more such recipe ideas, stay tuned!
So do make sure, to bookmark this page by clicking the heart icon ❤️ on the right-hand side.
More Recipe Collections
If you've tried this easy Indian Breakfast recipes or any other recipe on Indianveggiedelight, then don't forget to rate the recipe. You can also follow me on Instagram and Facebook to see the latest recipes!