A collection of over 20+ best quick and easy vegetarian Indian Air Fryer recipes, including appetizers/snacks, roasted vegetables, paneer, and more. You can also find a variety of other Indian vegetarian curries, rice, beans, lentils, and dessert recipes on my blog.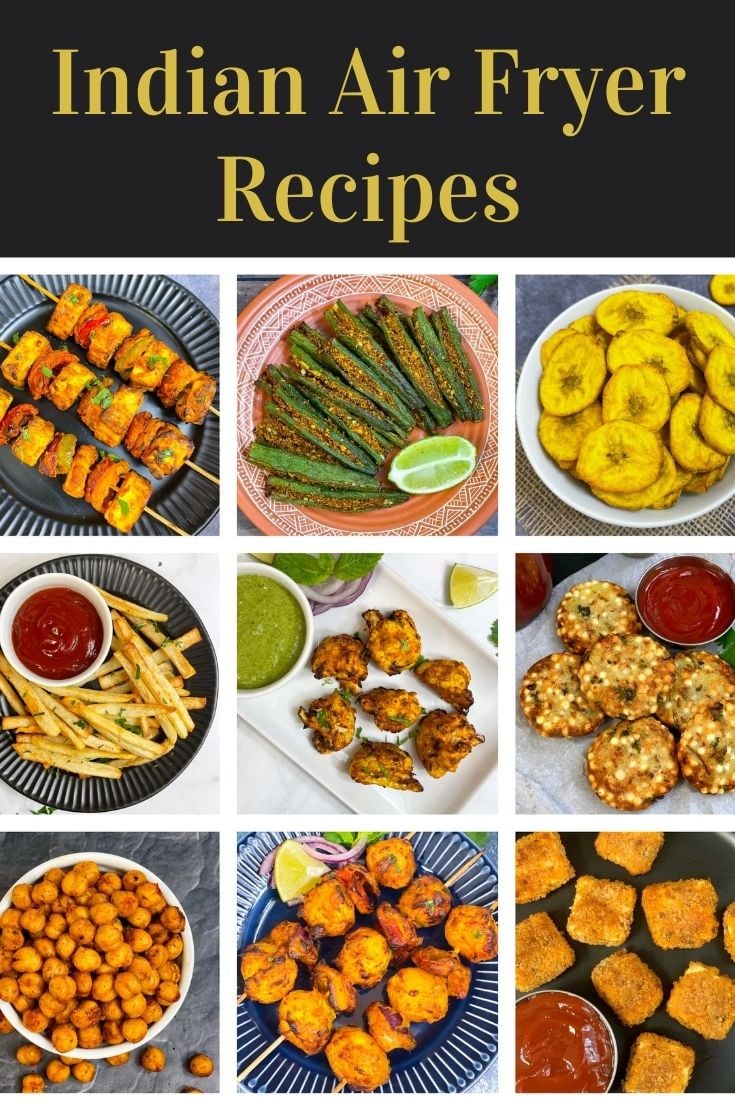 Jump to:
What is an Air Fryer?
An Air fryer is a great kitchen appliance that can air fry, bake, roast, broil, dehydrate, and reheat foods. You can cook fresh or frozen food.
The air fryer has a heating element that radiates heat, and a fan helps to circulate hot air around the food, allowing the use of little oil, making the food crispier and healthier without the guilt of snacking on deep-fried foods.
From crispy French Fries, Samosas to Onion Bajji, there's so much to love about crispy air fryer foods. Besides savory Indian food, you can also make desserts like Gulab Jamun (fried dough balls), Gujiya (Indian Sweet Pastry), or Cookies in the Air fryer. You can also reheat leftover or warm food and much more.
Which Air Fryer is Best For Indian Cooking in the USA?
When buying an air fryer for your home kitchen, you may want to think about
What kind of recipes will you make?
Budget
For how many people will you be cooking?
Air fryer basket, especially the coating, if you want to avoid Teflon (nonstick) coating, then buy accordingly.
While most Indian recipes require a lot of oil, using an air fryer can help you to cut back on the oil by more than 70% than shallow pan or deep frying.
Instant Vortex Plus 6 Quart Air Fryer (Like I use) is great and perfect to cook meals for a family of 4. It comes with a 6-quart square basket capacity, a greater surface area for cooking than regular air fryers, and is highly reliable. It is great for Indian cooking with less oil usage without affecting the taste and texture.
If you are looking for a bigger air fryer oven, then I recommend Cuisinart Air Fryer Toaster Oven and Instant Vortex Pro 9-in-1 Air Fryer, which allows you to cook more food than a smaller air fryer. Like my Instant Pot Recipes, these Air fryer recipes provide hands-off, minimal supervision, and high-flavor meals.
Our Other Top Air Fryer Picks
I'm excited to share some of my favorite tried and authentic vegetarian Indian air fryer recipes, that your whole family will love. They also include vegan, gluten-free, keto, and low-carb recipes.
Need some further inspiration? Check out the full range of Air Fryer Recipes for all occasions. I hope you enjoy it.
Also, check out Indian Party Menu Ideas if you plan to host an event at your home.
Here are 20+ Easy Air Fryer Indian Recipes
Air Fryer Snacks/Appetizer Recipes
Air Fryer Stir Fry Recipes
Frequently Asked Questions
I hope you have found your favorite Indian Air fryer recipe to make in the Air Fryer. If you find anything missing from the list, don't forget to comment below with your request.
This recipe collection list is only bound to grow more and more, as I cook more interesting recipes. So do make sure, to bookmark this page by clicking the heart icon ❤️ on the right-hand side.
Subscribe to my Youtube Channel for healthy & tasty video recipes. Looking for Instant Pot recipes, then check out my Instant Pot Recipes board on Pinterest.