Learn the best practices for storing garlic, fresh and flavorful, for longer with simple tips and tricks.
If you look into Indian cuisine, you will discover a vast variety of ingredients that give the cuisine its distinct flavor.
Garlic is an essential and versatile ingredient that can be found in almost every kitchen cupboard and is known for its numerous health benefits. My particular preference is when there is a lot of garlic in every dish. It doesn't matter if they are appetizers, main courses, or even sides.
However, Improper storage of garlic can result in a loss of its flavor, sprouting, or the growth of mold. In this post, we will share the best practices for storing garlic fresh and flavorful for longer.
Jump to:
What Is Garlic?
Garlic is one of the oldest cultivated plants in the world and is a hardy perennial belonging to the Liliaceae family. This family also includes shallots, onions, leeks, and chives. Its pungent aroma and exquisite flavor set them apart.
The garlic plant's bulb is made up of individual cloves that are typically peeled and used in recipes. It normally consists of ten to twenty tiny teardrop-shaped cloves that are encased in white, parchment-like skin.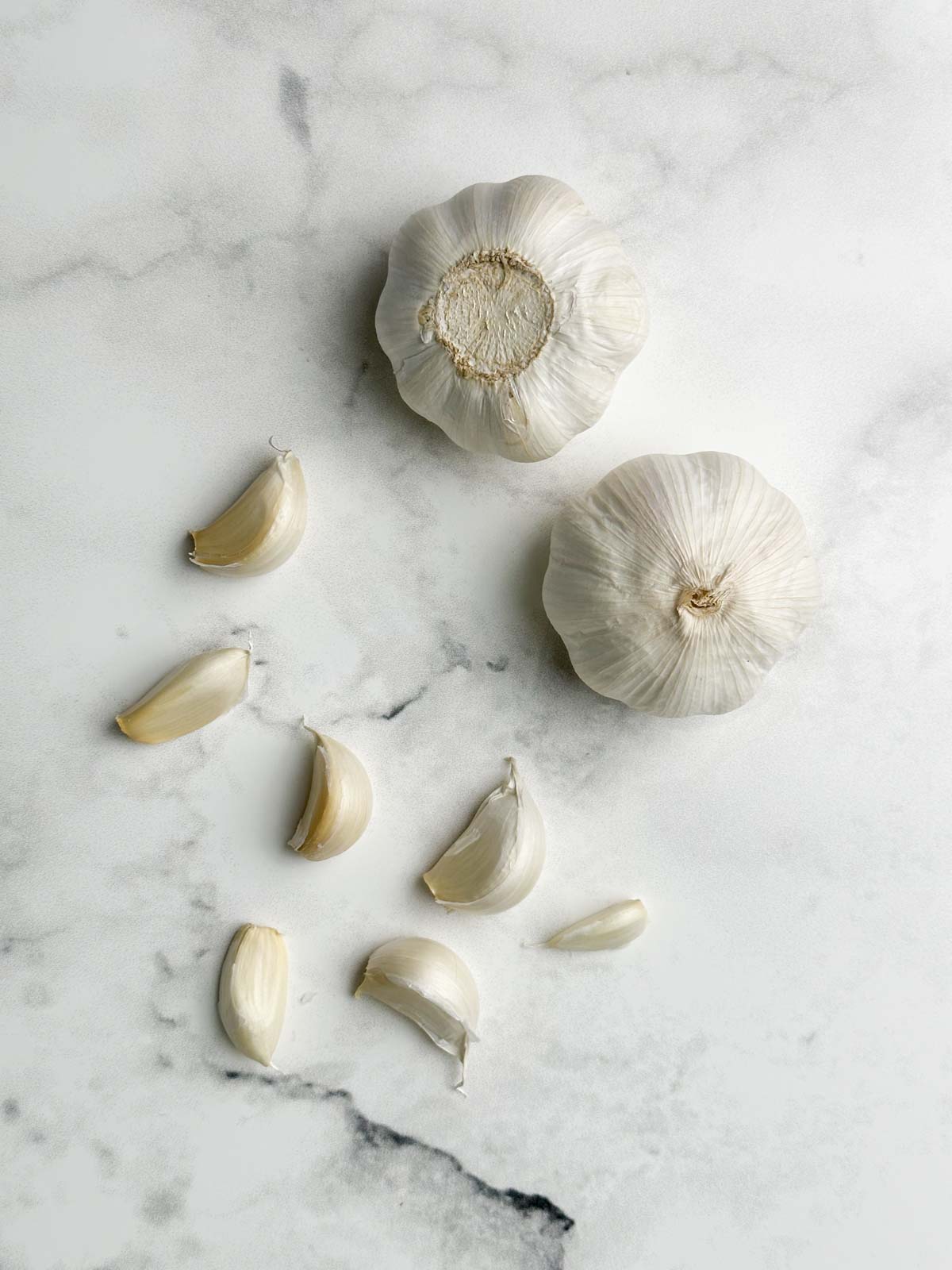 How To Use Garlic? - What Does it Taste Like?
Garlic can be used in numerous ways. You can mince it, roast it or just have it as is, and it is a popular ingredient in dishes such as curries, stir-fries, soups, and pasta sauces.
However, one of the preferable ways of using garlic is by making a paste out of it. It is not only time-saving but also a very effortless way of enjoying the pungent flavor of garlic.
While raw, garlic has a pungent and strong flavor; when cooked, it tends to have a milder and sweeter flavor.
Health Benefits Of Garlic
Good For the Heart: Due to the antioxidant qualities of Allicin, frequent consumption of raw or cooked garlic helps to decrease cholesterol levels. It is also quite effective for controlling blood pressure and blood sugar levels.
Digestion: Garlic is a helpful addition to the diet for digestive problems. It benefits the intestines and reduces inflammation.
Boosts Immunity: Raw garlic may be useful in preventing cold and cough infections. Two crushed garlic cloves eaten first thing in the morning yield the finest benefits.
Rich in Antioxidants: Garlic lowers oxidative stress, combats systemic inflammation, and offers free radical protection.
Due to the high sulphur content, it helps the body detoxify heavy metals.
Where to Buy Garlic?
You can find garlic easily in most grocery stores, supermarkets, or farmer's markets. They are typically found in the produce section, either sold in mesh bags or loose.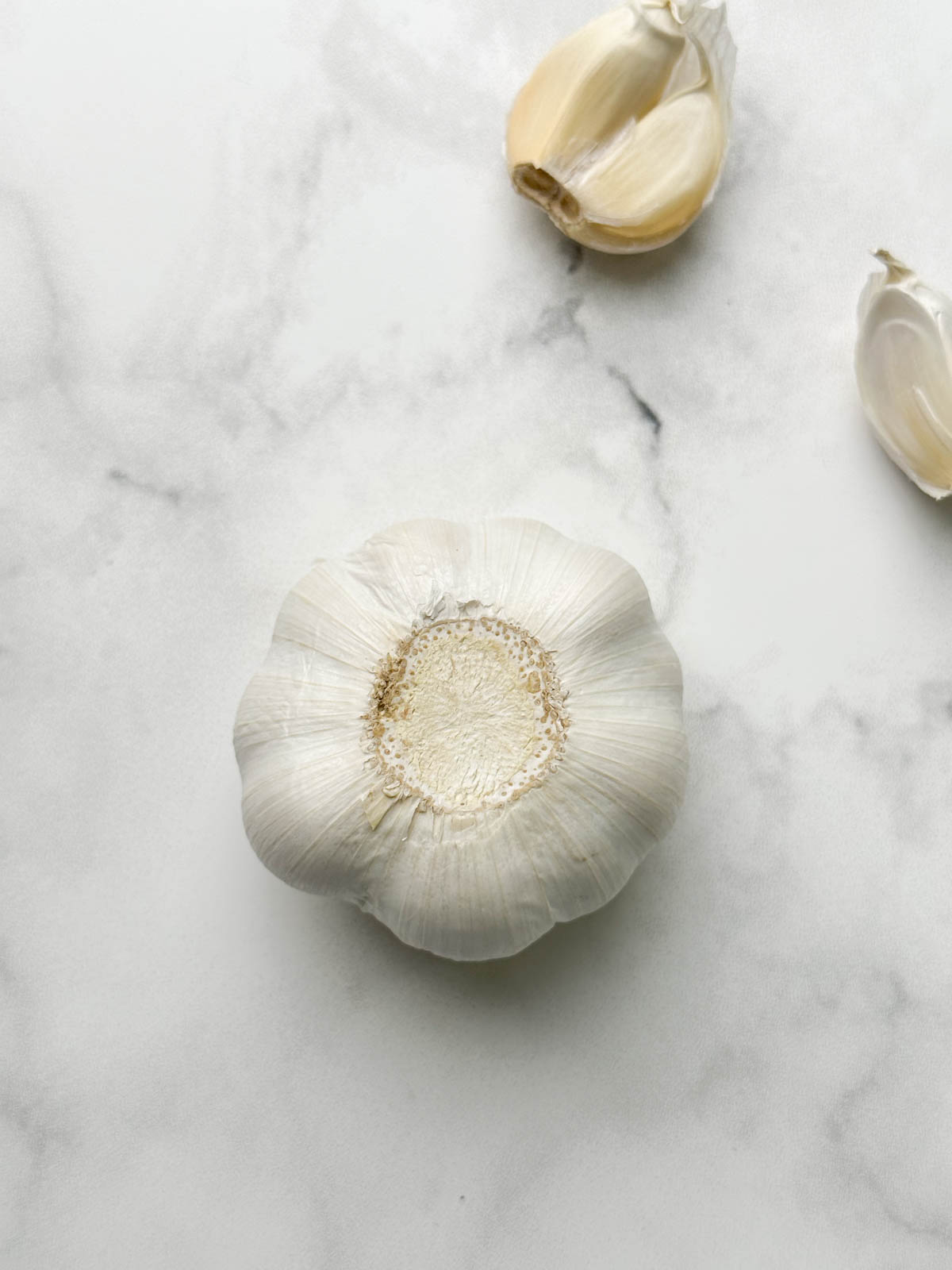 How to Buy Garlic? Tips And Tricks
There are certain shopping tips and tricks for garlic, just like there are for other vegetables. To get the greatest flavors of garlic, use these suggestions. Read on to learn about them.
The greatest technique to determine whether or not the garlic is fresh! Inspect to see whether the garlic is sprouting; this is a clue that it is old.
The next step is to make sure the bulb feels solid to the touch and does not break under light pressure.
It must be tight, have dry, smooth skin, and show no traces of mold or darkness.
How To Store Fresh Garlic?
Let's learn how to store fresh garlic now.
Whole Bulb: If you're storing entire garlic bulbs, keep them in a cool, dry, and well-ventilated cabinet and away from sunlight and moisture. The ideal temperature for storing garlic for longer is between 60-65°F (15-18°C).
Individual, Unpeeled Cloves: If you happen to have a few extra cloves that you didn't use, keep them in the same cabinet with the whole bulbs of garlic and use them within a week or less. Make sure to keep them away from direct sunlight or moisture.
How To Store Peeled Garlic
Peeled garlic cloves are a terrific method to prepare ahead of time, especially if you know you'll be cooking all week.
Peel the thin, papery skin from the clove. The peeled cloves should be placed in an airtight container like a mason jar or plastic storage bag like a ziplock bag, sealed tightly, and kept in the refrigerator. Utilize within 5-7 days.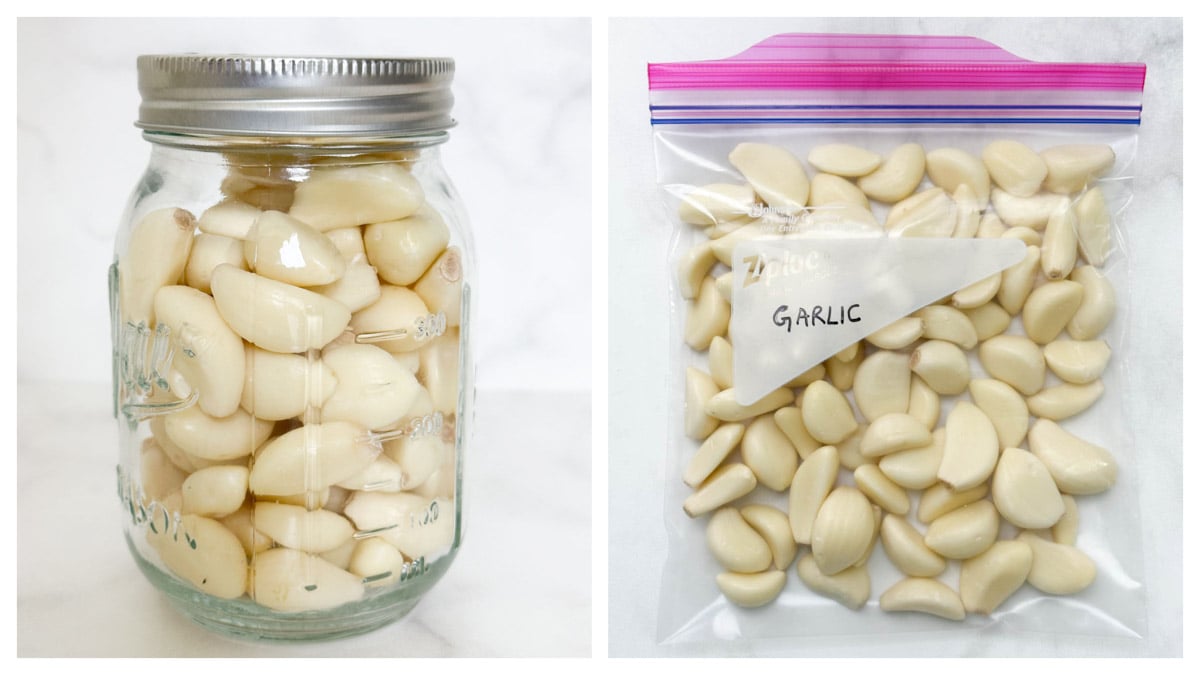 How To Store Garlic Paste?
Garlic paste is one of the best ways to store garlic. All you gotta do is put a little garlic paste in a silicone ice cube tray and freeze for approximately 2 hours or until hard.
Then transfer the frozen cubes to a freezer-safe ziplock storage bag, label the date, seal it tightly before freezing, and freeze for up to 3 months.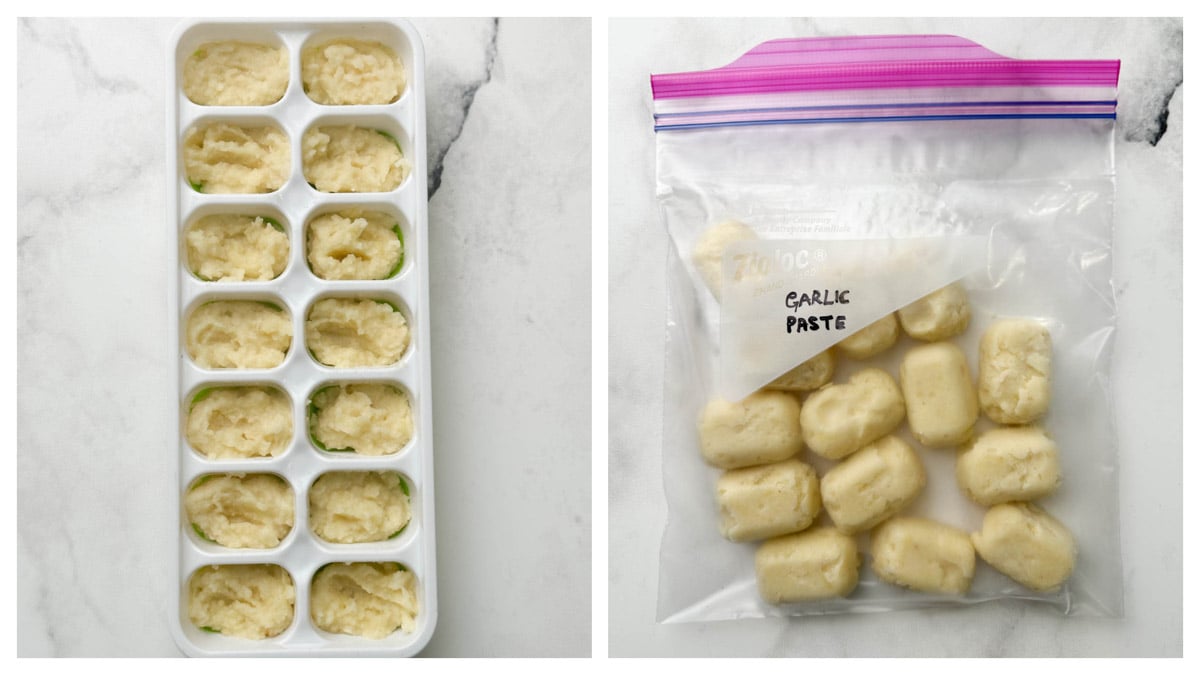 Tips to Make Your Garlic Last Longer
Keep the garlic bulbs intact: First and foremost, keep in mind that garlic lasts longer when kept intact. Keep the cloves together, covered in their paper wrapping or mesh bag, and resist the urge to break them off the bulb until you're ready to use them. This way, they'll remain fresh for longer.
Store in a cool, dry place: Place your garlic in a cold, dark area. Garlic will sprout if you maintain that in a place with light and moisture.
Avoid storing garlic together with other produce: Keep garlic away from other fruits or vegetables, as they can absorb moisture and odor from other produce and spoil faster.
Do not store in zip lock bags or plastic bags: The best place to store garlic is a kitchen pantry or cupboard that isn't packed, as garlic requires air and ventilation to breathe. Mesh bags are excellent for storing them, although paper bags can also be a good option.
Frequently Asked Questions
Can garlic be stored in the refrigerator?
Yes, we can keep garlic in a refrigerator. Garlic that has already been peeled or diced can be kept in the fridge. The easiest method to keep garlic fresh for up to two weeks is to place it in a sealed, airtight container in the refrigerator.
How long can you store garlic?
A complete head of garlic will live for about six months if left unpeeled. (If you keep it correctly) The shelf life of a single, unpeeled clove is around three weeks.
How do you store garlic for a year?
Now, this might sound odd. The answer is that garlic can be kept for a year. Garlic may be preserved (or pickled) in vinegar in a certain way to last for up to a year. A lot of people have tried it and liked it as well!
Is sprouted garlic okay to eat?
Yes, sprouting garlic (including the shoots) is completely safe to consume. However, the sprouts themselves could have a bitter taste. Peel and cut the garlic clove lengthwise if you want to get rid of the sprout. Next, using your fingers or a little paring knife, remove the green shoot.
More Cooking 101 Recipes
If you've liked this post, How to store garlic, or any other recipe on Indianveggiedelight, then don't forget to rate the recipe. You can also follow me on Instagram and Facebook to see the latest recipes!
Tried this recipe?
Don't forget to give a ★ rating below
How to Store Garlic
Learn the best practices for storing garlic, fresh and flavorful, for longer with simple tips and tricks.