You will find a list of 12+ best Indian vegetarian millet recipes that are healthy, easy to make, and packed with nutrition. From savory dishes to desserts, millets offer a wide range of possibilities for adding to your diet.
Here, you will find easy and delicious healthy Millets (Siridhanya) Indian recipes, including breakfast, lunch, and snack recipes for your family.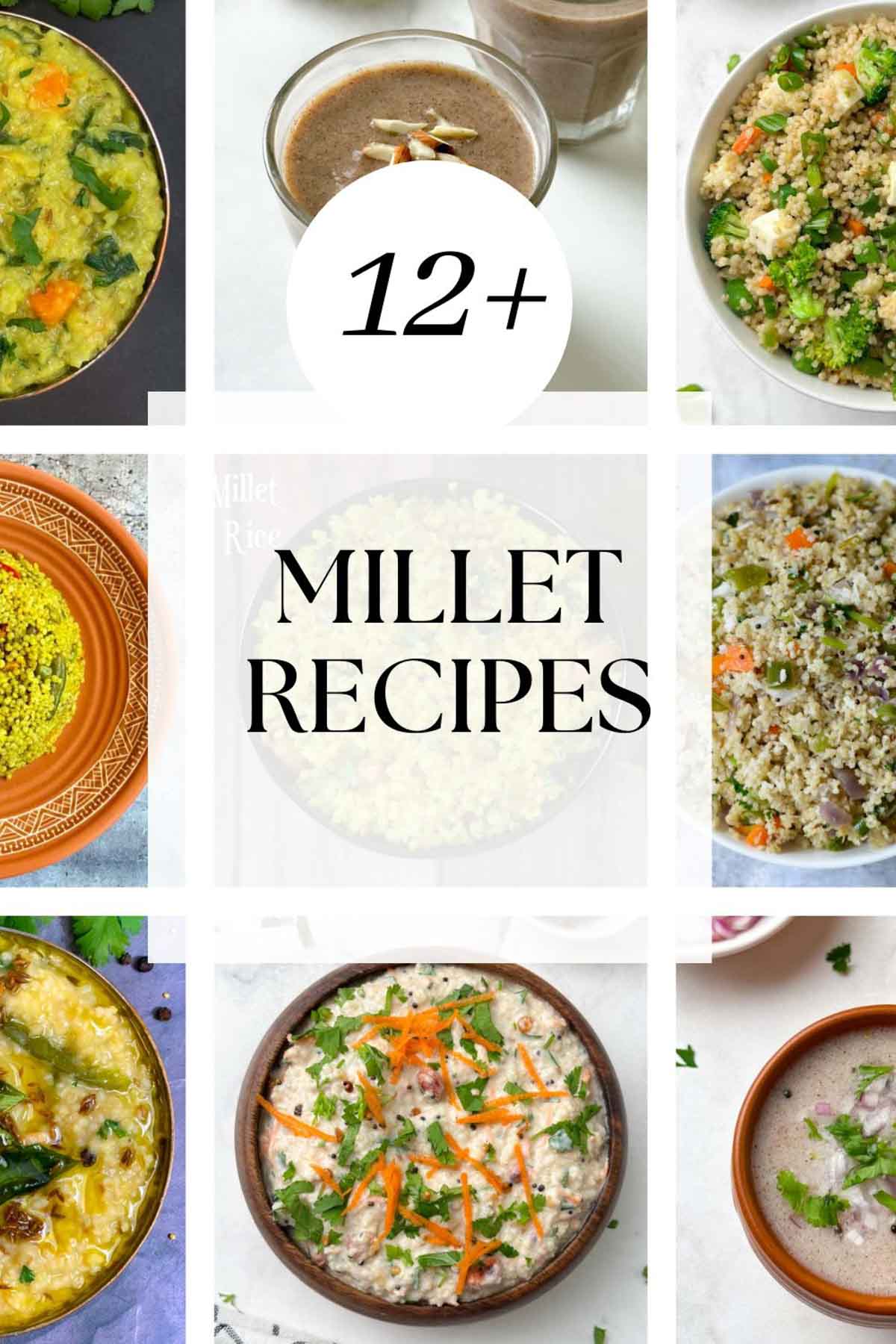 Jump to:
What are Millets (Siridhanya)?
Millets are called Siridhanya in Kannada and are one of the oldest known foods for humans. Millets are Ancient Grains. Mankind has known their nutritional value for centuries. They are naturally gluten–free. Low on carbs and high on fiber. They get digested slowly, giving sustained energy.
Millets are ideal for diabetics looking for an alternative grain to rice. They also help increase the bioavailability of minerals and have strong antioxidant properties. Regular consumption helps in decreasing triglycerides and C-reactive protein.
Health Benefits of Millets?
For humans, they release glucose slowly into the bloodstream, unlike highly processed Rice & wheat, which release it very quickly. Millets are highly nutritious and rich in calcium, protein, fiber, and the list goes on. They are gluten-free, unlike rice and wheat.
Prevent diabetes
Healthy heart
Prevent cancer
Anti-aging properties
Balance cholesterol level
Strengthen bones
Assist digestion
Types Of Millets
Grains are classified as Positive, Neutral, and Negative. And the Millet range of grains constitutes Positive and Neutral grains.
Among the Positive Millet Grains, which have dietary fiber from 8 % to 12.5 %, are
Whereas Neutral Millet Grains, have a little lesser fiber and other nutrients.
12+ Indian Vegetarian Millet Recipes
Little Millet/Samai Recipes :
Pearl Millet Recipes:
Foxtail Millet Recipes:
Kodo Millet Recipes:
Ragi (Finger Millet) Recipes:
All these recipes are perfect for adding to your millet recipes diet. Try them at home, and let us know how you all liked them in the comments below. For more such recipe ideas, stay tuned!
So do make sure, to bookmark this page by clicking the heart icon ❤️ on the right-hand side.
More Recipe Collections
If you've tried this healthy millet recipes recipe or any other recipe on Indianveggiedelight, then don't forget to rate the recipe. You can also follow me on Instagram and Facebook to see the latest recipes!