Milk Powder Burfi|Instant Burfi under 10 minutes
You can also check my other Finger Food Snack Ideas
Milk Powder Burfi|Instant Burfi under 10 minutes Recipe Card
★ DID YOU TRY THIS RECIPE?  Don't forget to give a ★ rating. Just click on the stars in the Recipe Card to rate!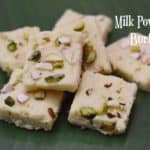 Milk Powder Burfi|Instant Burfi under 10 minutes
Keyword:
milk powder burfi
Ingredients
measuring cup used

1 cup = 250 ml

1

cup

Dry Milk Powder

1/4

cup

milk

1/4

cup

Sugar (powdered),You can add more sugar according to your preference.

3

tbsp

Ghee (clarified butter)

2-3,

green cardamoms

4-5

Pistachios

finely chopped

3-4

Almonds

finely chopped
Instructions
First of all take a plate or tray in which we will set up burfi, Butter a tray and set aside.

Now put a wok/nonstick pan on low heat, add ghee, milk and immediately add milk powder because if milk becomes hot than milk powder can form lumps. Now mix all ingredients, till they blend well and become like a smooth paste, just make sure to keep the heat low, it took me around 2 mins to get paste like shown in video.

When it becomes a smooth paste add sugar and again mix them well. You will notice after adding sugar, paste has become little thin, so now increase heat to low medium and cook it again for approximately 7-8 mins till it becomes thick, its important to keep stirring to get the perfect texture.

After 7-8 mins paste has become thick and this is the consistency we want. butter starts leaving the sides of the mixture

Now as soon as you get this consistency switch of the heat otherwise mixture paste will get extra hard and burfi will not be soft.

To check if we have right paste consistency, take a plate with little ghee applied on it. Now take some paste mixture and try to roll on it, if it rolls well and becomes like a ball it means mixture is ready to make burfi.

Now take the tray we setup with ghee in the beginning, and transfer milk powder paste in tray and press it gently to spread uniformly with the help of a ghee applied spatula. We are using ghee applied spatula to avoid paste sticking to it while spreading.

Now our paste is spread out uniformly, so add some chopped pistachios and almonds on top for garnishing and to give a beautiful look. Then press them gently so nuts set well on burfi.

Now cover the tray using a cling wrap and let it cool down so that mixture layer sets well and becomes firm. If you are in a hurry you can also put it in refrigerator for 15-20 minutes to cool down quickly.

Now it has cooled down, Now take a sharp knife and apply some ghee on it and cut layer into shapes of your choice

Once all burfies are cut they are ready to serve.
Recipe Video
Recipe Notes
1. Make sure to immediately add milk powder without milk getting hot to avoid any lumps.
2. You can also change nuts on top of burfi, according to your own choice.
3. If you want to cool burfi layer quickly, then put it into refrigerator for atleast 15-20 minutes.
4.Stays well for 7 days at room temperature.
♥ We LOVE to hear from you If you make this recipe, please share your food photo with hashtag #indianveggiedelight on Facebook or Instagram, so we can see it and others can enjoy it too! Thank you ♥
Subscribe to my Youtube Channel for healthy & tasty video recipes.