Looking for easy Indian Sweet (Dessert) recipes? Here are the best, 30+ simple and delightful Indian dessert recipes to satisfy your sugar cravings, from creamy kheer, and rich halwa to gulab jamun, rasmalai that your family will love.
This extensive collection of sweet recipes is from all over India. Perfect for making it for special occasions and festivals.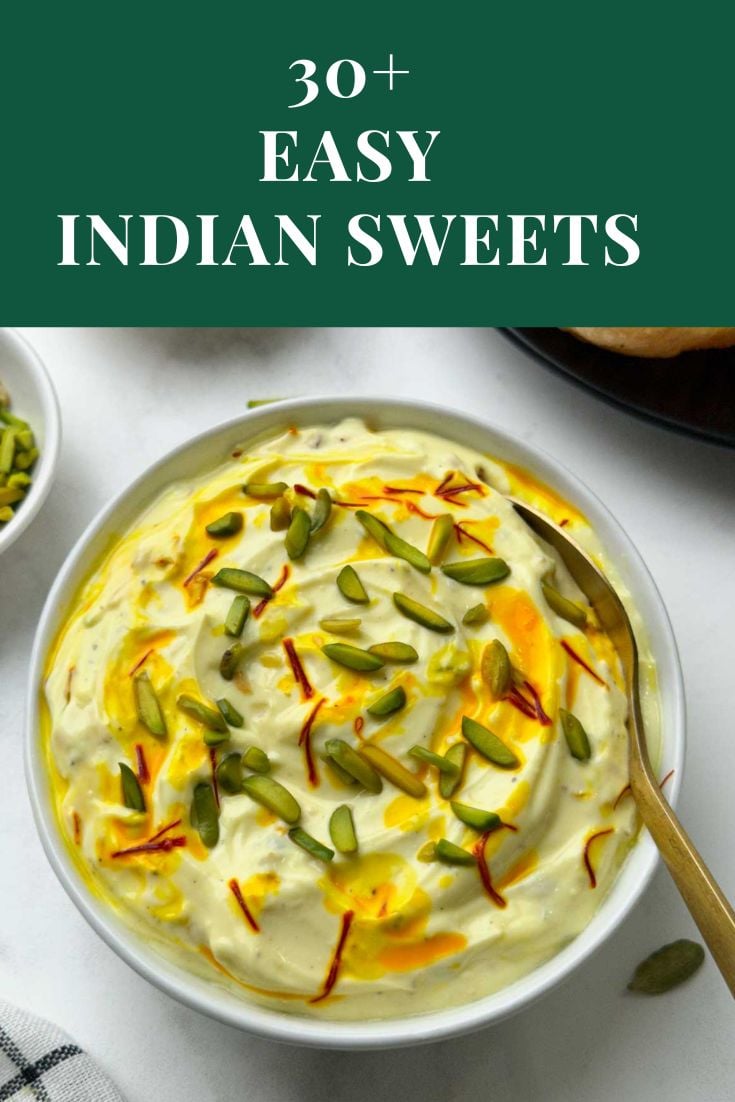 Everyone likes desserts, right? It is impossible to put into words the pleasure experienced when tucking into a delicious piece of pudding. Indian mithai is a weakness for us Indians. And when there is such a wide selection, it is impossible to avoid devouring a few. With everything from warm halwa to utterly delicious kheer and delicate barfis, crispy gujiya, and more, I just love having Indian desserts.
I, along with my family members, prepare a variety of Indian desserts on every special occasion, especially at festivals. Indian festivals are celebrated with much joy and endeavor, and food is an essential part of all these festivals. Besides the grand feast, Indian desserts (or mithai) play a very important role. Every festival is known to have a dessert of its own.
For instance, Gujiya is one of the most beloved Holi treats of all time. These dough pockets packed with khoya and sugar are really simple to make and are the ultimate indulgence! What's best? These snacks can also be air-fried rather than deep-fried.
During Diwali, people prepare motichoor ka ladoo, kaju katli, soan papdi, and more. The festival of Onam is known to have Ada Pradhaman, paal payasam, rava ladoo, and more. Ps: you can also choose to make all these desserts healthy by a few permutations and combinations.
The majority of these Indian desserts are made using simple ingredients like milk, sugar, ghee, all-purpose flour, gram flour, almonds, and semolina. Floral spices like cardamom, nutmeg, and saffron are also used to accentuate the flavors and aromas of these sweets.
Even though many places sell Indian desserts, creating them at home outweighs the sweets available in all the restaurants and shops. Additionally, you may use higher-quality foods and avoid using artificial coloring, sweeteners, and other additives.
For a healthy twist on the classic dishes, several of these recipes can be prepared in an Air Fryer. Several recipes are Instant Pot-based, which takes less time and effort to provide the same authentic taste.
Jump to:
Here are 30+ Easy Indian Sweets (Dessert Recipes)
More Recipe Collections
If you've tried this easy Indian Sweet (Dessert) recipes or any other recipe on Indianveggiedelight, then don't forget to rate the recipe. You can also follow me on Instagram and Facebook to see the latest recipes!