These 70+ Healthy Vegetarian/Vegan Indian Kids School Lunch Box Recipes ideas that your kids will love! These recipes are filled with wholesome ingredients, packed with nutrients, and will keep your kids satisfied all afternoon.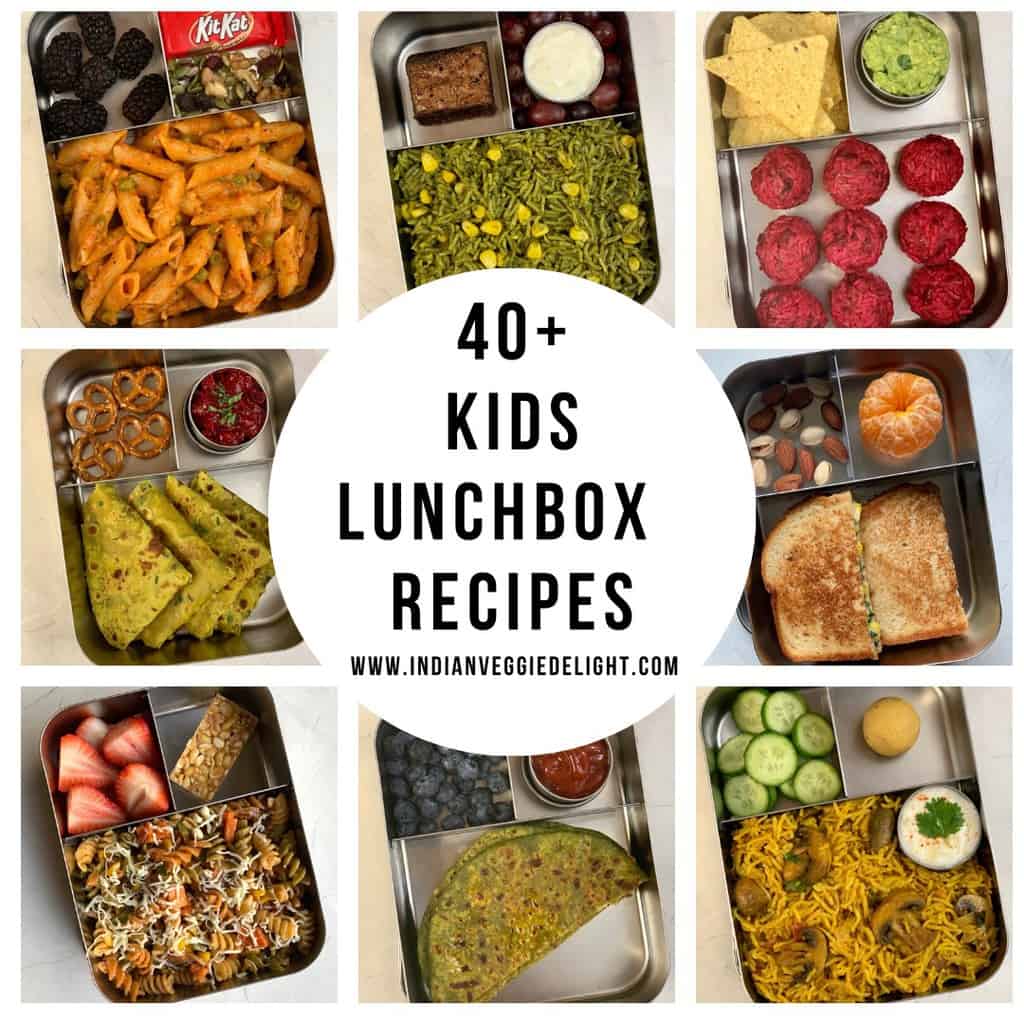 Hello, here is my collection of Vegetarian and Vegan Kids Lunch Box series, where I share healthy, easy, kid-friendly lunches and snacks that I serve my kid Monday to Friday, along with a few tips & tricks thrown in here and there. Hope you find this useful to pack meals for your children.
If you landed on this page, I am sure you got some naughty & playful kids at home 🙂 And we agree that for most kids - The mother is by default a "Lifetime Master Chef". No wonder we Mothers constantly keep looking for yummy breakfast ideas or lunch ideas, or healthy snack ideas for our kids. This seems like a herculean task. So saluting all these wonderful Mother's, I would like to share my proud collection of 75+ Healthy Kids Lunch Box Recipes.
From Pasta Mayonnaise Veggie Pasta, Creamy Tomato Pasta, to Rice items like Carrot Rice, Tomato Rice, to sandwich Spinach Corn Sandwich, Beetroot carrot sandwich, to Parathas Avocado Parathas, Zucchini Carrot Paratha you can find a variety of options for your lovely kids. Trust me; your kids will love these Indian Veg lunch box ideas & would ask for more & more.
Got a cute little toddler at home? Coming up with toddler breakfast ideas is also never an easy task. If you are looking for some Indian breakfast ideas for toddlers, check out Healthy Toddler Indian Breakfast Ideas. All in all, these healthy kids Lunch Recipes filled with wholesome ingredients, packed with nutrients will keep your kids tummy fully satisfied & you less worried 🙂
If you are wondering about the lunch box used in the post, These lunches are packed in a stainless steel tiffin box called Lunchbots, which is Eco-Friendly, Dishwasher Safe, and BPA-Free.
The 3.4 oz Stainless Steel Condiment Containers are great for Snacks, Desserts, Dips, and Yogurt/Raita easily available on Amazon. Do not use plastic lunch boxes for your kids. They are toxic.
Disclaimer: I am not a nutritionist or a dietician. I am doing what is best for my kid to create a balanced lunch.
Jump to:
75+ Indian Kids Lunch Box Recipe Ideas
Let's have a look at the 75+ Vegetarian/Vegan Indian Kids Lunch Box Recipes, which will offer you a variety of options:
This grilled Spinach Corn sandwich is very popular in cafe coffee day in India and is a healthy school lunch box option.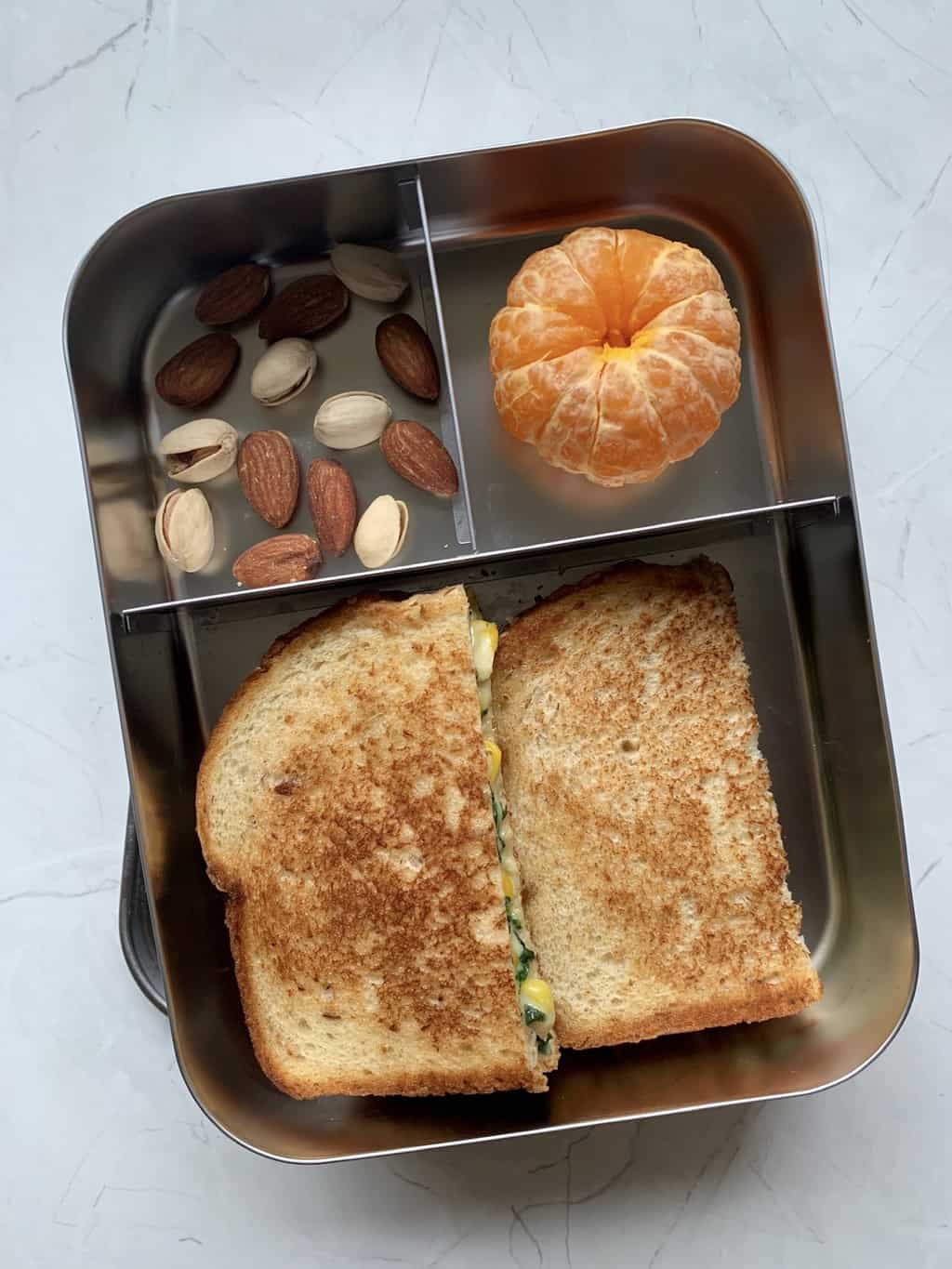 Soft and savory uttapam/pancakes topped up with grated paneer, carrots, onion, tomatoes, and freshly chopped chilies and coriander.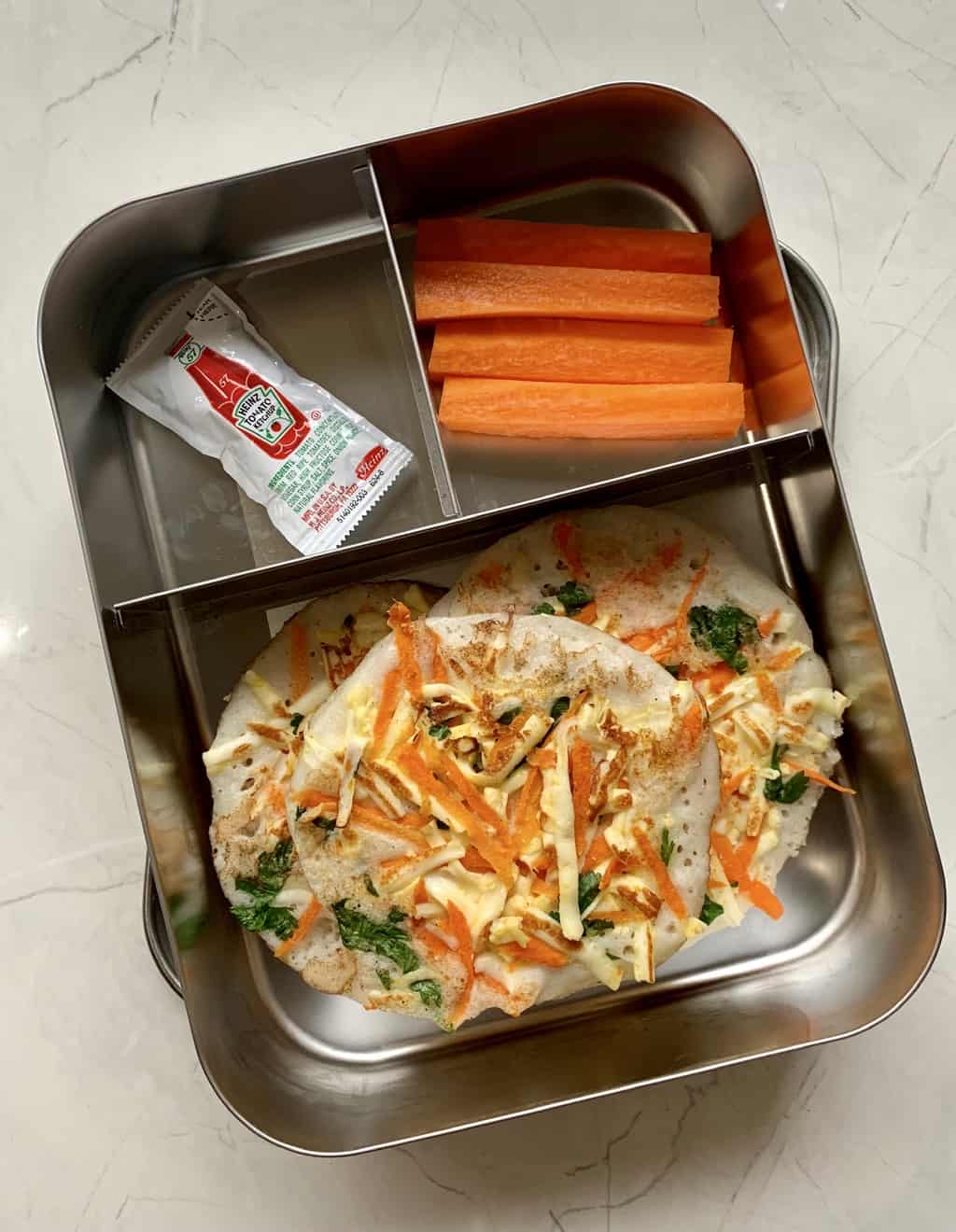 Carrot Rice is a healthy recipe that you can prepare for your loved ones on lazy weekends or for lunch box for both kids as well as adults as it is an easy-to-make recipe that you can make within minutes.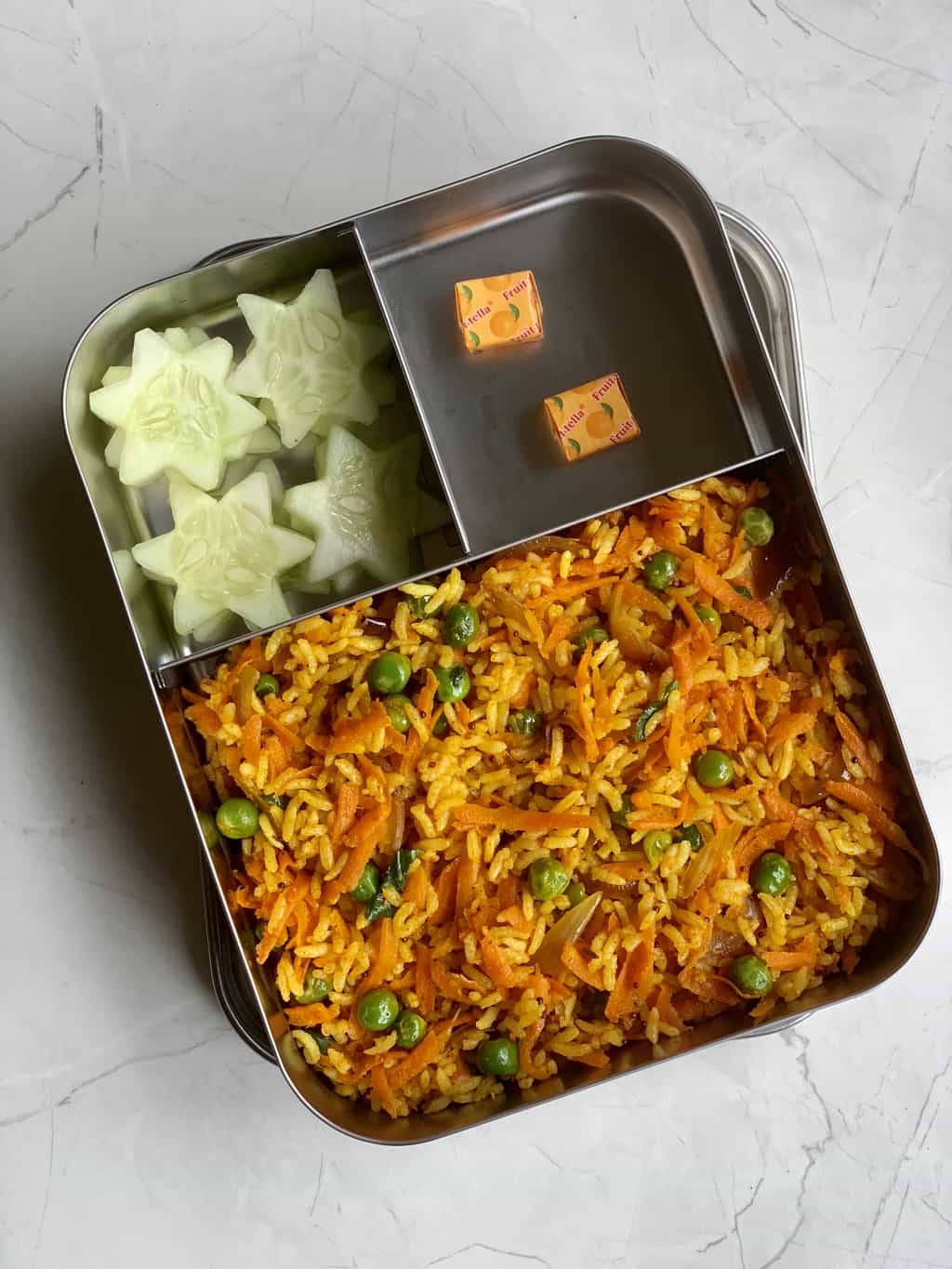 Potato Spinach pancakes or Aloo Palak Cheela is a simple, healthy, delicious breakfast recipe. You can call these chillas an Indian version of potato hash browns.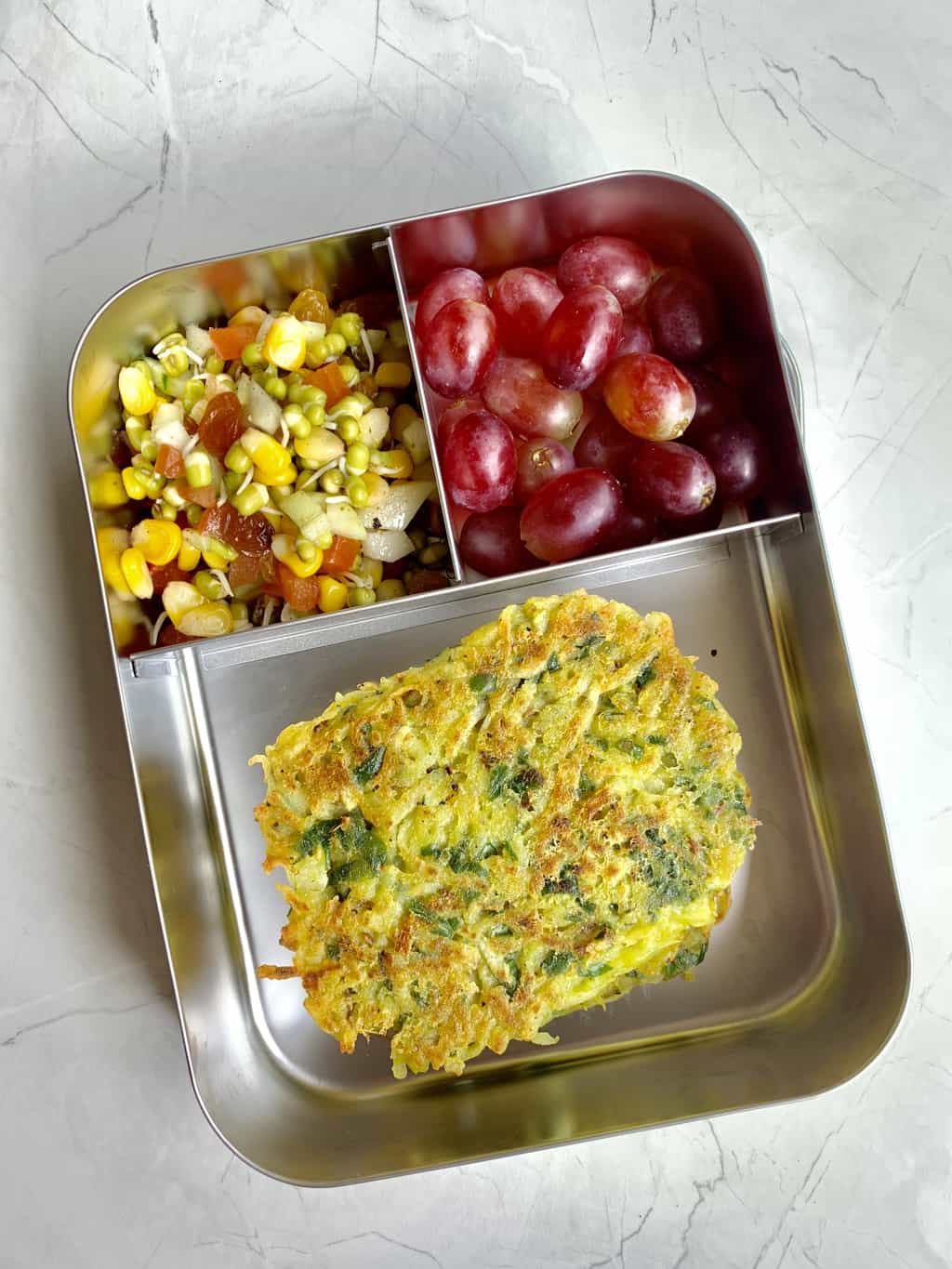 Mayo Veggie Pasta is a delicious quick pasta recipe with veggies added to it along with delicious mayonnaise and cheese. This recipe is quick and easy to make, and you can use any other type of pasta like macaroni or penne.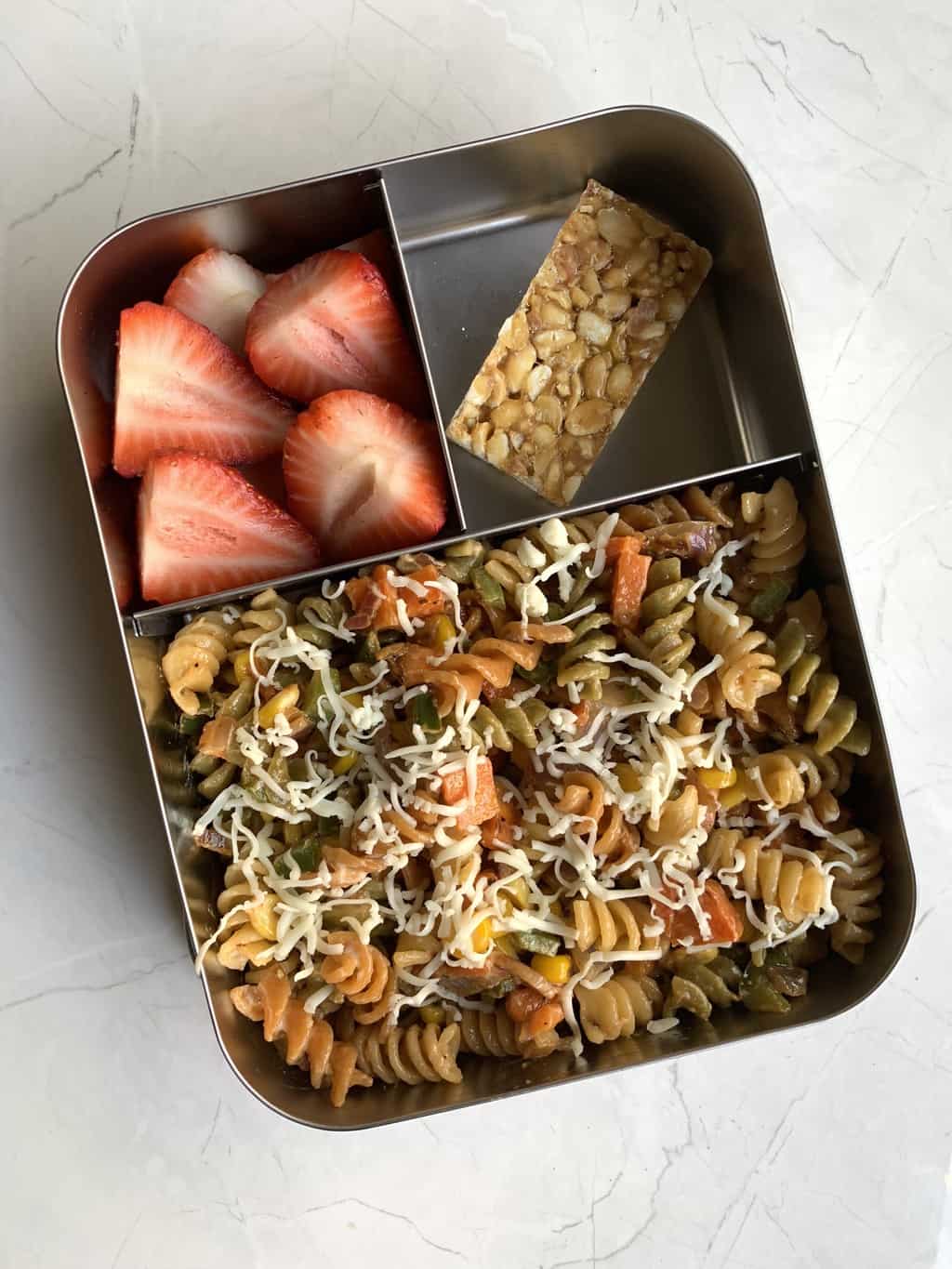 Palak Chapati – are made by many moms to sneak in nutrition and are a popular Indian recipe for toddlers and kids. Your little one will enjoy eating colorful chapati.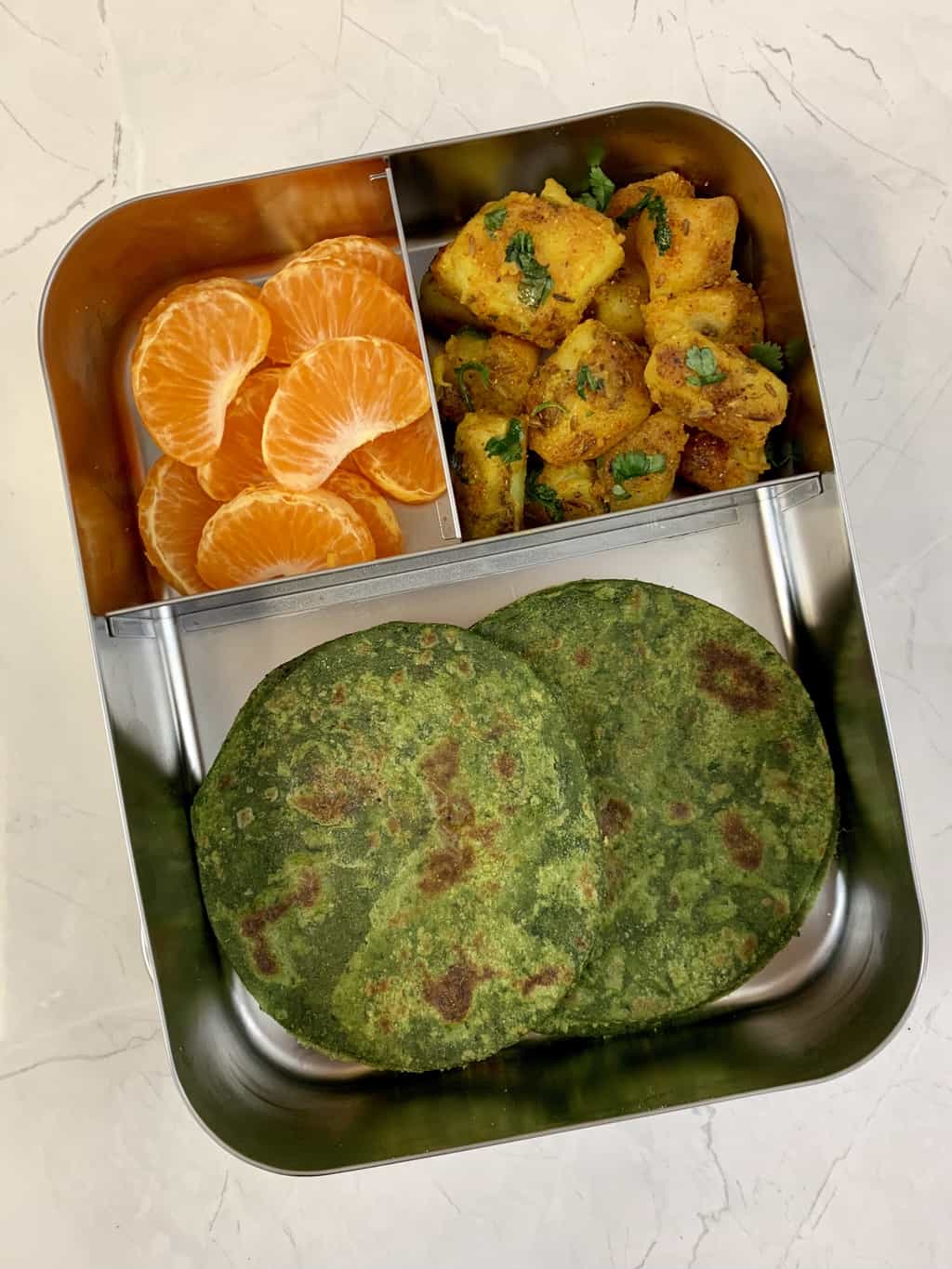 Dal paratha is very popular in Rajasthan and Gujarat, a dish prepared with whole wheat flour, dal, and spices.
This pineapple fried rice recipe is one of my favorites for busy days! Super easy, healthy, and yummy. Plus, it's SO colorful!.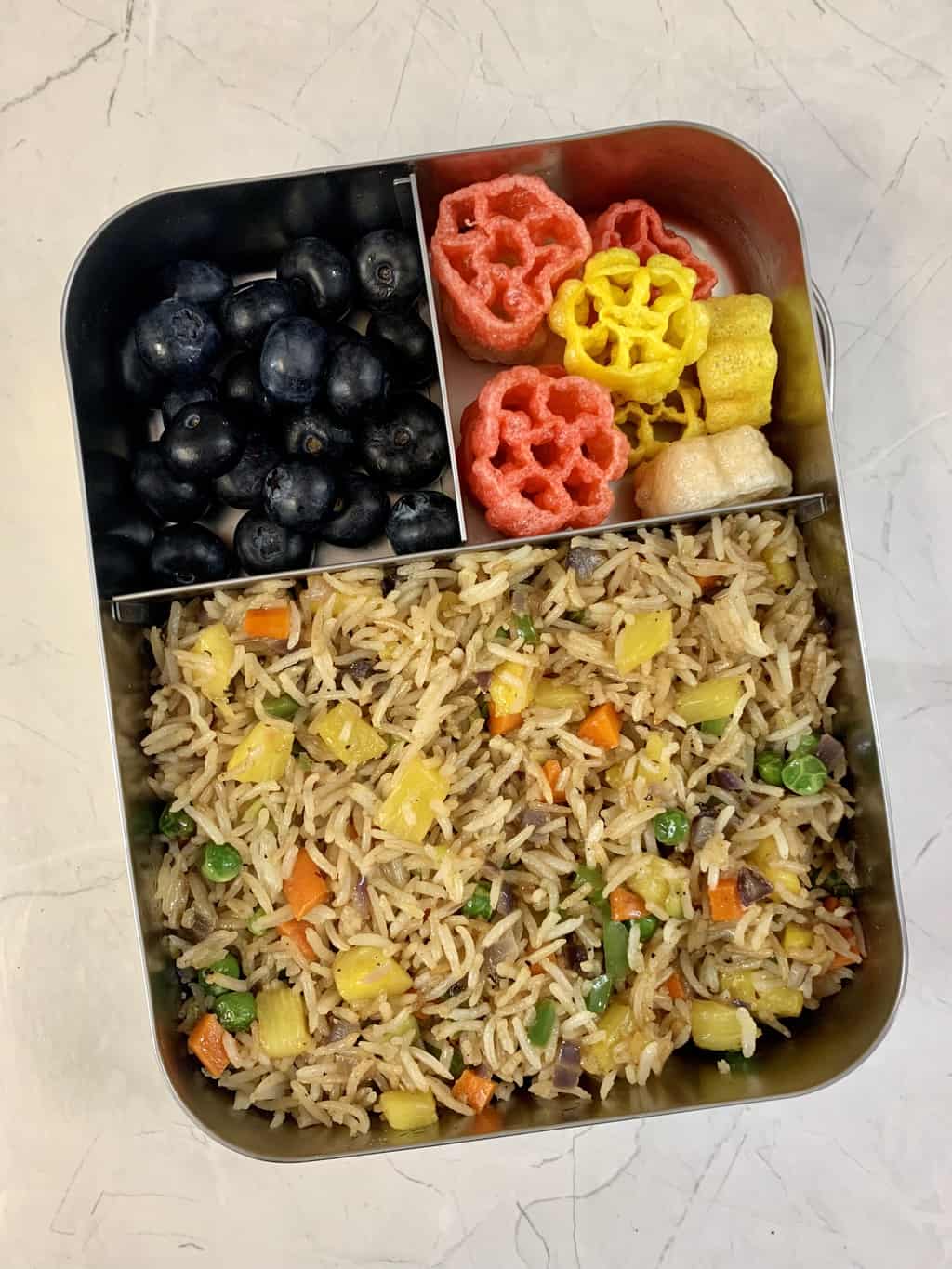 Veg Vermicelli Upma – A popular South Indian breakfast dish Vermicelli Upma is also known as Semiya Upma. It is a quick and healthy dish that you can cook quickly in just 15-20 minutes with simple ingredients.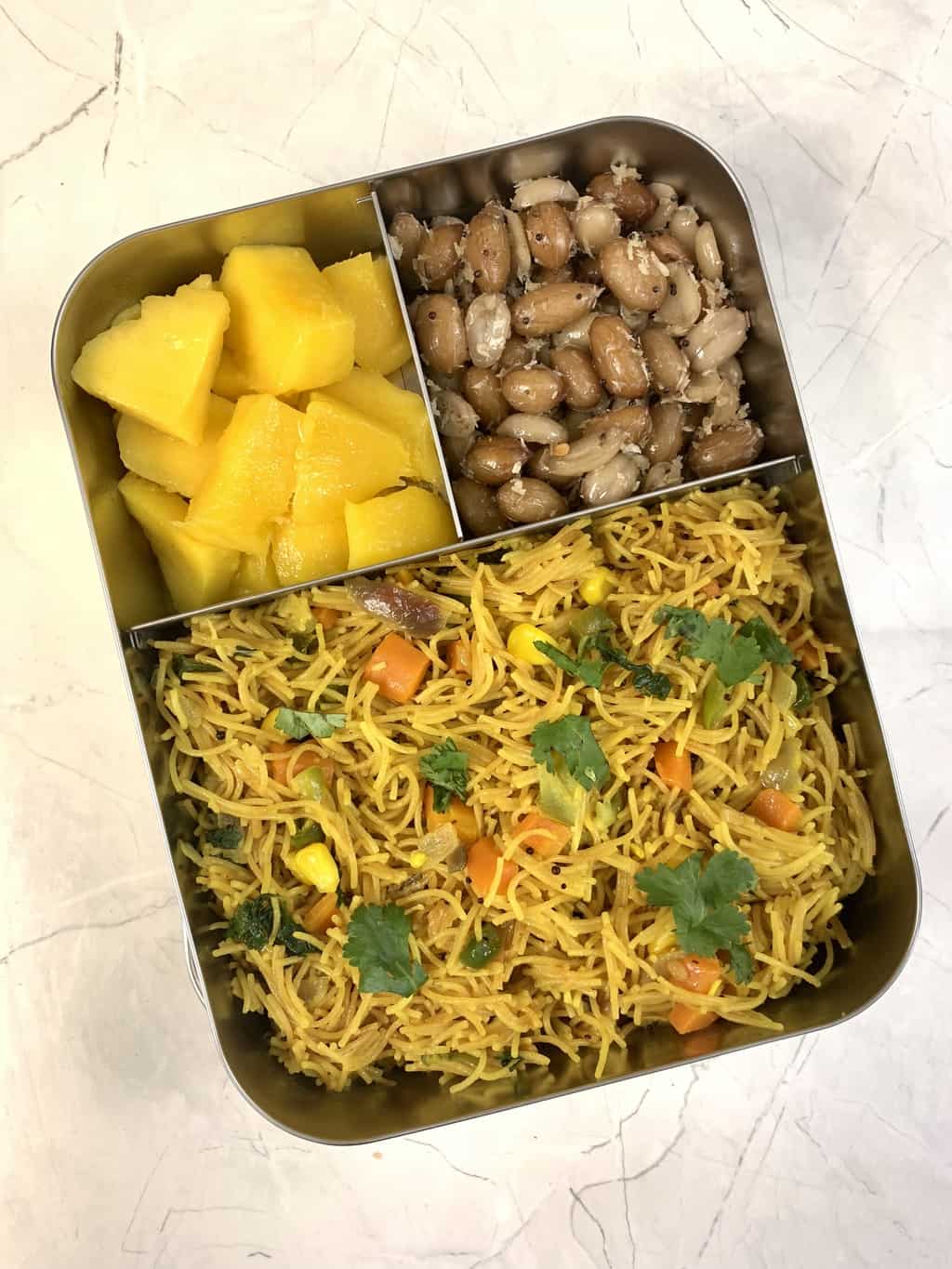 Spinach Coin Dosa – This is a healthy, delicious, and simple way to make your kids eat veggies and greens. Coin Dosa are bite-sized dosa and easy for your kids to eat and mess-free.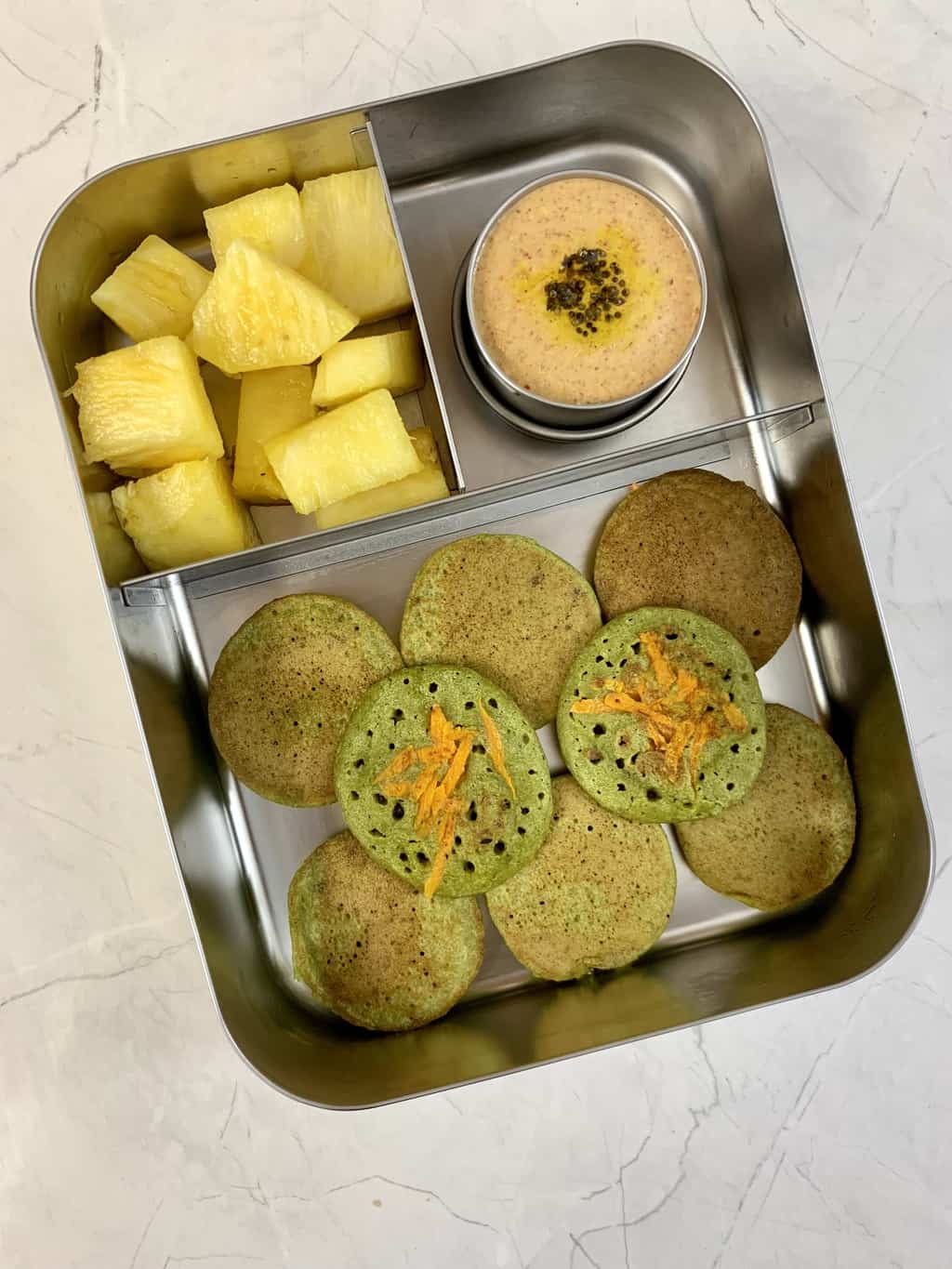 Avocado Paratha is an Indian Whole Wheat Flatbread prepared by kneading whole wheat flour and avocado pulp with a few spices. It comes out very soft, requires less oil, and is healthy.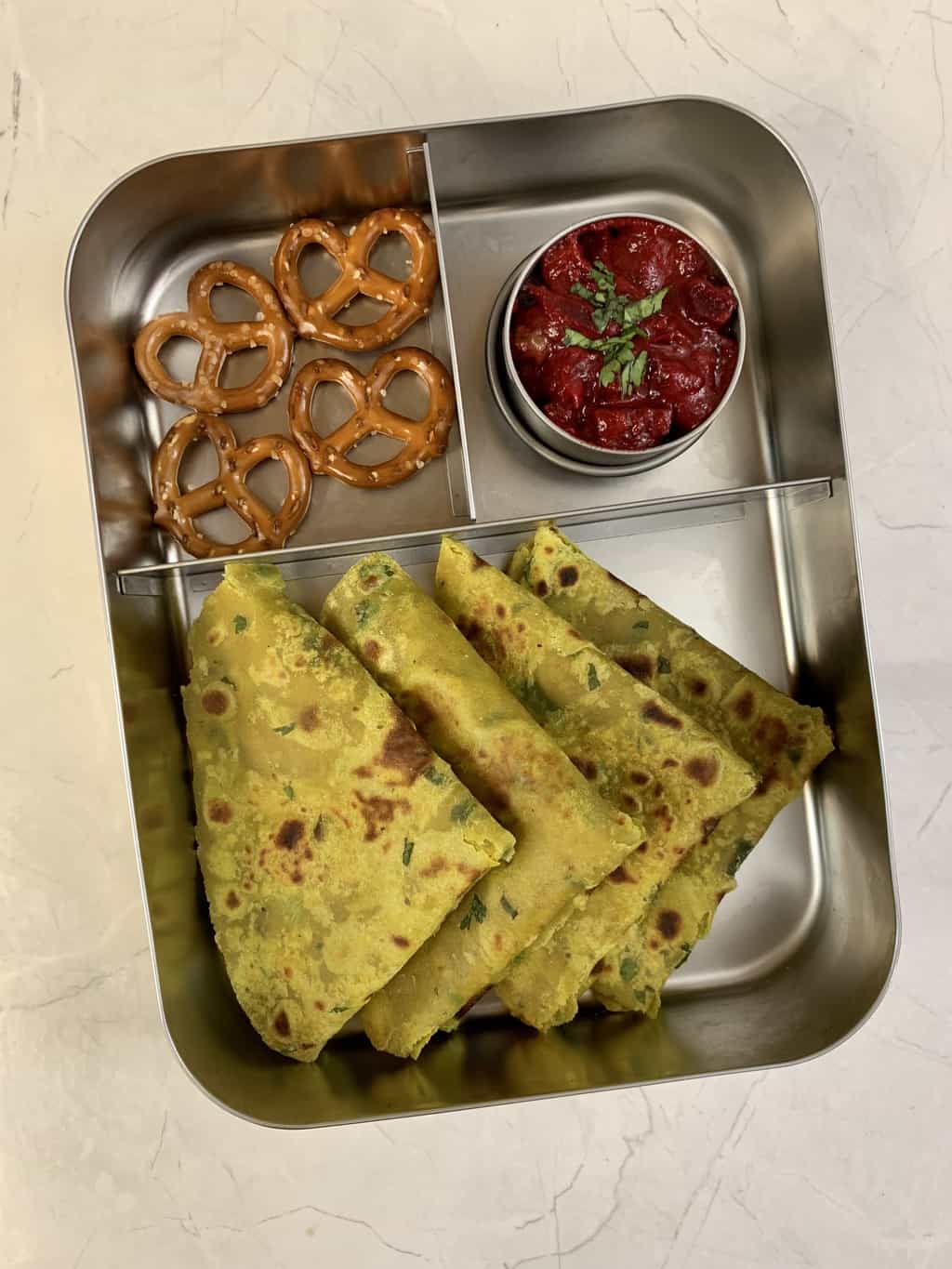 Lemon Idli is a Quick and Healthy breakfast option for school-going kids and toddlers. Idli is steamed food, so it's always safe and good to pack for lunch if your kid prefers breakfast items for lunch.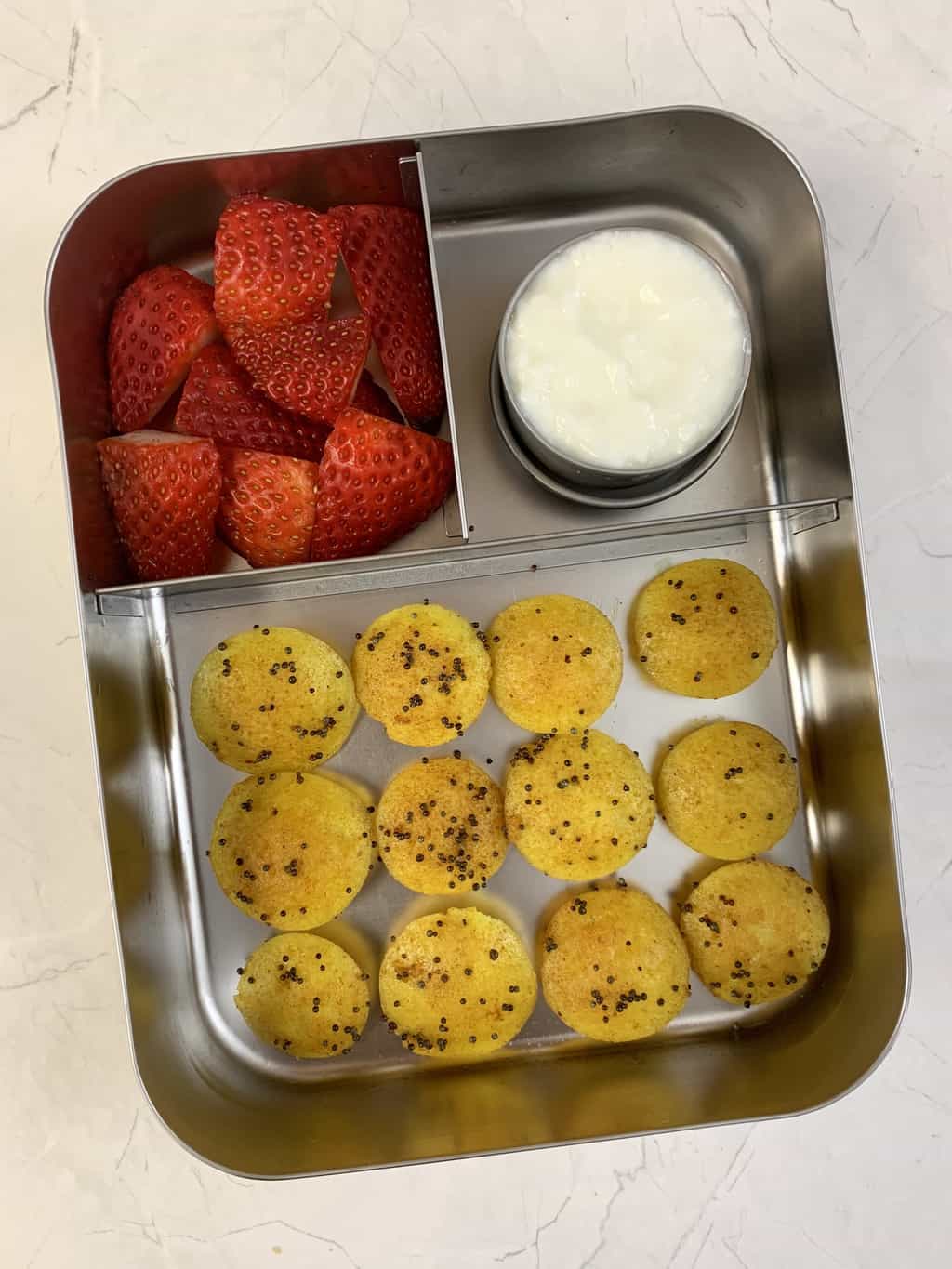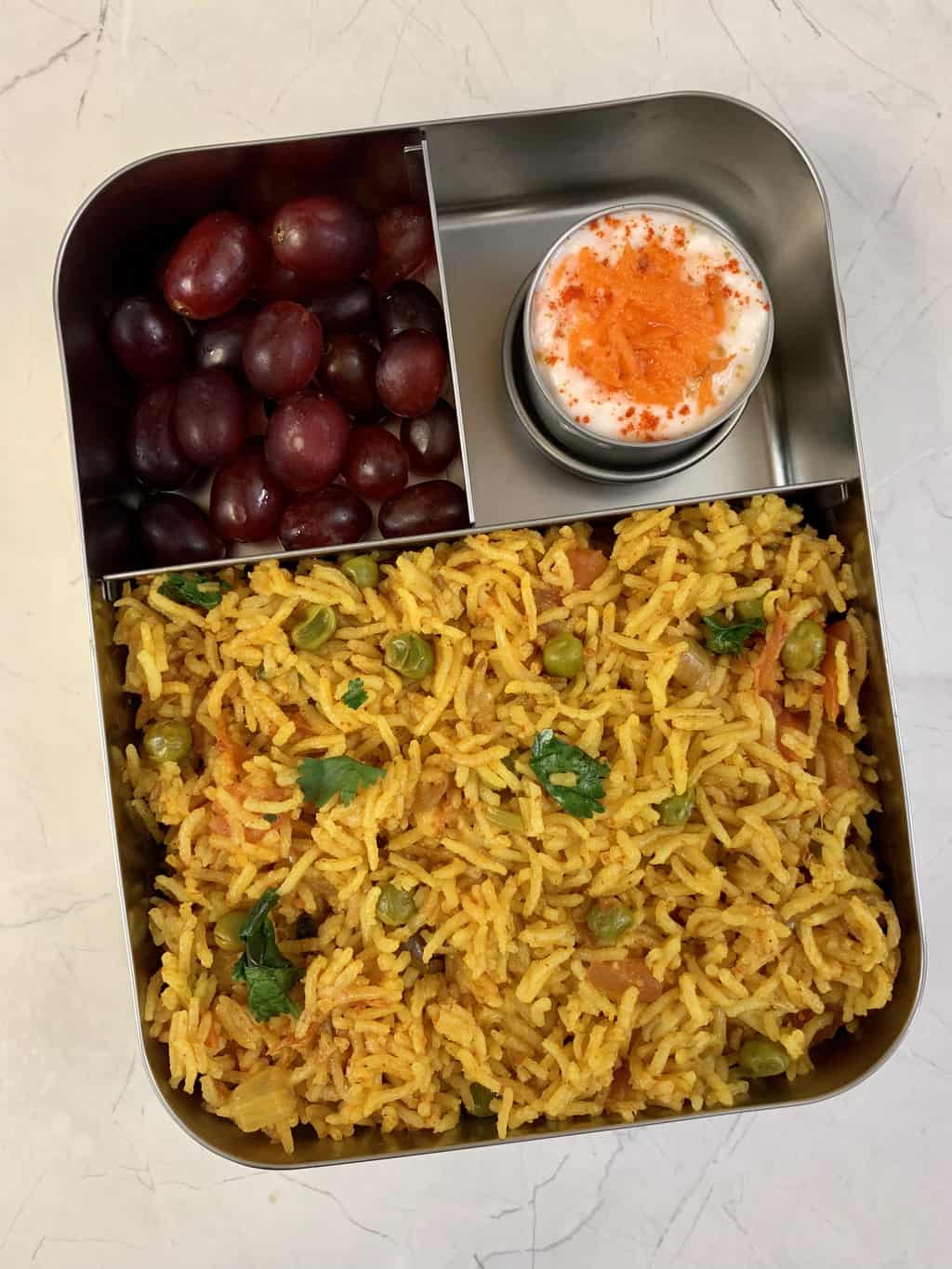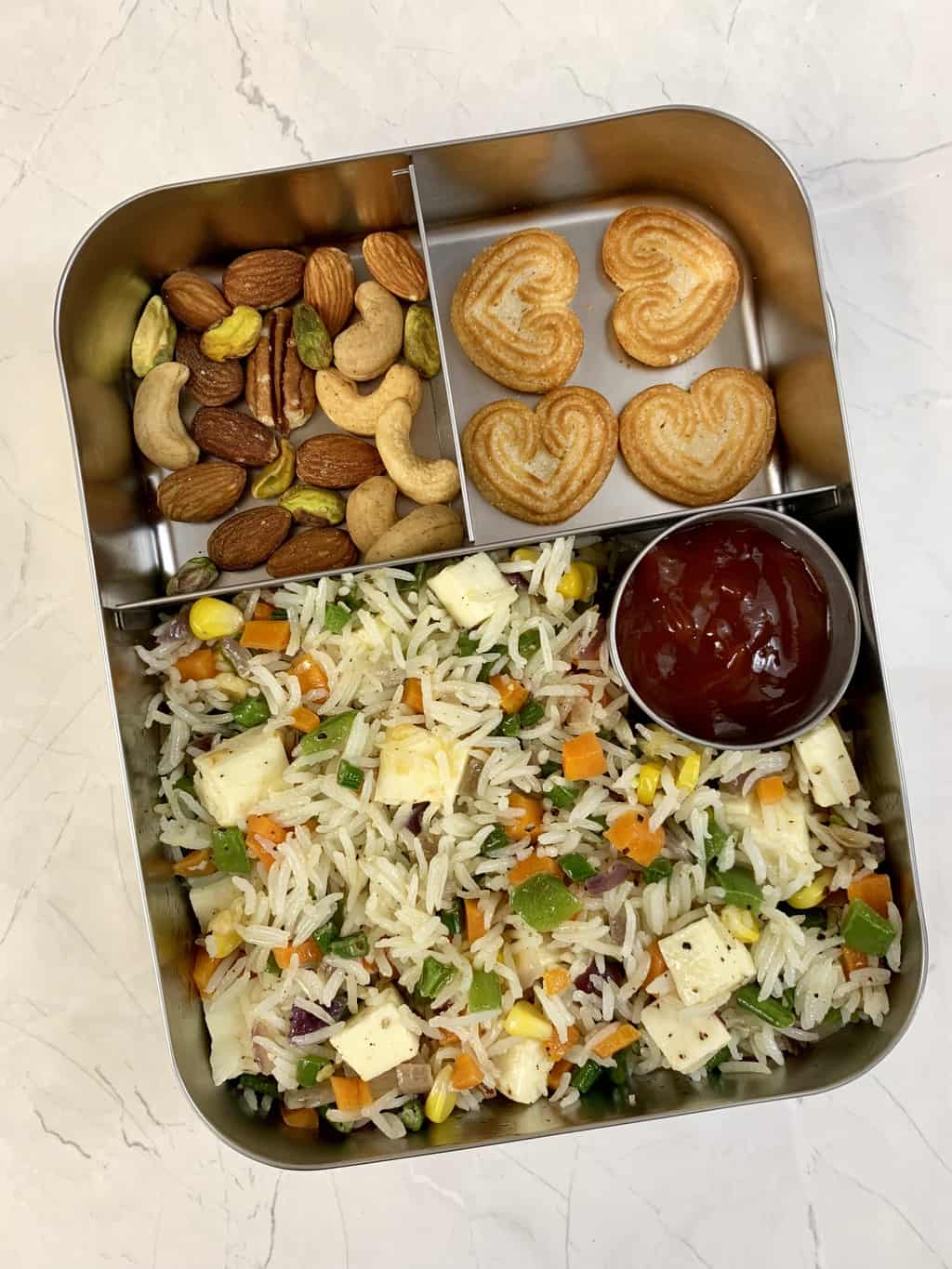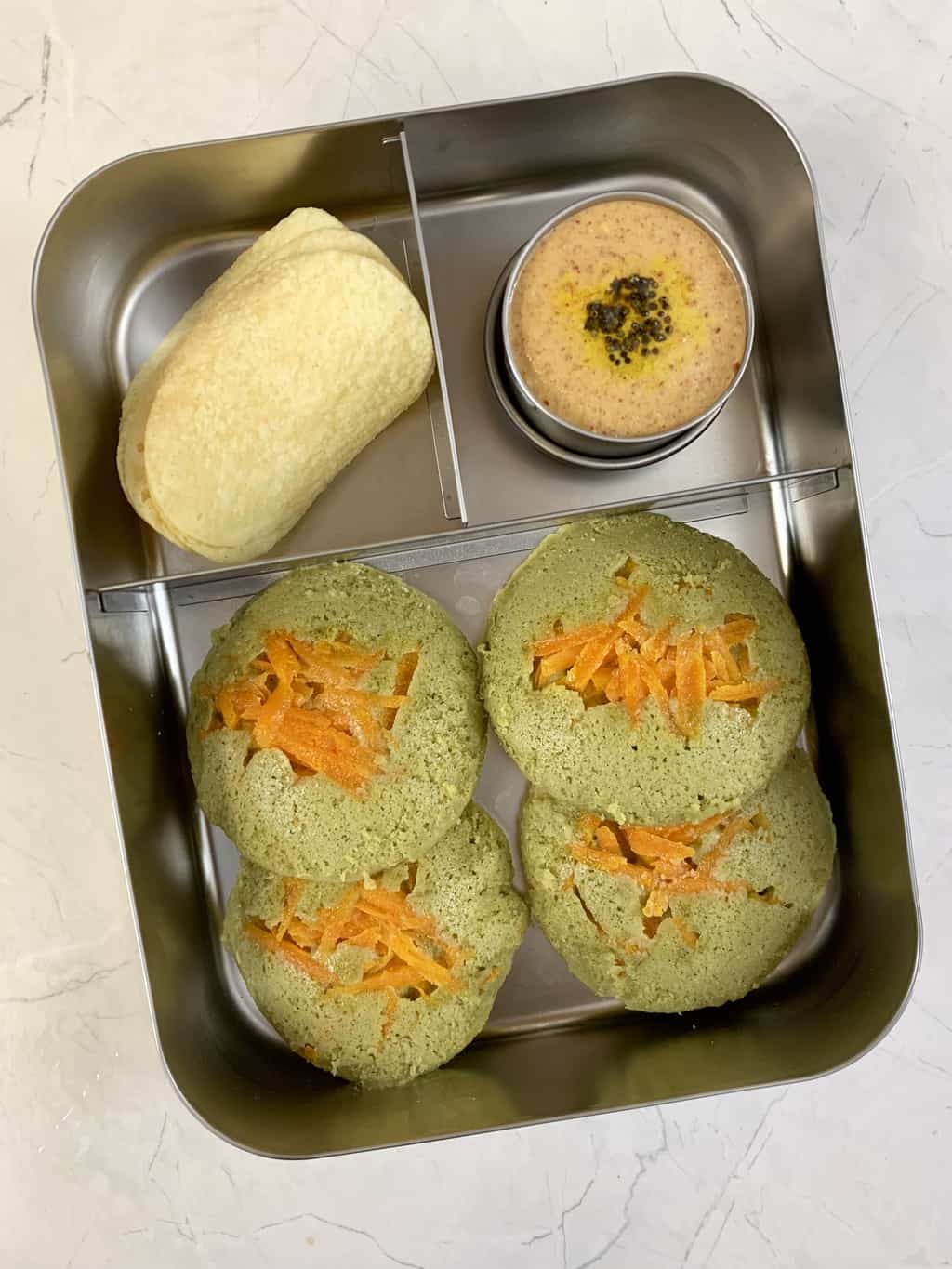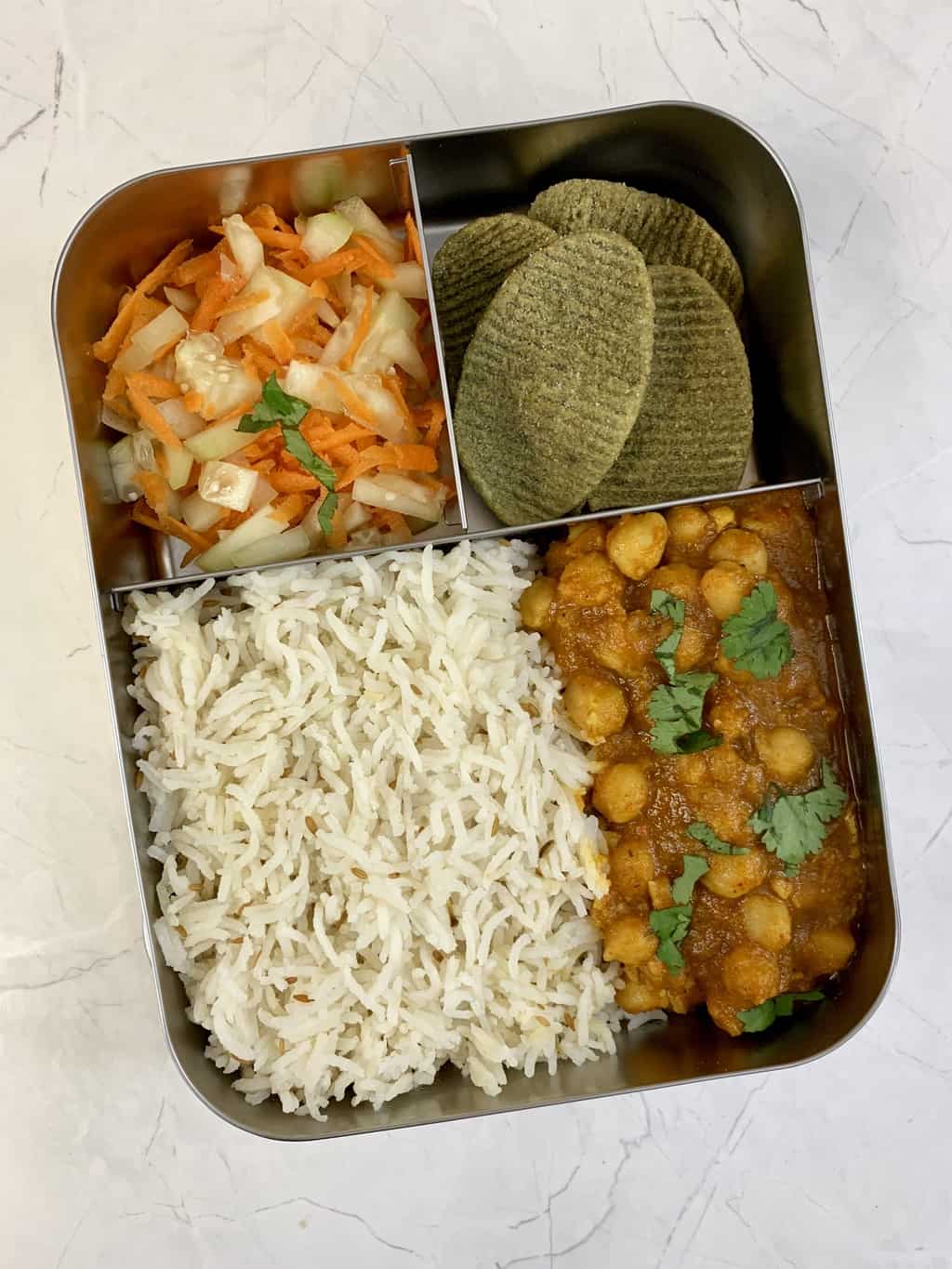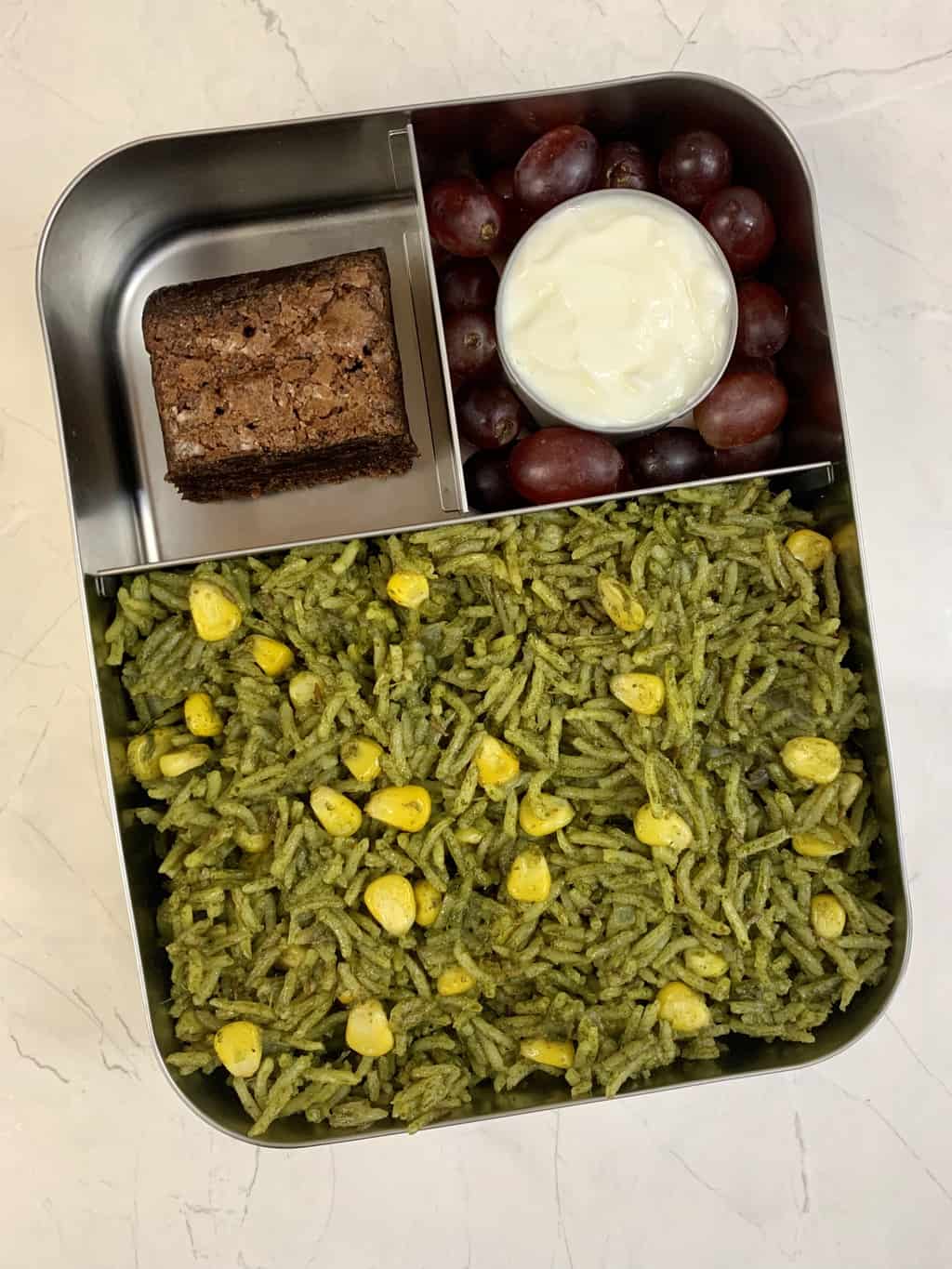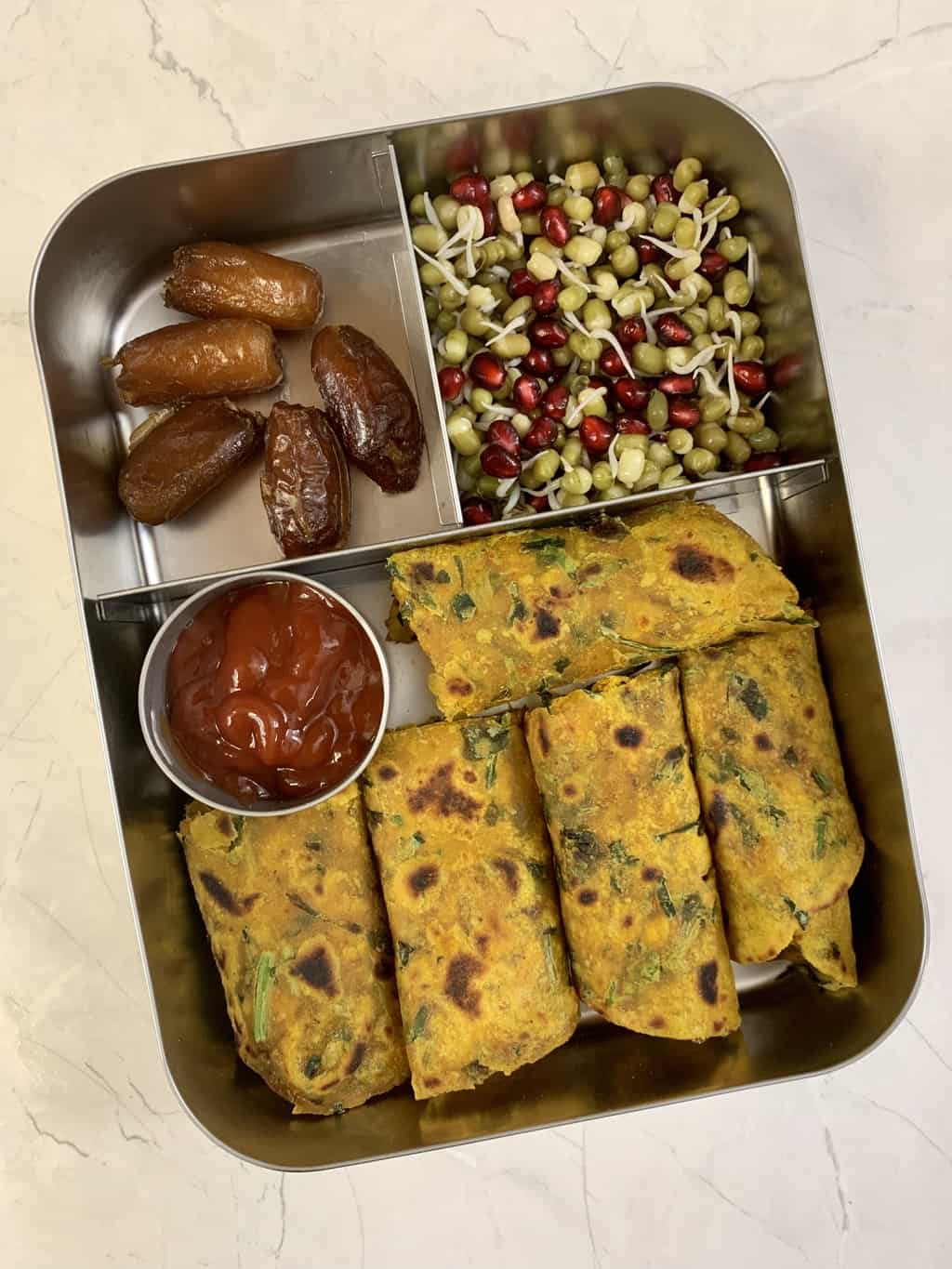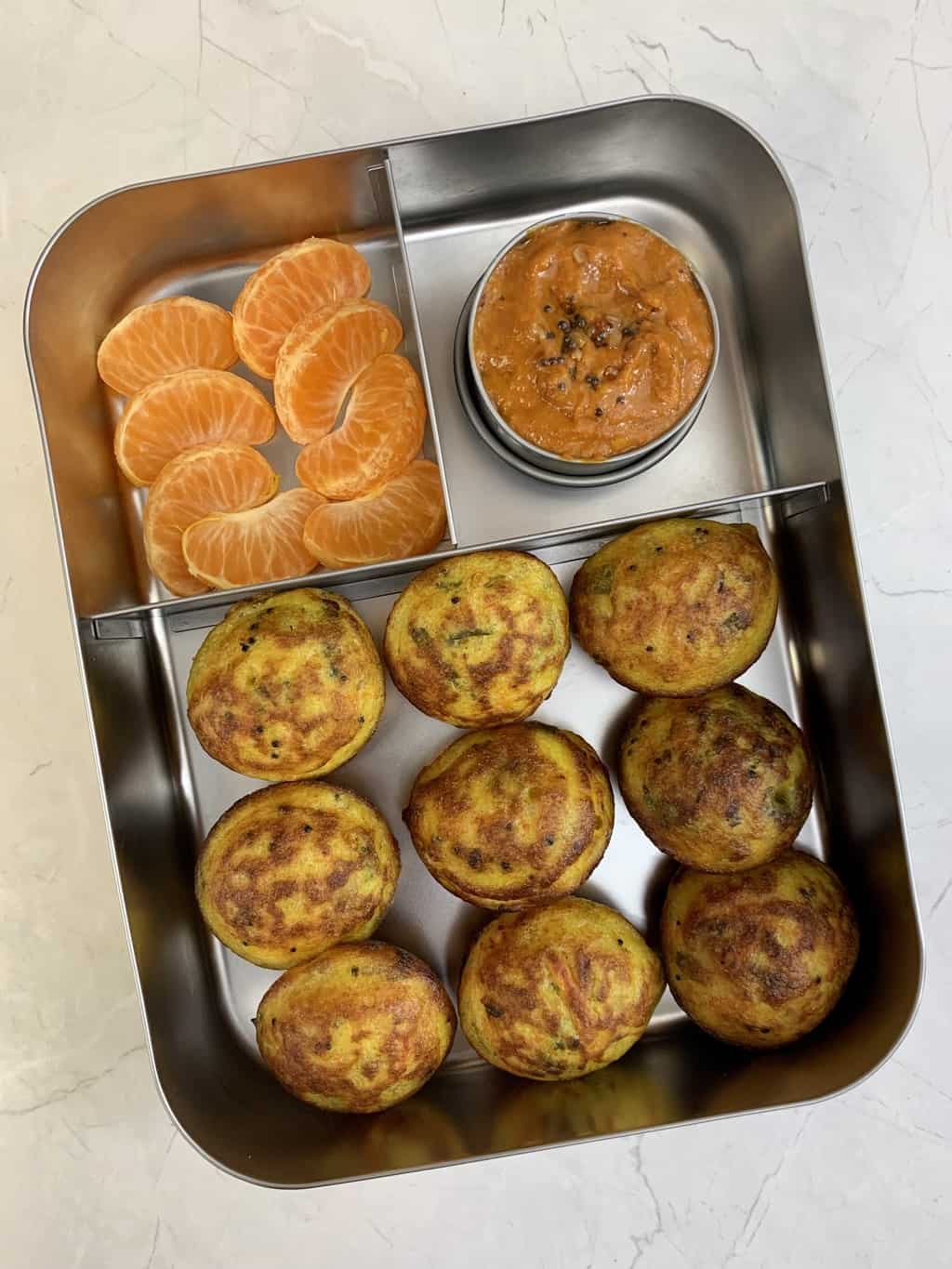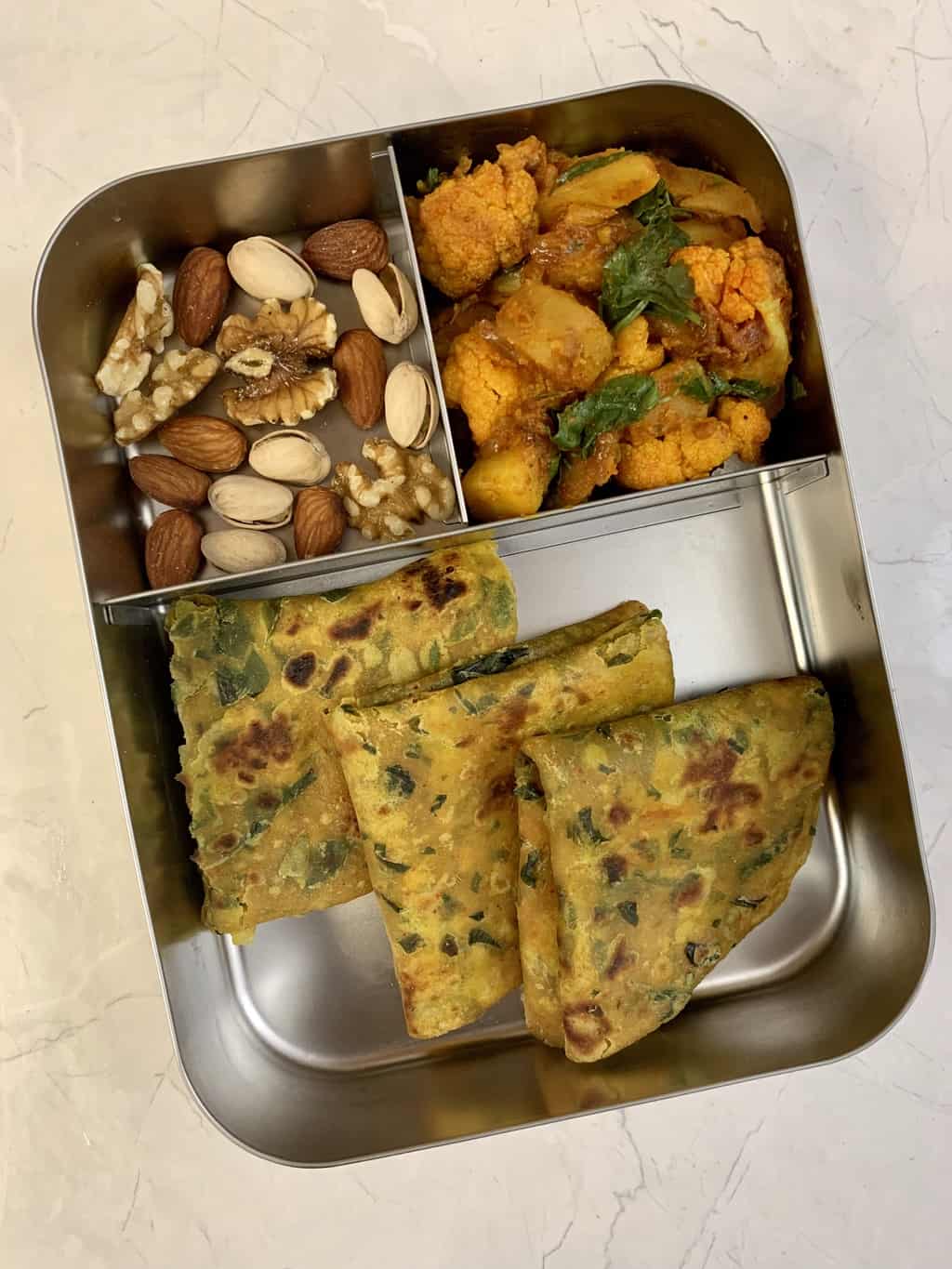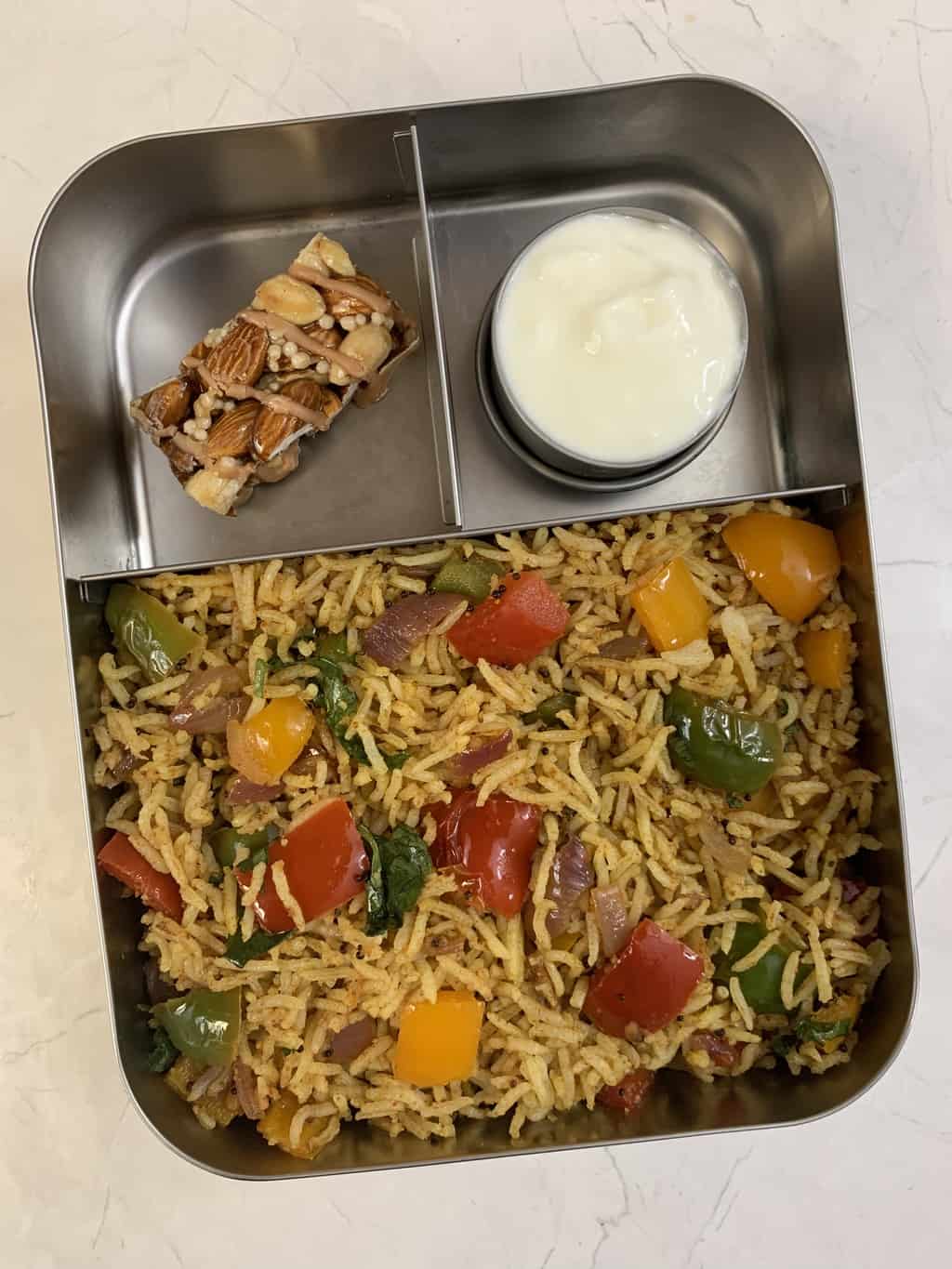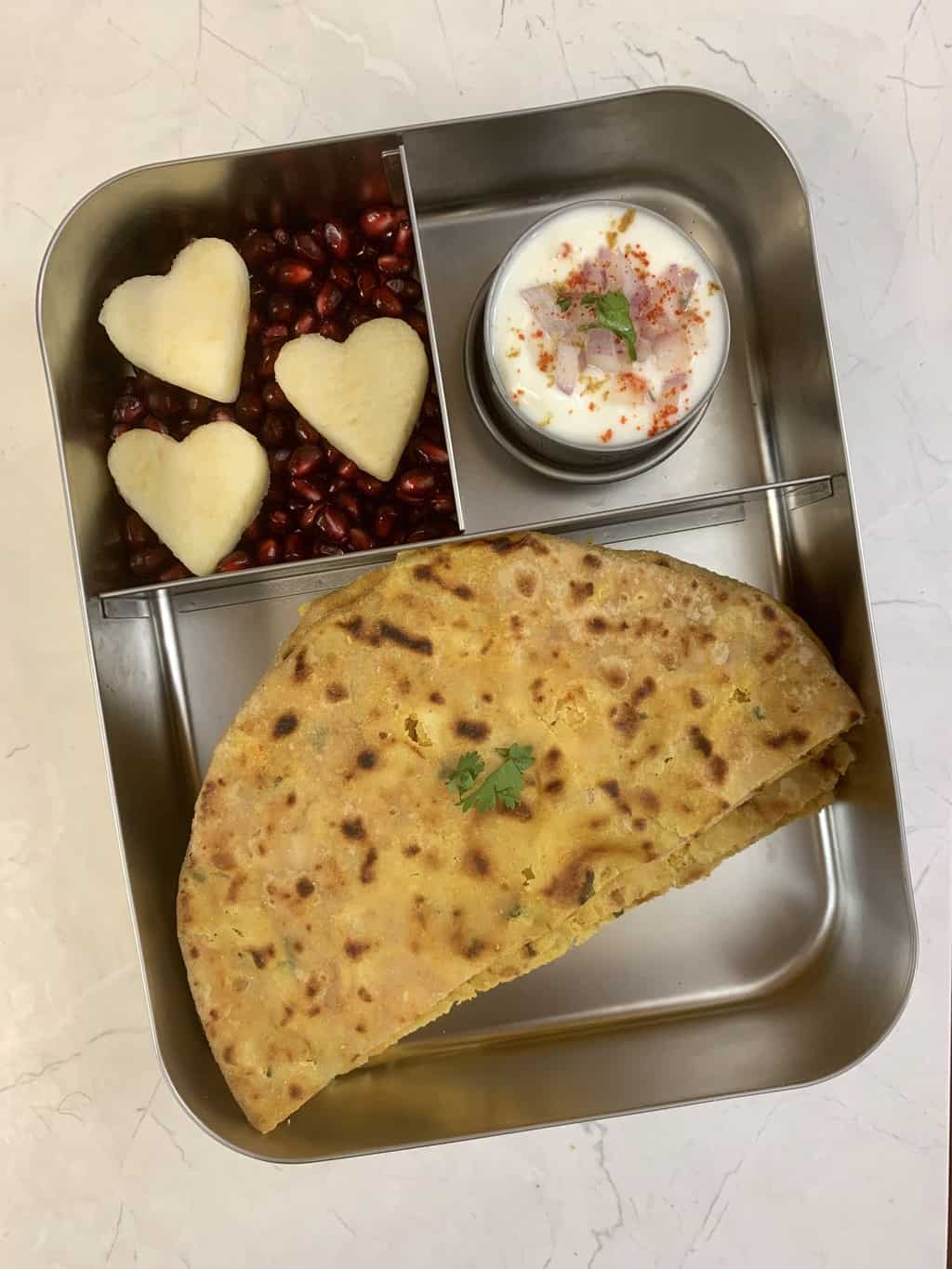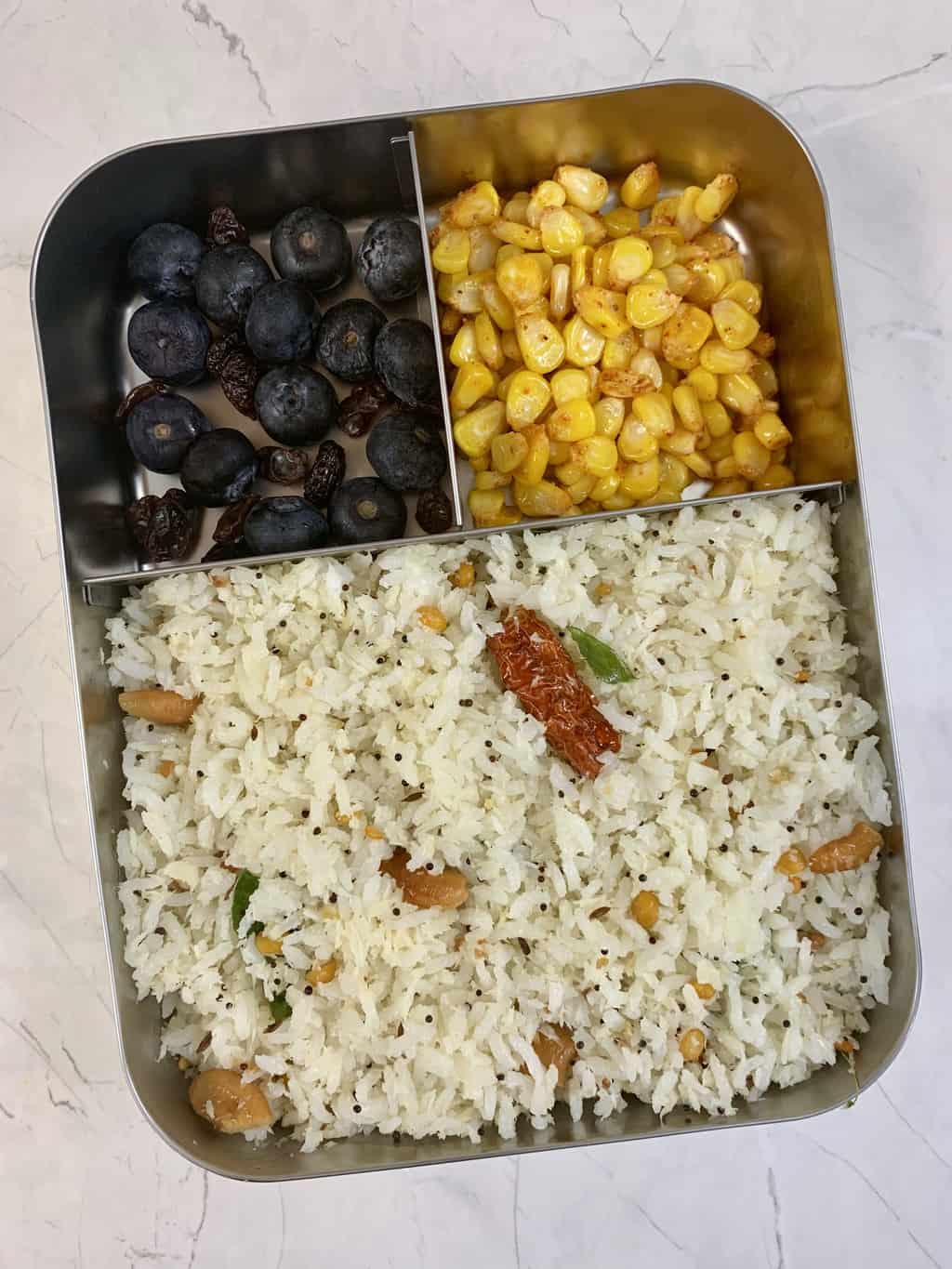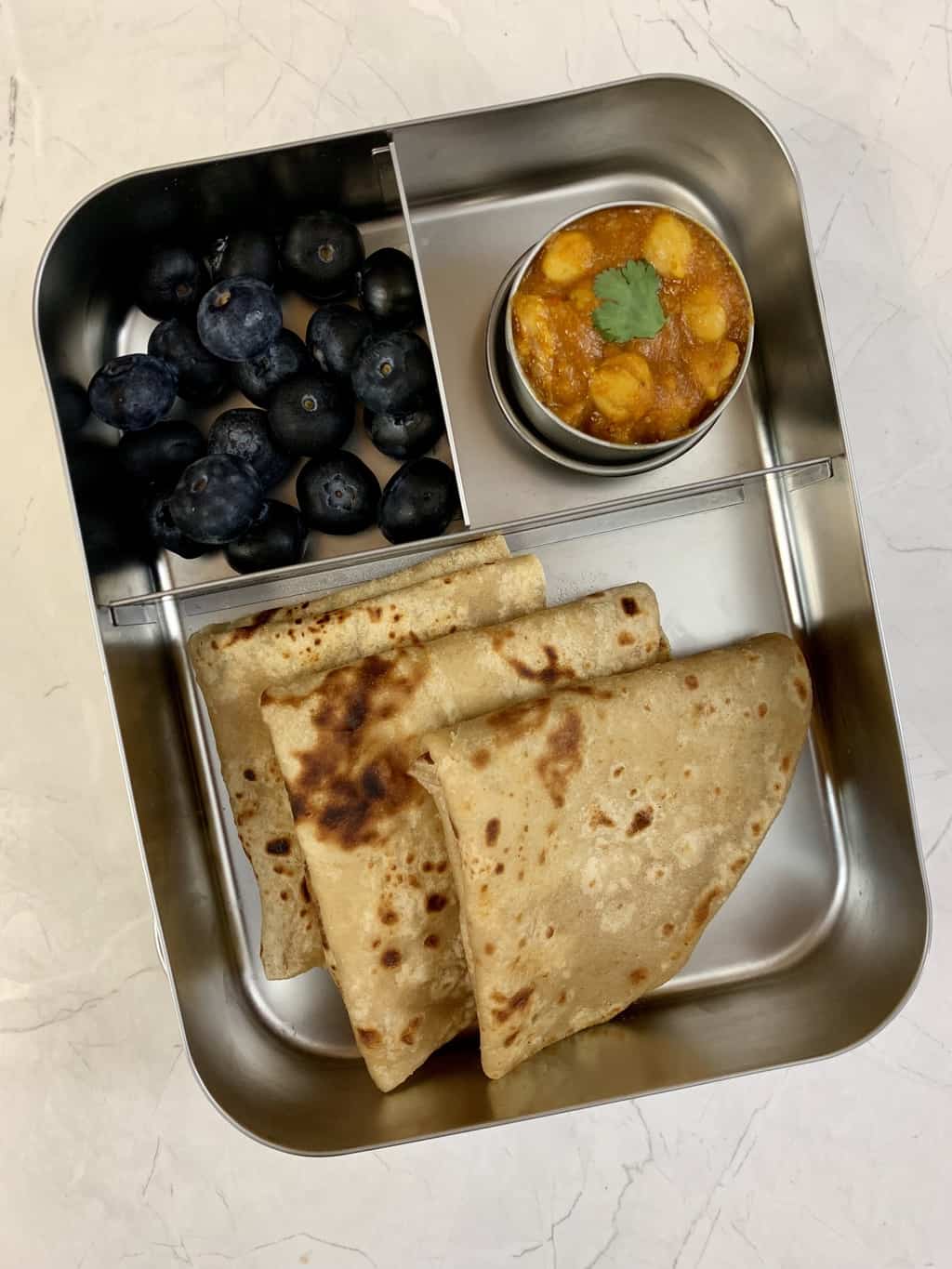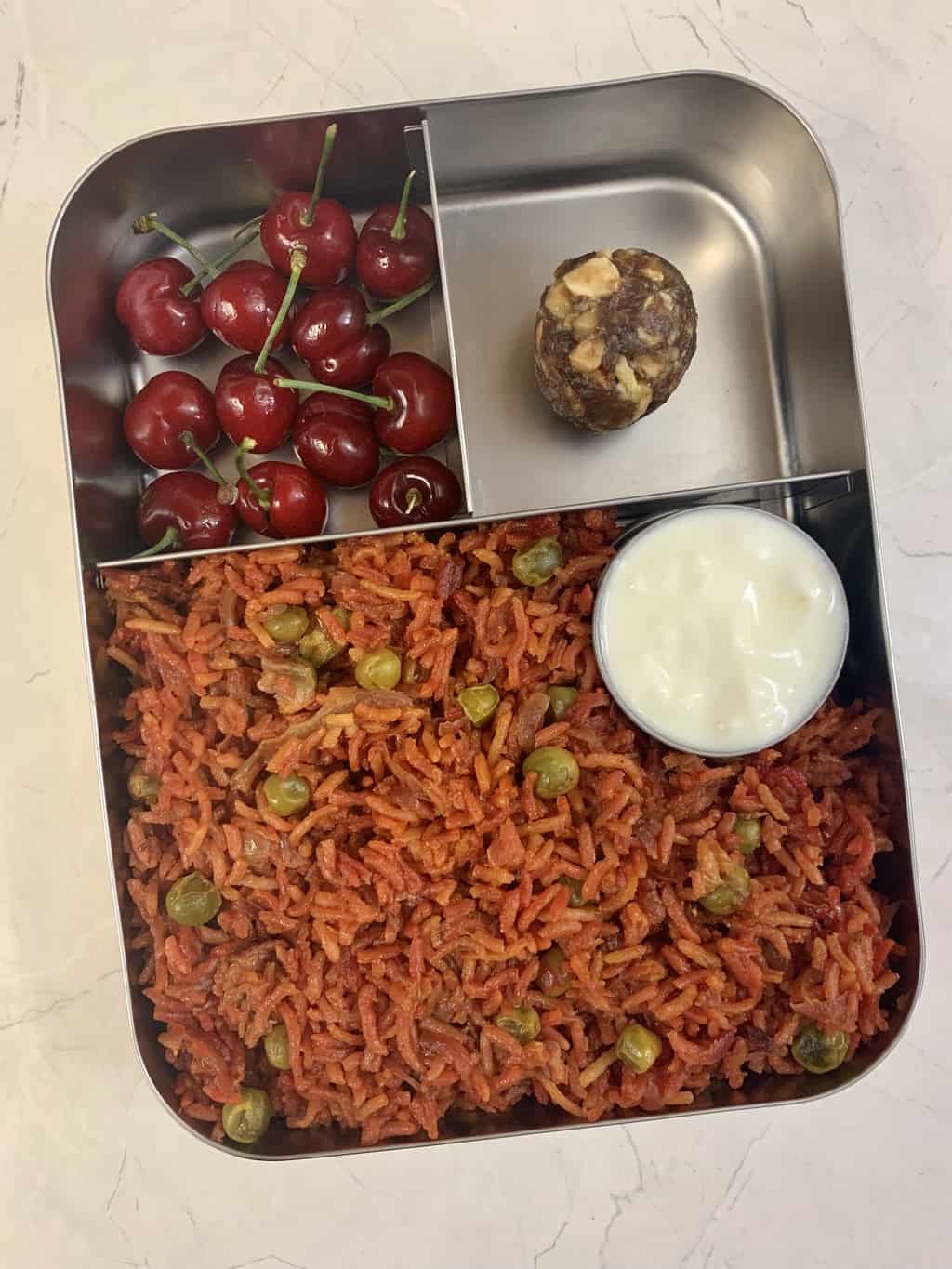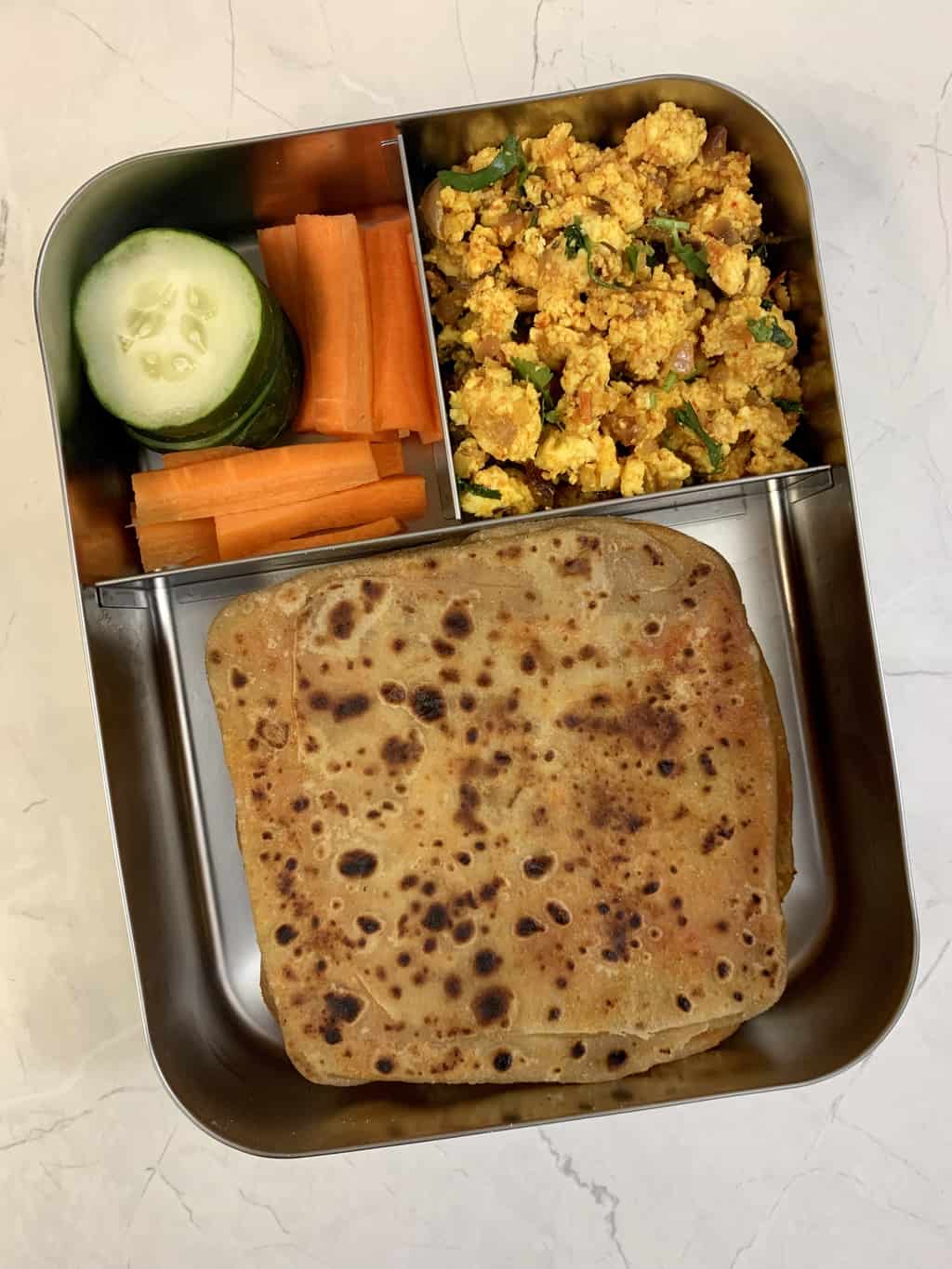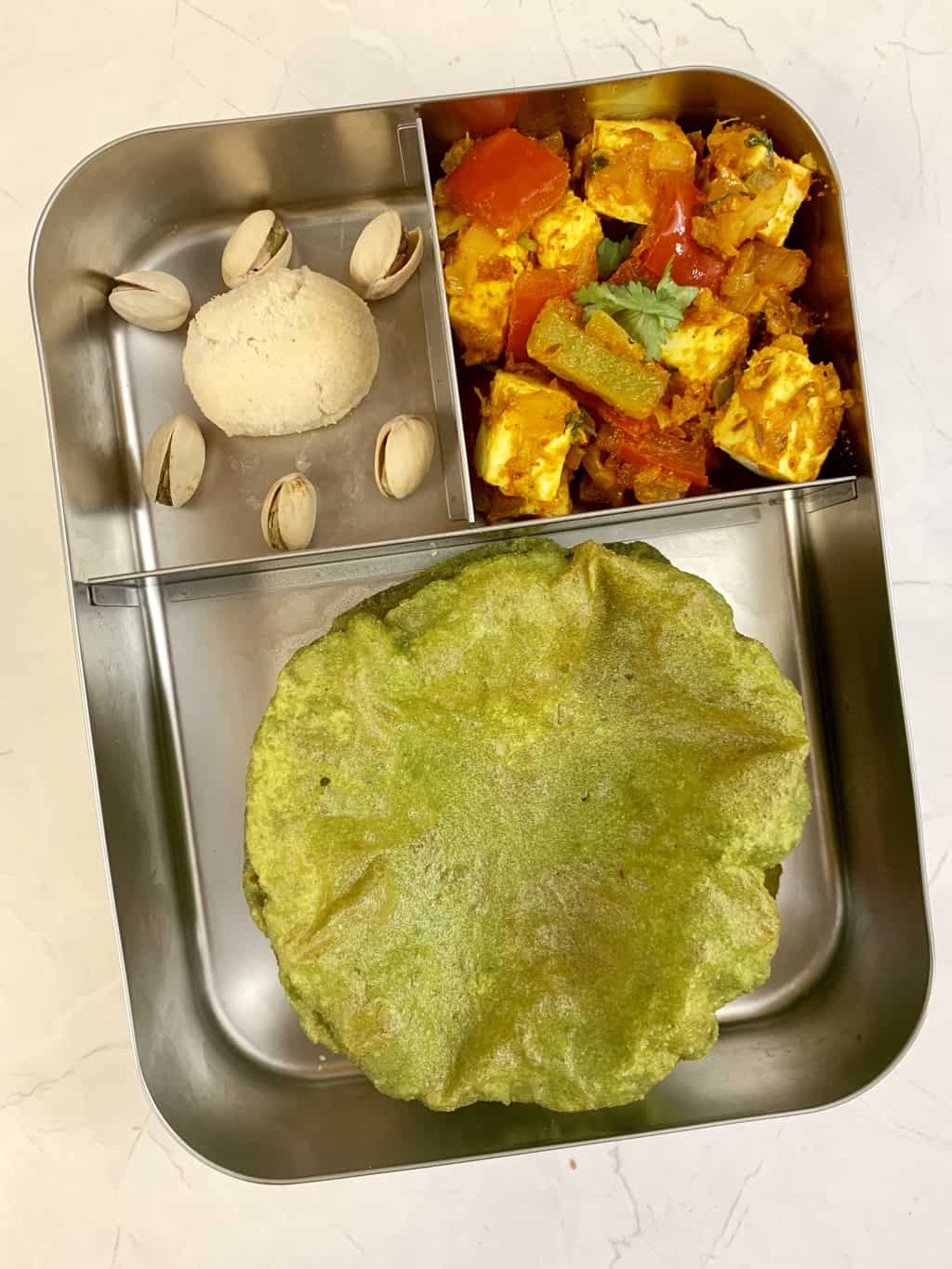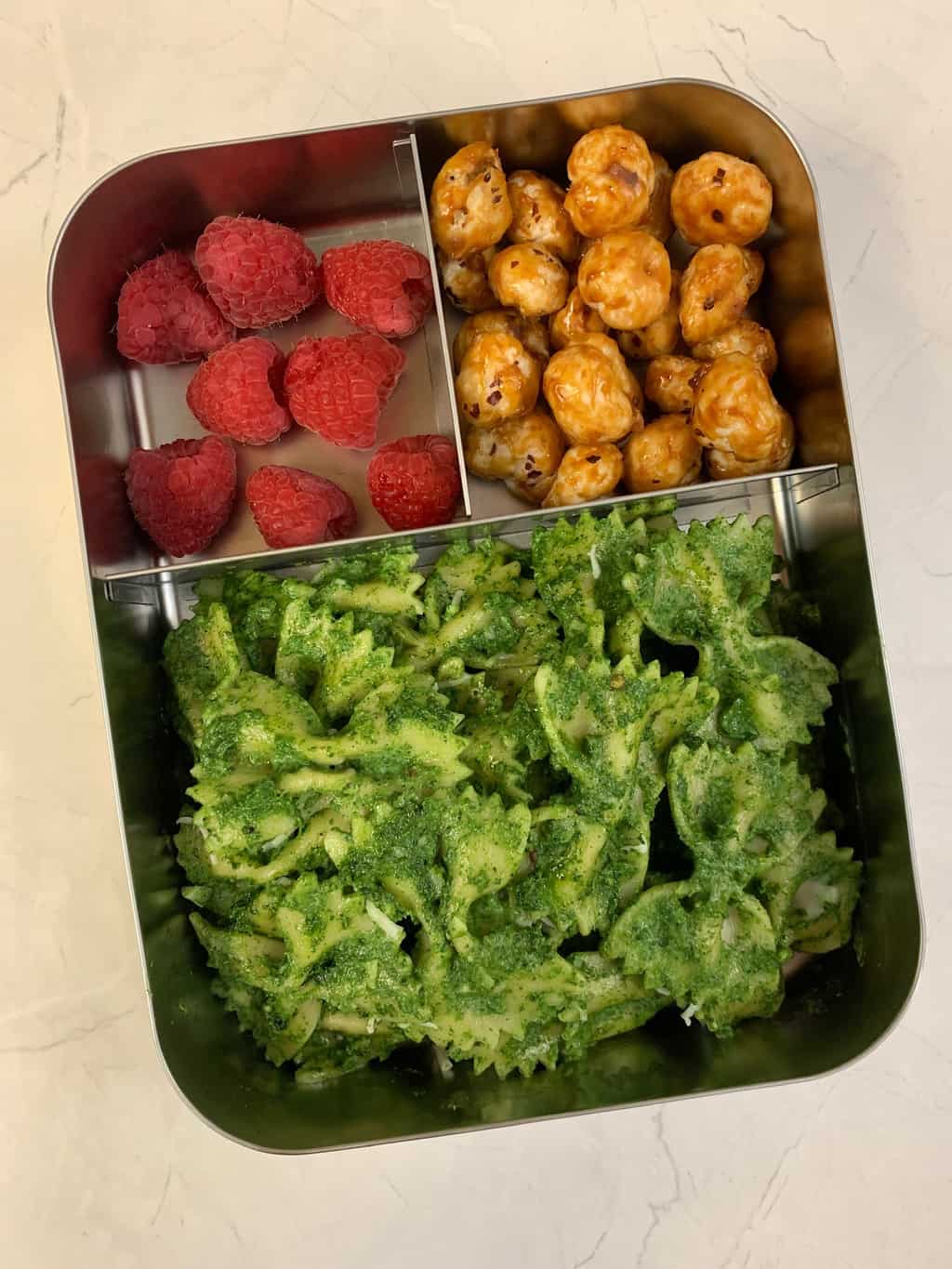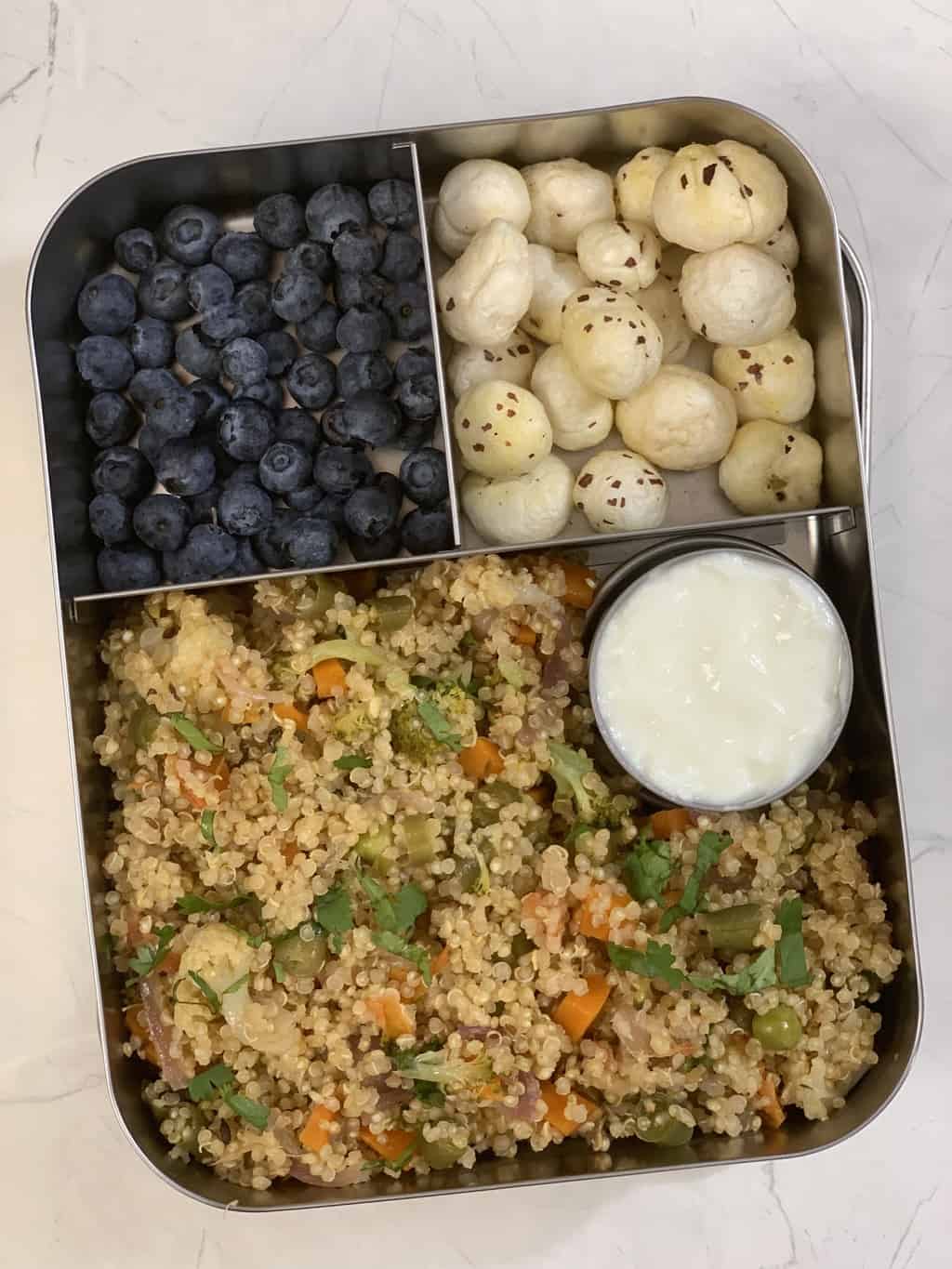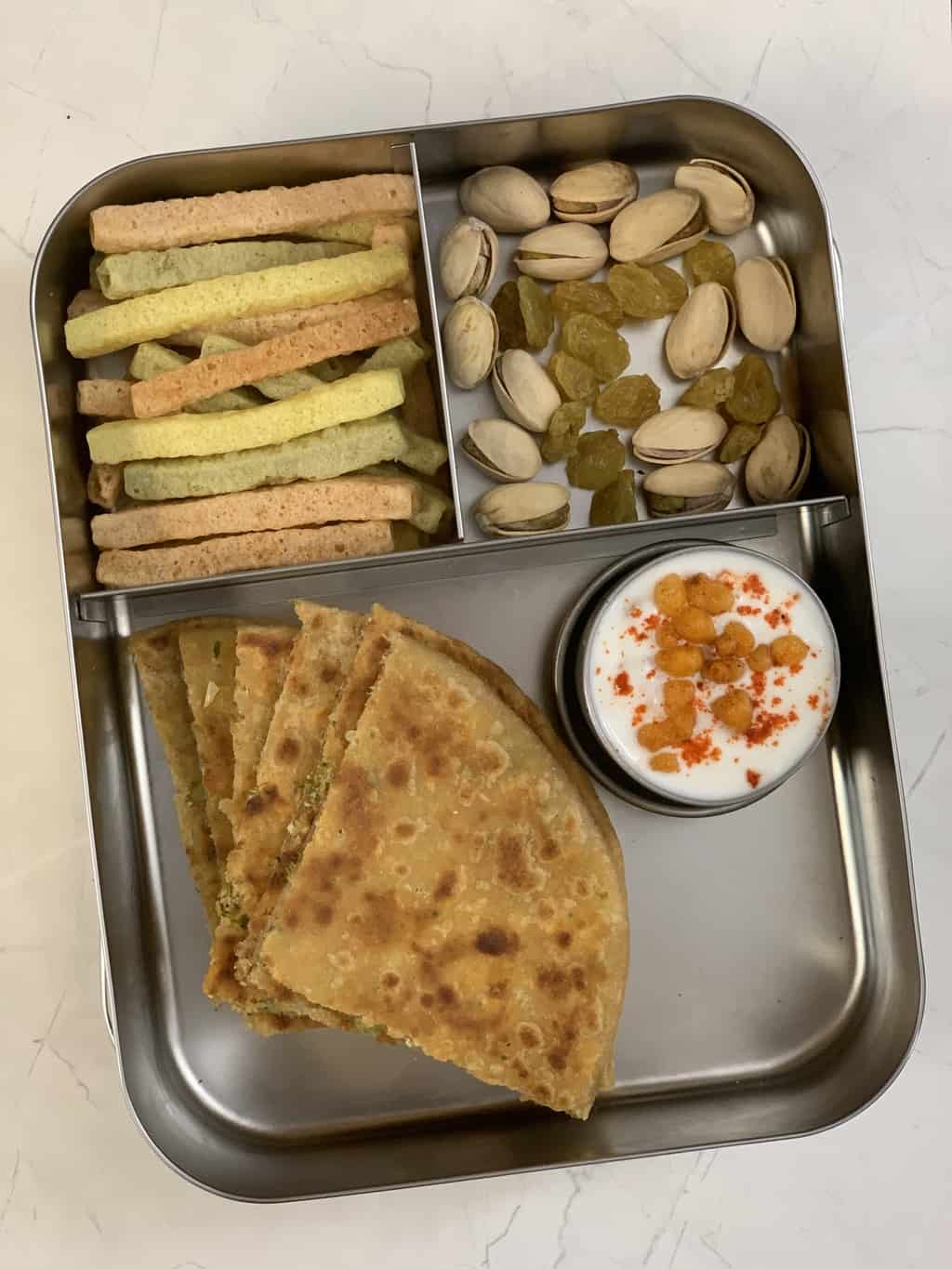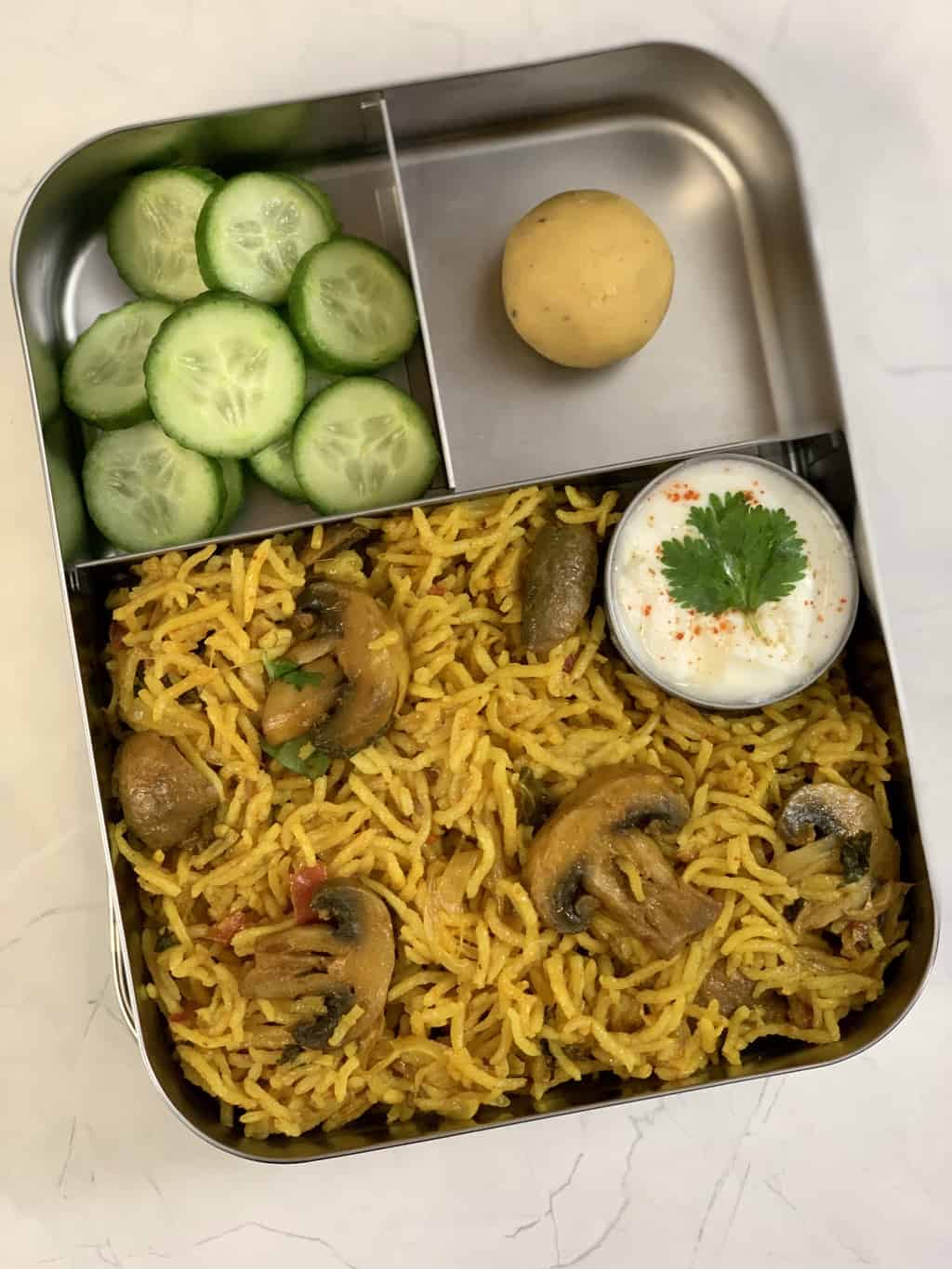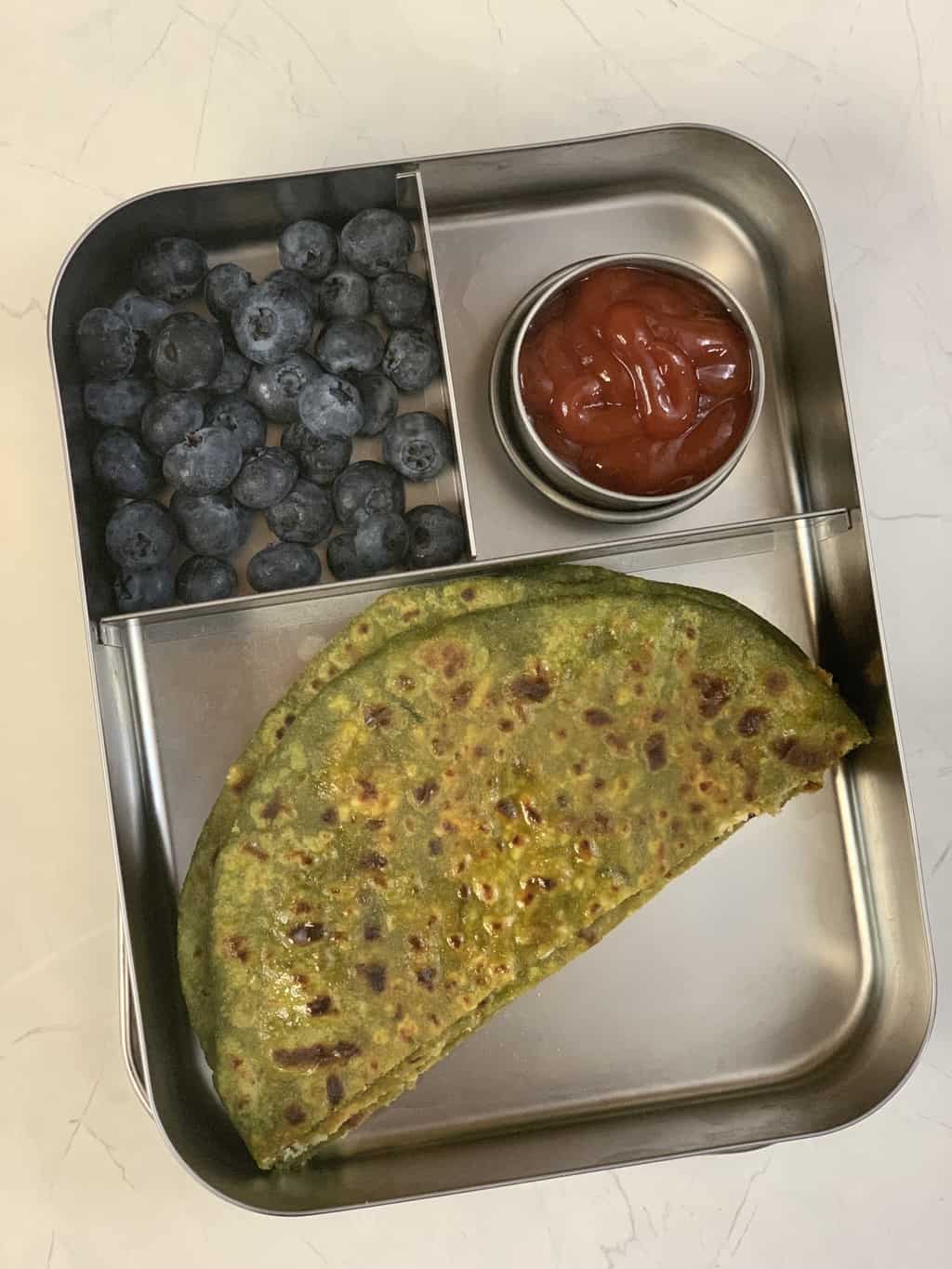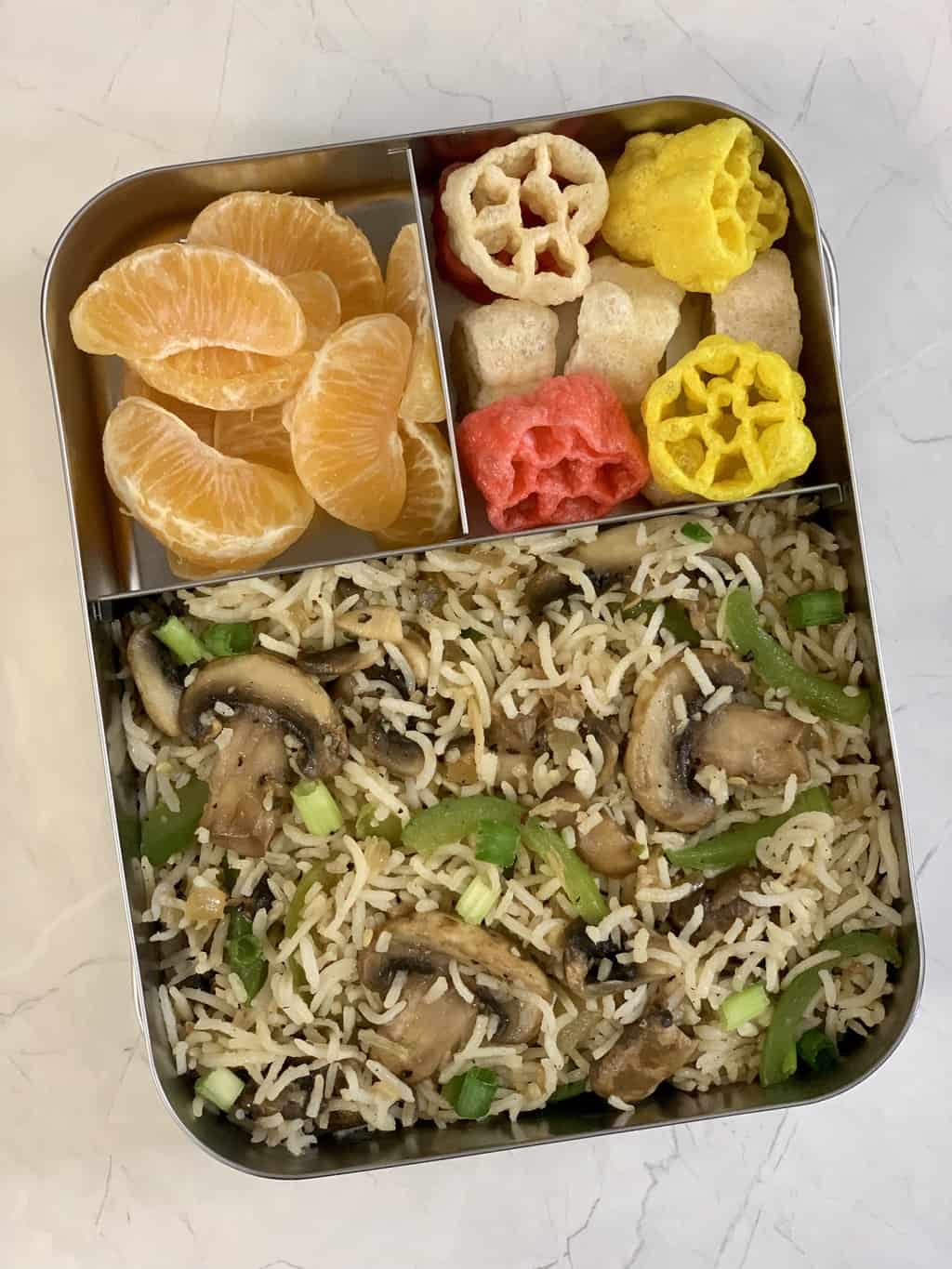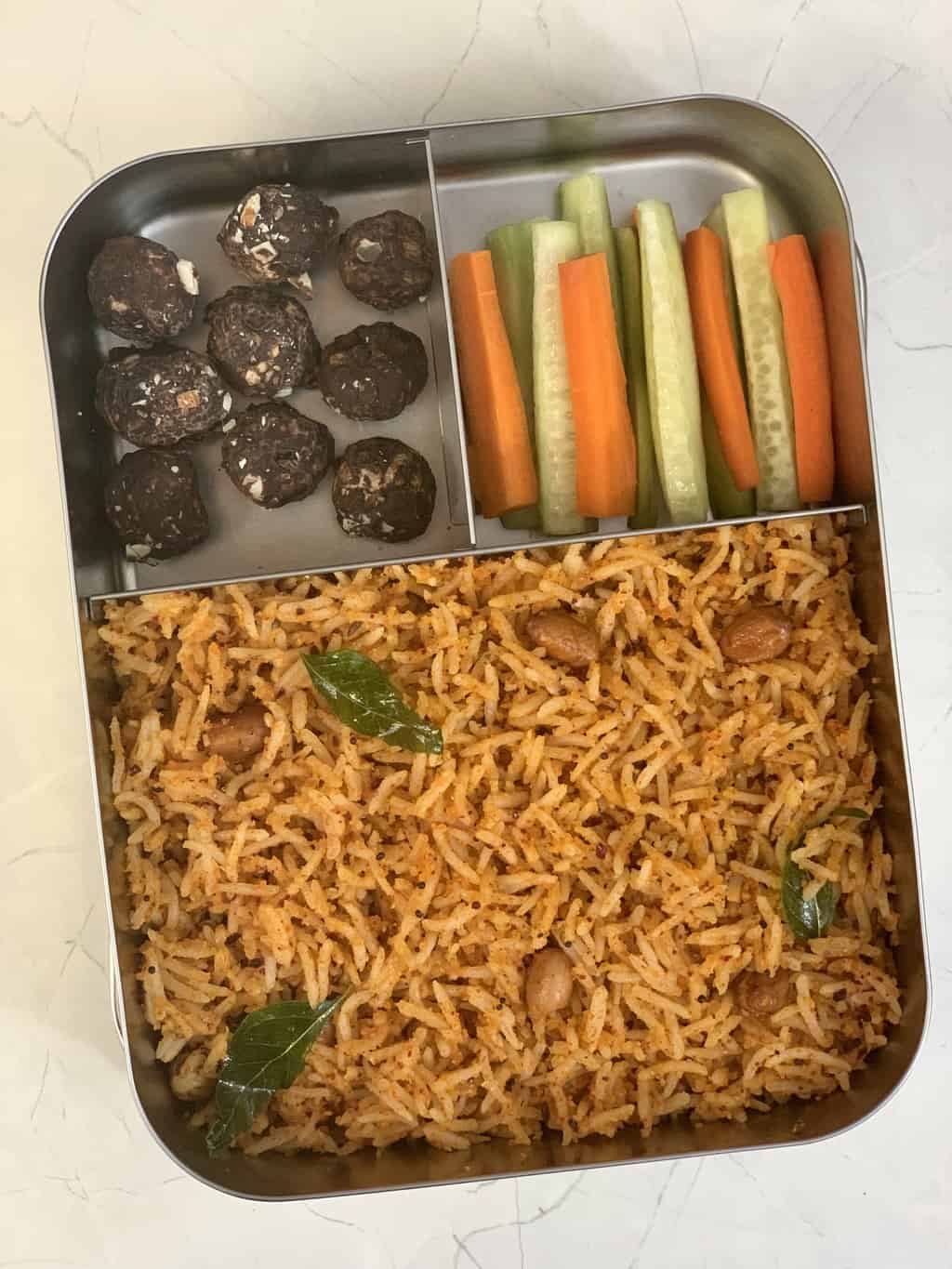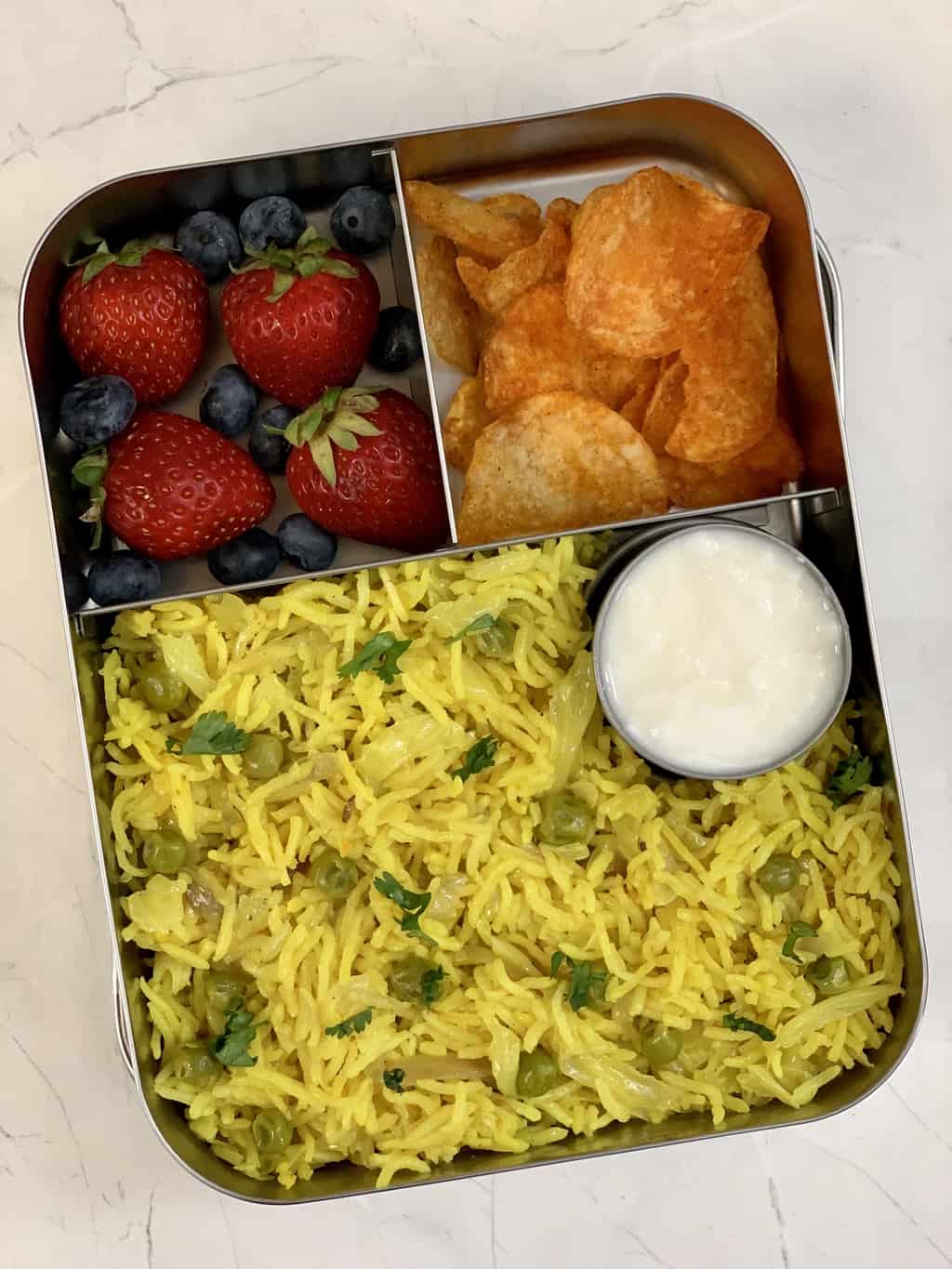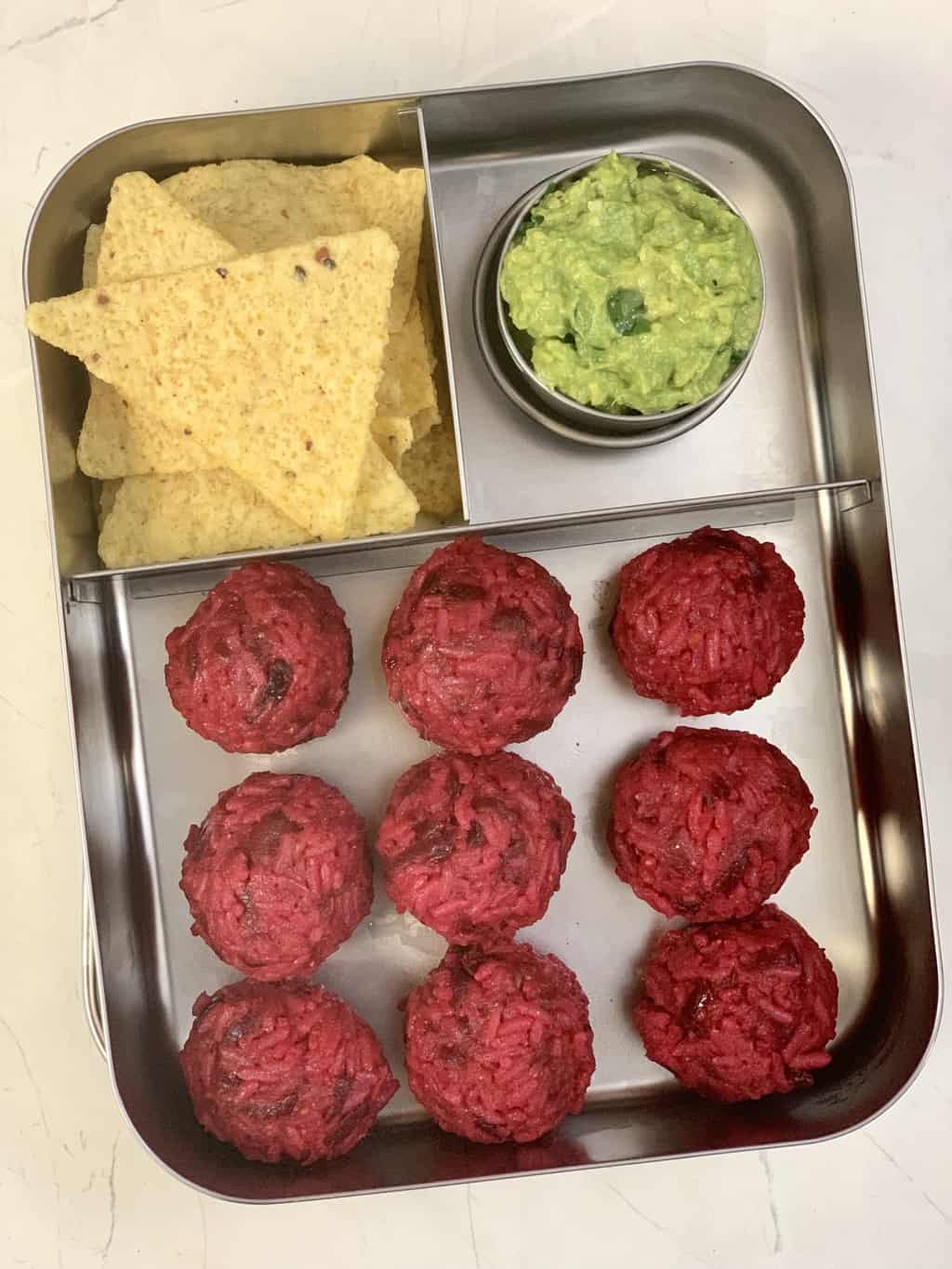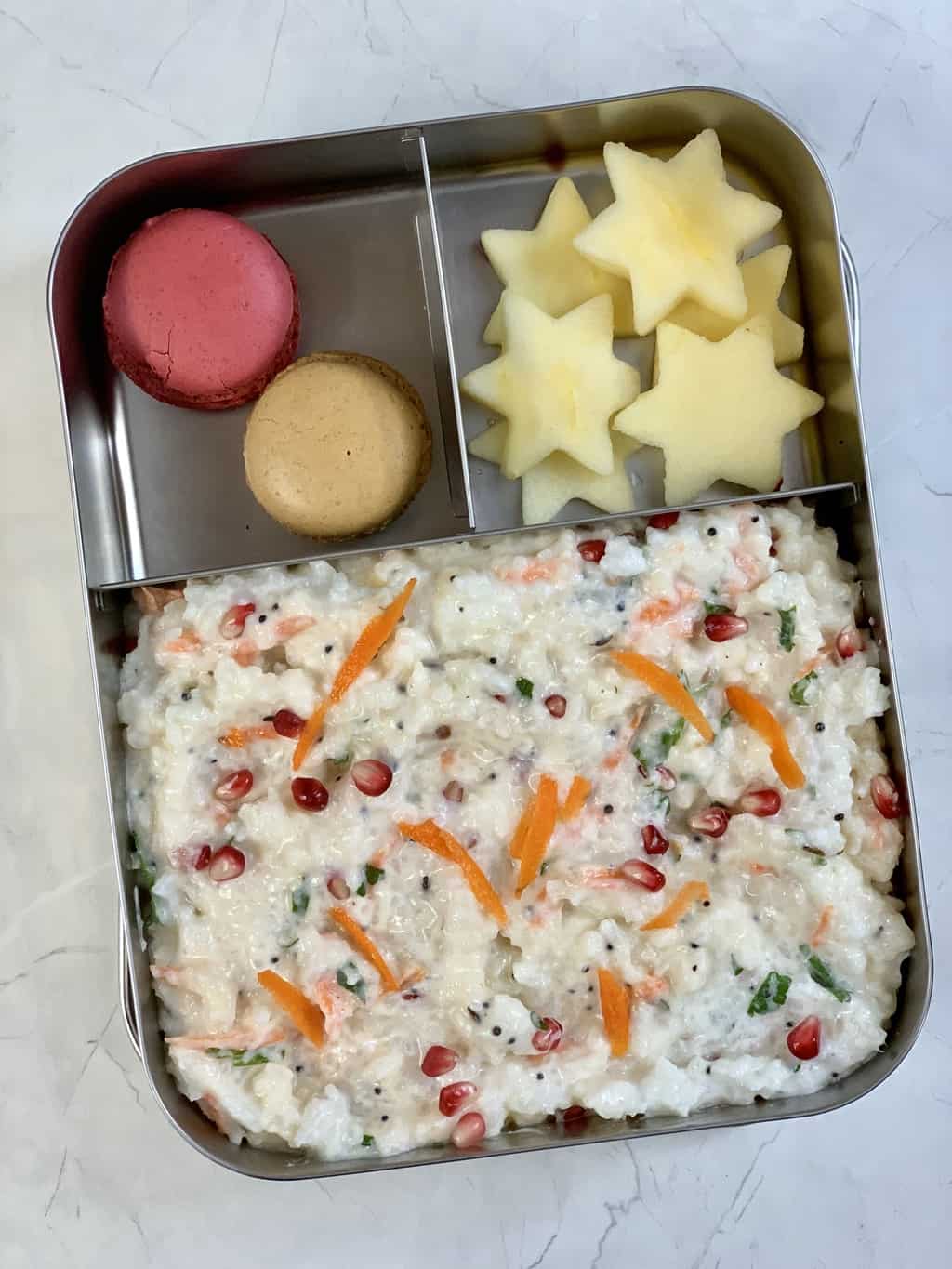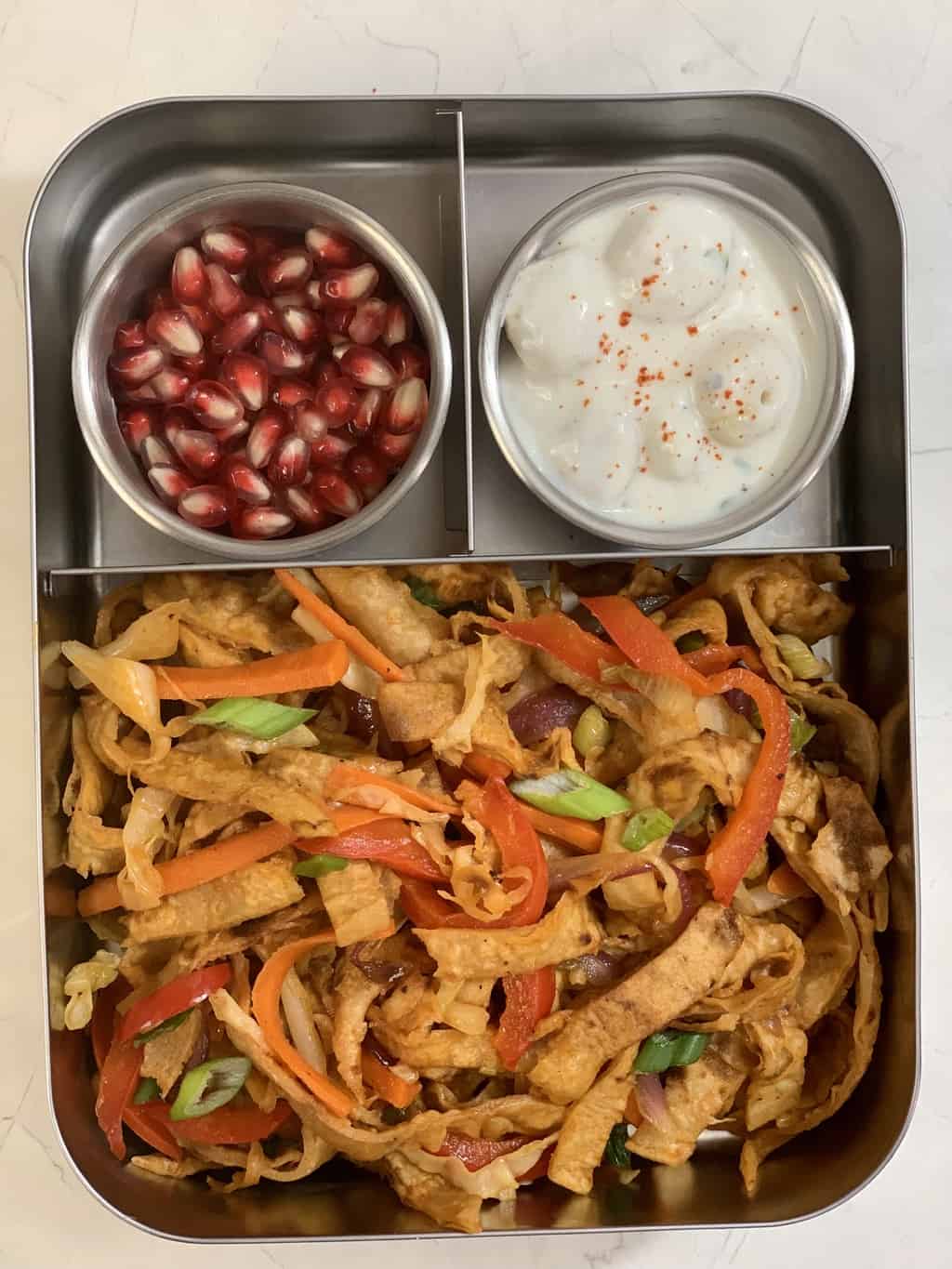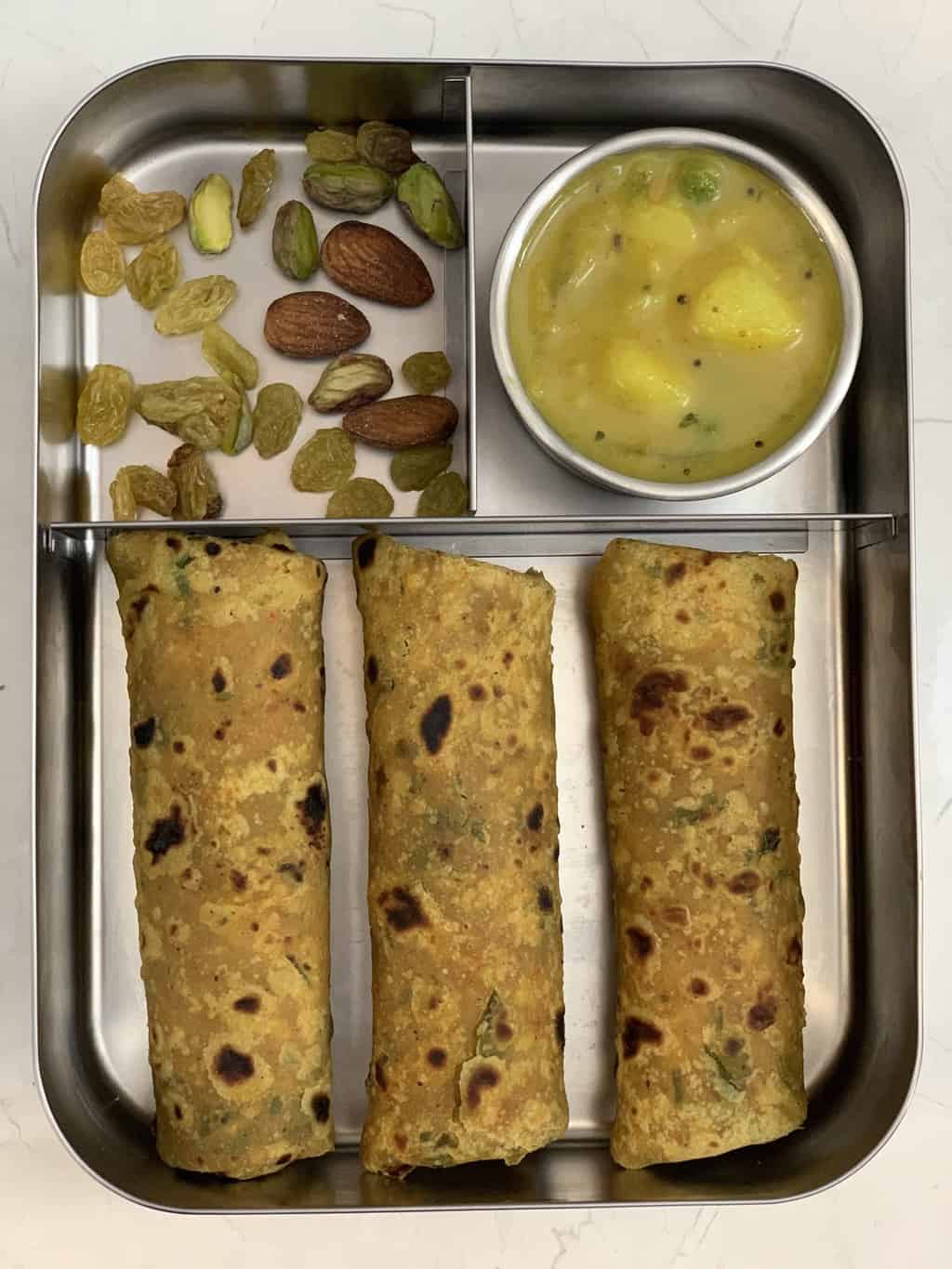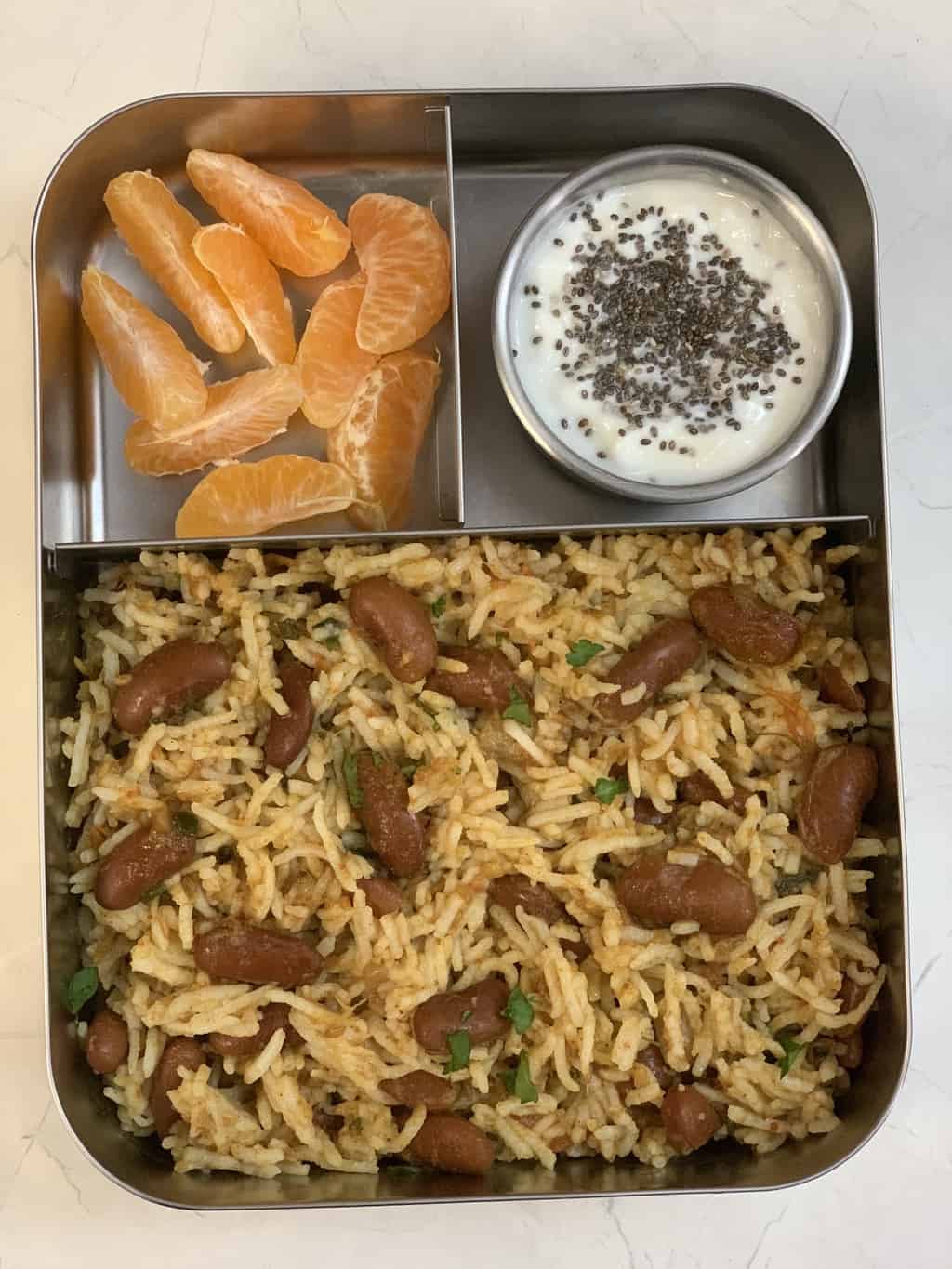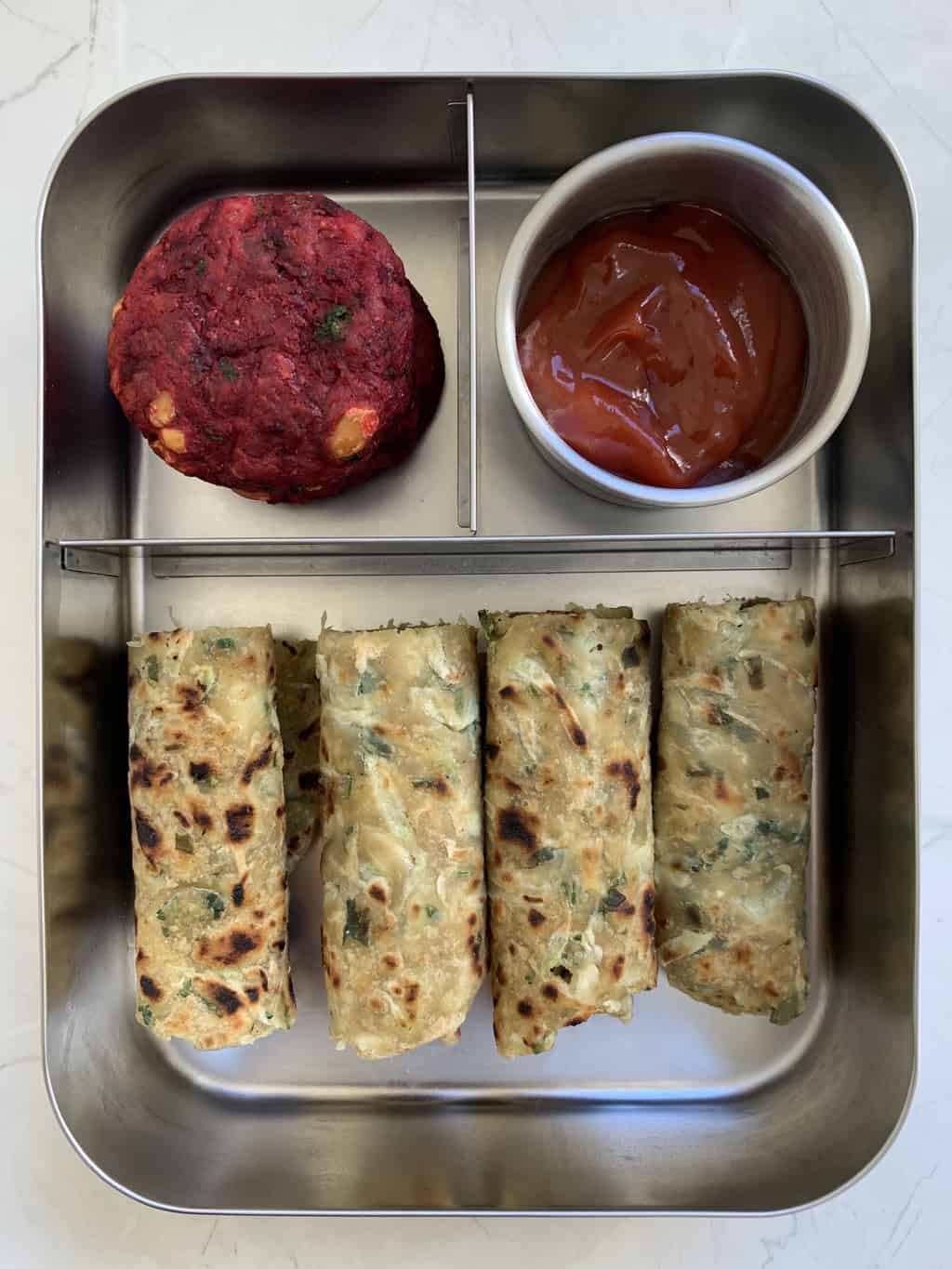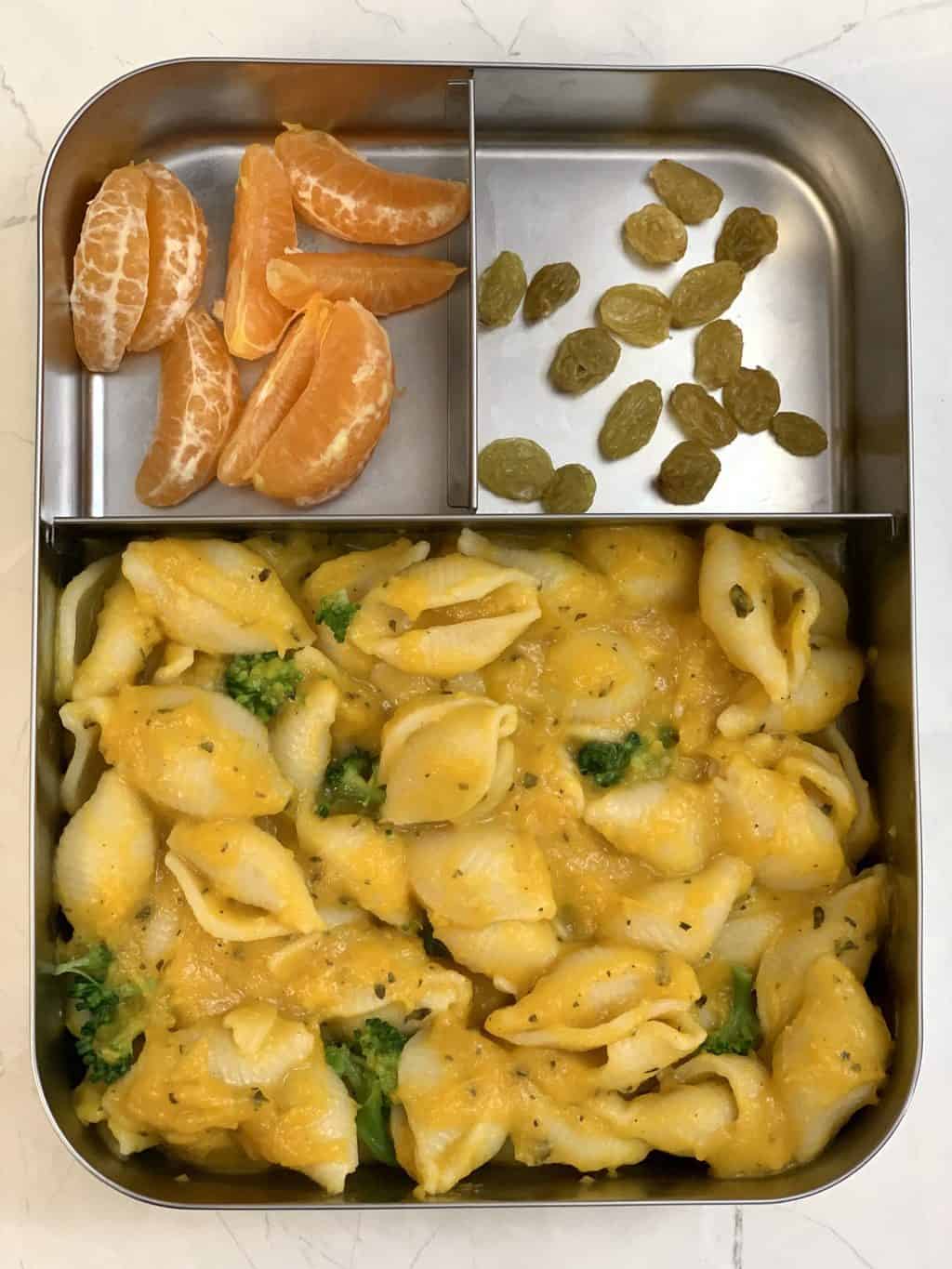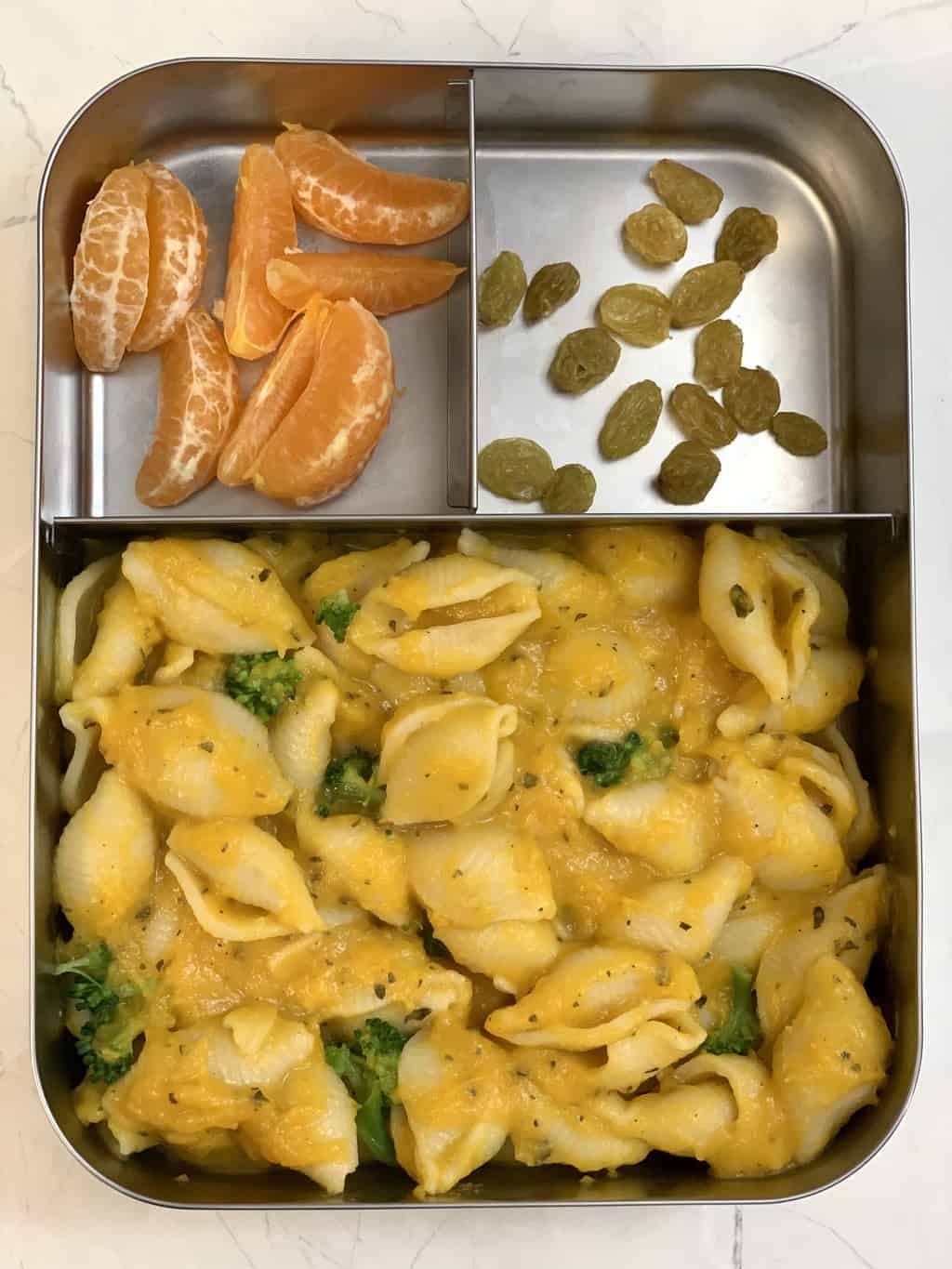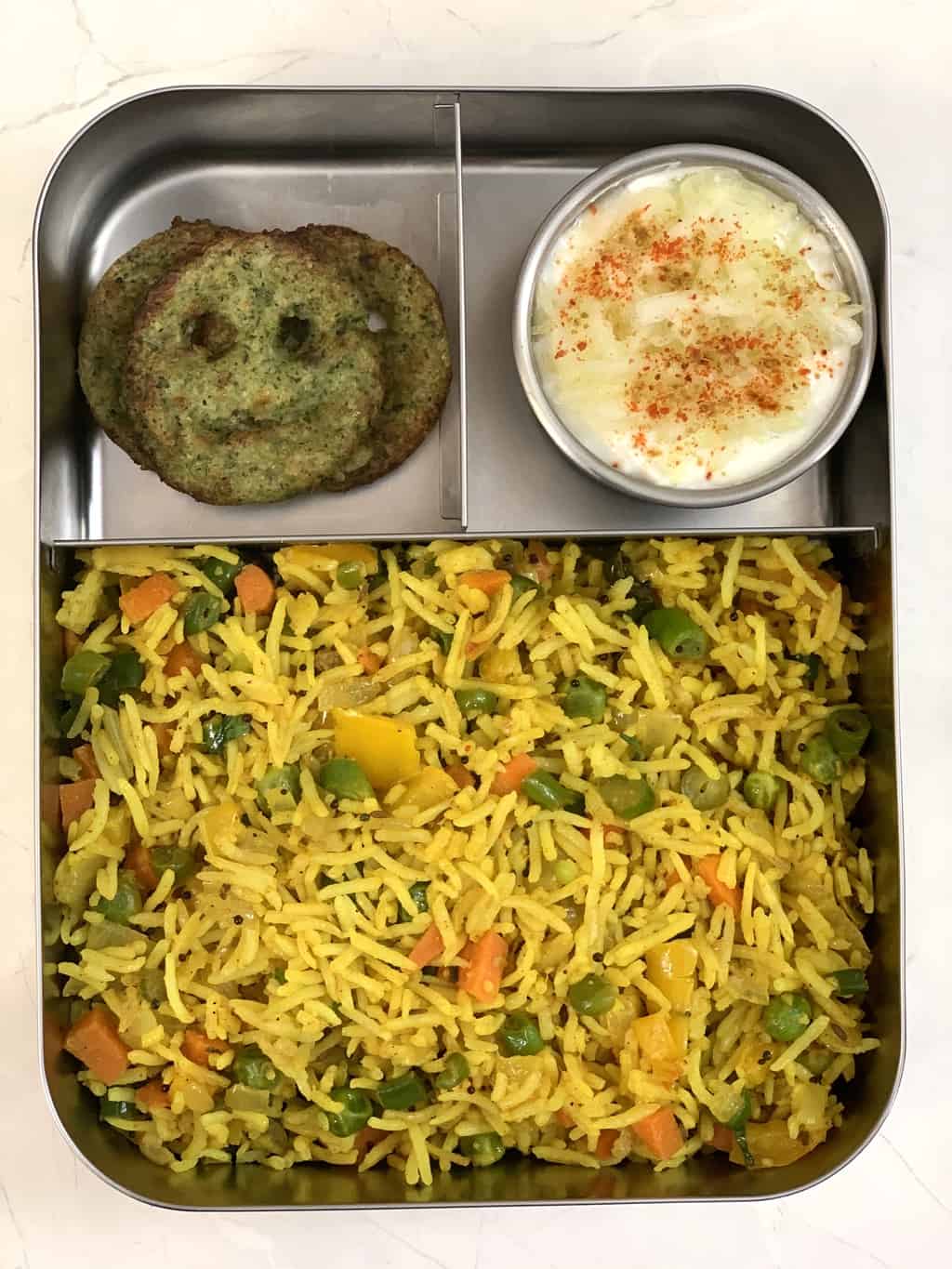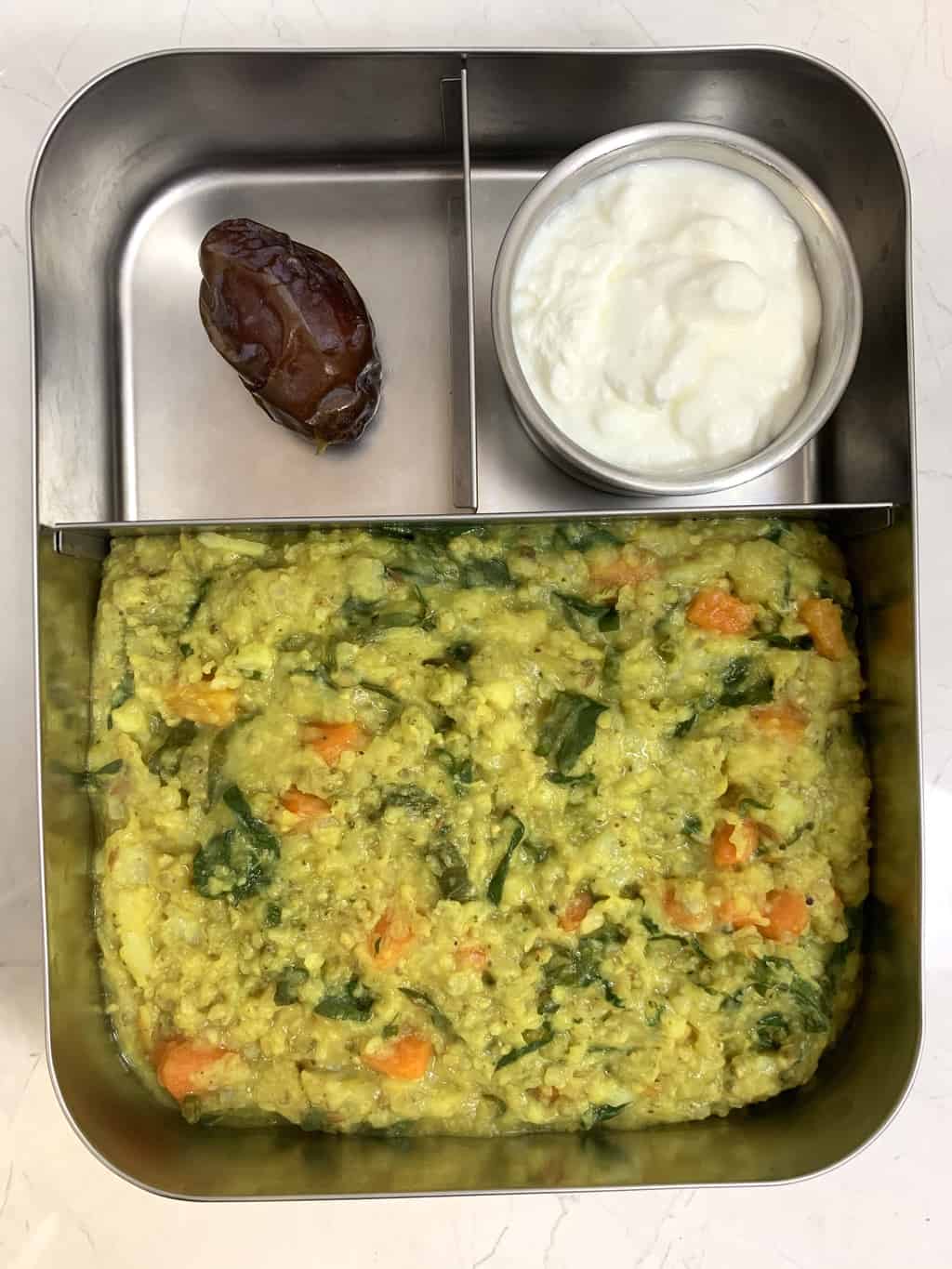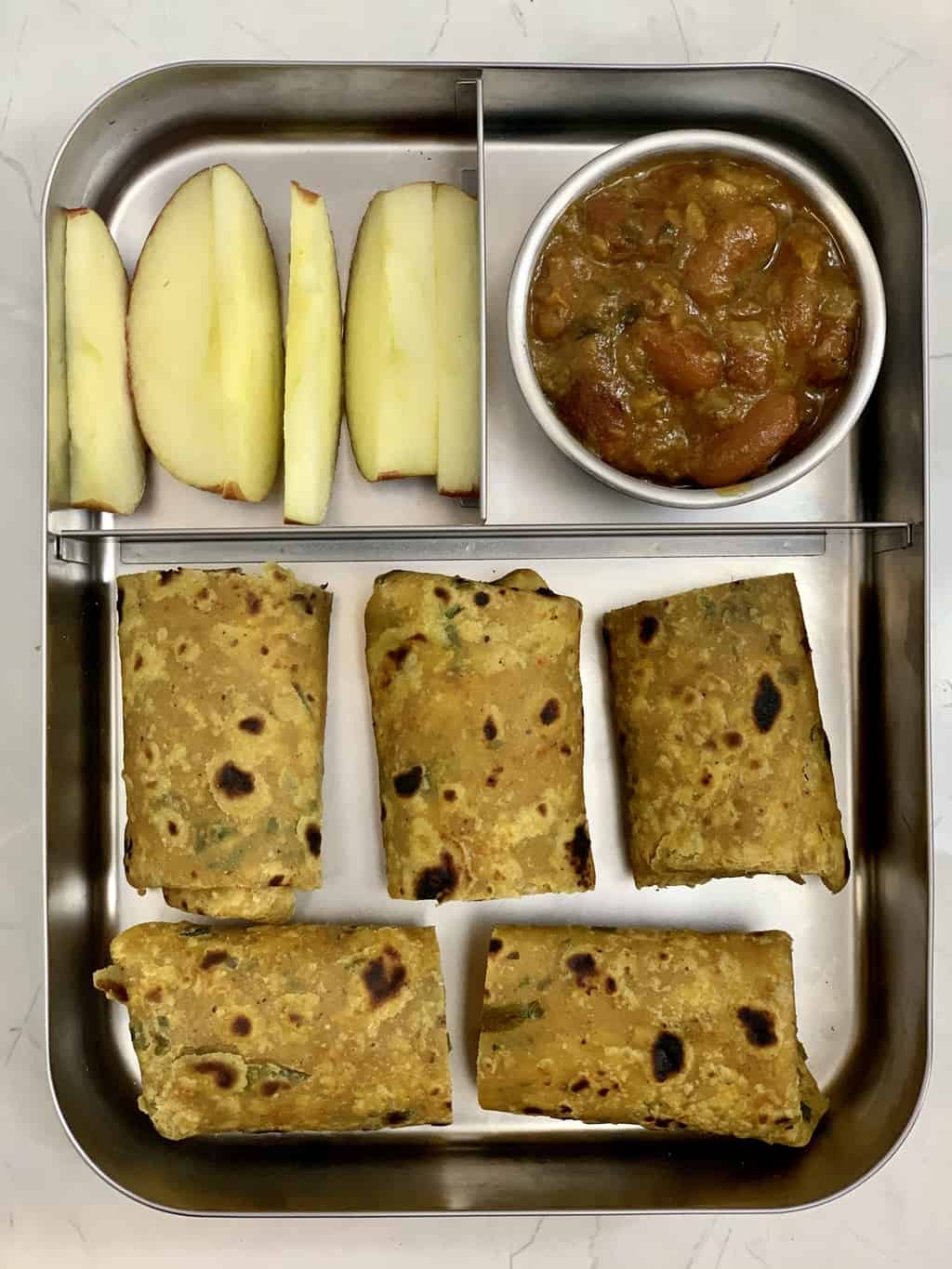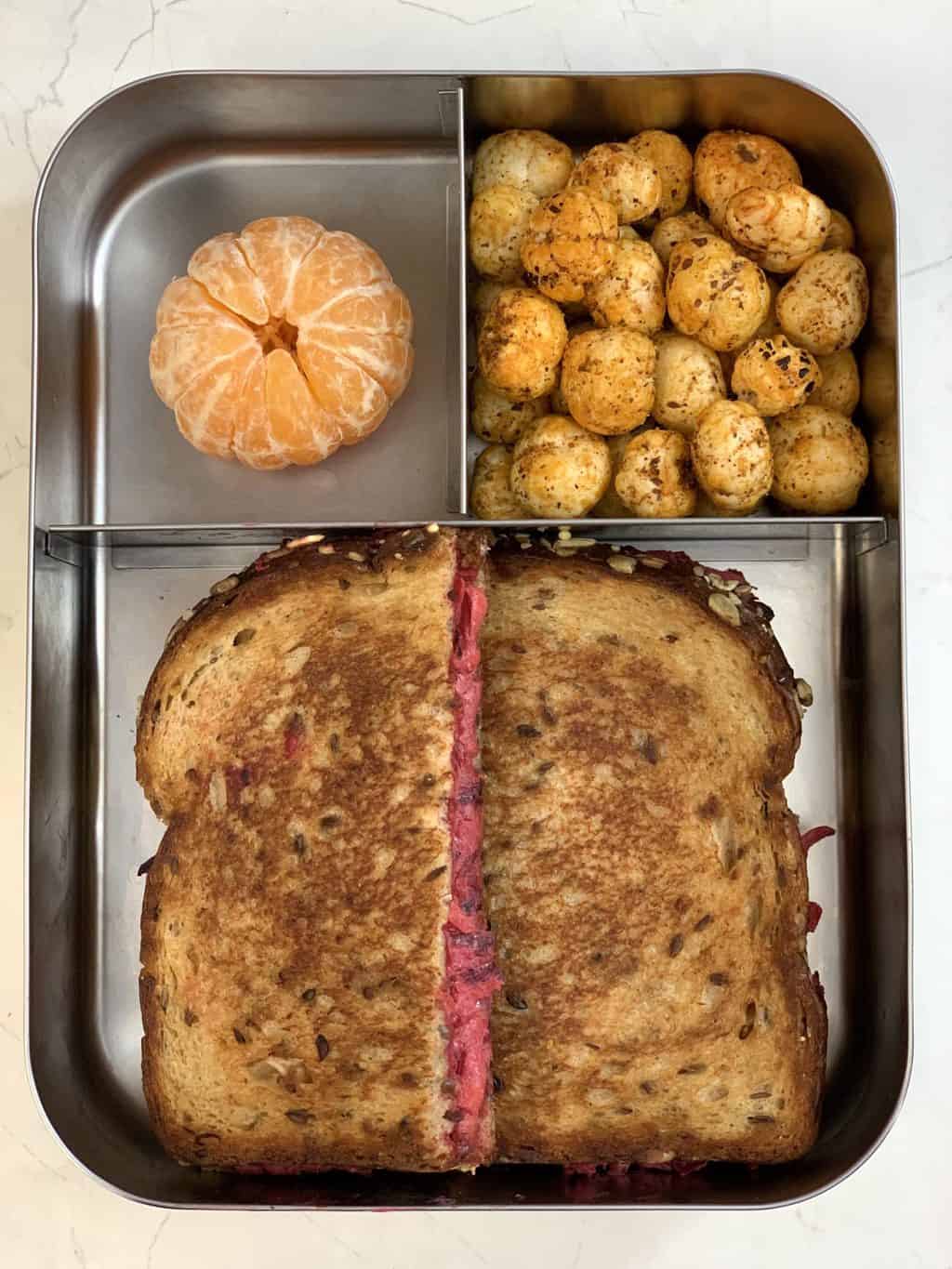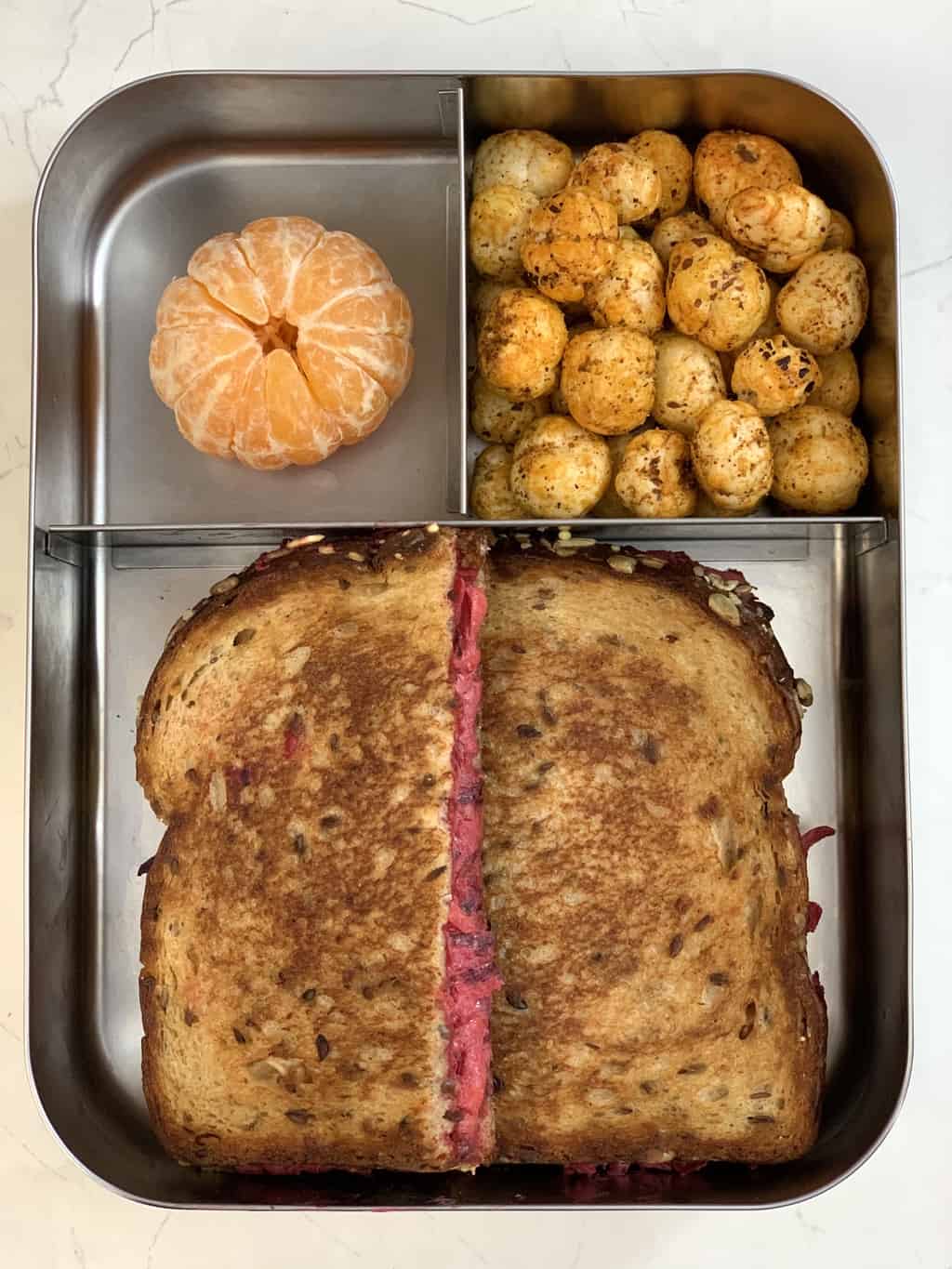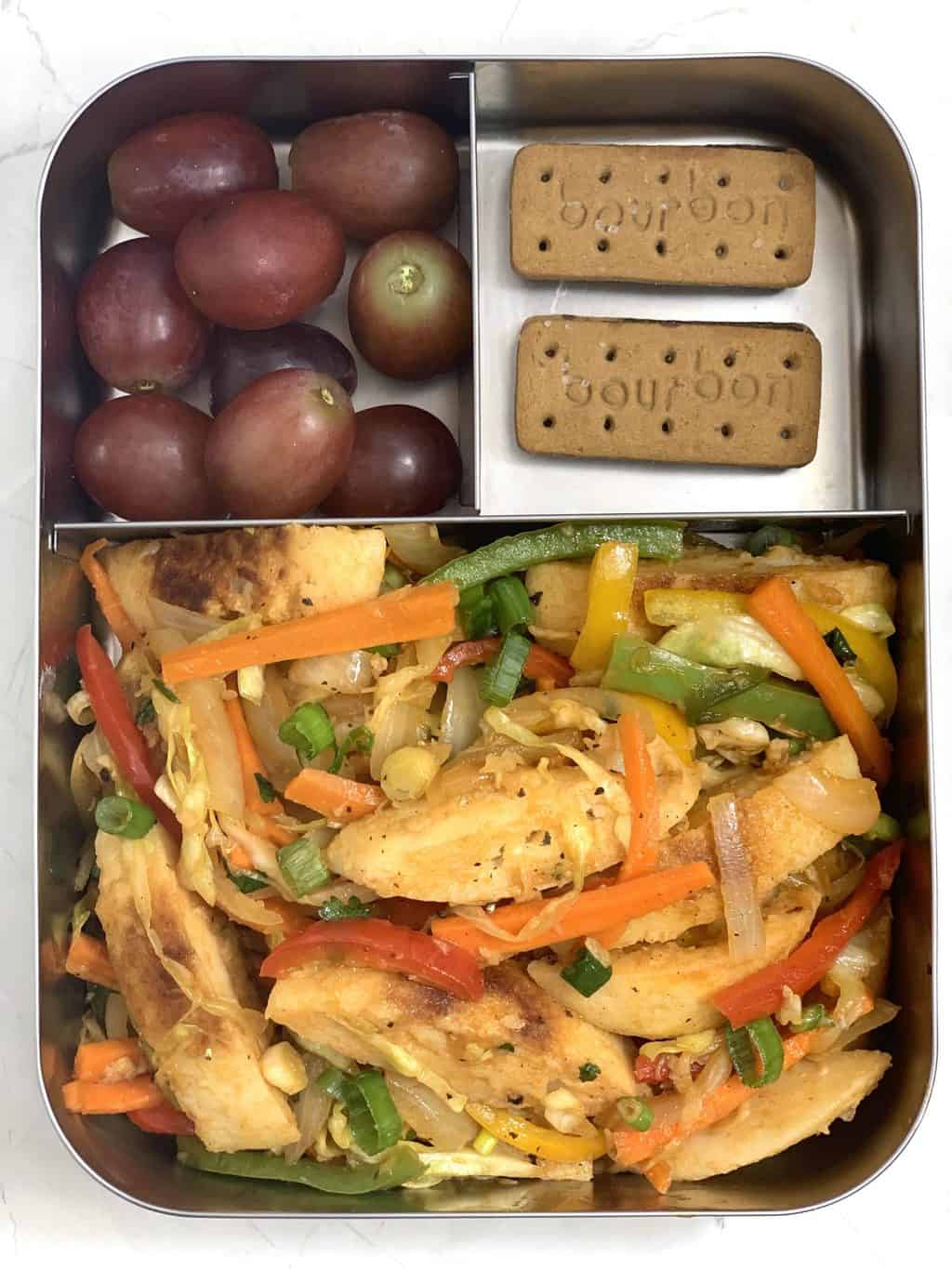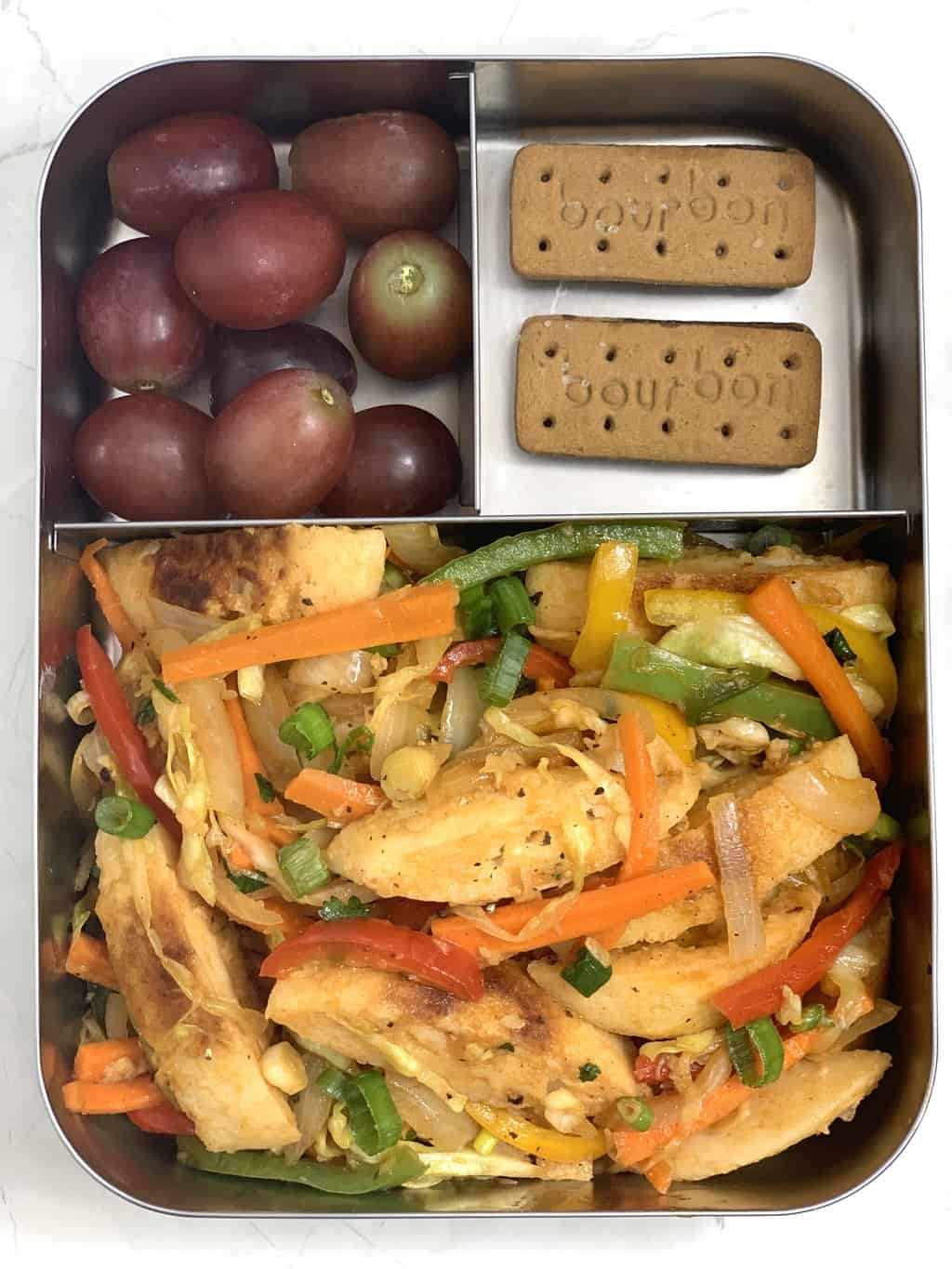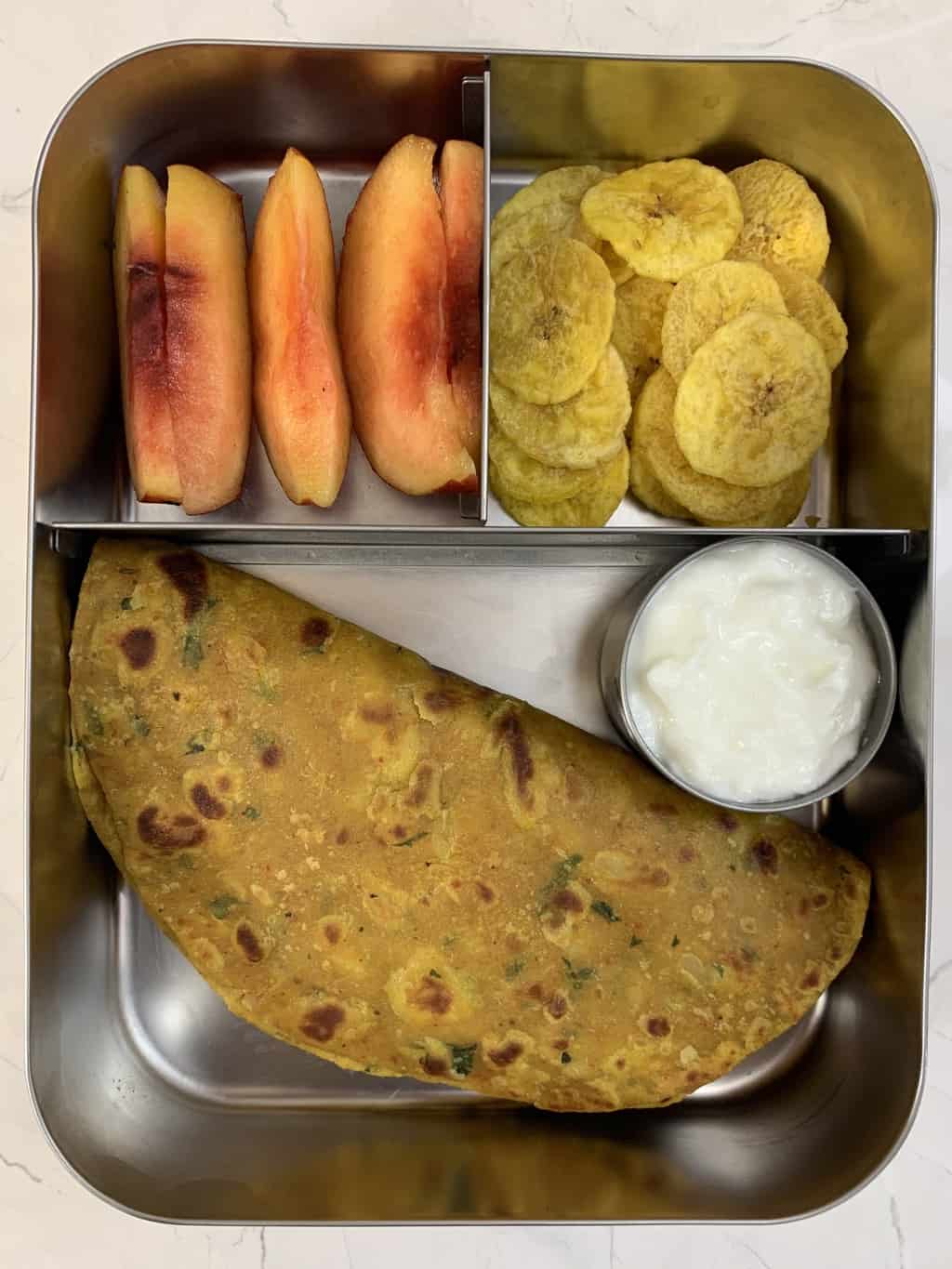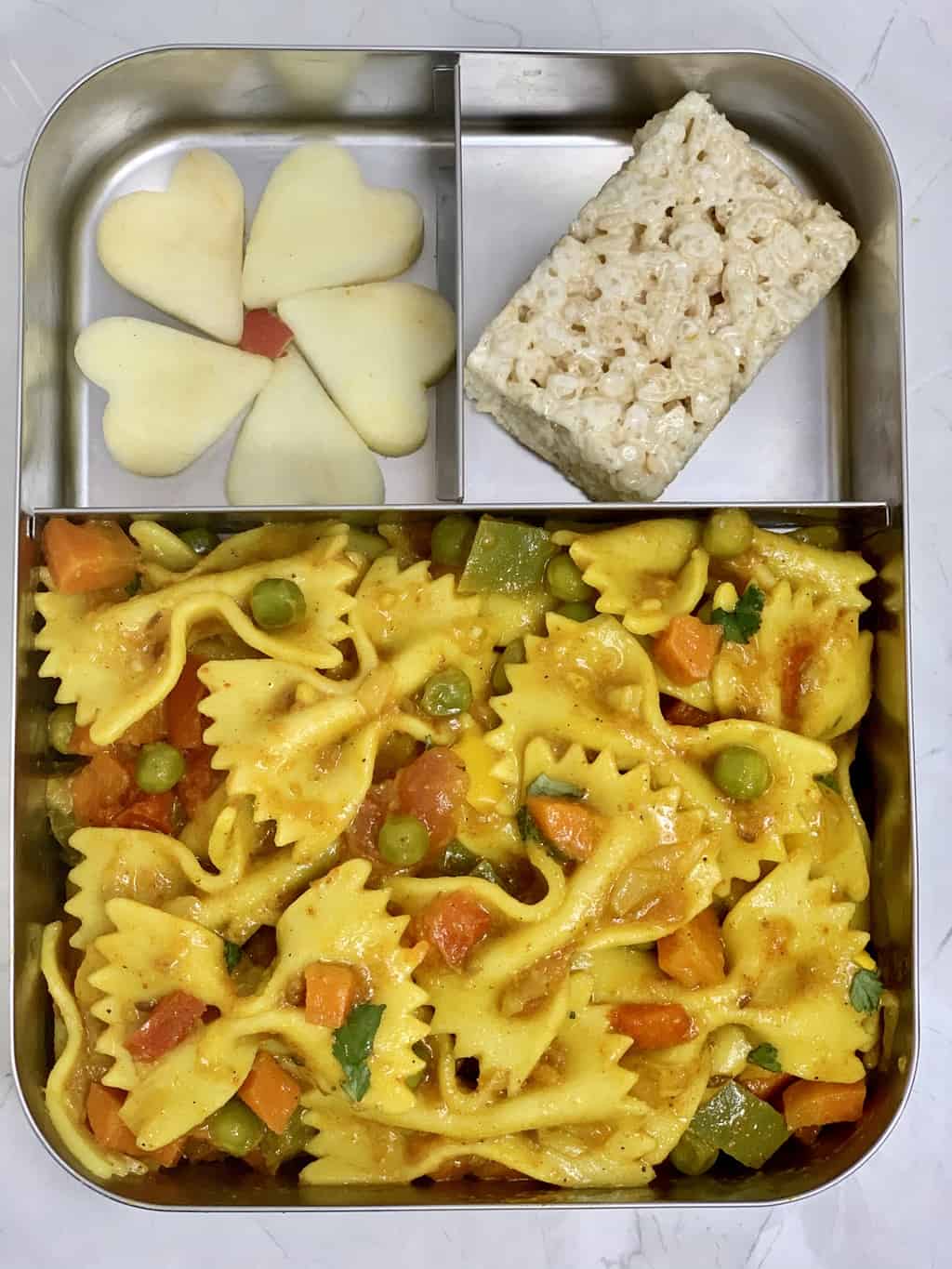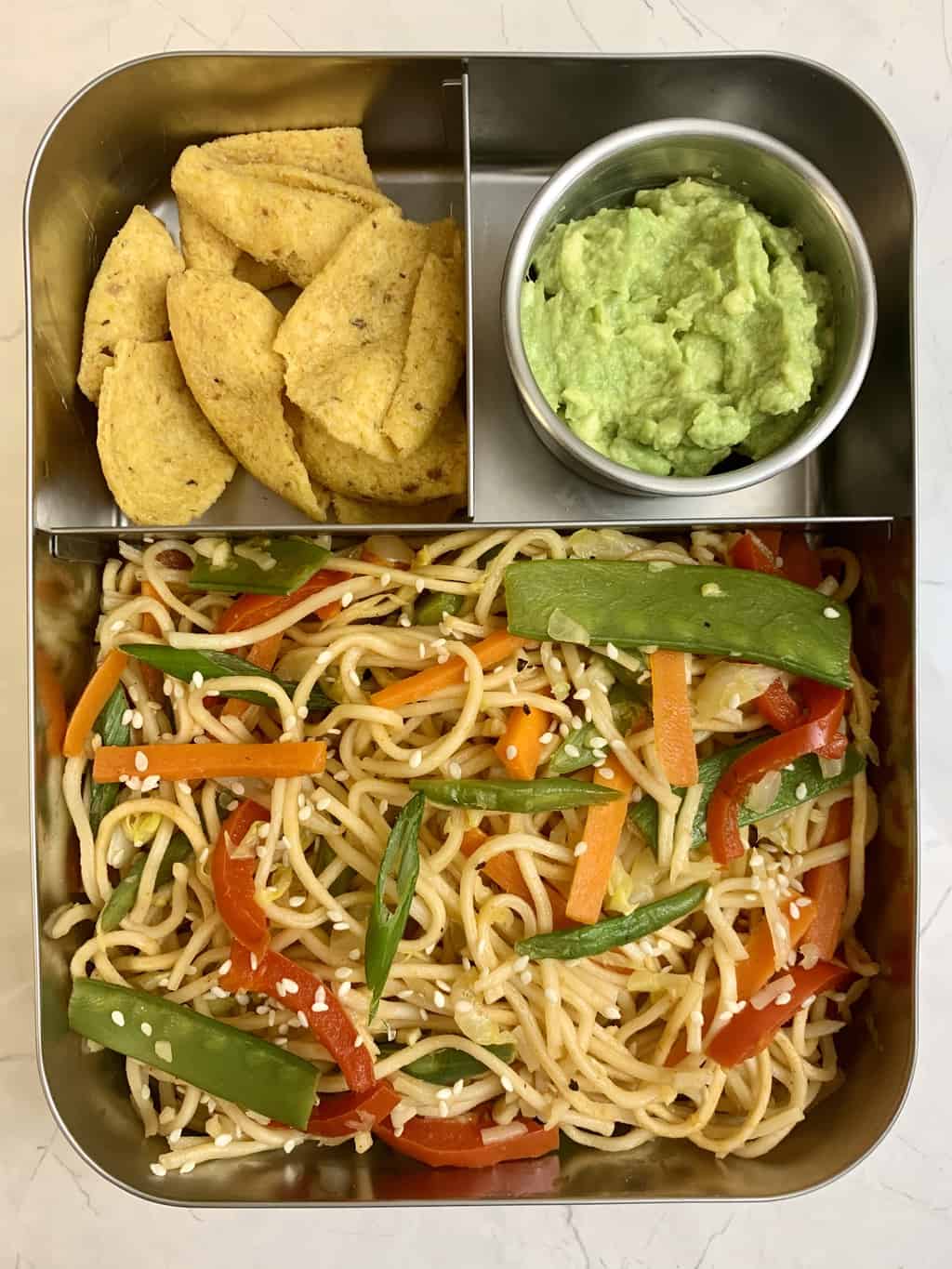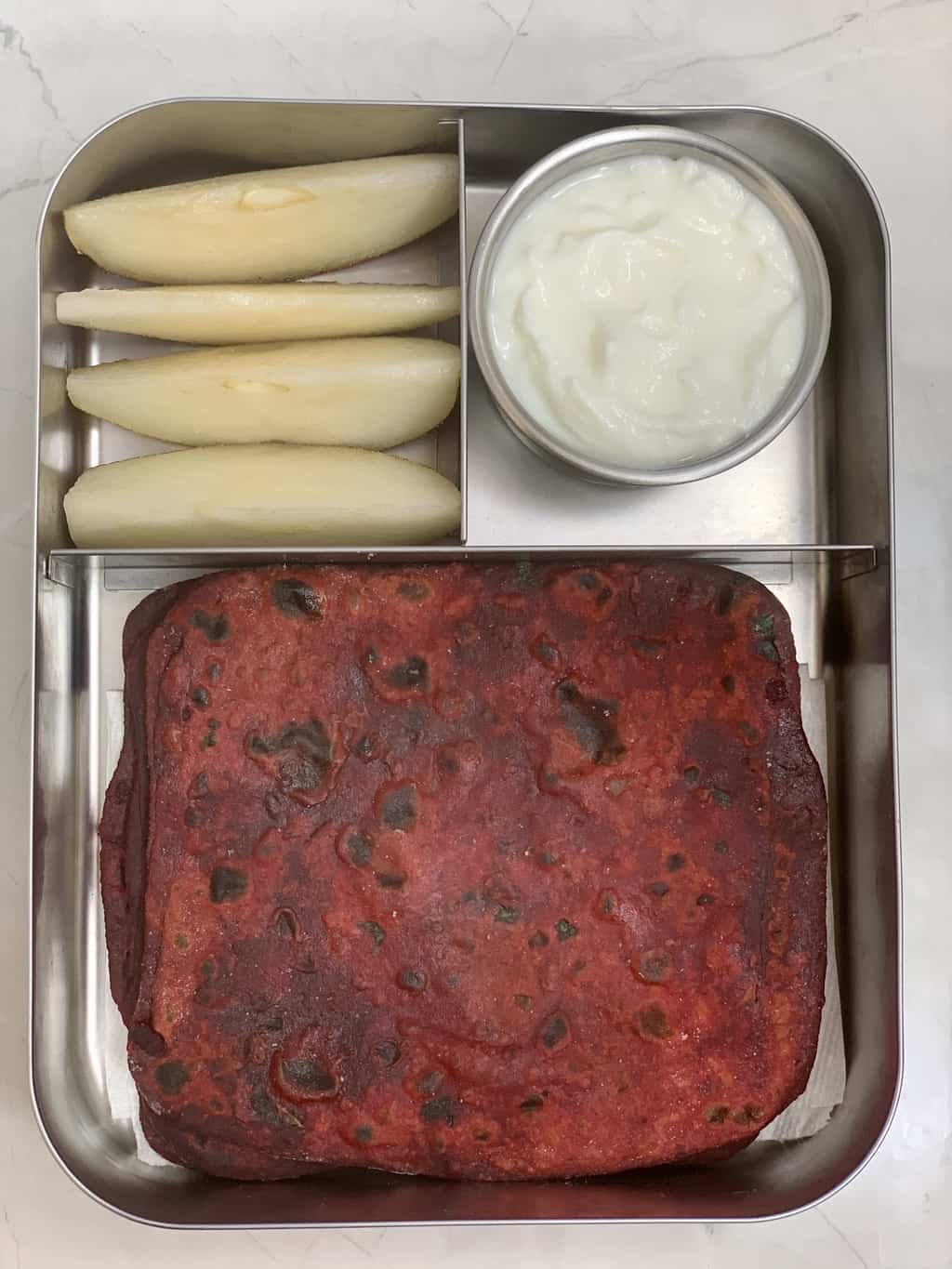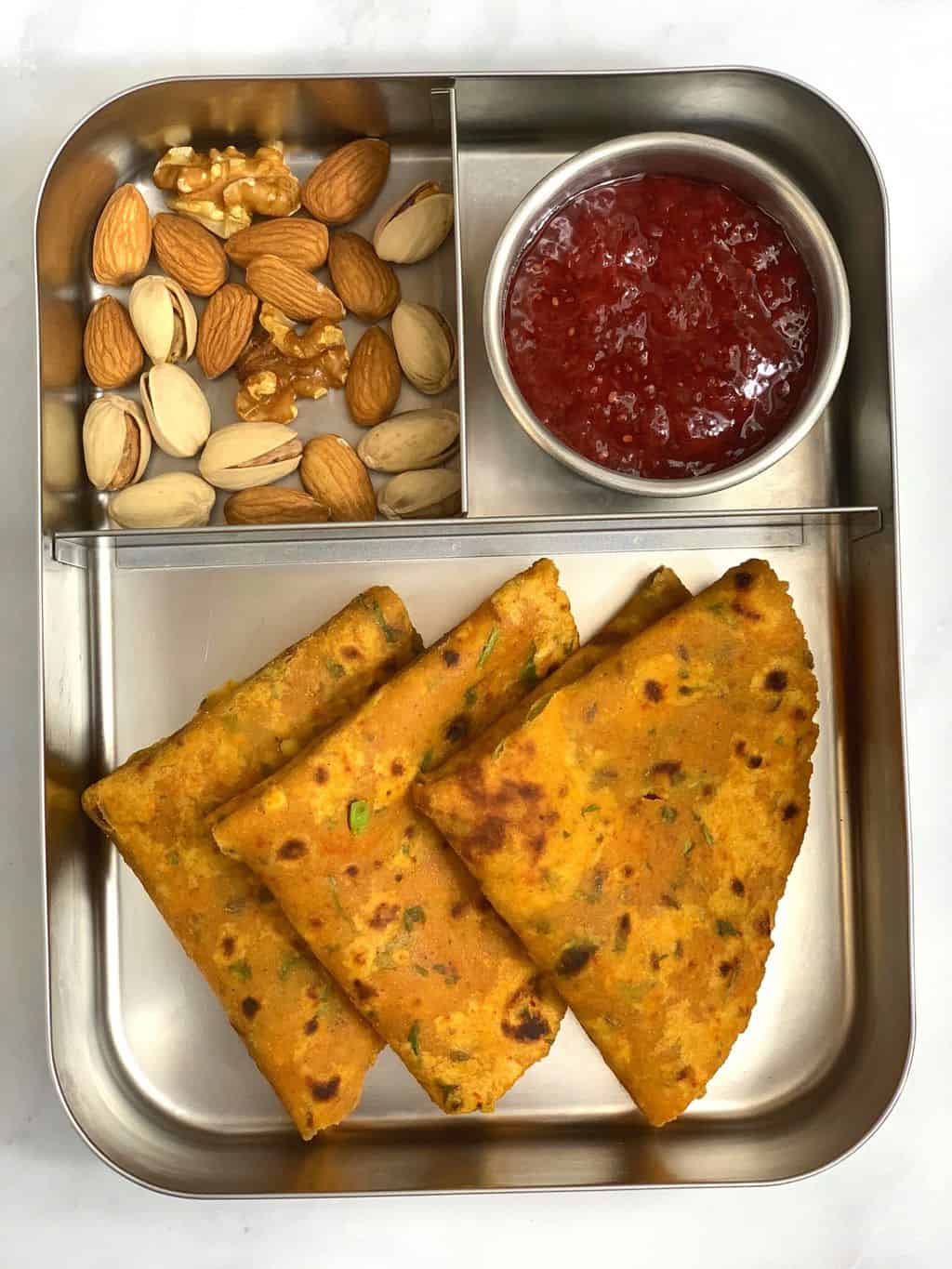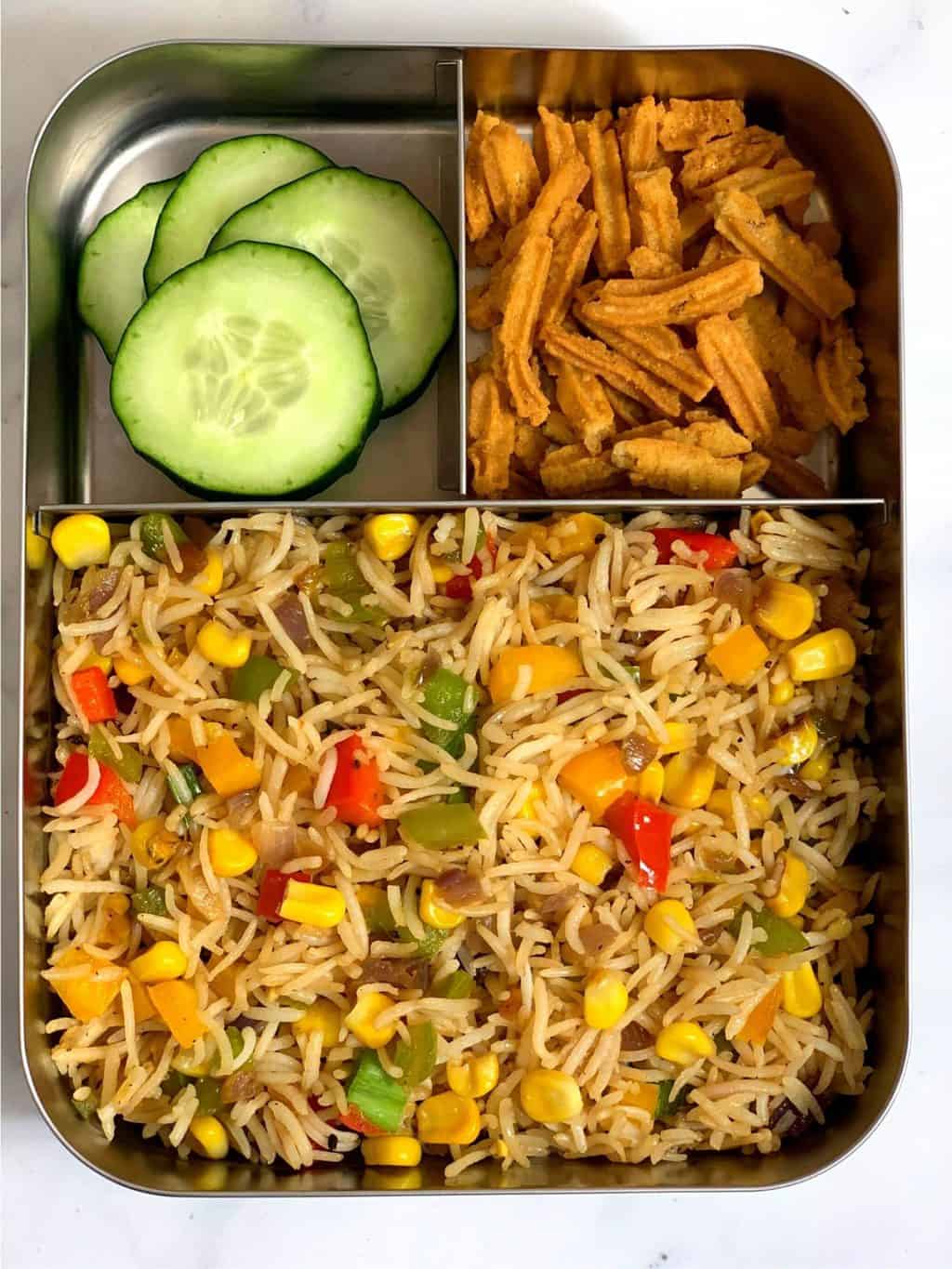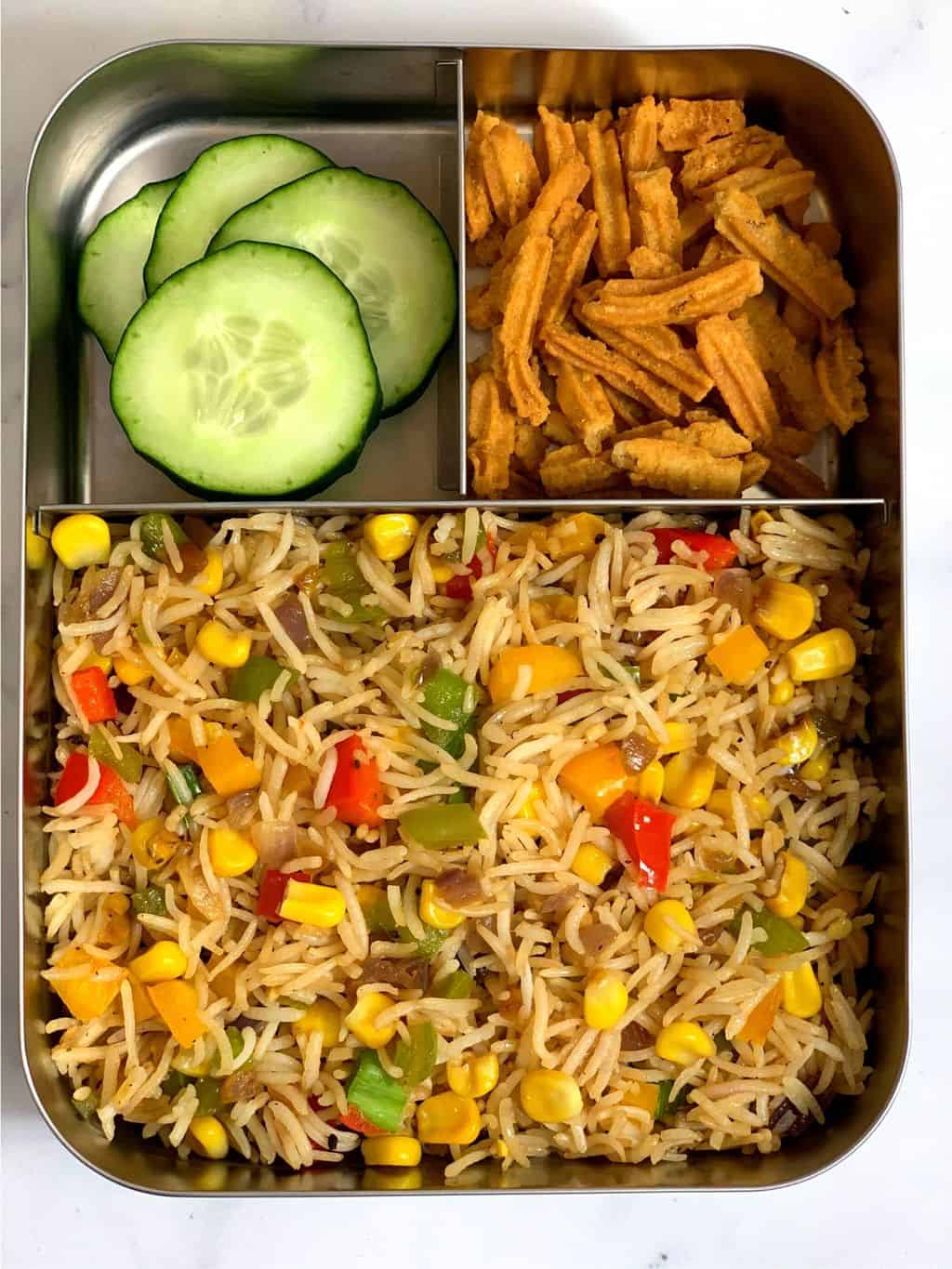 Green Peas Pulao (Matar Pulao) made in the Instant Pot with Boondi Raita and Orange.
Podi Idli paired with plain greek yogurt and green grapes.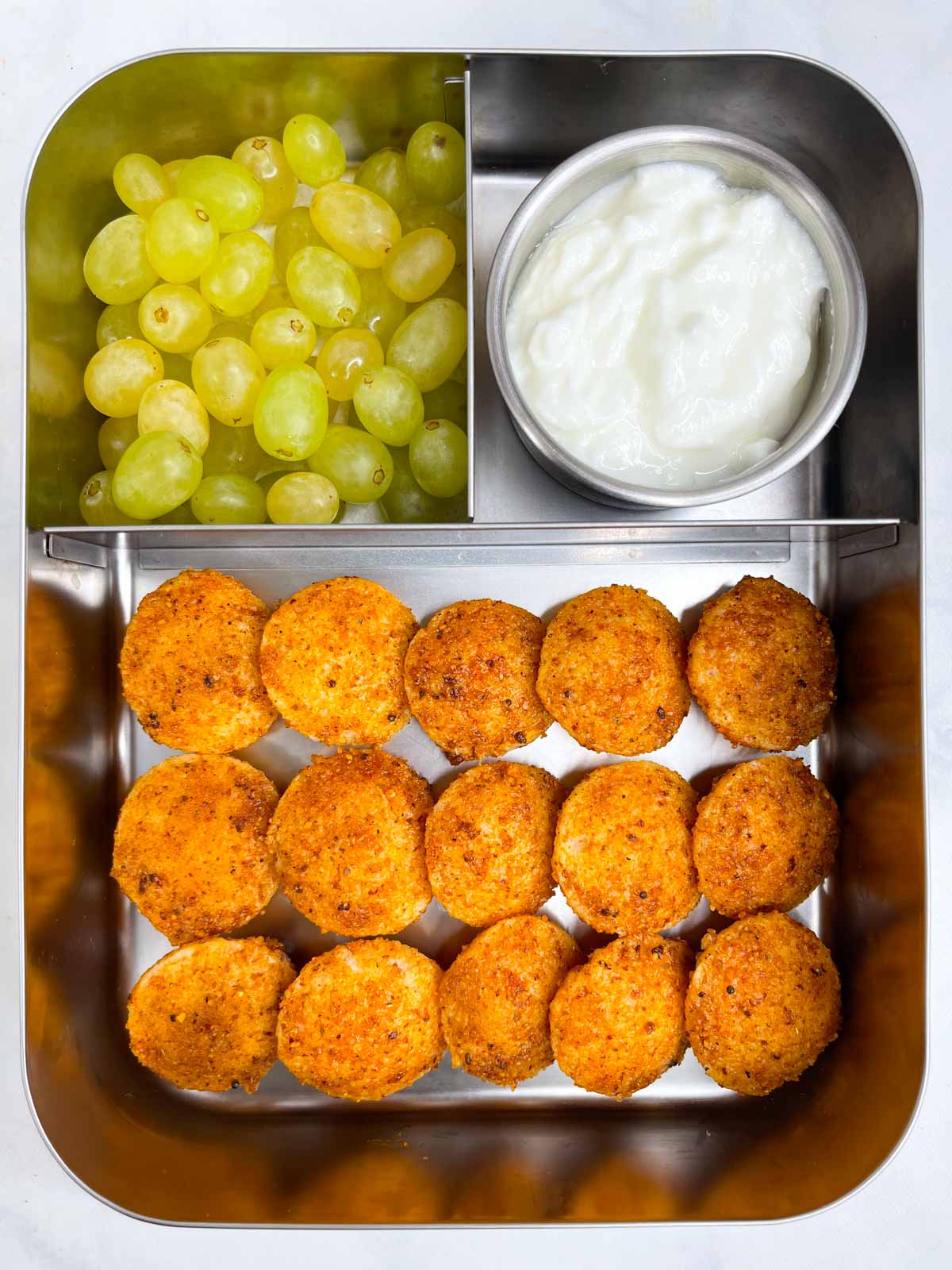 63. Lemon Rice + Yogurt + Carrot & Cucumber
Easy Lemon Rice is made in the Instant Pot paired with Yogurt and some carrot and cucumber.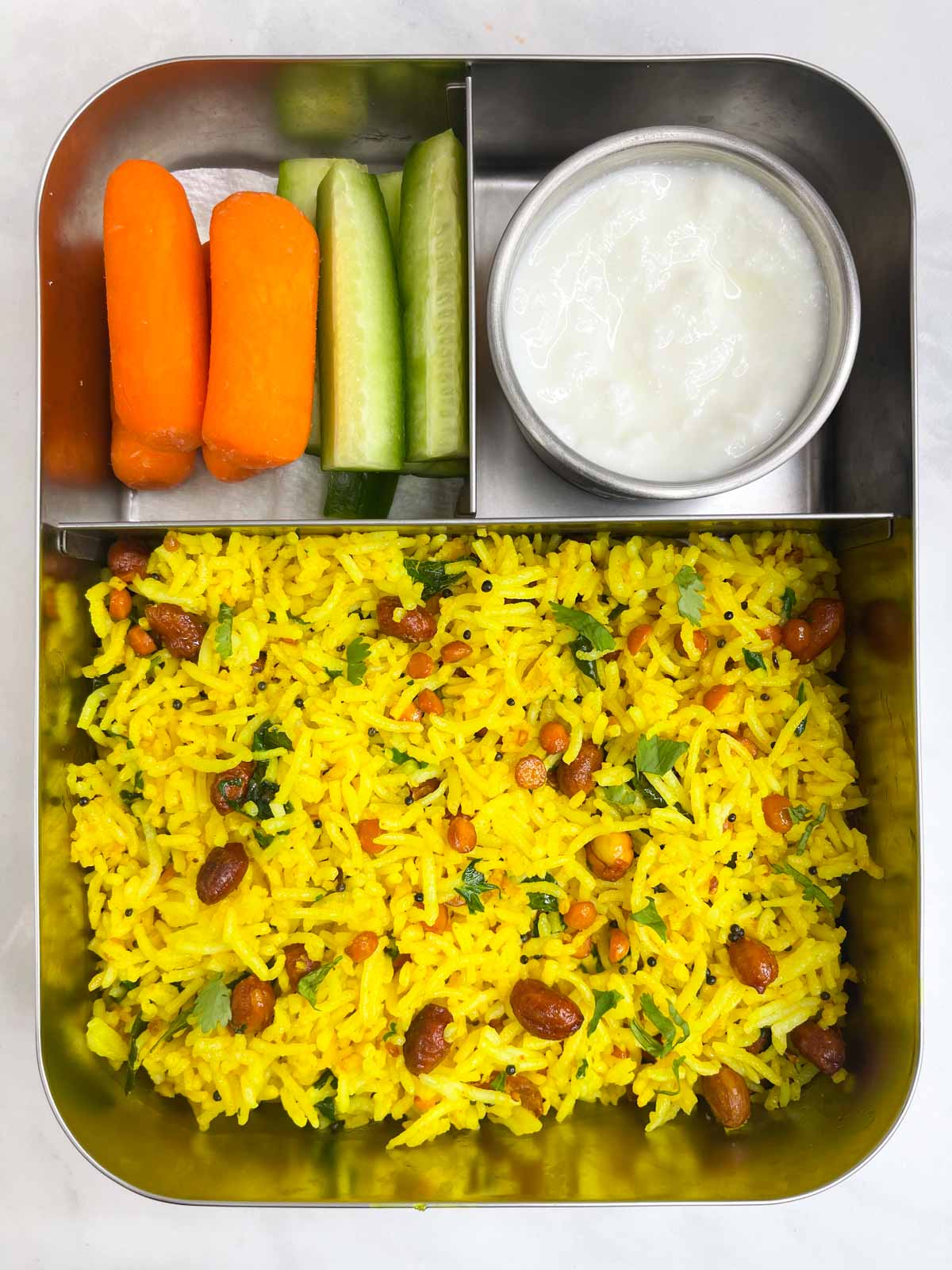 64. Pizza Paratha + Carrot + Crispy Tofu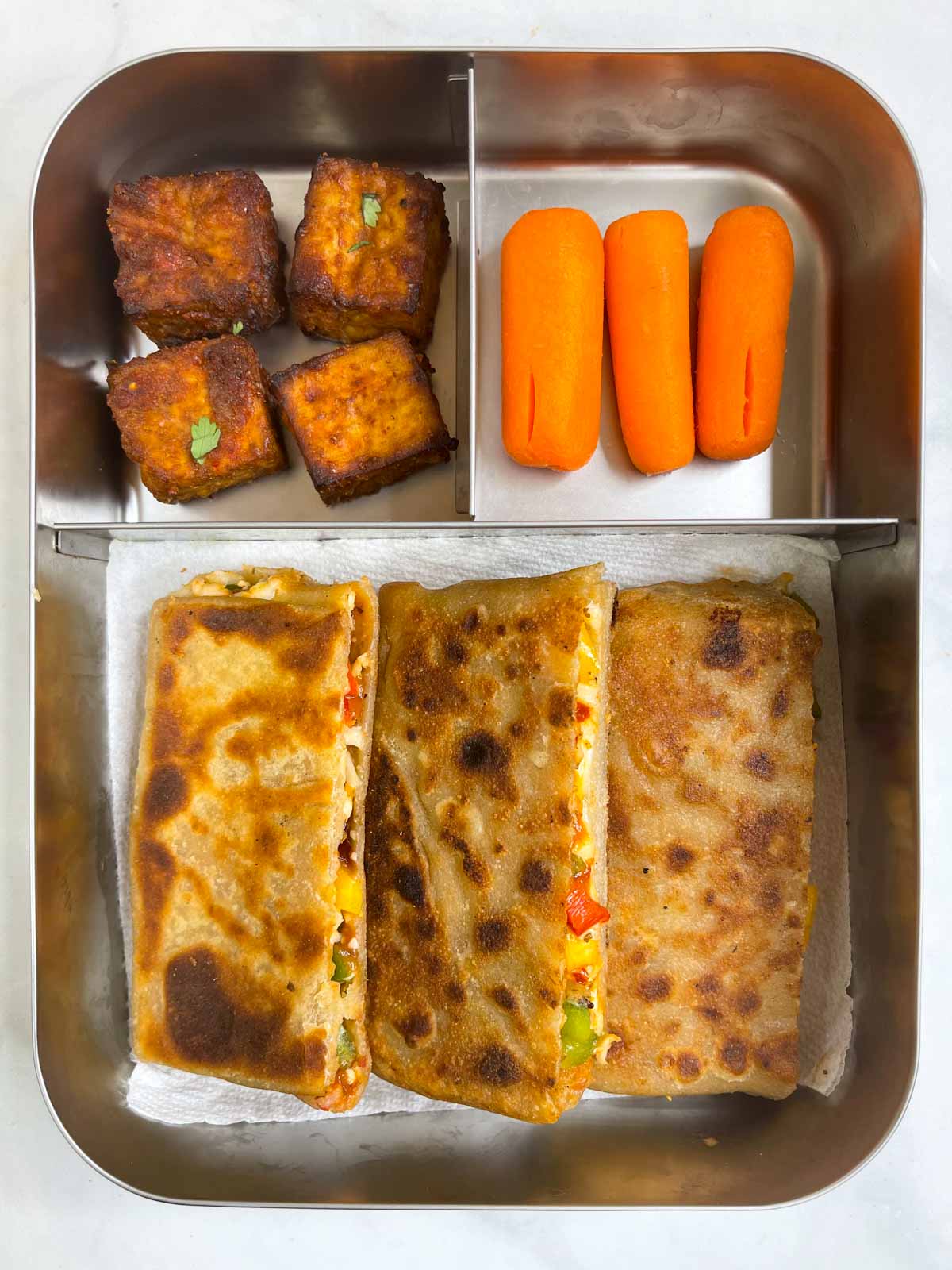 65. Vegetable Pulao + Chocolate + Fruits
Vegetable Pulao made in Instant Pot packed with chocolate and fruits (orange and green grapes).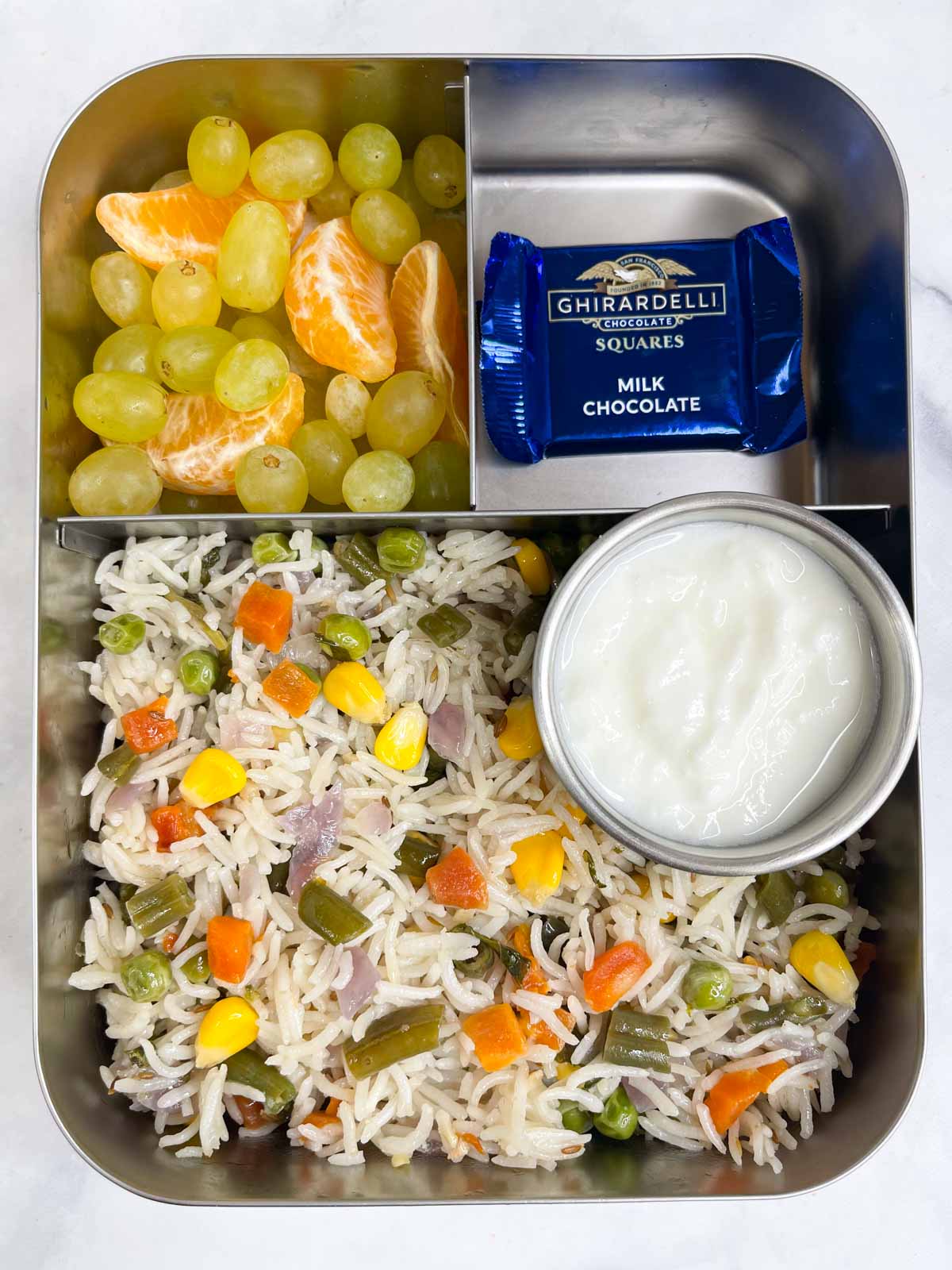 Easy Instant Rava Paddu/Paniyaram paired with Coconut chutney and Peanut butter makhana.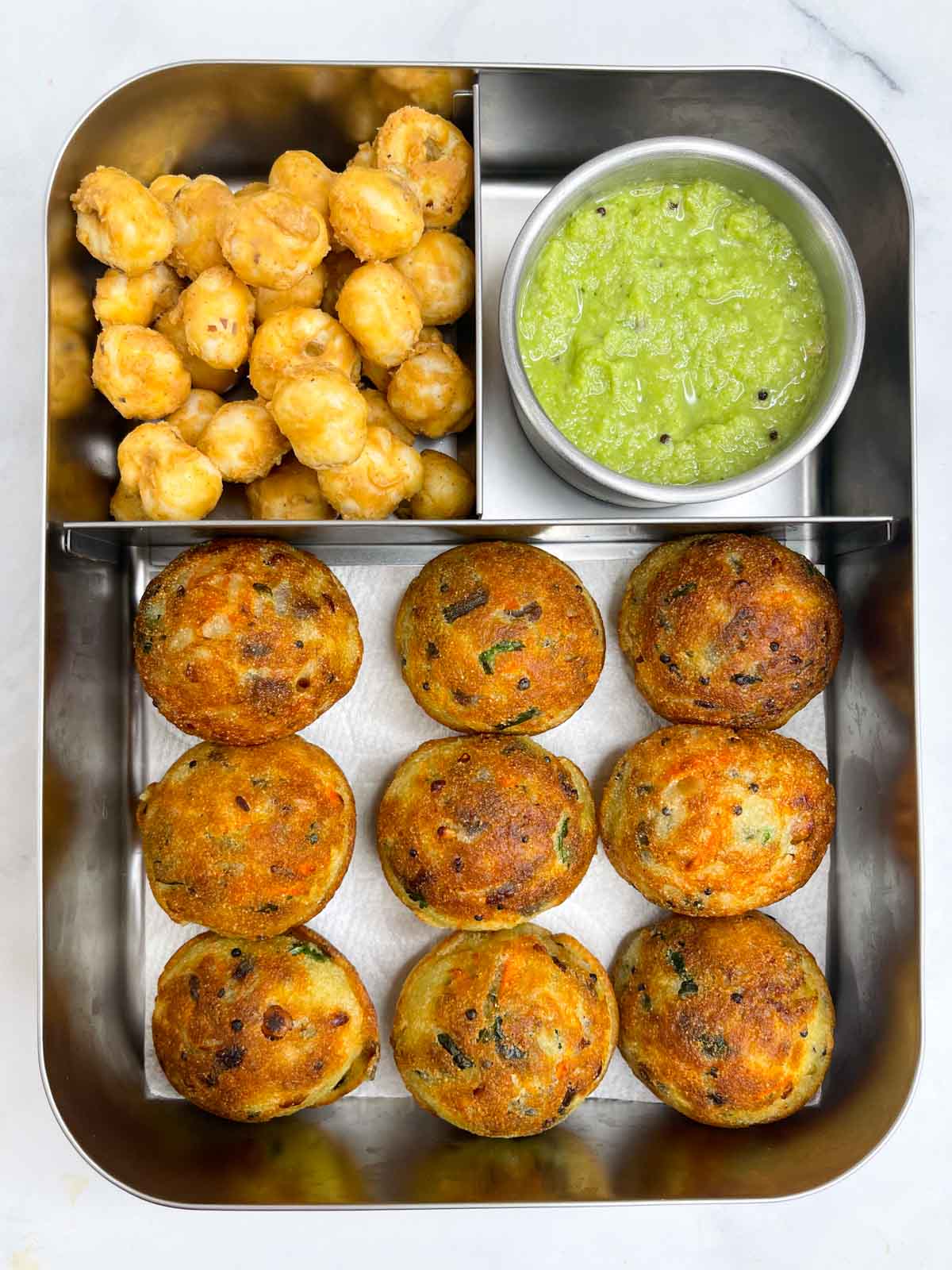 67. Mini Poori + Potato Sagu + Pears
Mini Poori's (Made a large chapati and then cut into a round shape using a cutter and deep-fried) paired with Potato Curry and Pears.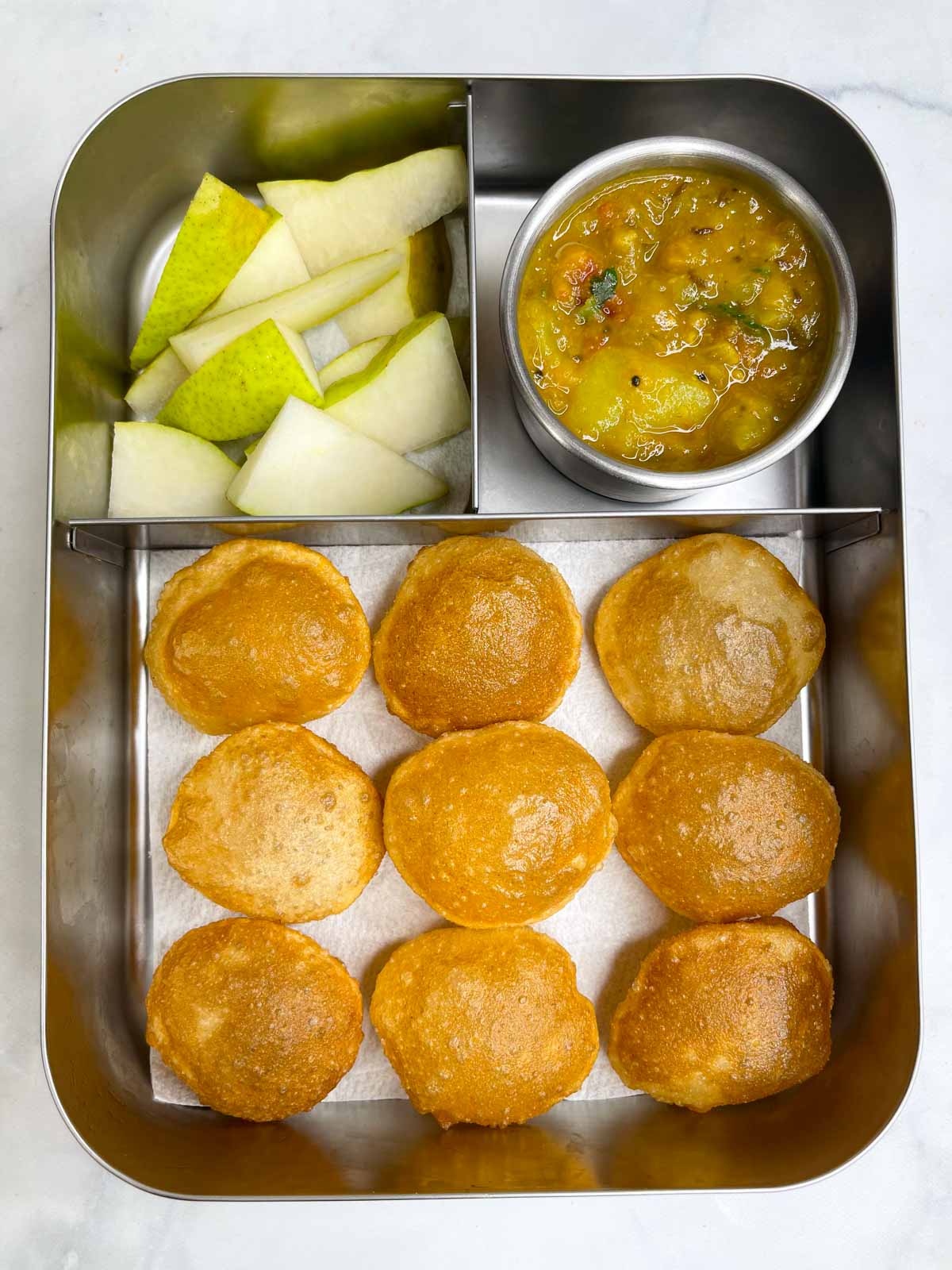 68. Rava Idli + Coconut Chutney + Dates & Apricot
Rava Idli with Coconut Chutney, some Medjool dates, and dried apricots.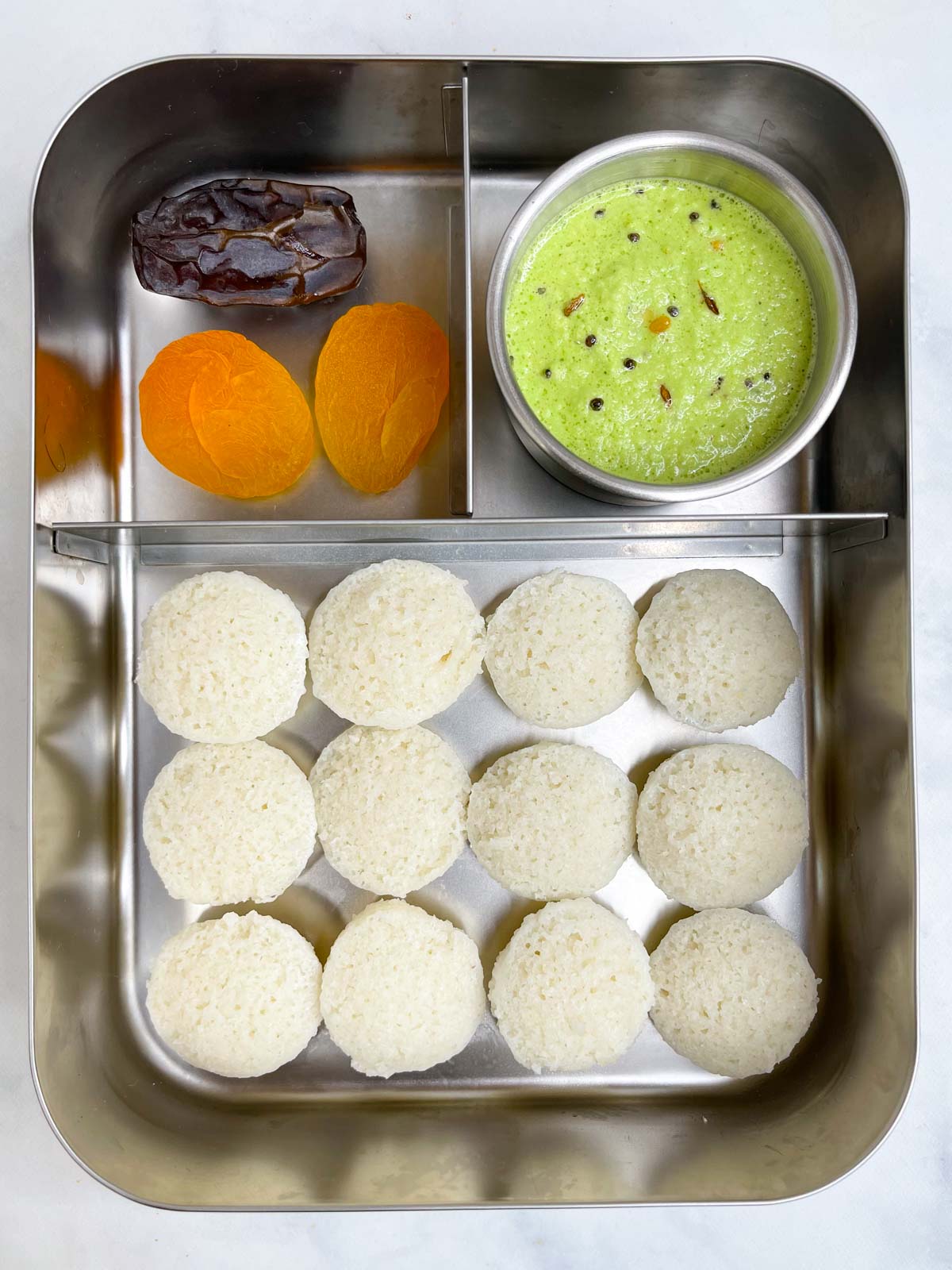 69. Veggie Burger + Chips + Guacamole
Veggie Burger is made using veggie patties from trader joes. Toasted burger bread and heated frozen veggie patty on a Tawa. Placed a slice of burger, smeared some mayo+ ketchup mixture, placed lettuce and top of it veggie patty and cheese slice. Lettuce helps to prevent burgers from turning soggy. Then added the Served with Tortilla chips and Guacamole.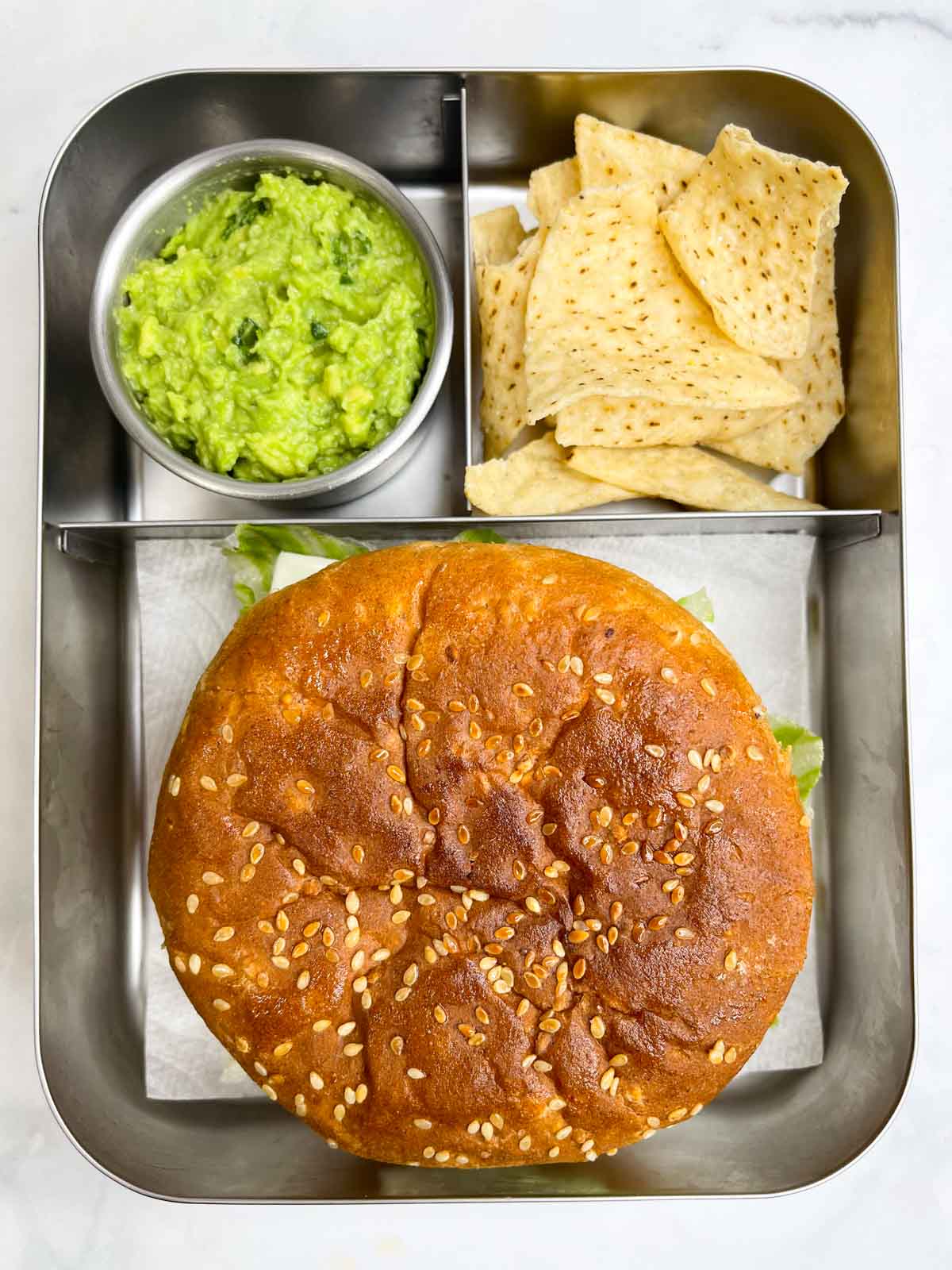 70. Chickpea Rice + Greek Yogurt + Mango+ Salad
71. White Sauce Pasta + Cucumber + Hummus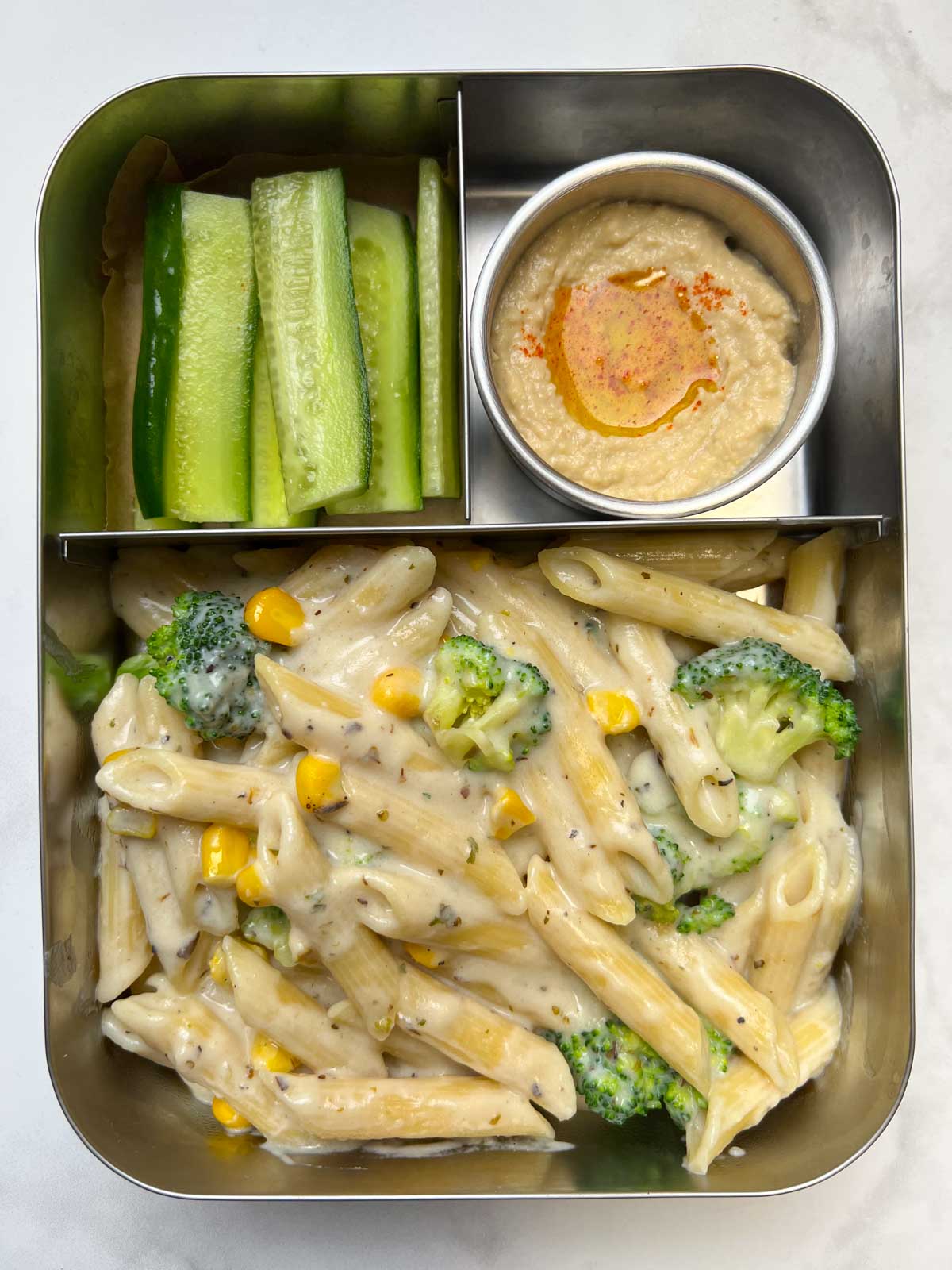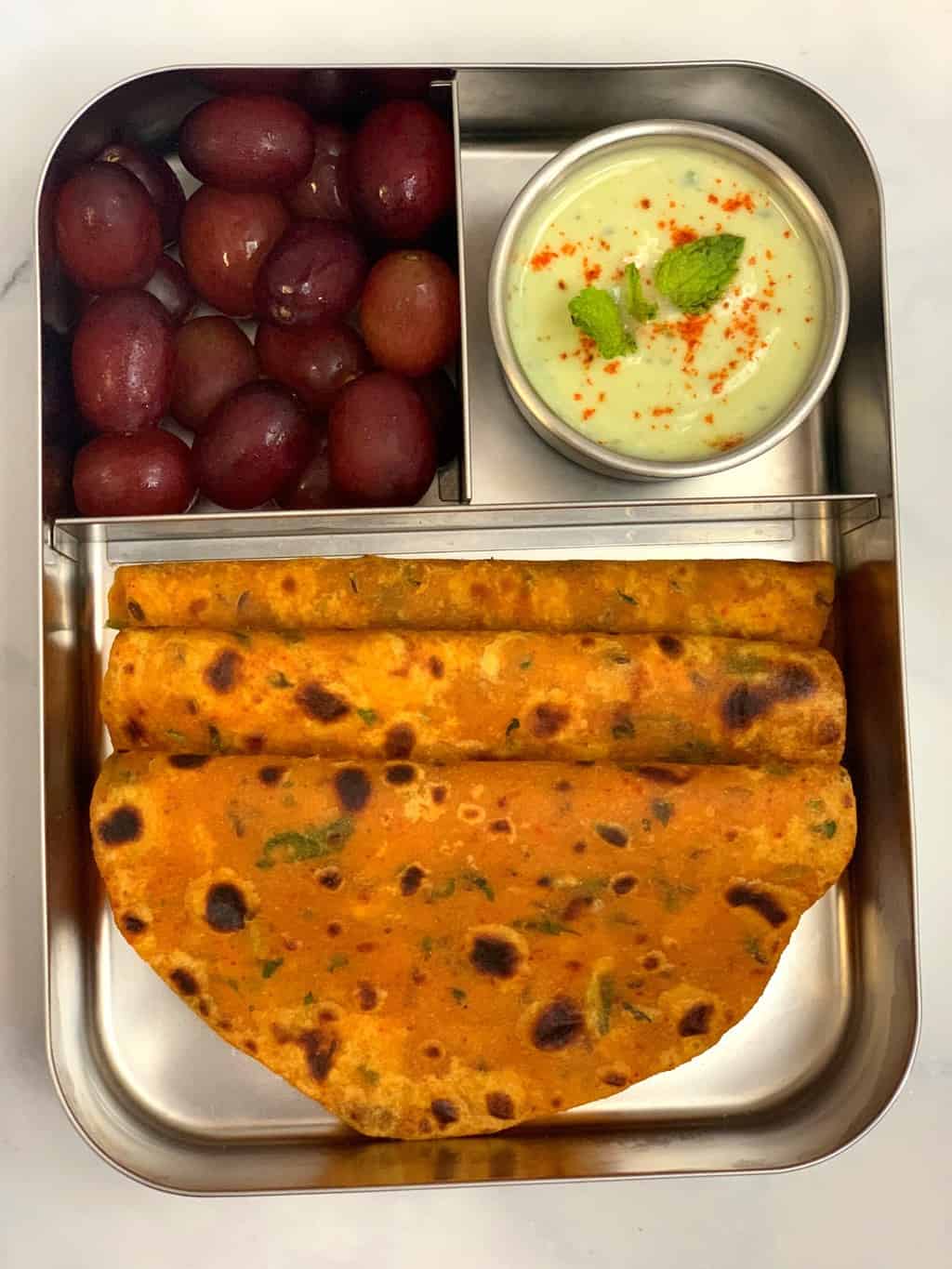 8+ Healthy Toddler Indian Breakfast Ideas
10+ best Veg Sandwich Recipes Indian Style
10+ Paratha Recipes|Indian FlatBread Recipes
18+ Instant Pot Vegetarian Soup Recipes
5 Types of Easy Dry Chutney Powder Recipes
DID YOU MAKE ANY OF THESE 75+ HEALTHY KIDS LUNCH BOX RECIPES?
I'D LOVE TO KNOW HOW THEY TURNED OUT! LEAVE A COMMENT AND A ⭐️ RATING BELOW? SO WE CAN SEE IT AND OTHERS CAN ENJOY IT TOO! THANK YOU ♥
Tried this recipe?
Don't forget to give a ★ rating below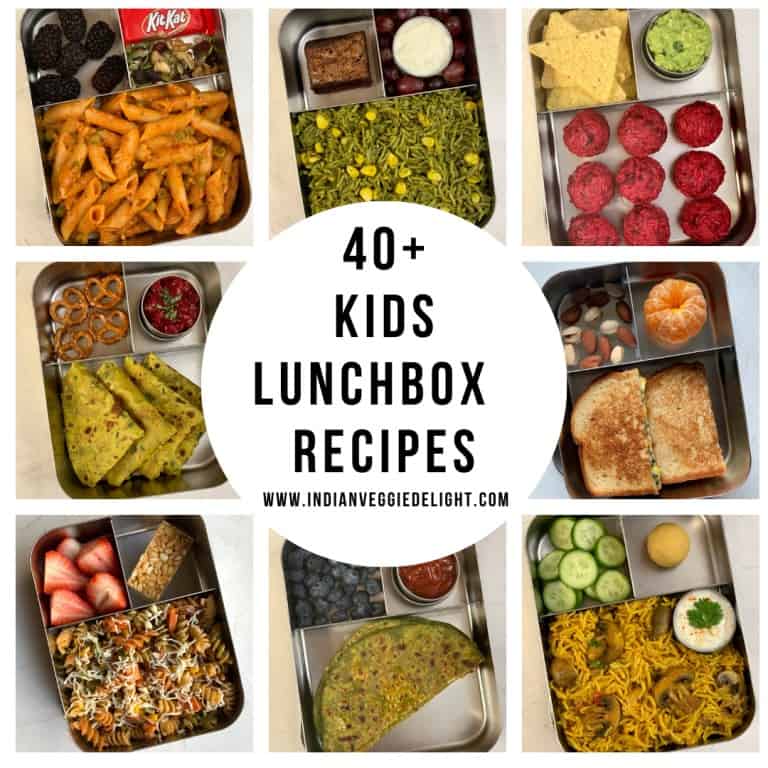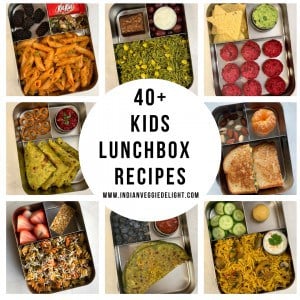 75+ Healthy Kids Lunch Box Recipes
These 75+ Healthy kids School Lunch box Recipes that your kids will actually love! These recipes are filled with wholesome ingredients, packed with nutrients and will keep your kids satisfied all afternoon.
Subscribe to my Youtube Channel for healthy & tasty video recipes.