75+ Healthy Vegetarian and Vegan Indian Kids School Lunch Box recipes ideas that your kids will love! These recipes are filled with wholesome ingredients, packed with nutrients, and will keep your kids satisfied all afternoon.
You can also find tips on packing school lunchboxes and a list of our favorite lunch box packing tools. Great for preschool, kindergarten, and elementary school-aged kids.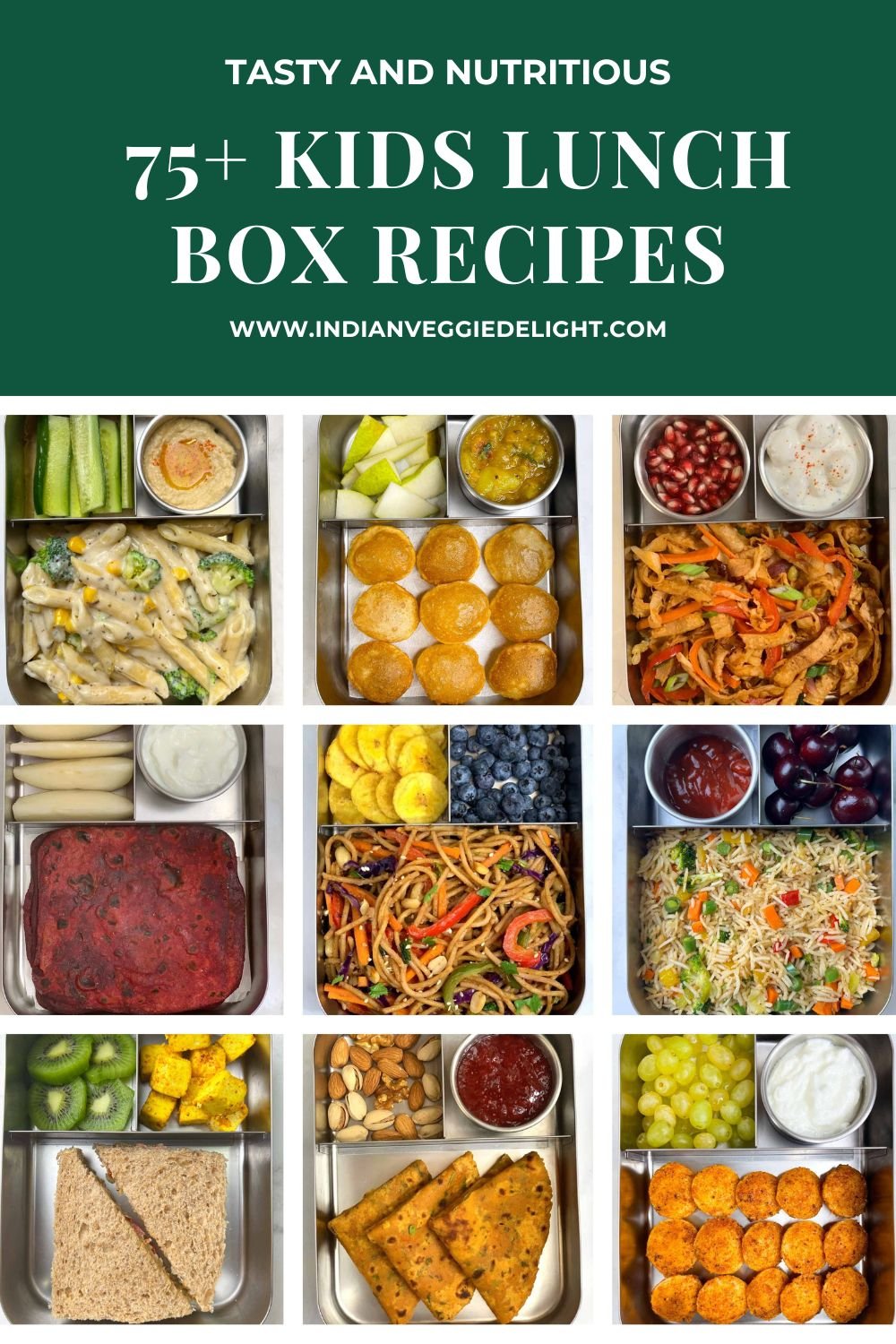 Hello, its back to school time, Here I am sharing healthy, easy, kid-friendly lunches and snacks that I serve my daughter Dhwani Monday to Friday, along with a few tips & tricks here and there. I hope you find this post useful to pack meals for your children.
If you landed on this page, I am sure you got some naughty & playful kids at home 🙂 And we agree that for most kids - The mother is by default a "Lifetime Master Chef".
No wonder we Mothers constantly keep looking for yummy breakfast ideas or lunch ideas, or healthy snack ideas for our kids. This seems like a herculean task. So saluting all these wonderful Mother's, I would like to share my proud collection of 75+ Healthy Kids Lunch Box Recipes.
From pasta, sandwiches, rice, to parathas, you can find a variety of options for your lovely kids. Trust me; your kids will love these Indian Veg lunch box ideas & would ask for more & more.
Got a cute little toddler at home? Coming up with toddler breakfast ideas is also never an easy task. Check out Healthy Toddler Indian Breakfast Ideas.
Disclaimer: I am not a nutritionist or a dietician. I am doing what is best for my kid to create a balanced and nutritious lunch.
Why You'll Love These School Lunch Ideas
Healthy, wholesome, colorful, and attractive fun lunches.
Packed in Bento-style lunchboxes.
Balanced lunches with protein, grains, vegetables, fruits & sometimes treats.
Great for preschool, kindergarten, or elementary school-aged kids.
Make-ahead tips & tricks.
Great for hot lunches at home.
It can be made to allergy-friendly recipes – Nut-Free, Gluten-Free, or Dairy-Free.
Tips For Packing School Lunches
I am sharing a few helpful tips and tricks for packing school lunches and snacks.
Plan your lunchbox in advance: Take time on the weekends or the previous night to decide what you'll serve in the days ahead. You can also make handy printables. You can prep the night before as much as possible to ease your stressful mornings. For example, - make the dosa batter, chapati dough, filling for paratha, sandwich, cool completely and refrigerate. You can also chop some veggies, fruits and store them in the fridge.
Get your kids involved in lunchbox planning – It is an inspiring way for them to learn and try new foods. You can also ask them to help chop the fruits and veggies, skewer the fruits on toothpicks, make the sandwich, or pack the food in the lunchbox.
Bento Box - I love using bento-style stainless steel lunchboxes with compartments as it allows me to pack a variety of foods like main lunch meal, snacks like fruits, veggies, sweet treats, and sides like sauce, and dips.
Thermos: You can pack hot soups and pasta in a thermos to keep the food warm and retain its consistency on a chilly or rainy day.
Water: Always filtered water, but occasionally I send fresh homemade juice like orange or strawberry.
Balanced Meal: Pack a well-balanced meal with fruits, vegetables, whole grains, unprocessed foods, carbs, protein, and dairy. Consider the below nutrient-dense foods.
Fruits: Always try to pack fresh, colorful, organic seasonal fruits for your child.
Vegetables: Try to include a variety of fresh, low-sodium frozen vegetables, including colored, dark green leafy greens.
Whole Grains: Choose whole grains, such as whole-wheat bread, quinoa, rice, whole-wheat pasta, and millet.
Protein: Choose paneer (cottage cheese), greek yogurt, tofu, lentils, beans, peas, unsalted nuts, and seeds.
Dairy: Try to include dairy products, such as milk, plain yogurt, and cheese.
Switch things up: Repeated lunches can be boring, so try to change the menu weekly by switching things up, be it in the main lunch, snacks, veggies, or fruits. Also put, surprise delights include crackers, chips, homemade cakes, cookies, savory snacks, or sweets some days. I also prefer to pack her favorite breakfast food for lunch at times.
Prevent food from getting soggy: I prefer cooking food just before packing my lunchbox. However, hot food, when packed in steel lunch boxes, causes condensation and makes the food soggy. To avoid it, allow food like paratha, grilled sandwich to cool completely before packing.
Utilize leftovers – make sure to use any leftovers that will work as a cold lunch – pizza, pasta, soups, dips, etc.
Favorite Lunch Box Packing Tools
Below are some of my favorite tools for packing fun school lunches.
My other Favorite Kitchen Gadgets
Do not use plastic lunch boxes for your kids. They are toxic. You can also check my Amazon Shop Page, to find out all my favorite products for packing lunch boxes.
Jump to:
75+ Indian Kids Lunch Box Recipe Ideas
Here are some healthy vegetarian and vegan Indian Kids Lunch Box recipes, which will offer you various options to be served in a lunch box for school or at home.
Grilled Spinach Corn Sandwich with mixed nuts and fruit (orange). Replace nuts with veggies or sweet treats for a nut-free option.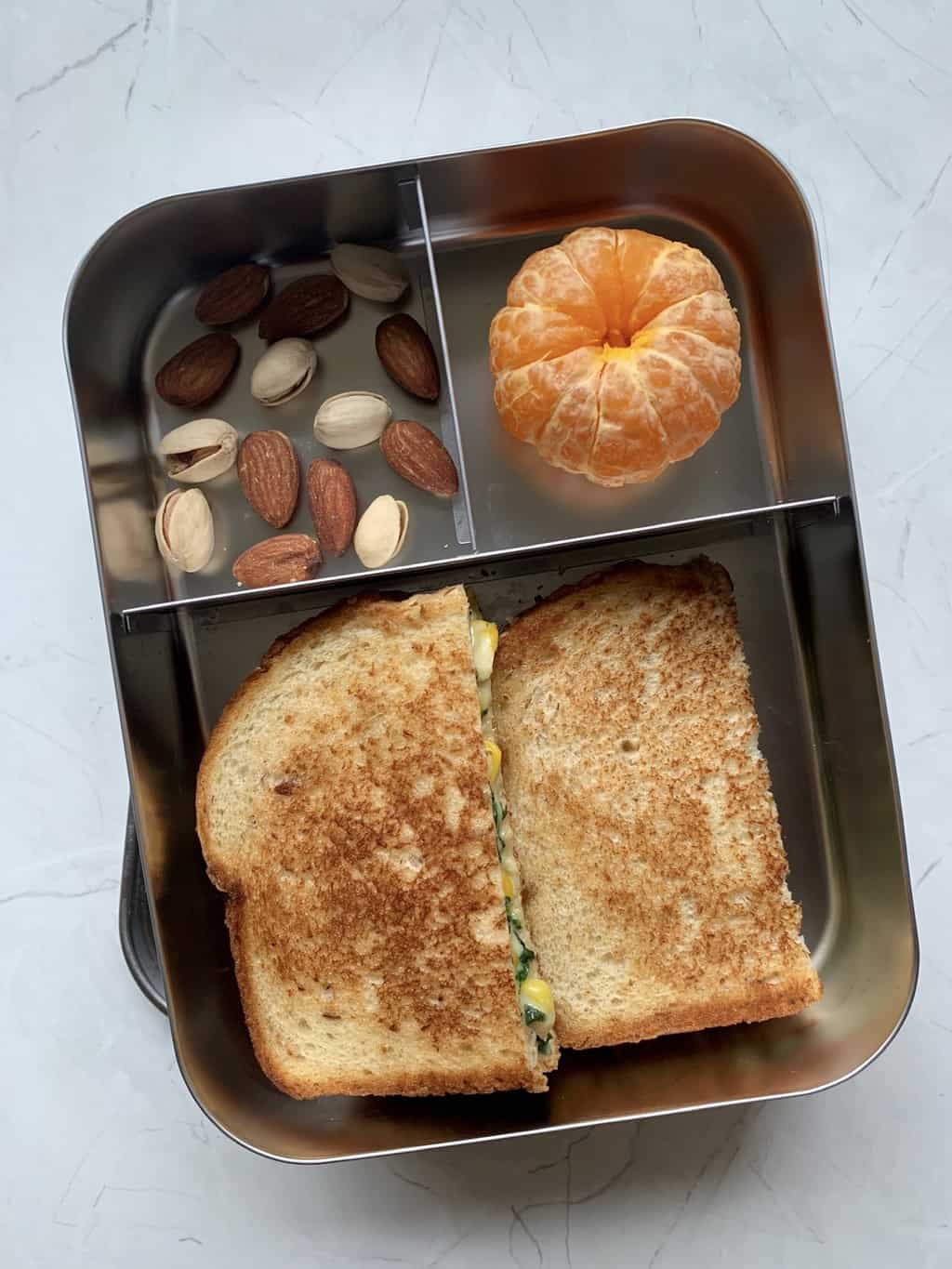 Paneer Uttapam (soft savory uttapam/pancakes topped up with grated paneer, carrots, onion, tomatoes, and coriander), ketchup, and carrot sticks.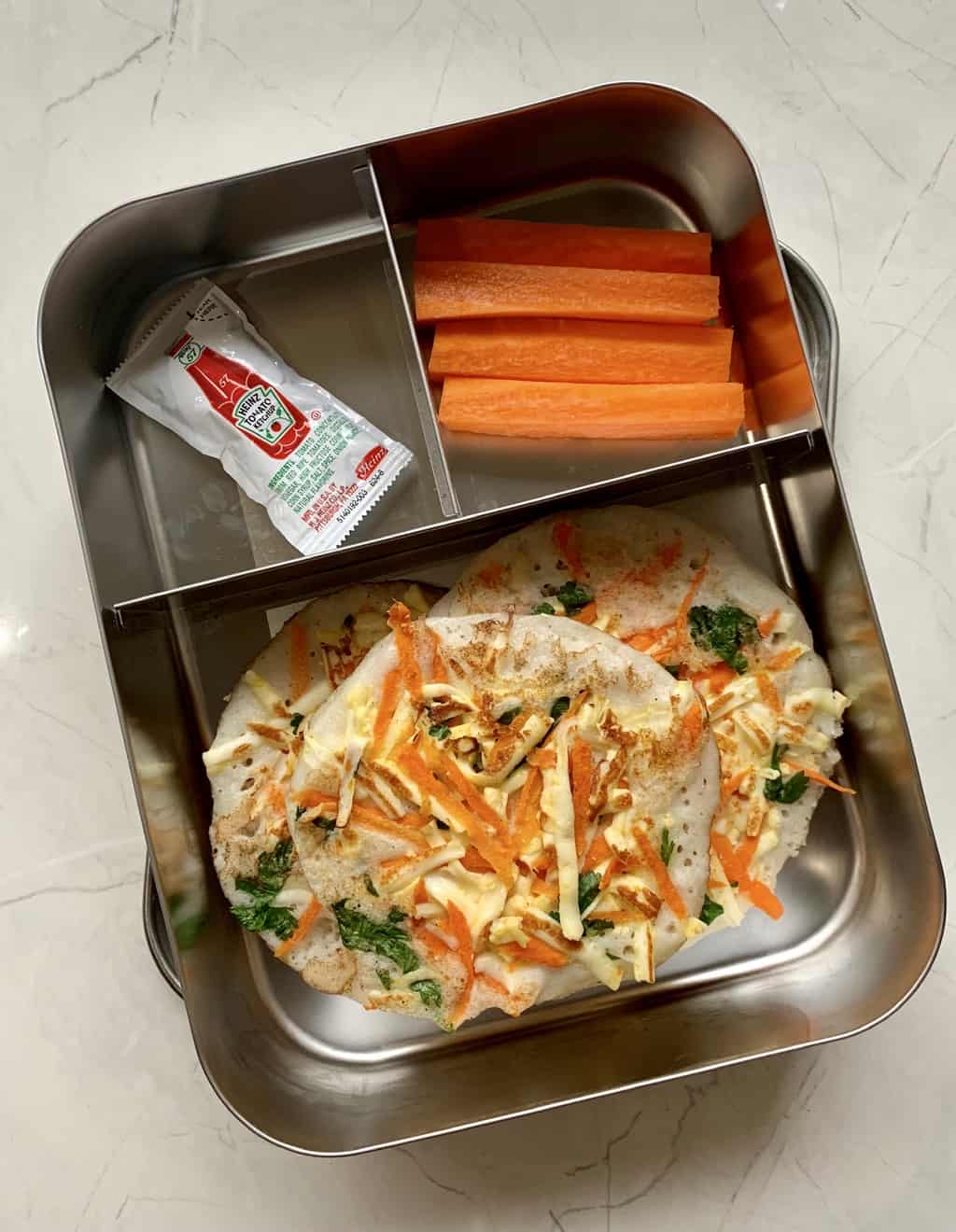 Carrot Rice, cucumber (cut in star shapes using cutter), and sweet treat.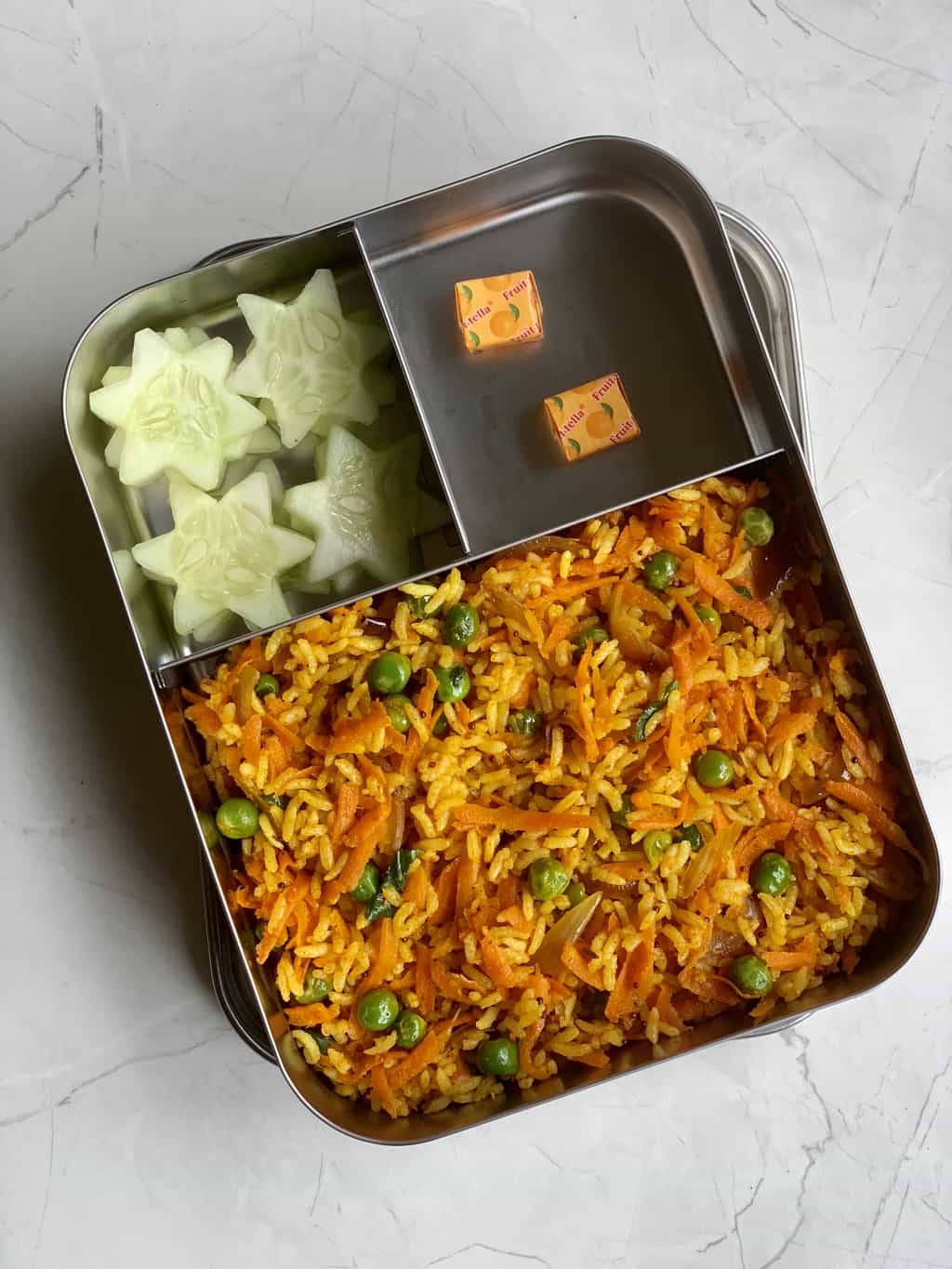 Potato Spinach Pancakes (or Aloo Palak Cheela) are the Indian version of potato hash browns, Sprouted moong salad, and red grapes.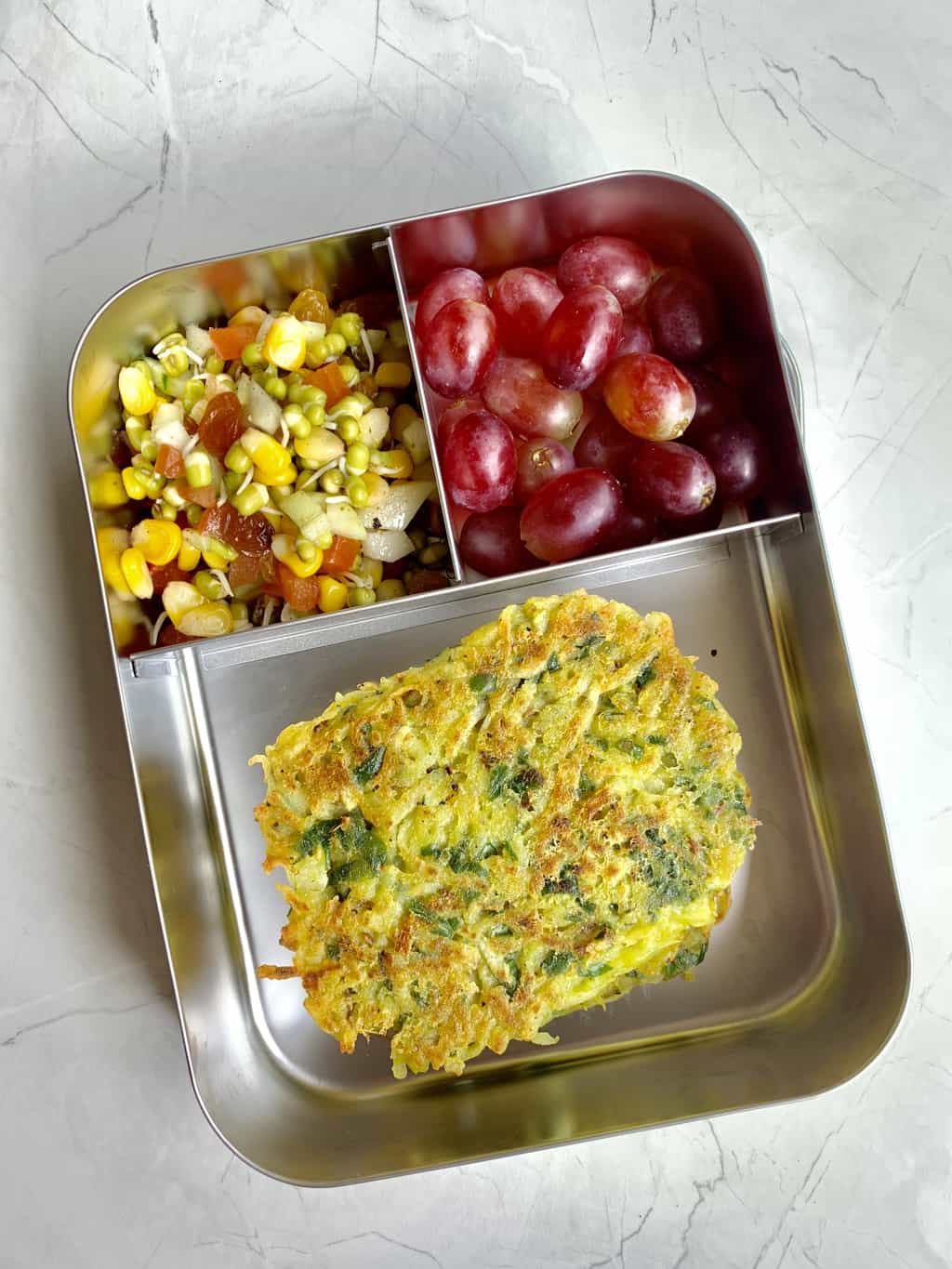 Mayo Veggie Pasta with peanut chikki and fruit (strawberries). For nut-free snack, you can replace peanut chikki with any healthy sweet treat.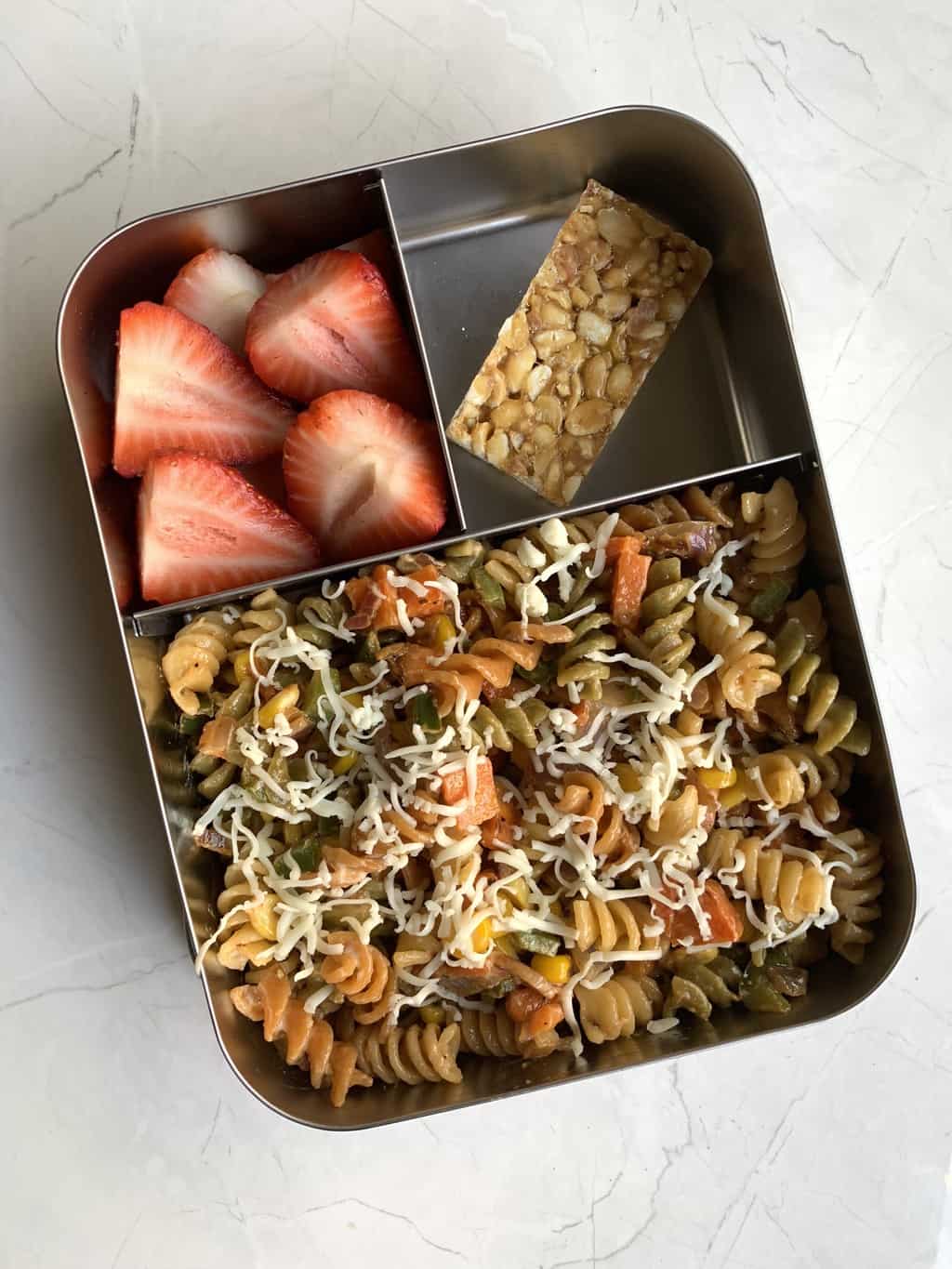 Palak Chapati with Jeera Aloo sabji and fruit (orange).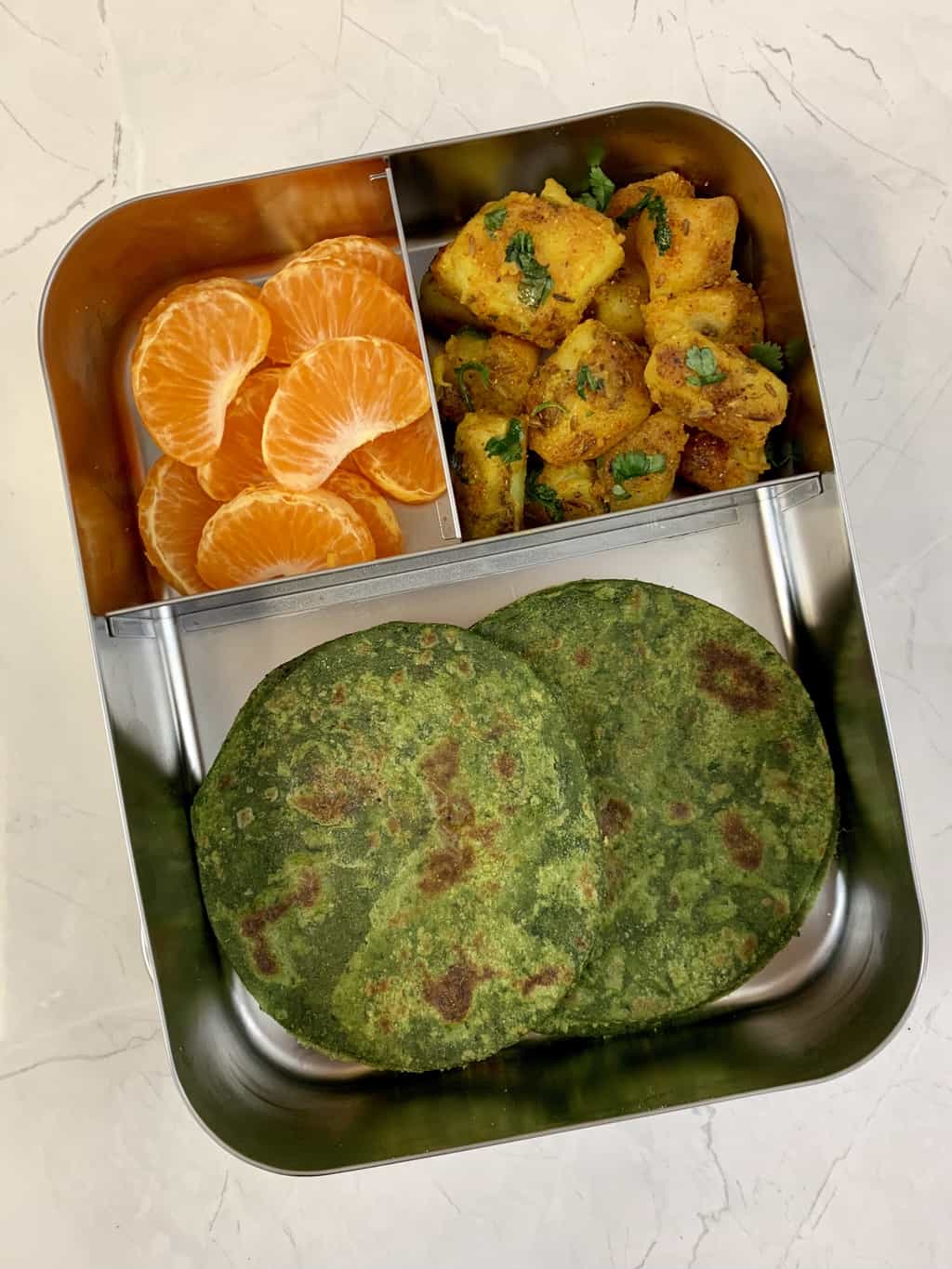 Dal paratha with leftover dal, Pineapple raita and Carrot sticks.
Colorful pineapple fried rice with fryums and fruit (blueberries).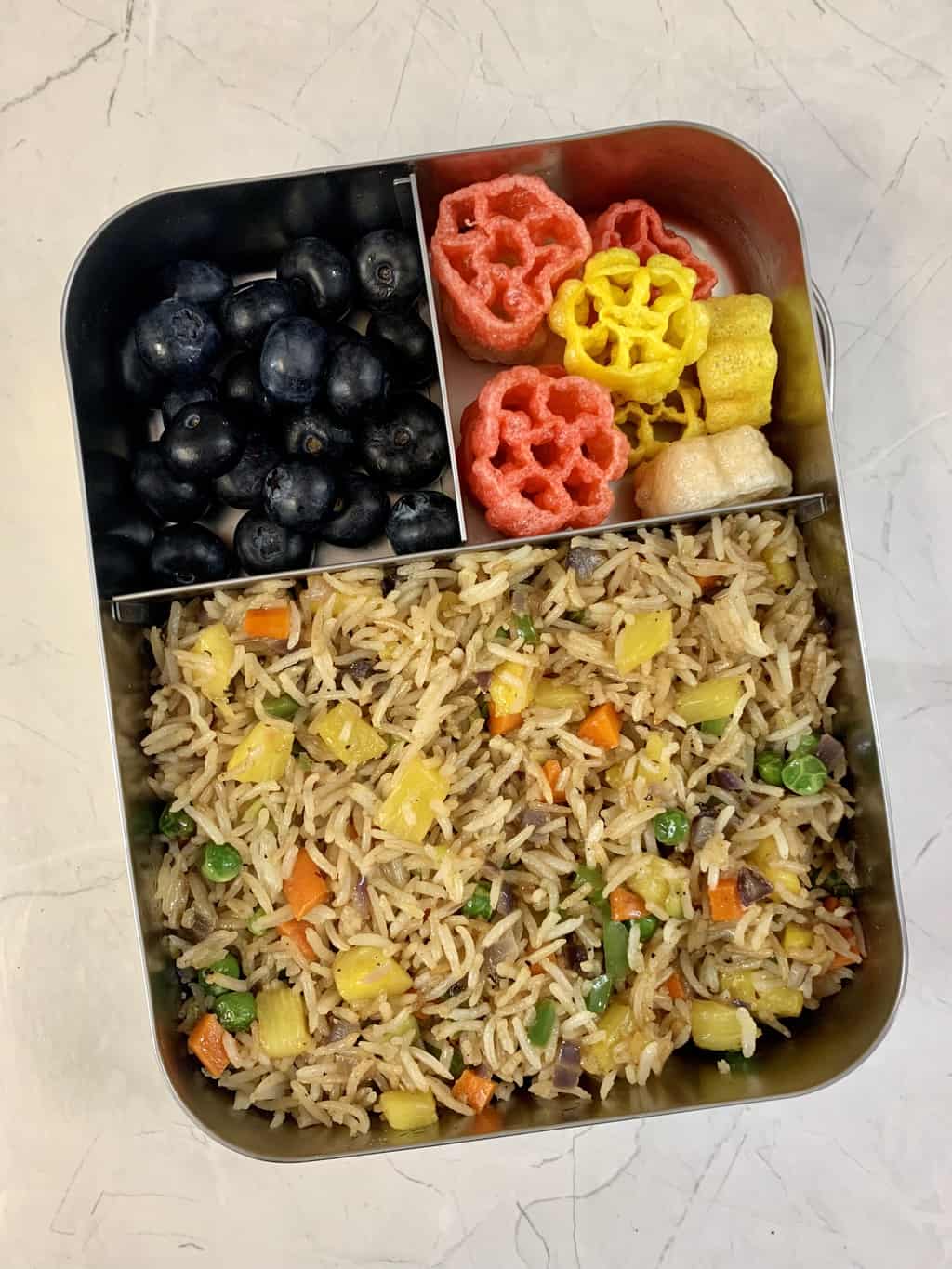 Veg Vermicelli Upma with Peanut sundal and fruit (mango). For a nut-free option, replace peanut sundal with chickpea sundal or any bean sundal for extra protein.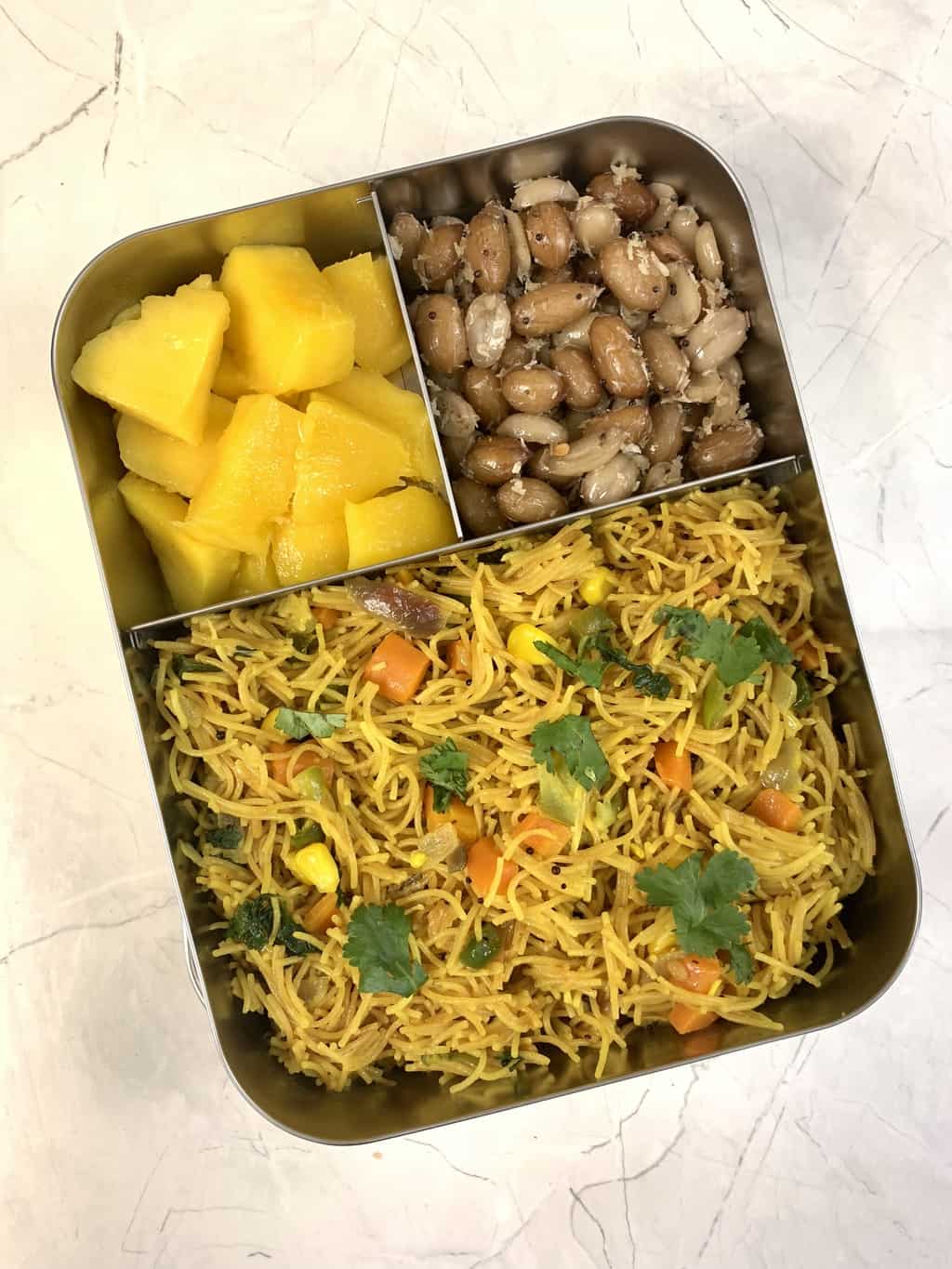 Spinach Coin Dosa with Peanut chutney and fruit (pineapple chunks).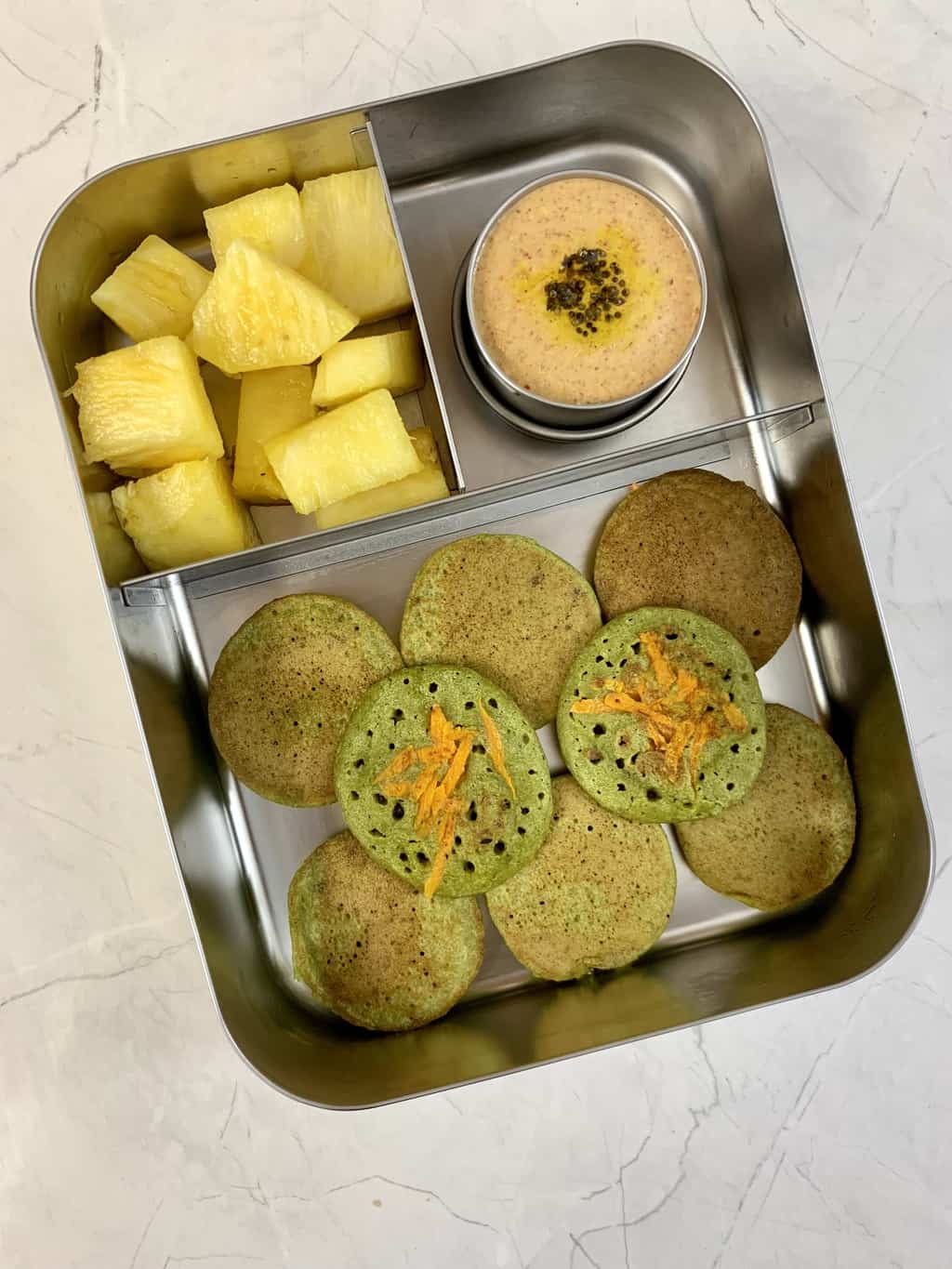 Avocado Paratha with Beetroot curry and store-bought pretzels.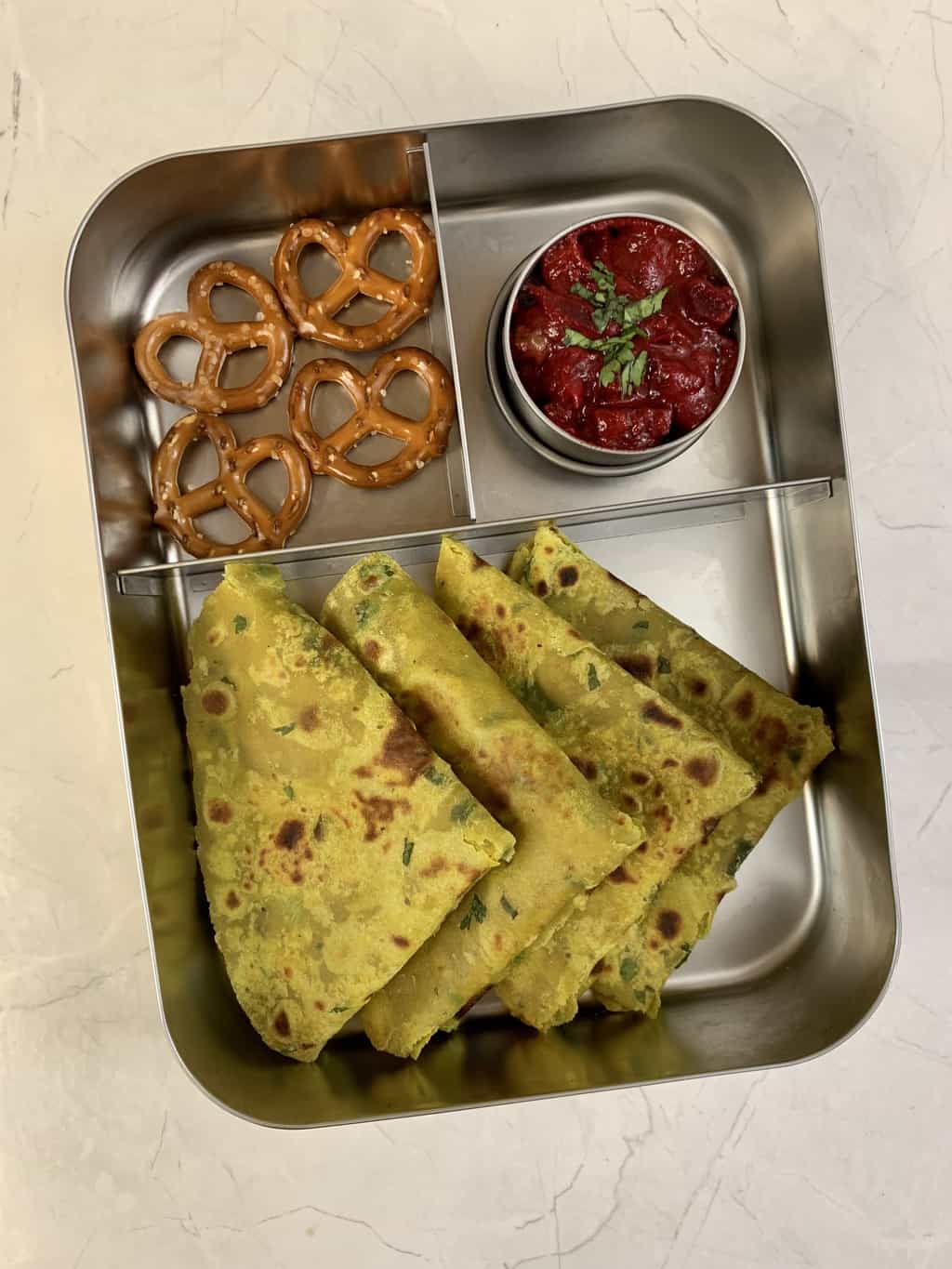 Lemon Idli with homemade yogurt and fruit (strawberries).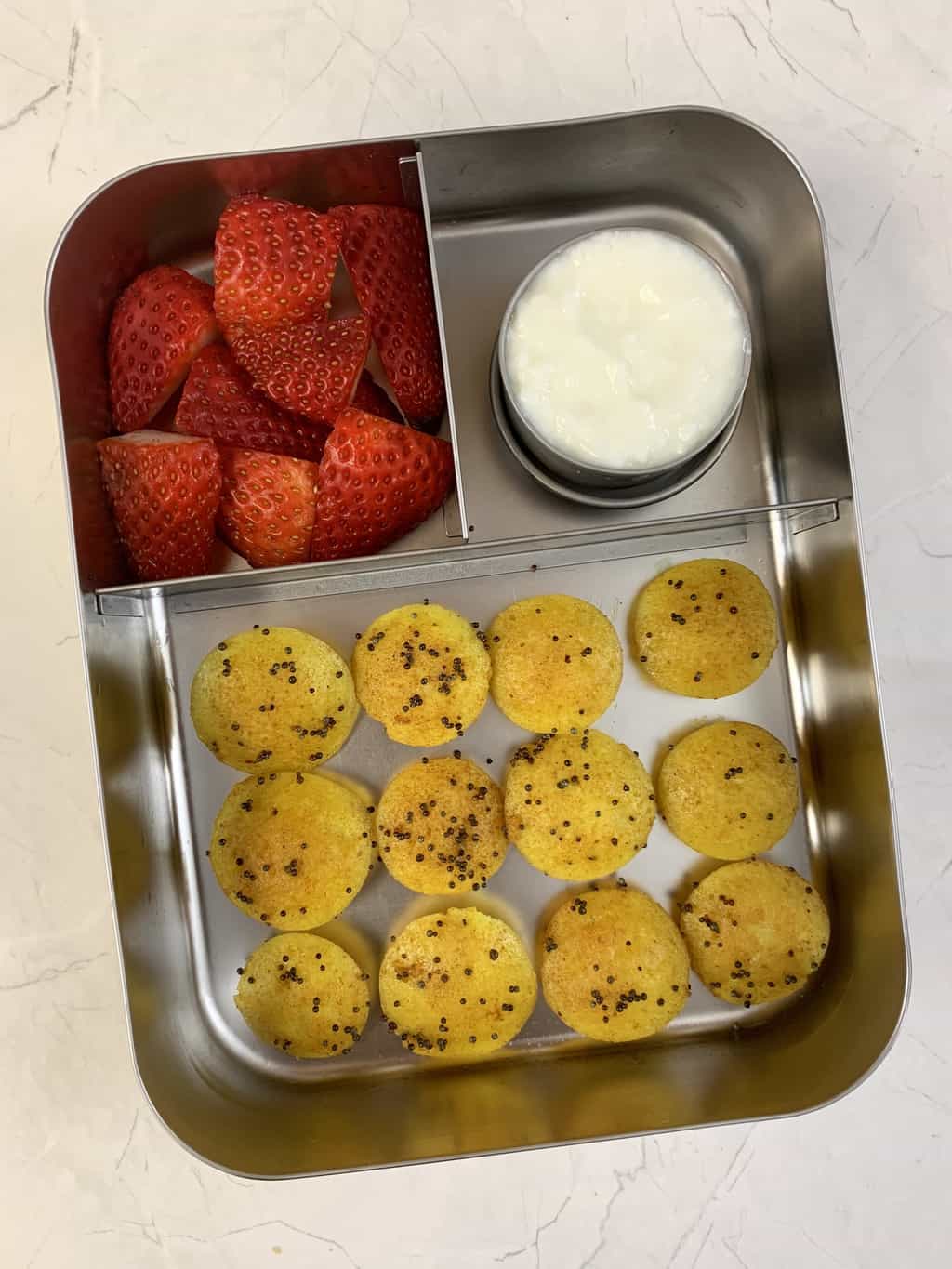 Tomato Rice with carrot raita and fruit (red grapes).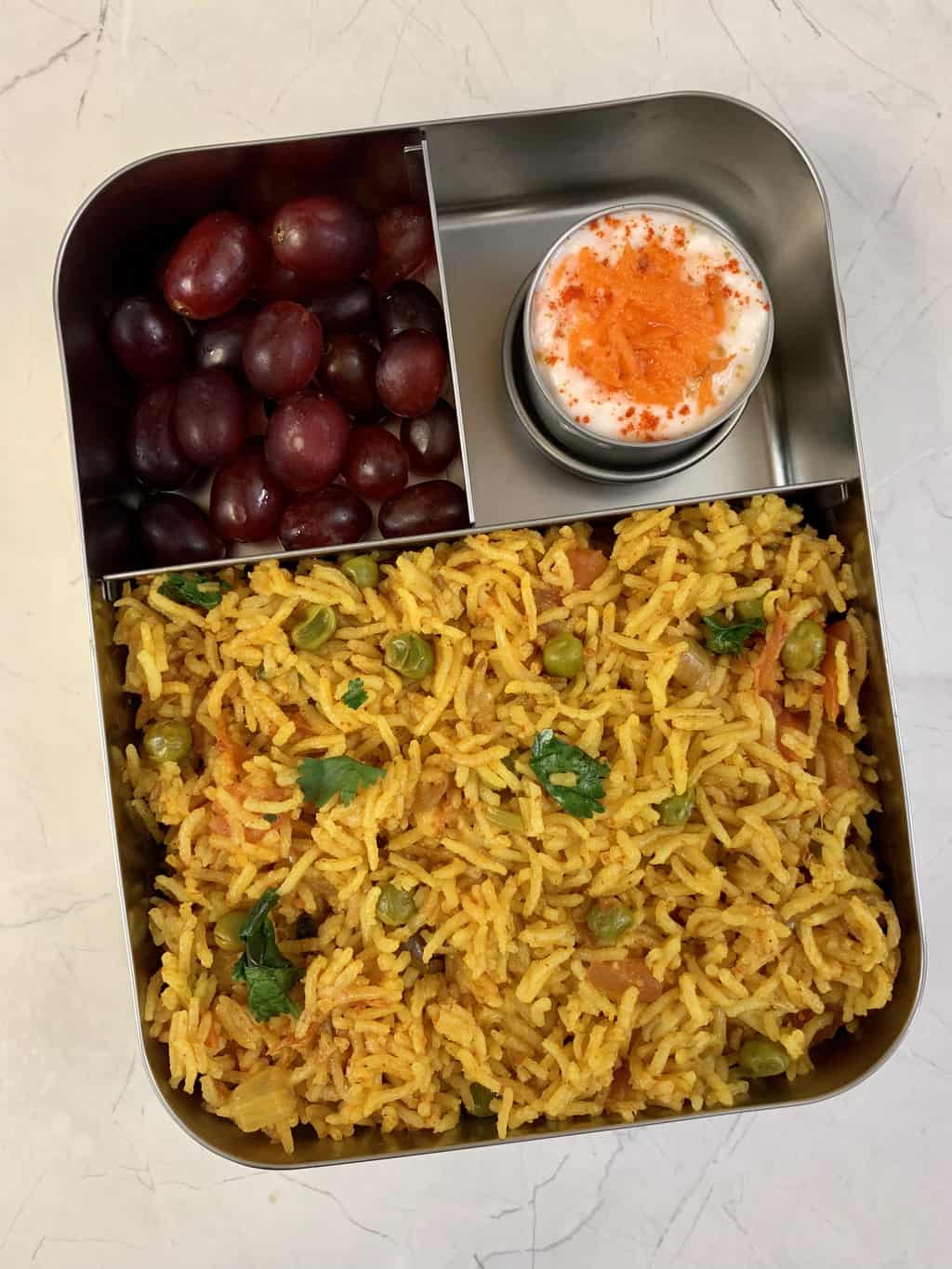 Paneer Fried Rice with roasted nuts and little heart biscuits. You can replace nuts with any healthy snack for a nut-free option.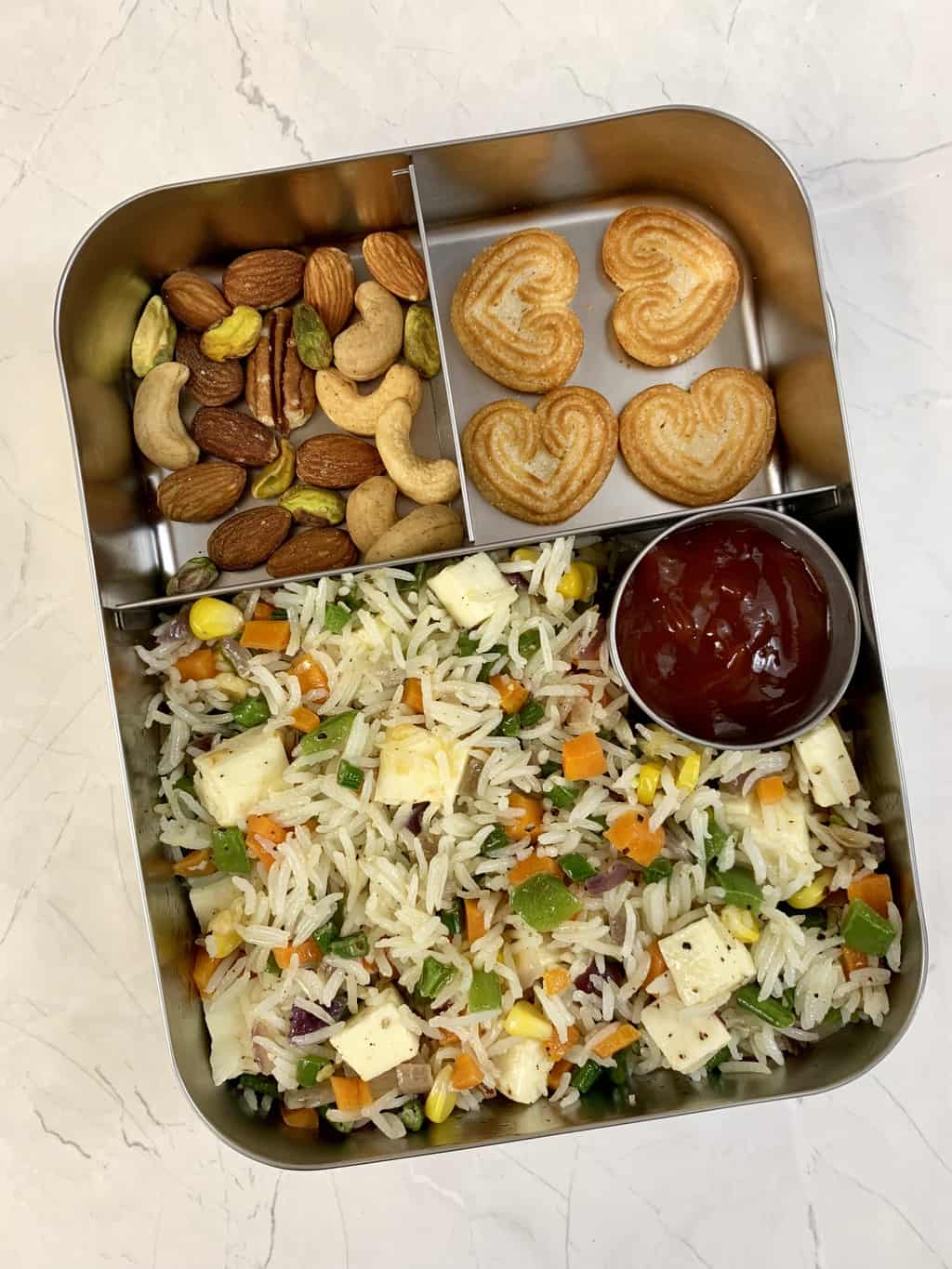 Spinach Idli with peanut chutney and chips. You can replace peanut chutney with onion tomato chutney for a nut-free option.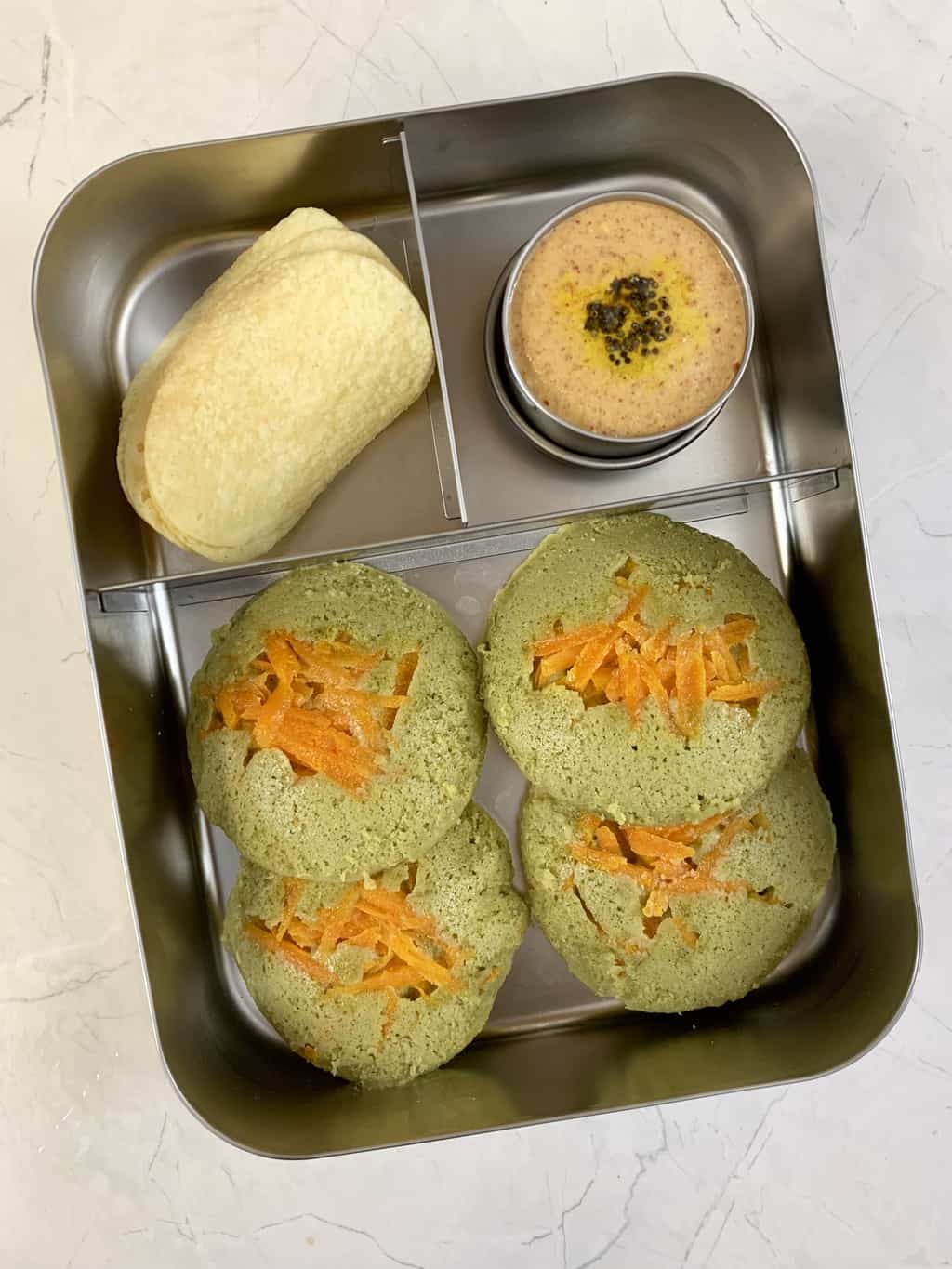 Zucchini Carrot Paratha with boondi raita and dates.
Jeera rice with Chana masala, Kale chips, and Carrot cucumber salad.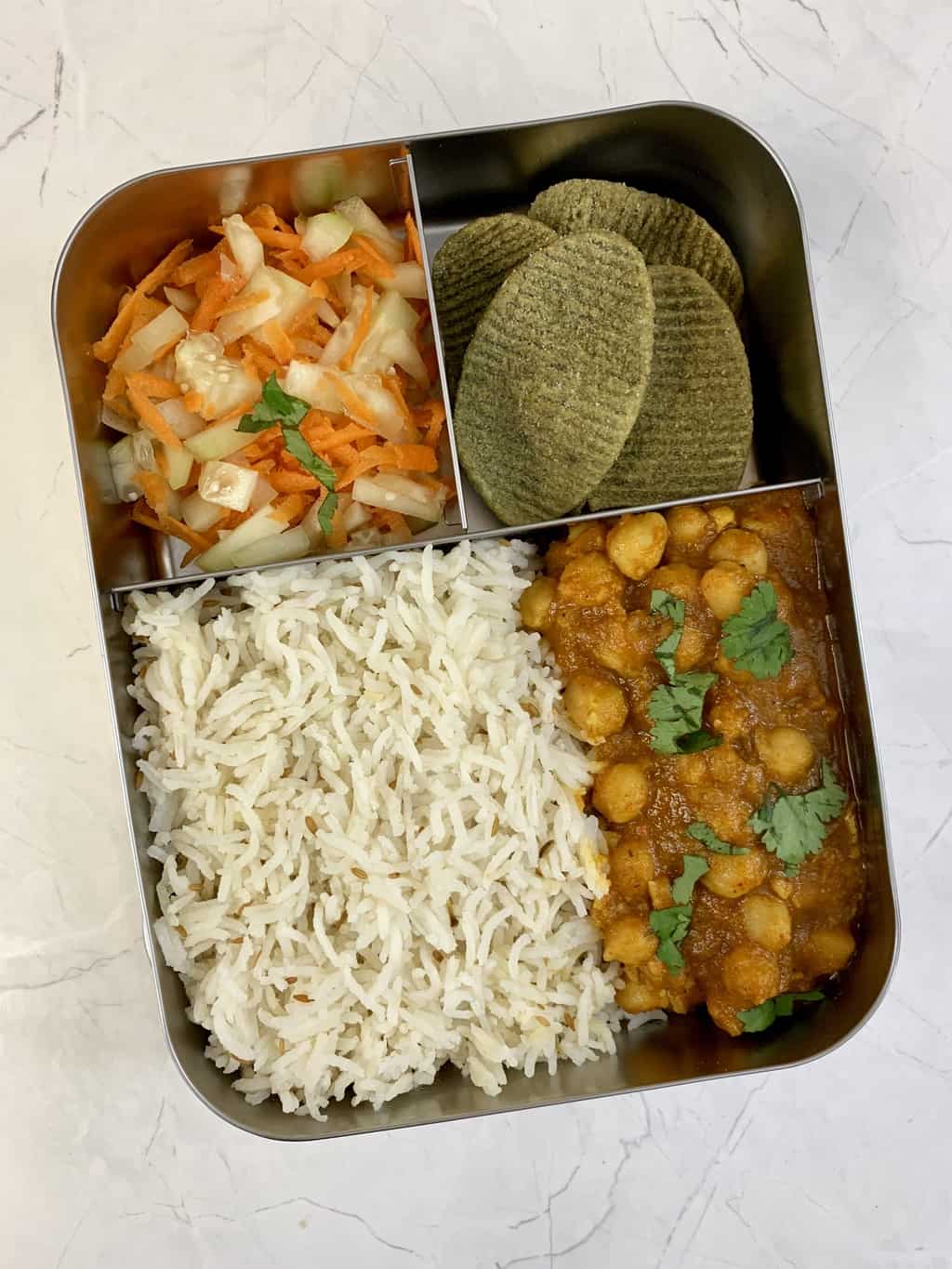 Spinach Corn Rice with yogurt, grapes, and chocolate brownie.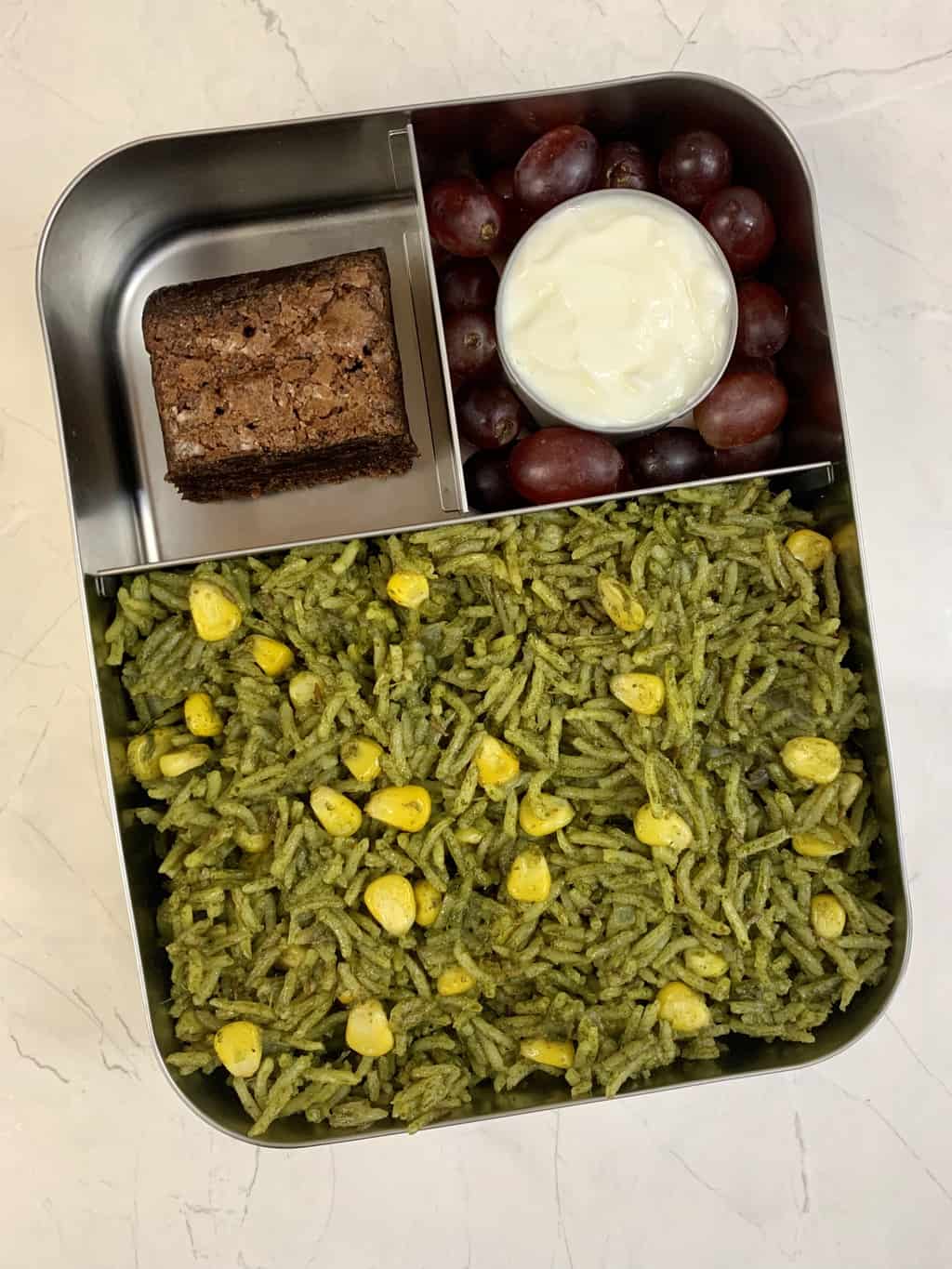 Methi Paratha with Moong sprouts salad and dates.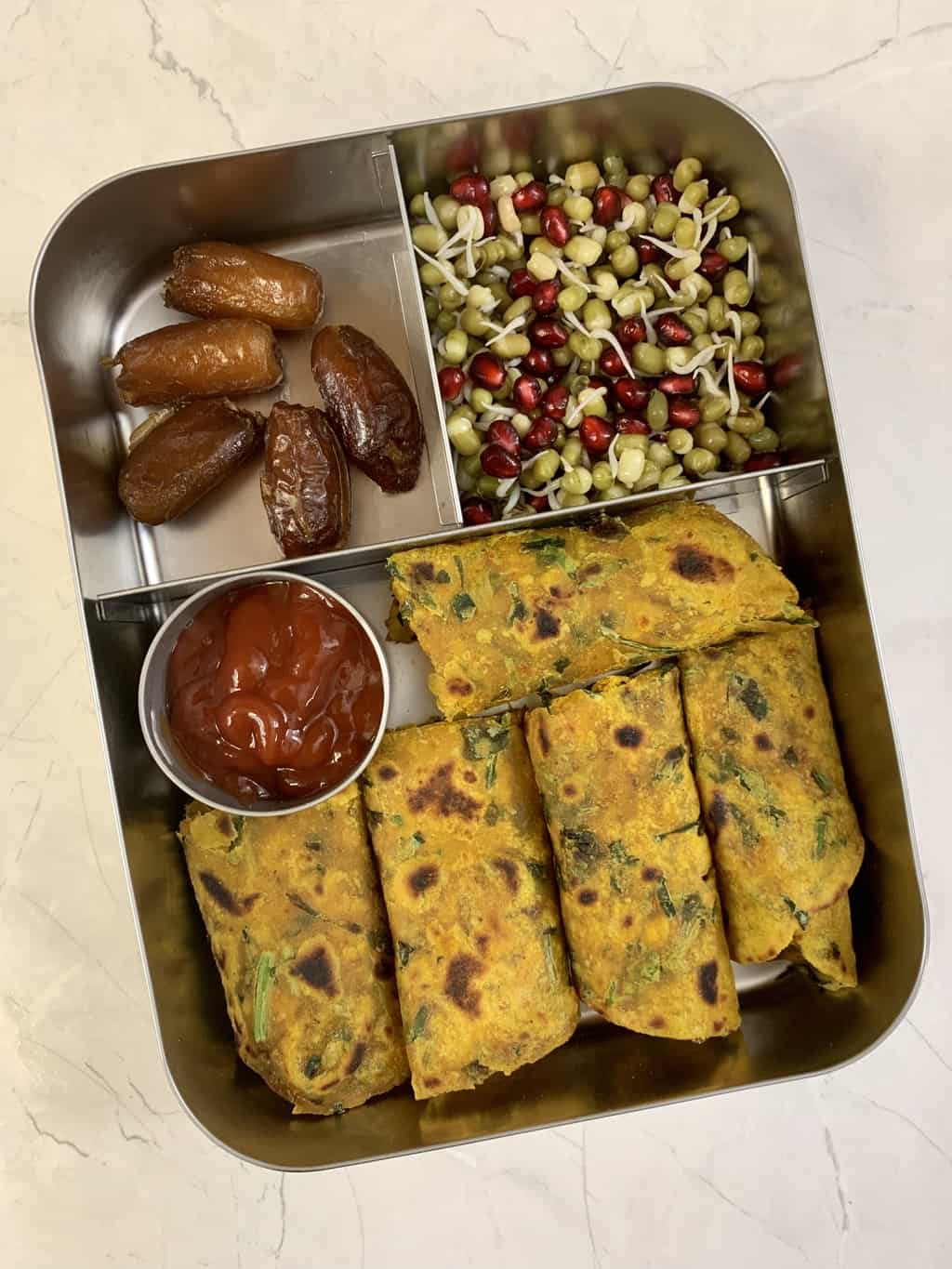 Vegetable Paniyaram with Onion Chutney and fruit (Orange).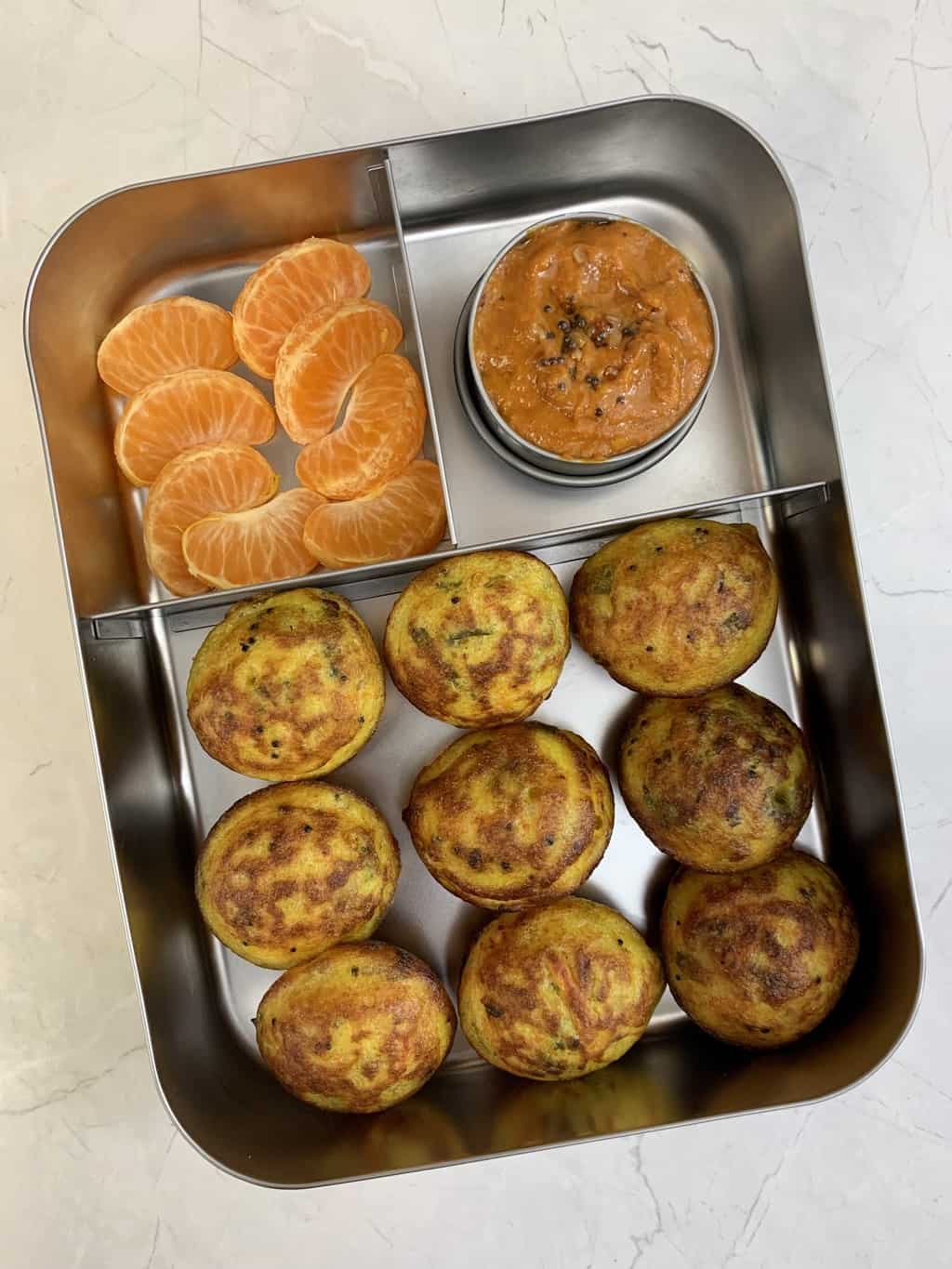 Drumstick Leaves Paratha with Aloo Gobi, and Nuts. Replace roasted nuts with any healthy snack for a nut-free option.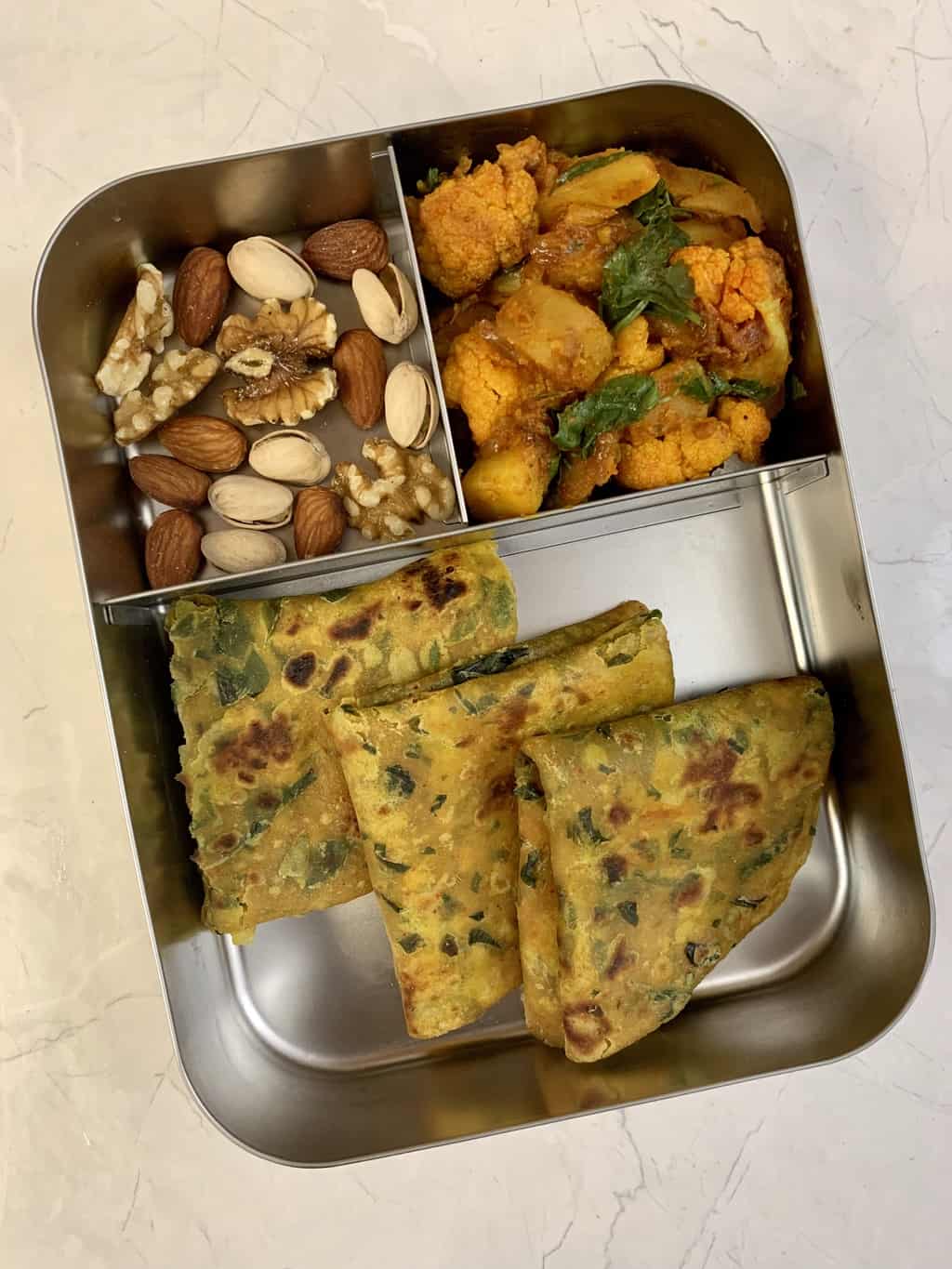 Capsicum rice with homemade yogurt and protein bar.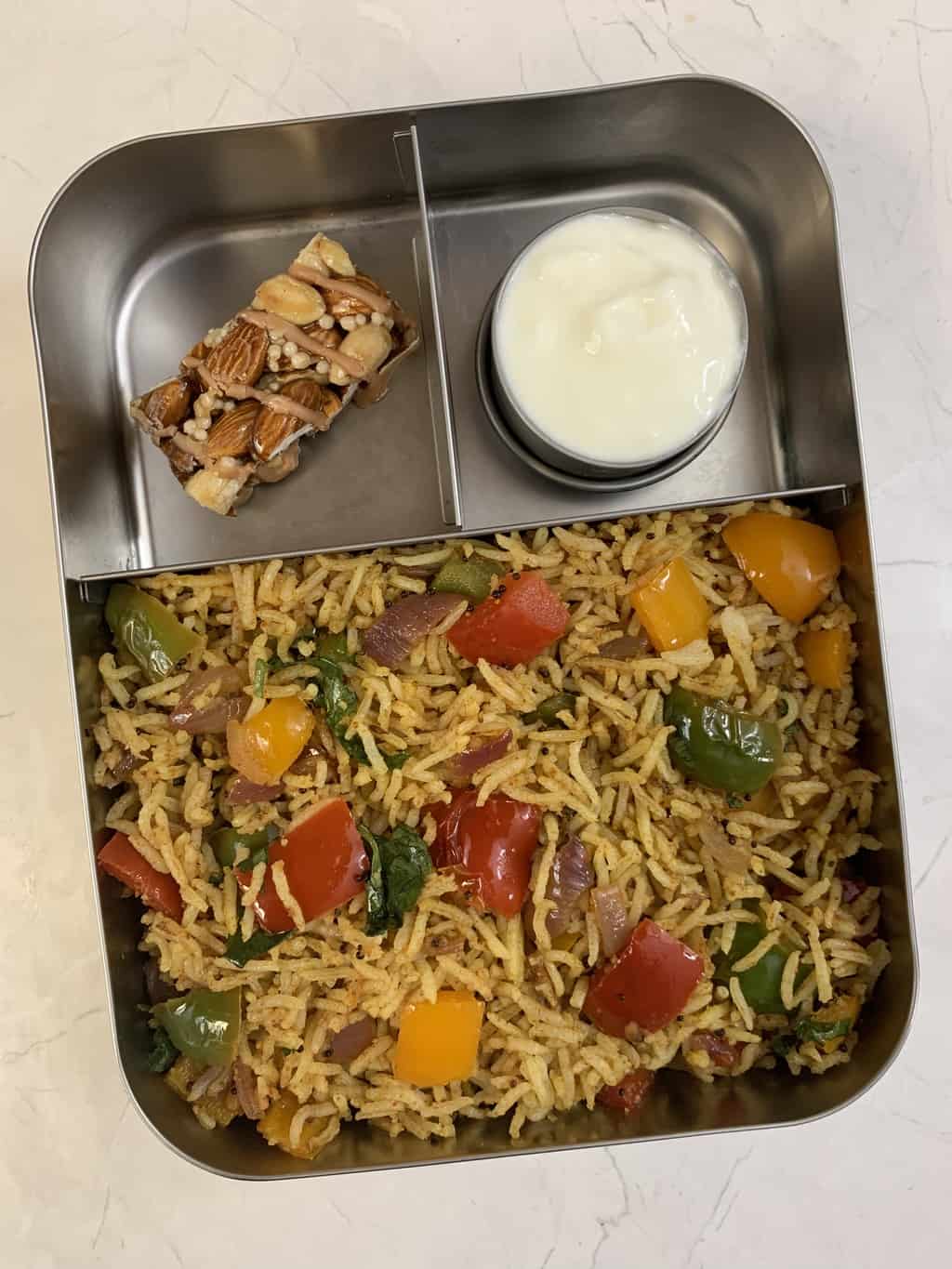 Chole Paratha with Onion Tomato Raita and fruits (apple, pomegranate).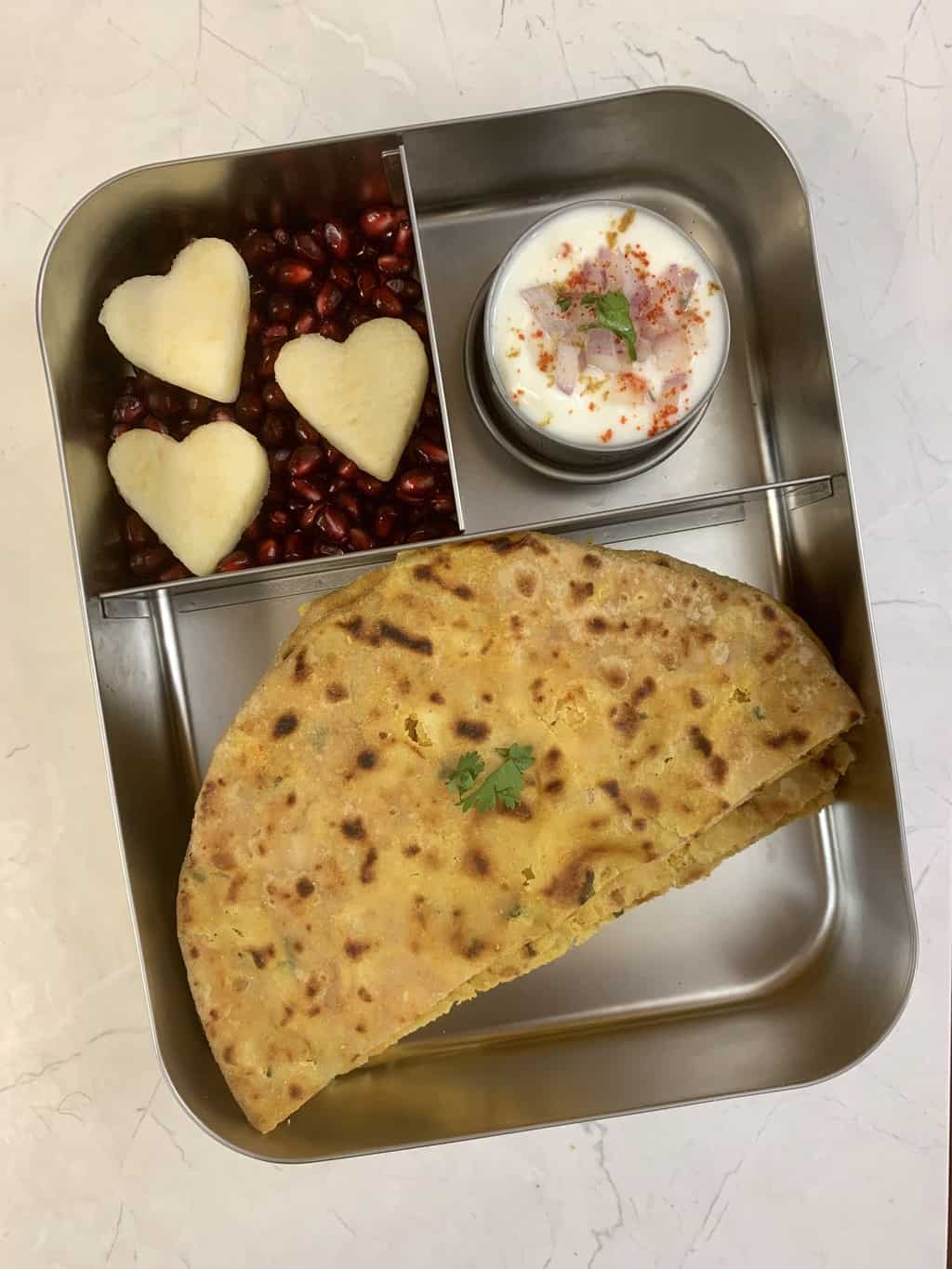 Coconut Rice with buttered masala corn, raisins, fruit (blueberries).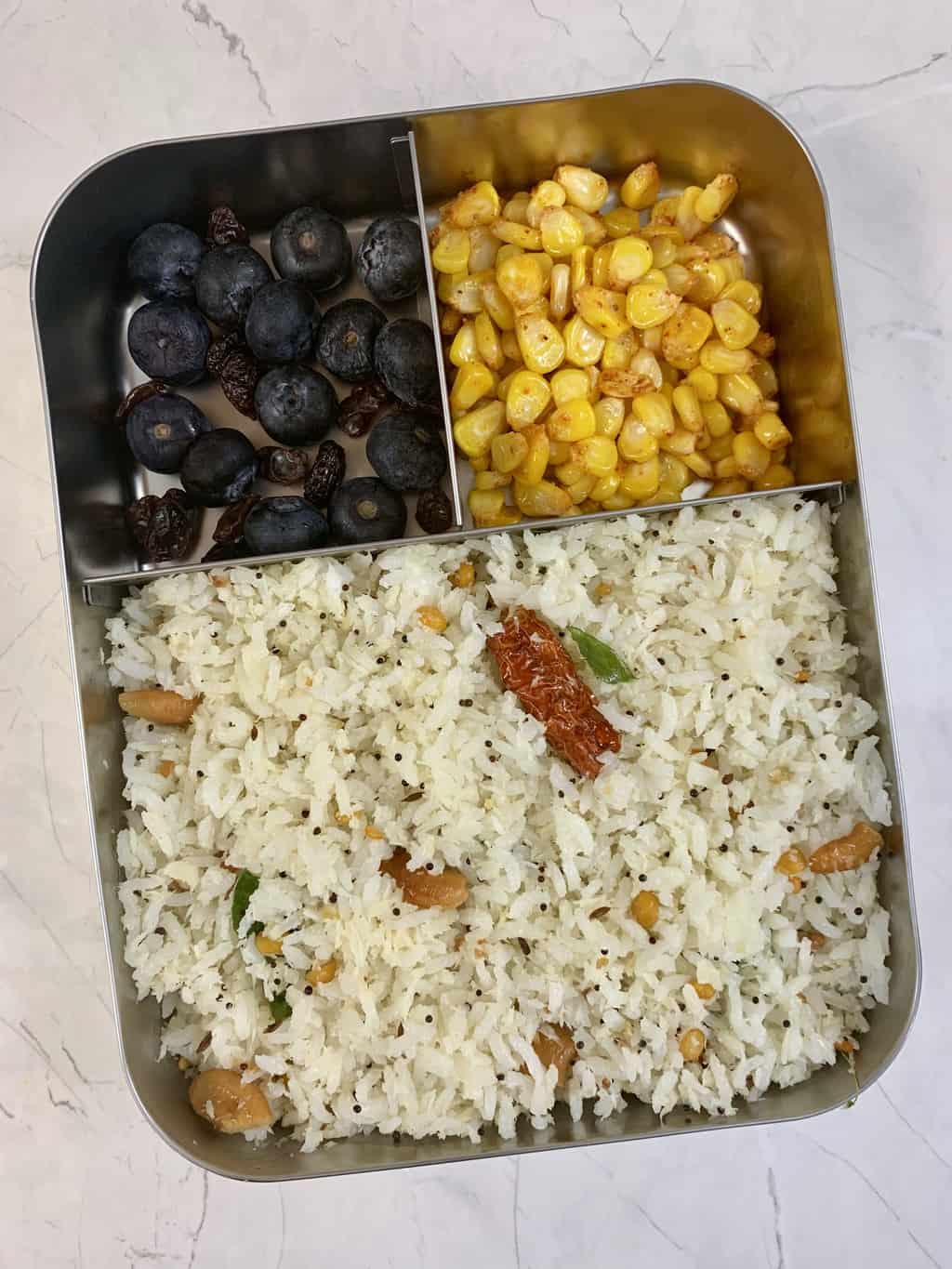 Chapati with Chana Masala and fruit (blueberries).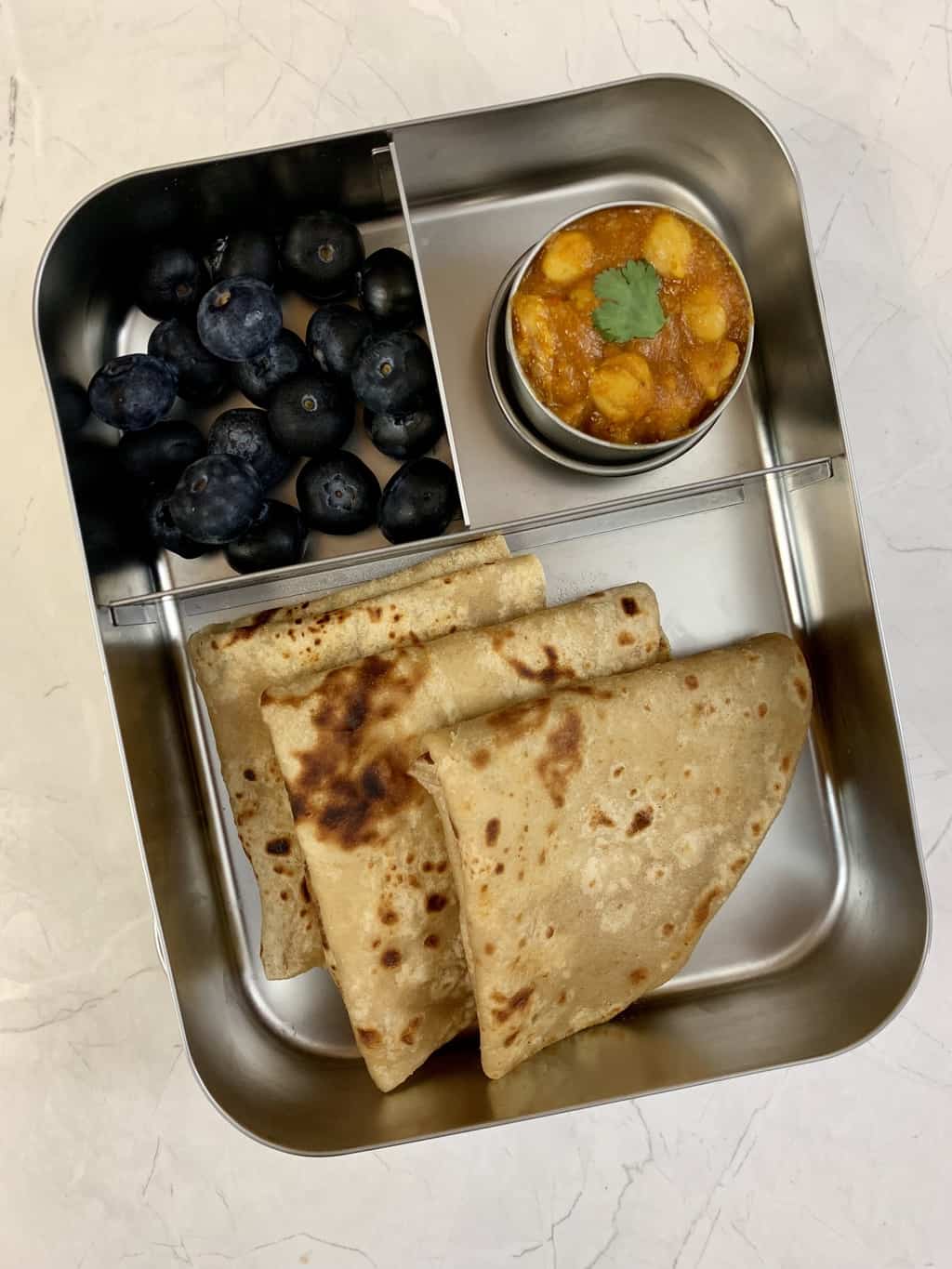 Beetroot rice, homemade yogurt, dates ladoo, and fruit (cherries).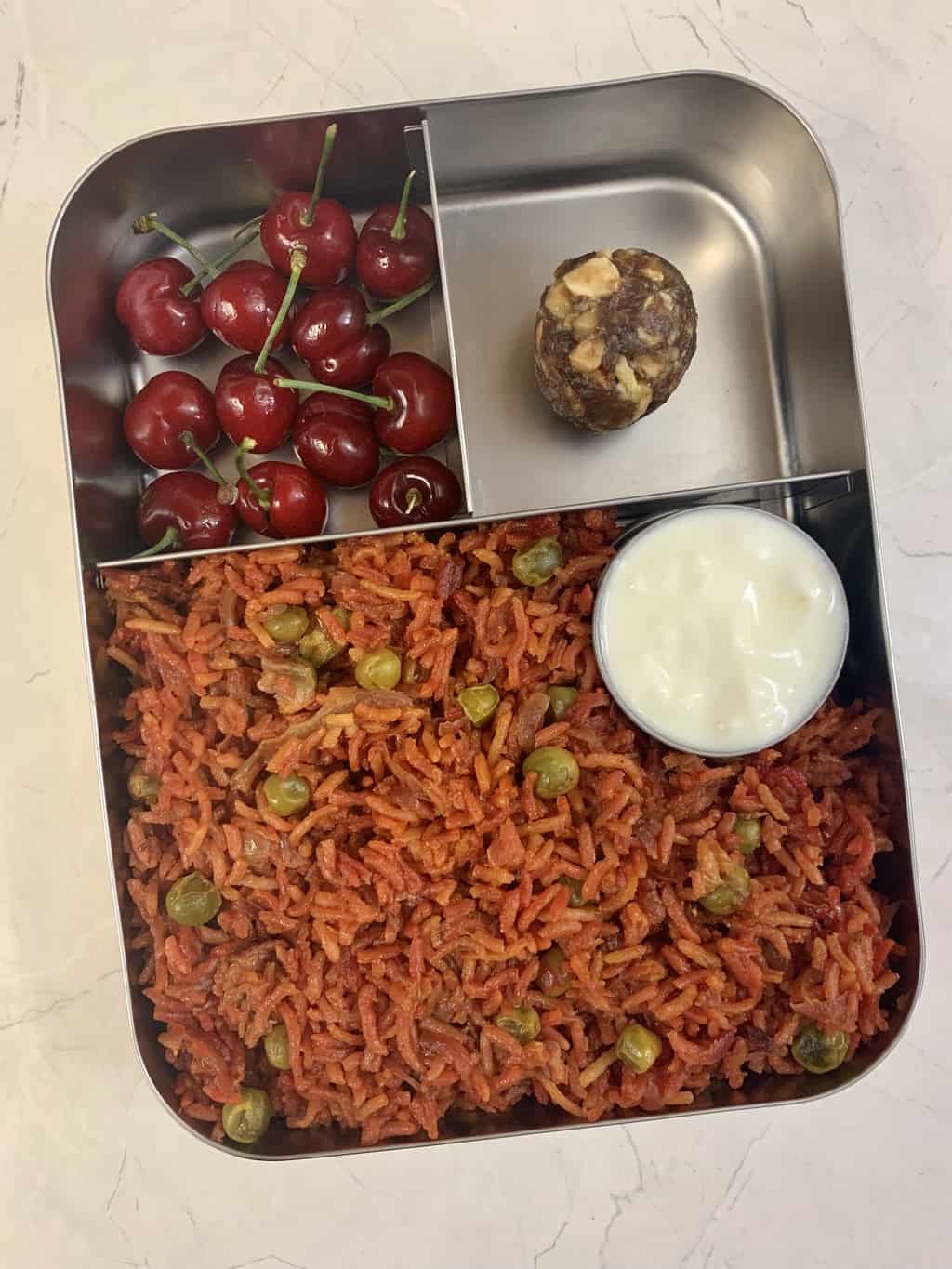 Flaxseed roti with beetroot chickpea stir fry and fruit (green grapes).
Ajwain Paratha with Paneer Bhurji and veggies (cucumber & carrot sticks).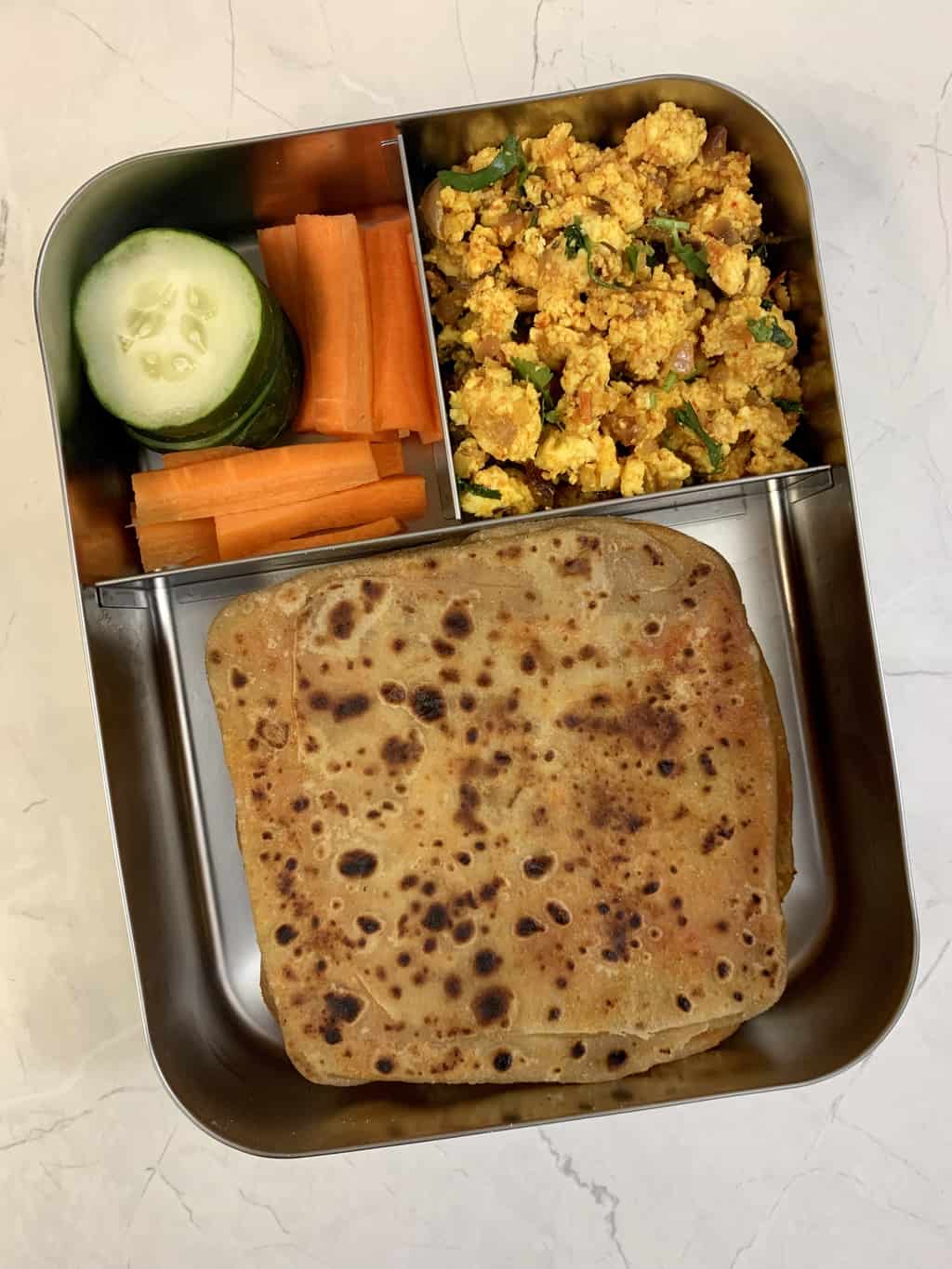 Palak Poori with Paneer Jalfrezi, cookies and nuts.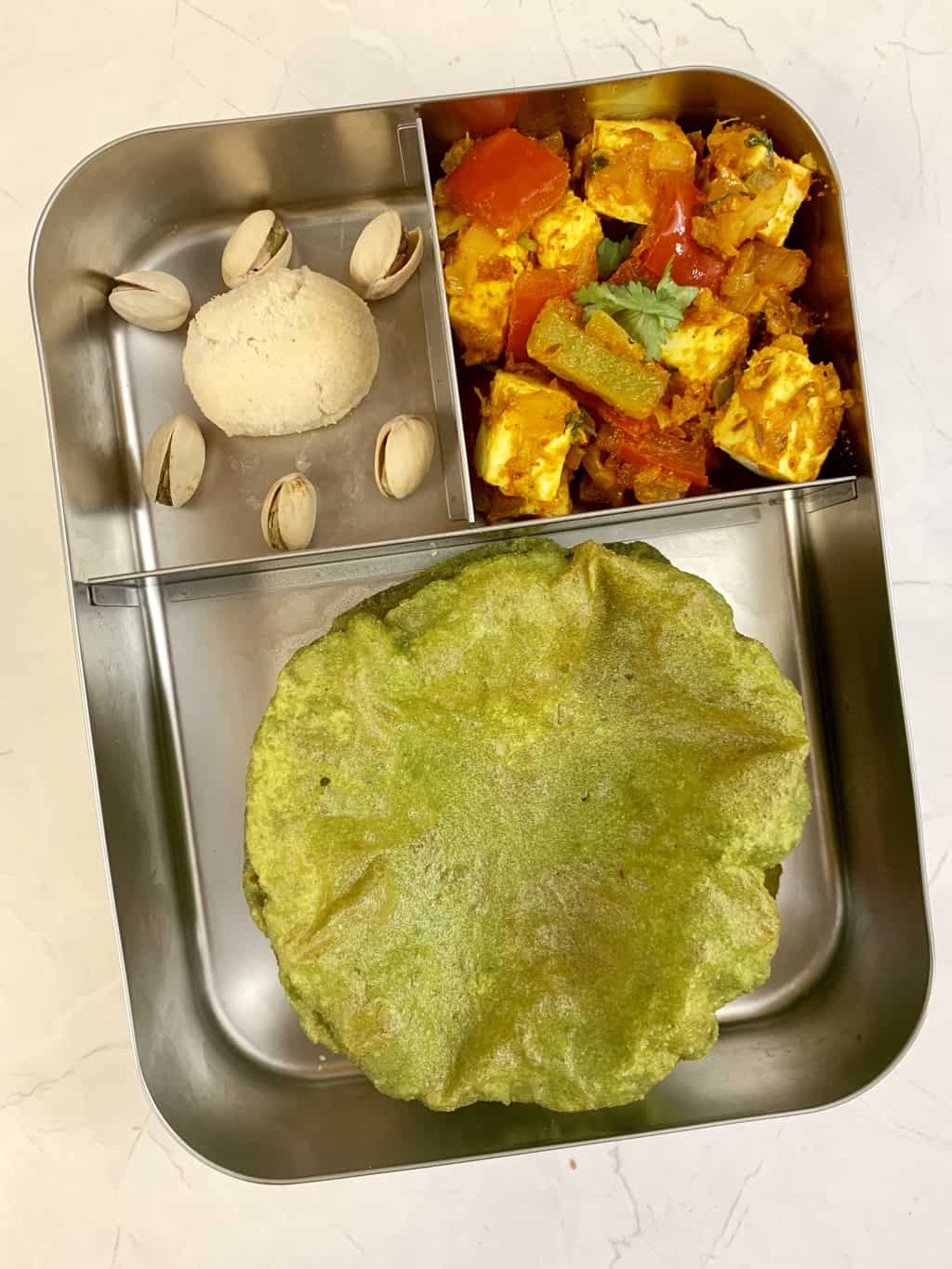 Spinach Pasta, Caramel makhana, and fruit (raspberries).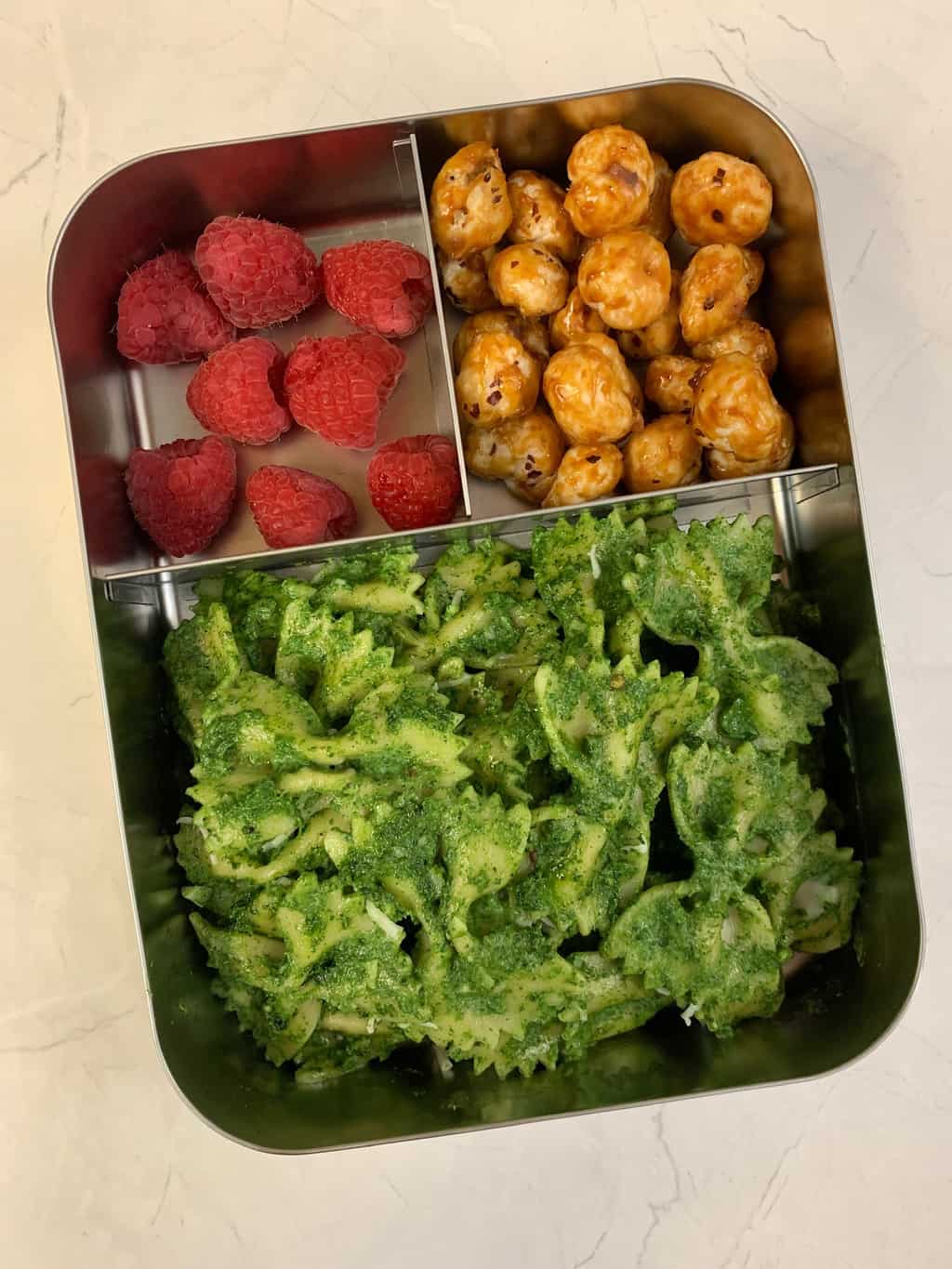 Vegetable Quinoa Pulao with Roasted Makhana, and fruit (blueberries).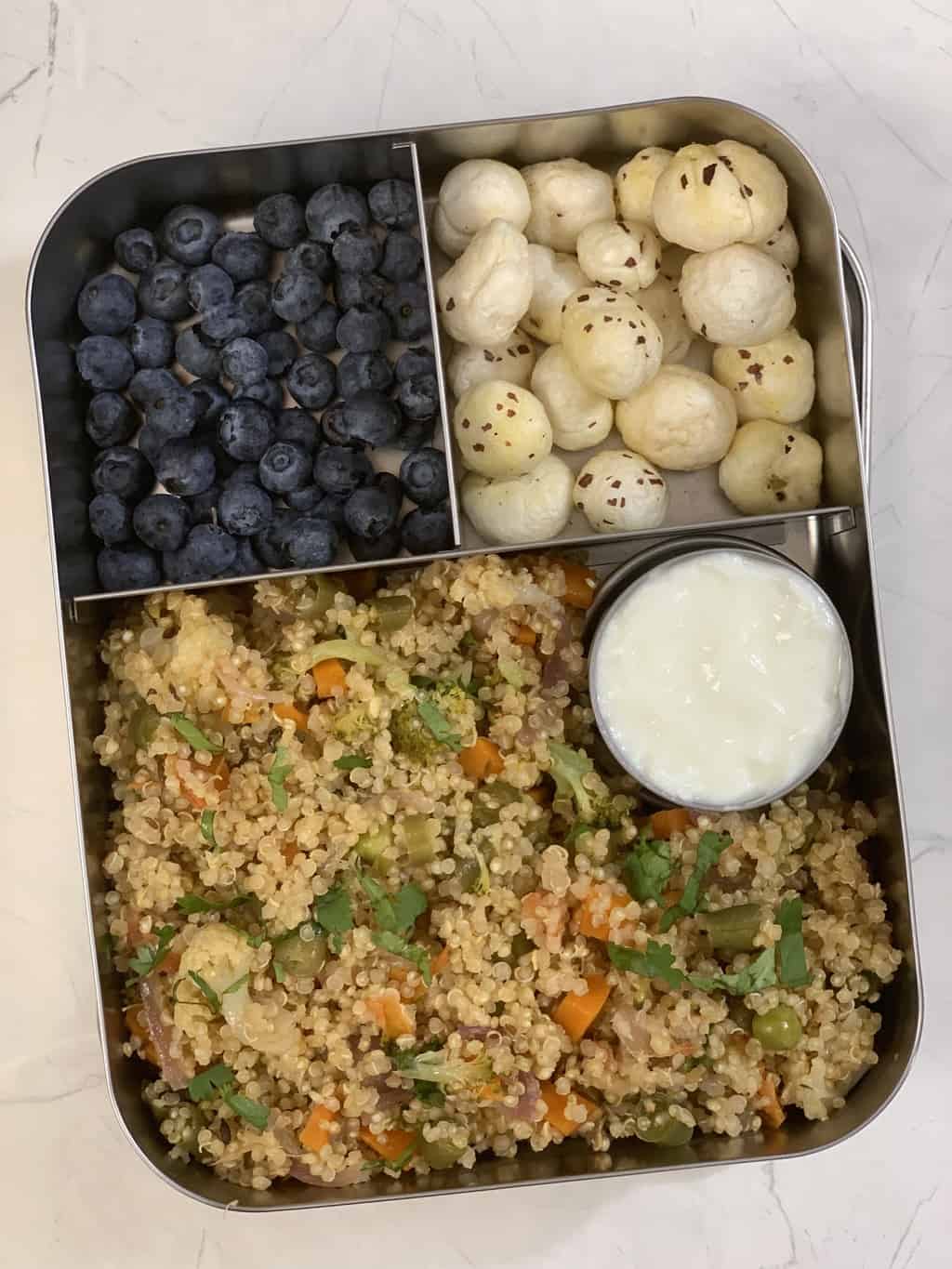 Broccoli Paneer Paratha, nuts & raisins, and snacks.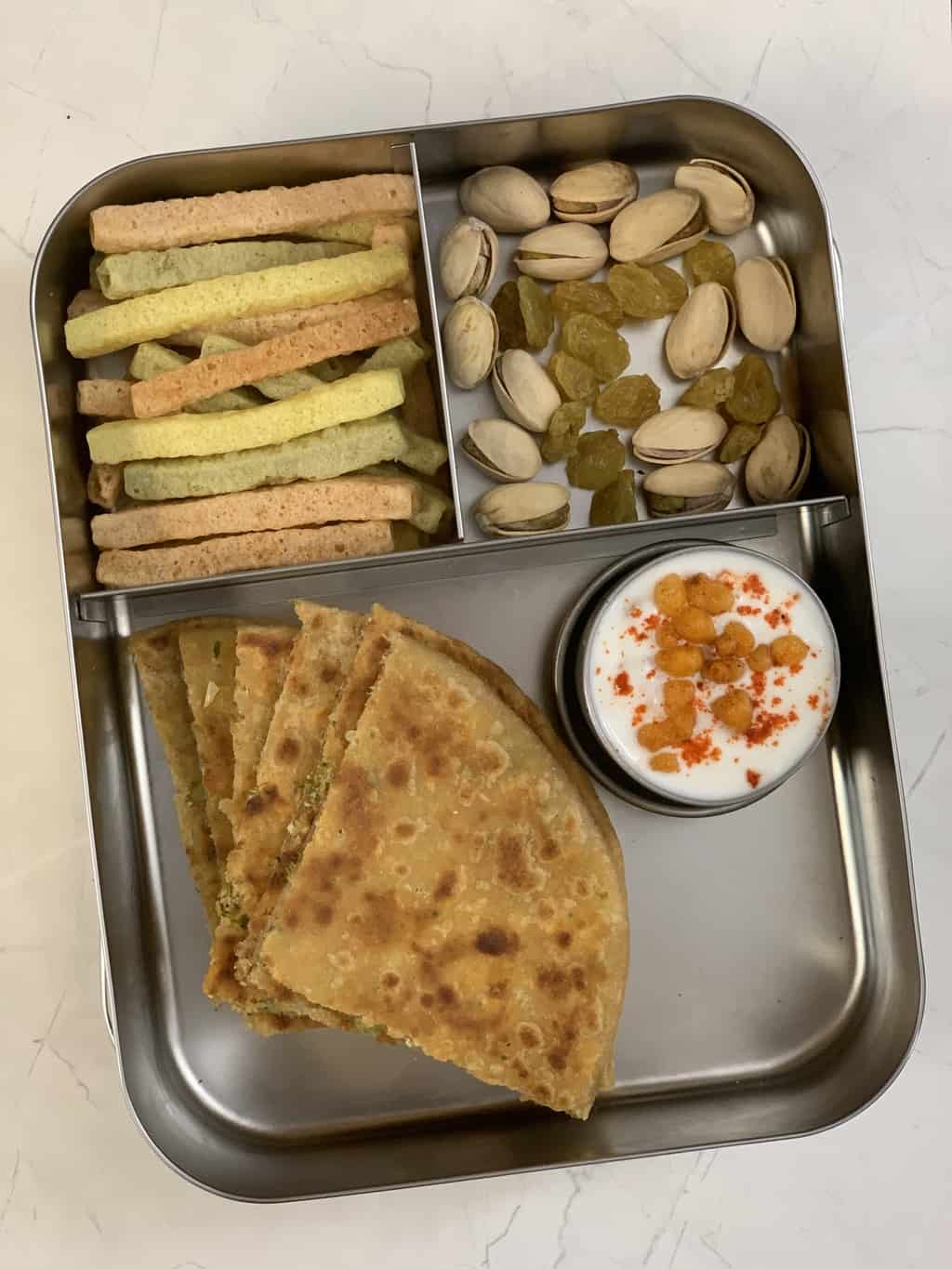 Mushroom Biryani, Besan Ladoo, and cucumber slices.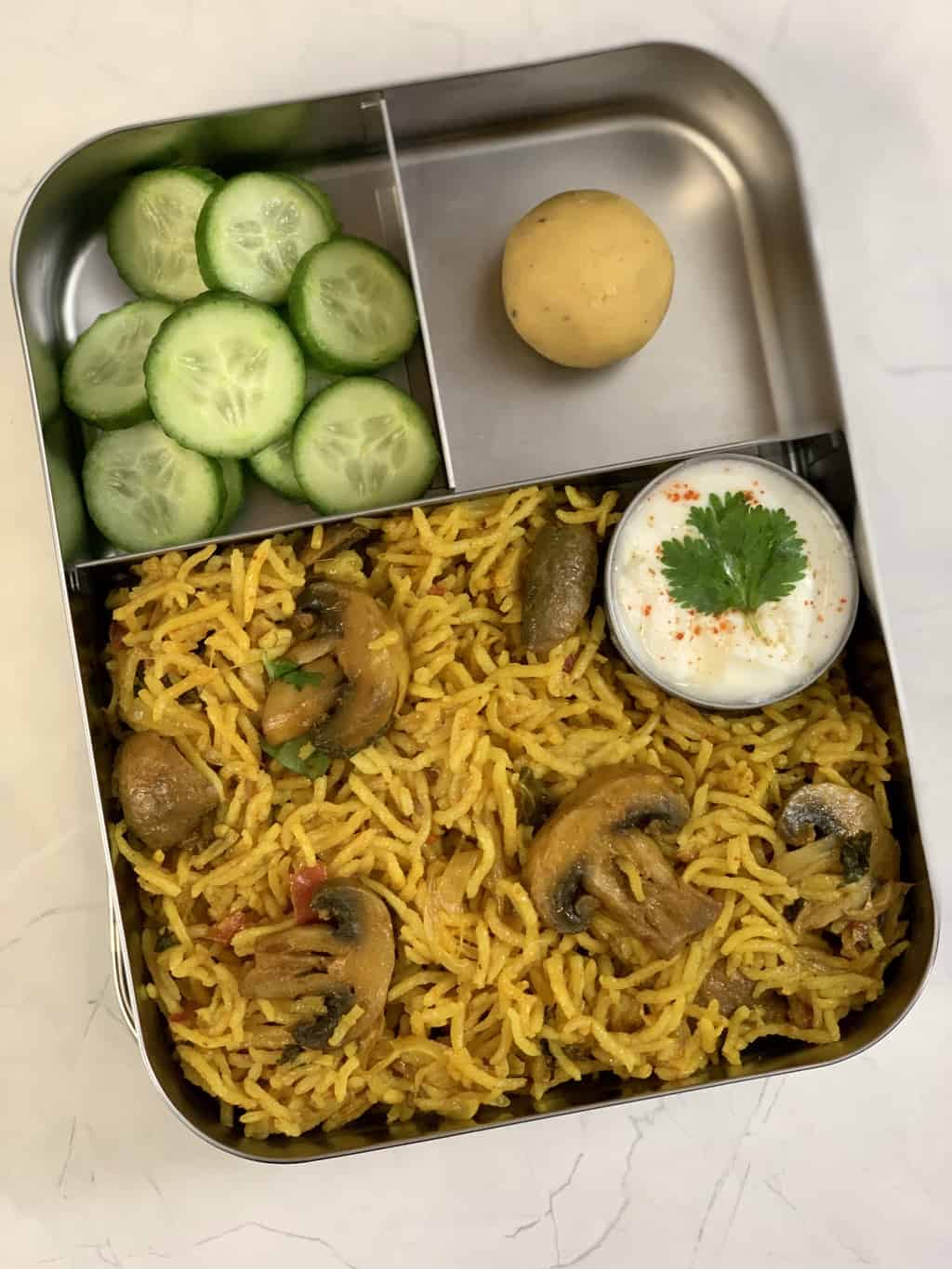 Palak Paneer Paratha with tomato ketchup, and fruit (blueberries).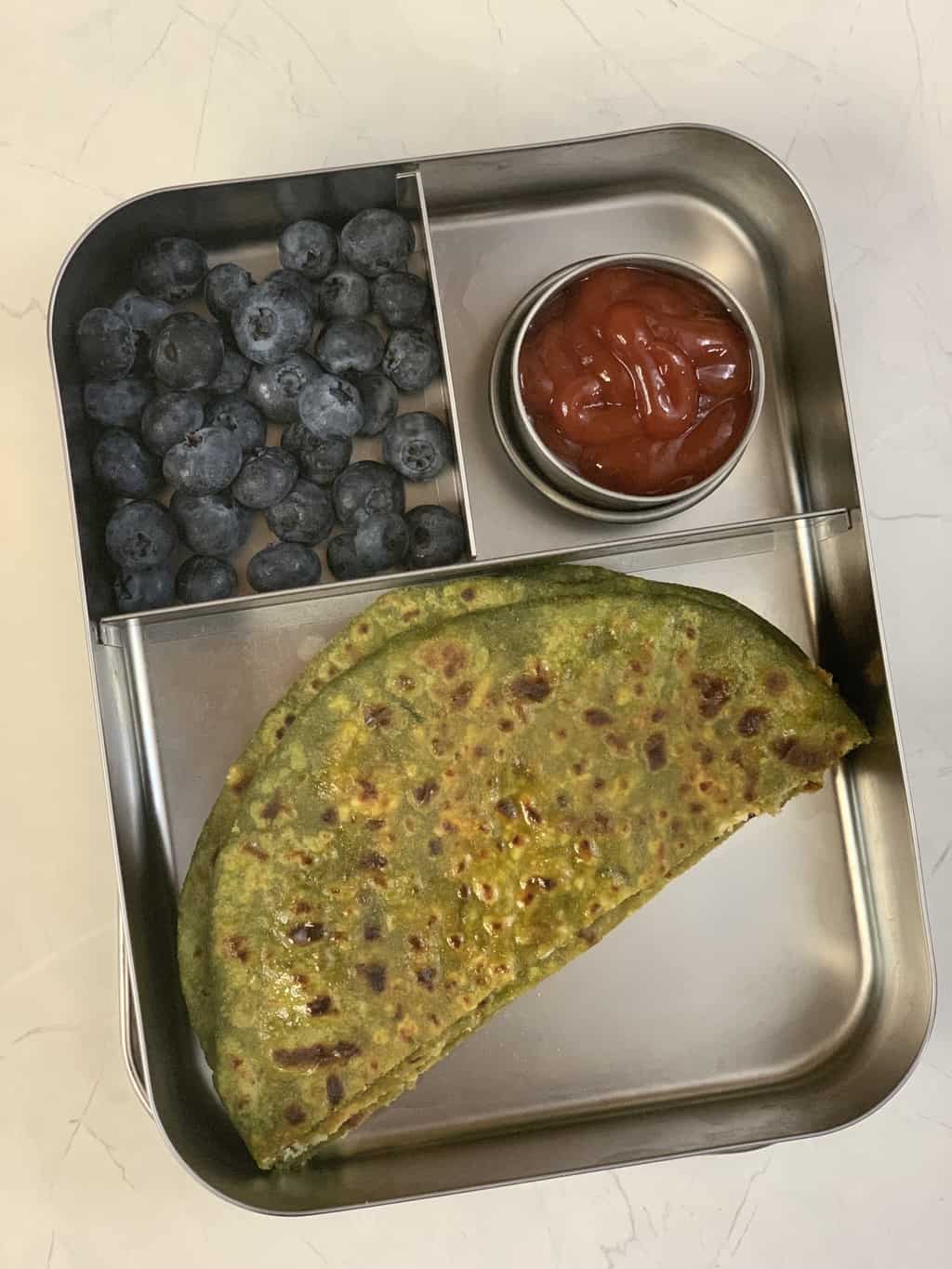 Mushroom Fried Rice, fryums, and fruit (orange).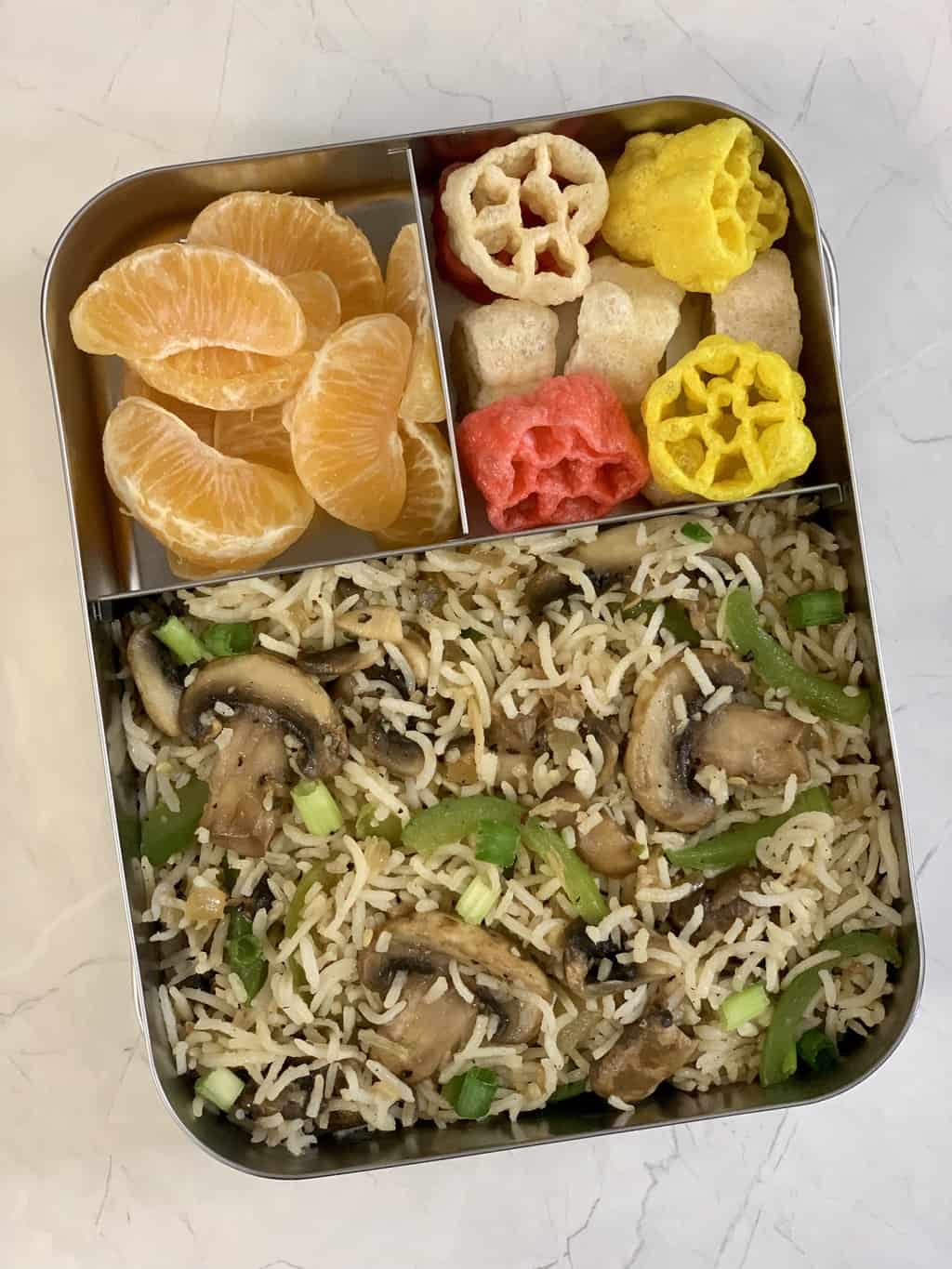 Peanut Rice, Chocolate Makhana, and veggies (carrot and cucumber sticks).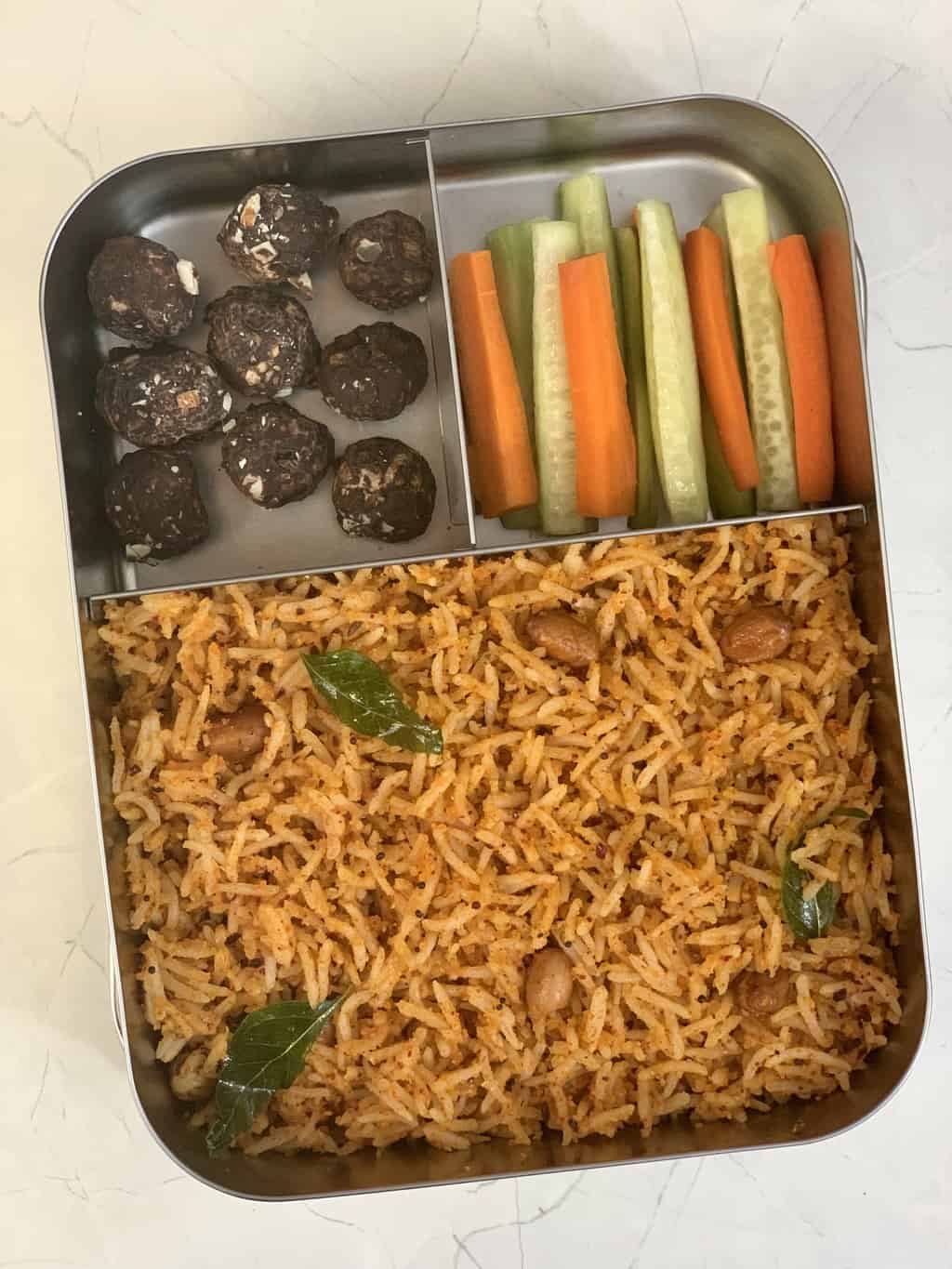 Creamy Tomato Pasta, nuts, chocolate, and fruit (blackberries).
Cabbage Rice with homemade yogurt, potato wafers, and fruit (strawberries and blueberries).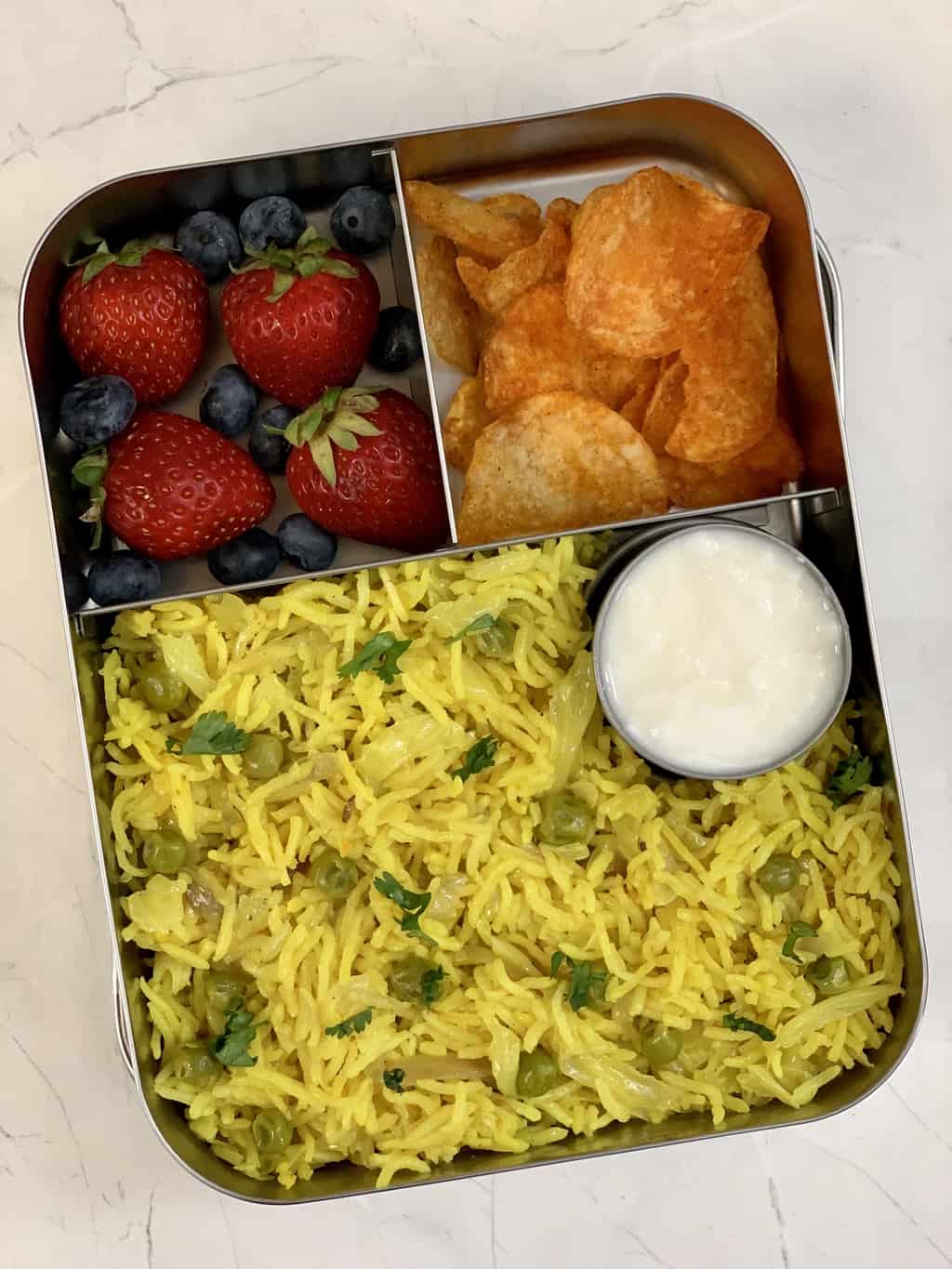 Mac and Cheese, Mint Makhana, and fruit (grapes).
Beetroot Rice Ball, tortilla chips with Guacamole to dip in.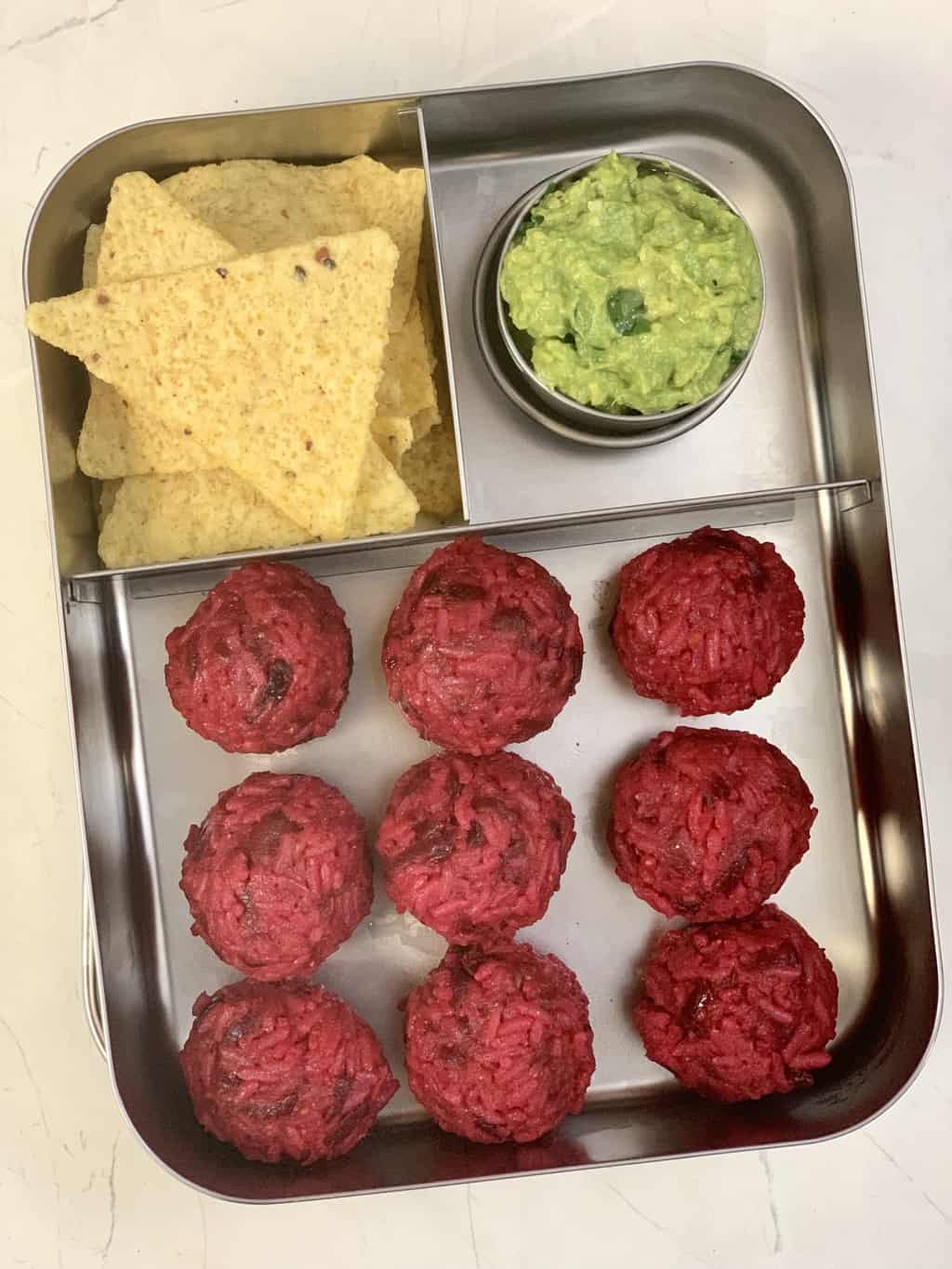 Curd Rice, store-bought macaroons, and fruit (apple cut in star shapes using cutter).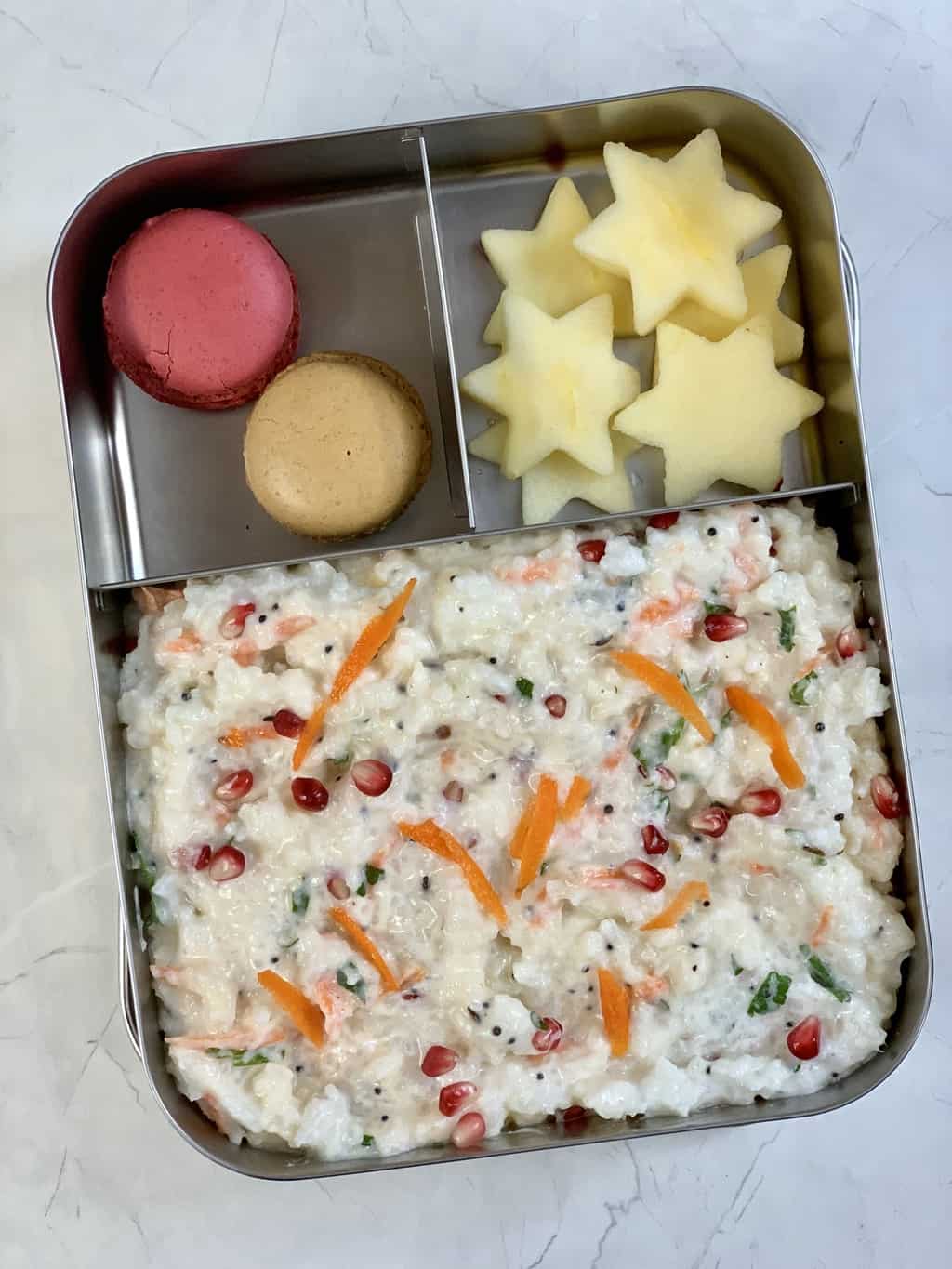 Chapati noodles with leftover roti, Makhana Raita, and fruit (pomegrante).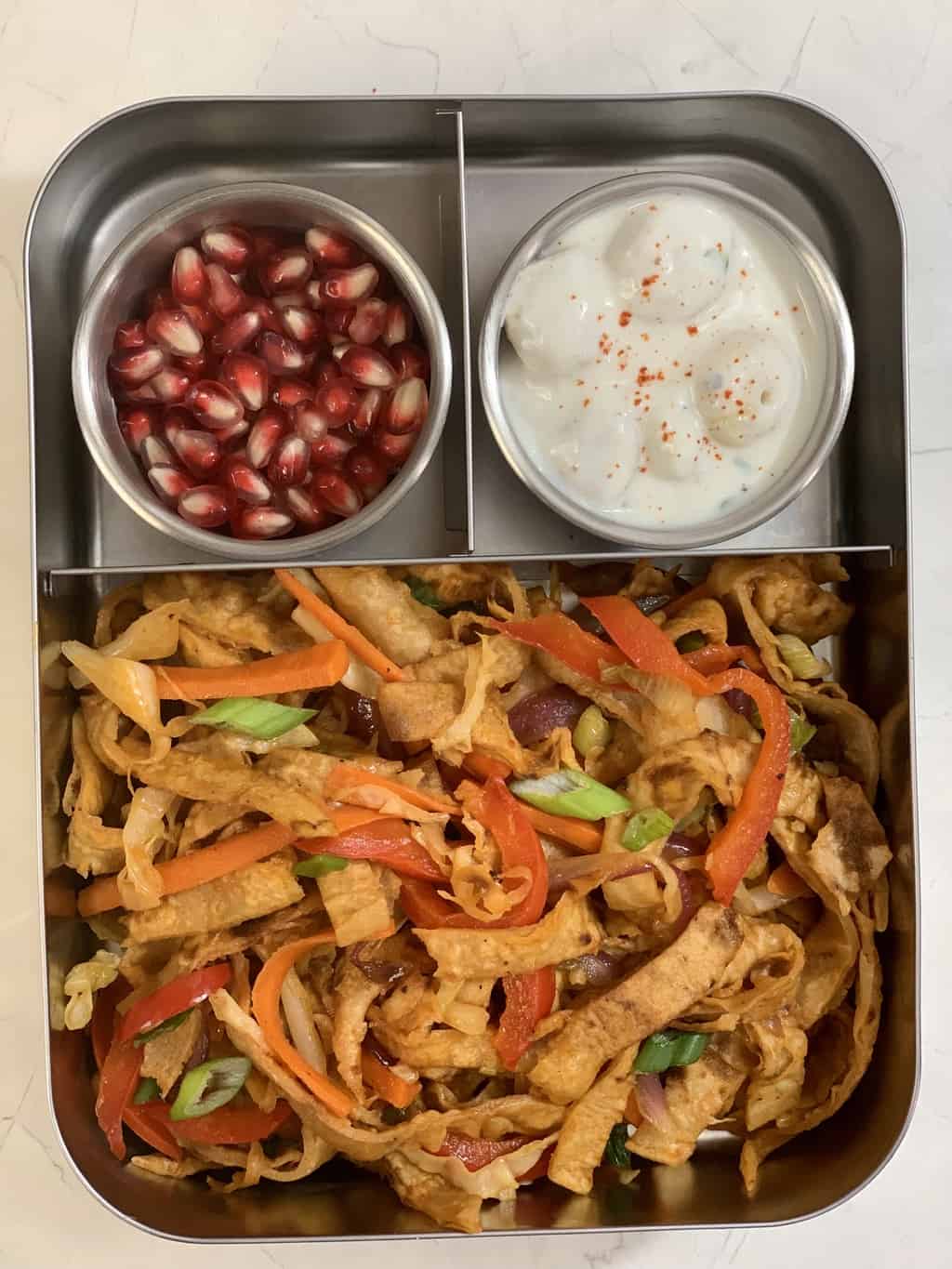 Makhana Paratha with Potato Curry and nuts.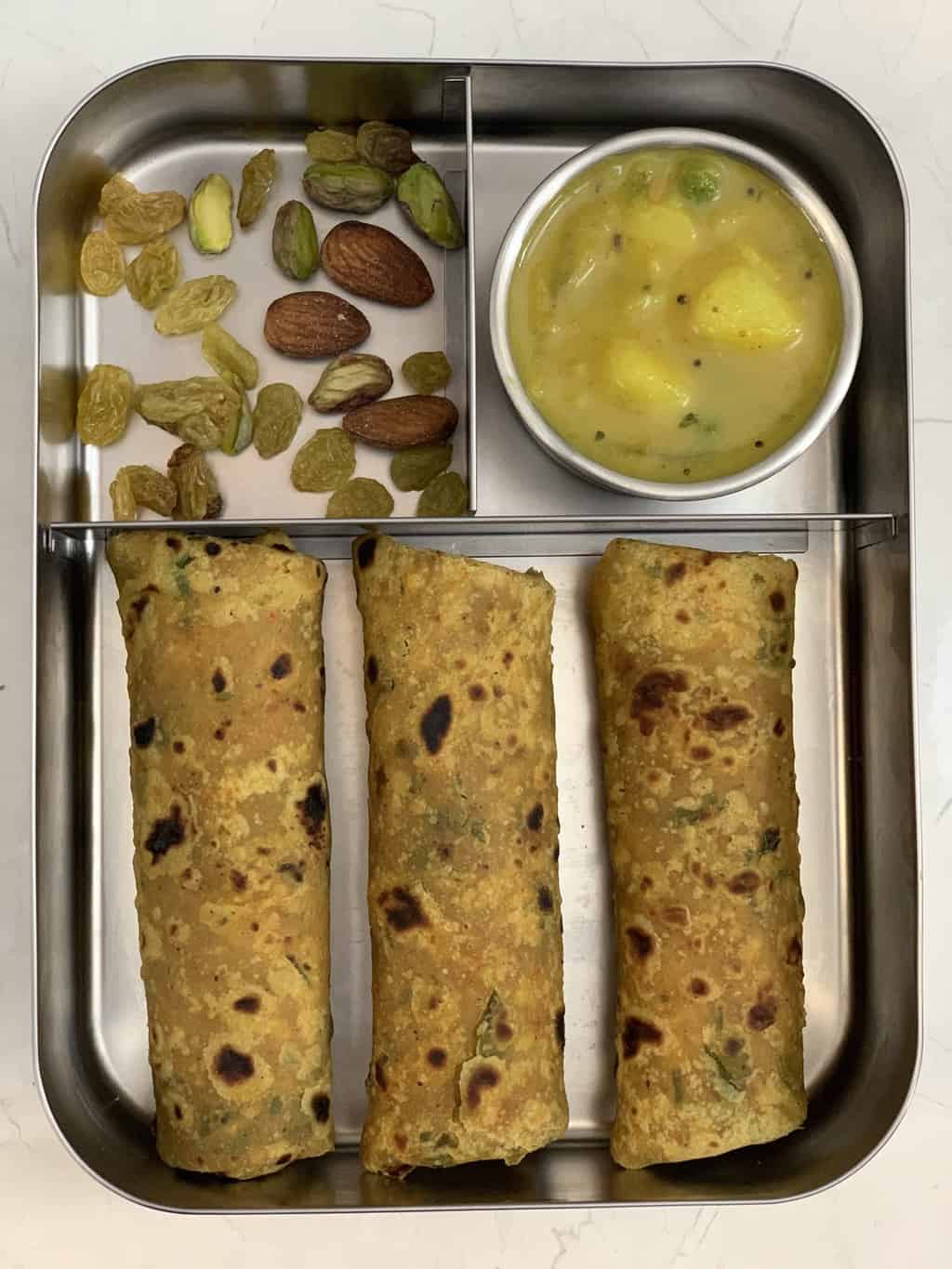 Rajma Chawal with yogurt topped with chia seeds and fruit (orange).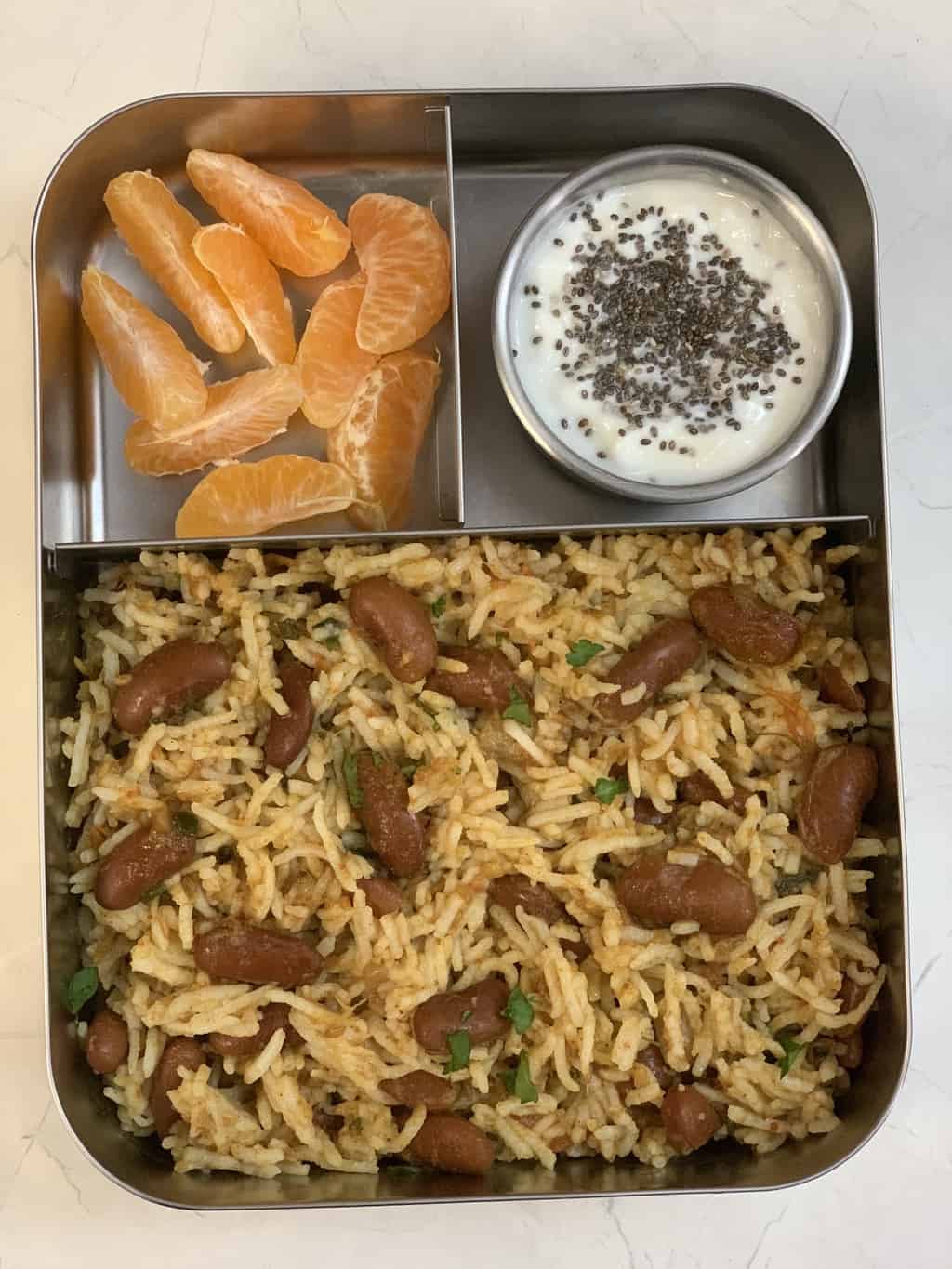 Lauki Paratha with tomato ketchup and Beetroot Tikki.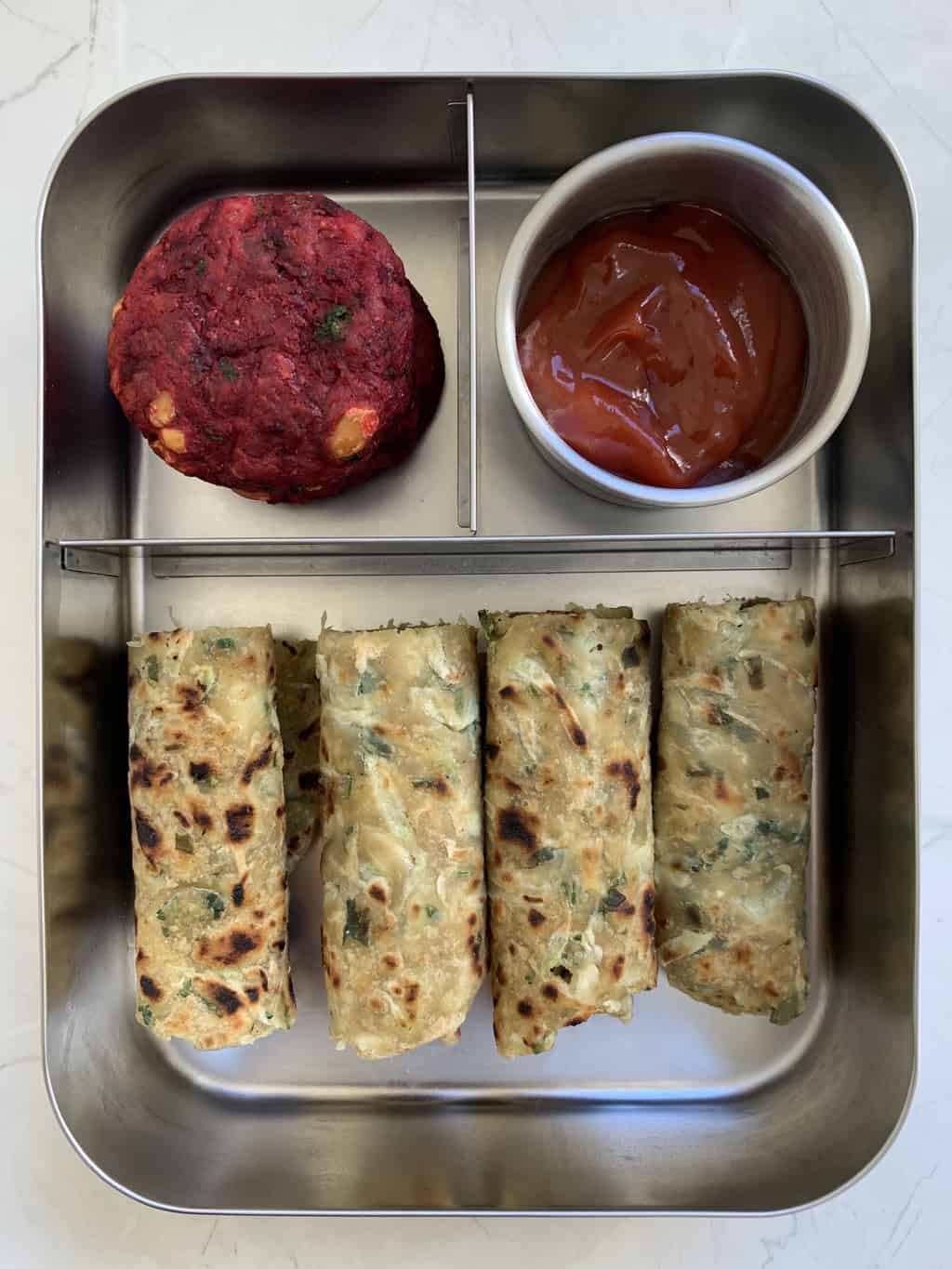 Butternut Squash Pasta with raisins and fruit (orange).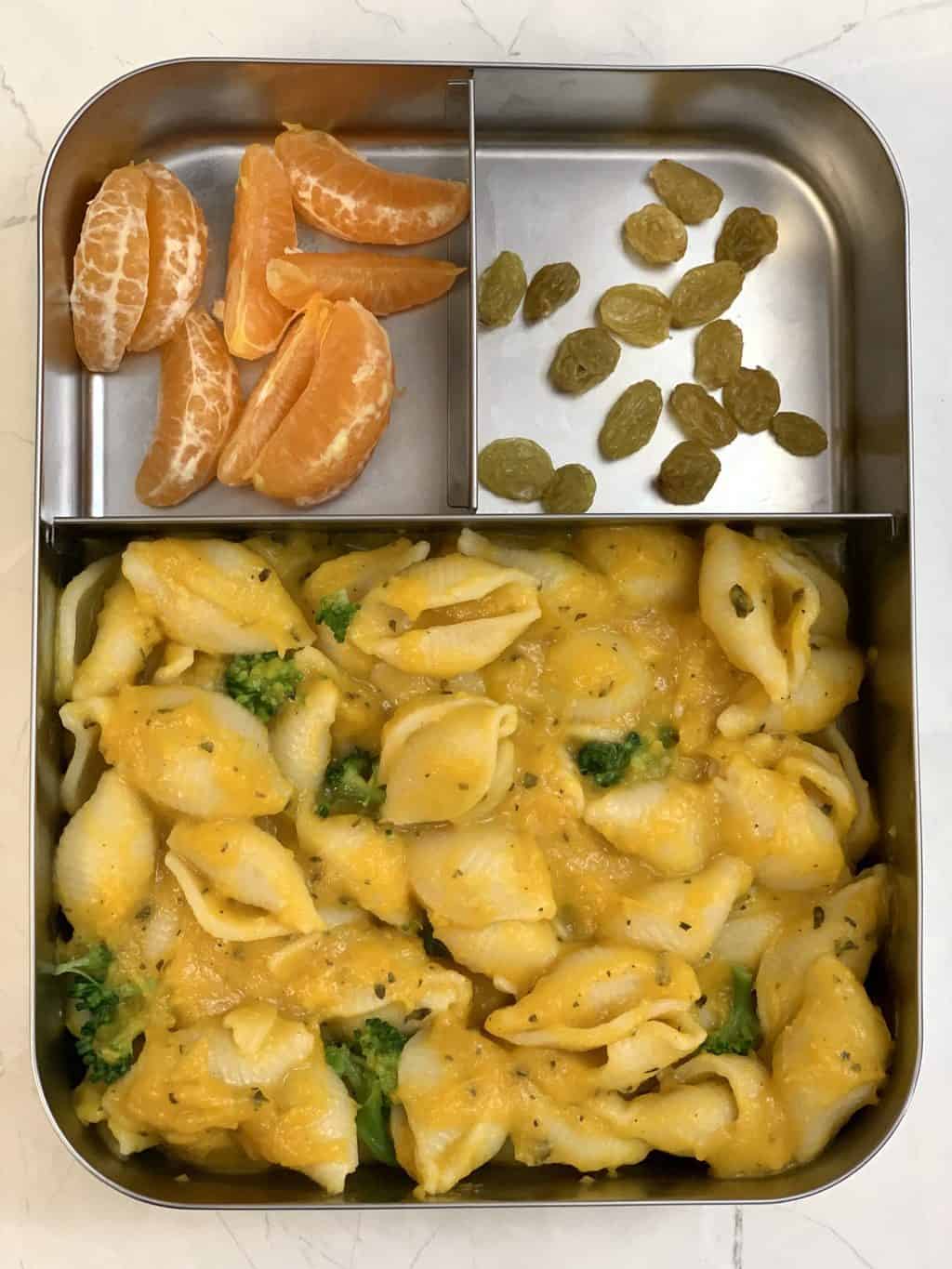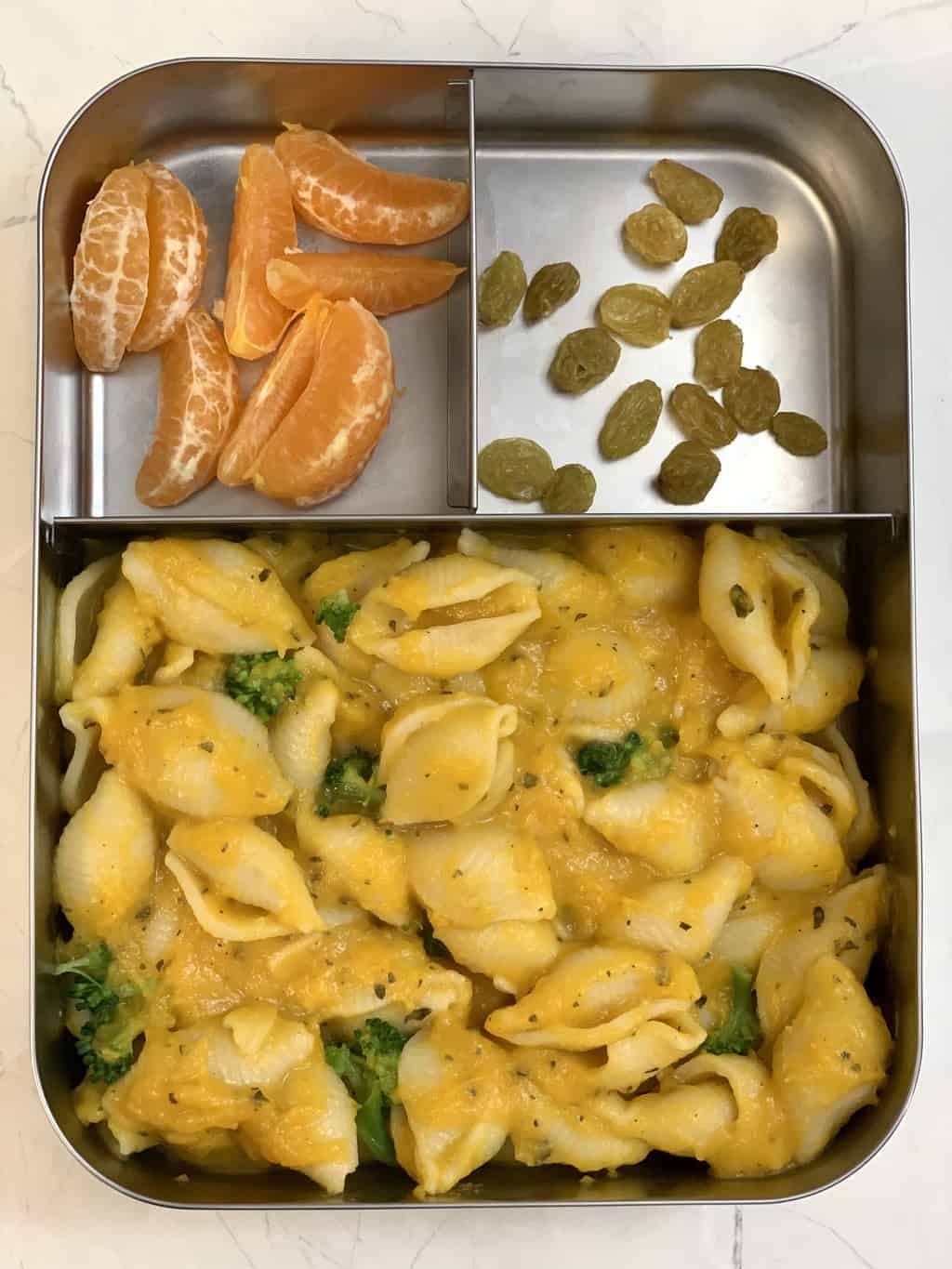 Masala Rice with Lauki Raita and Broccoli Smileys.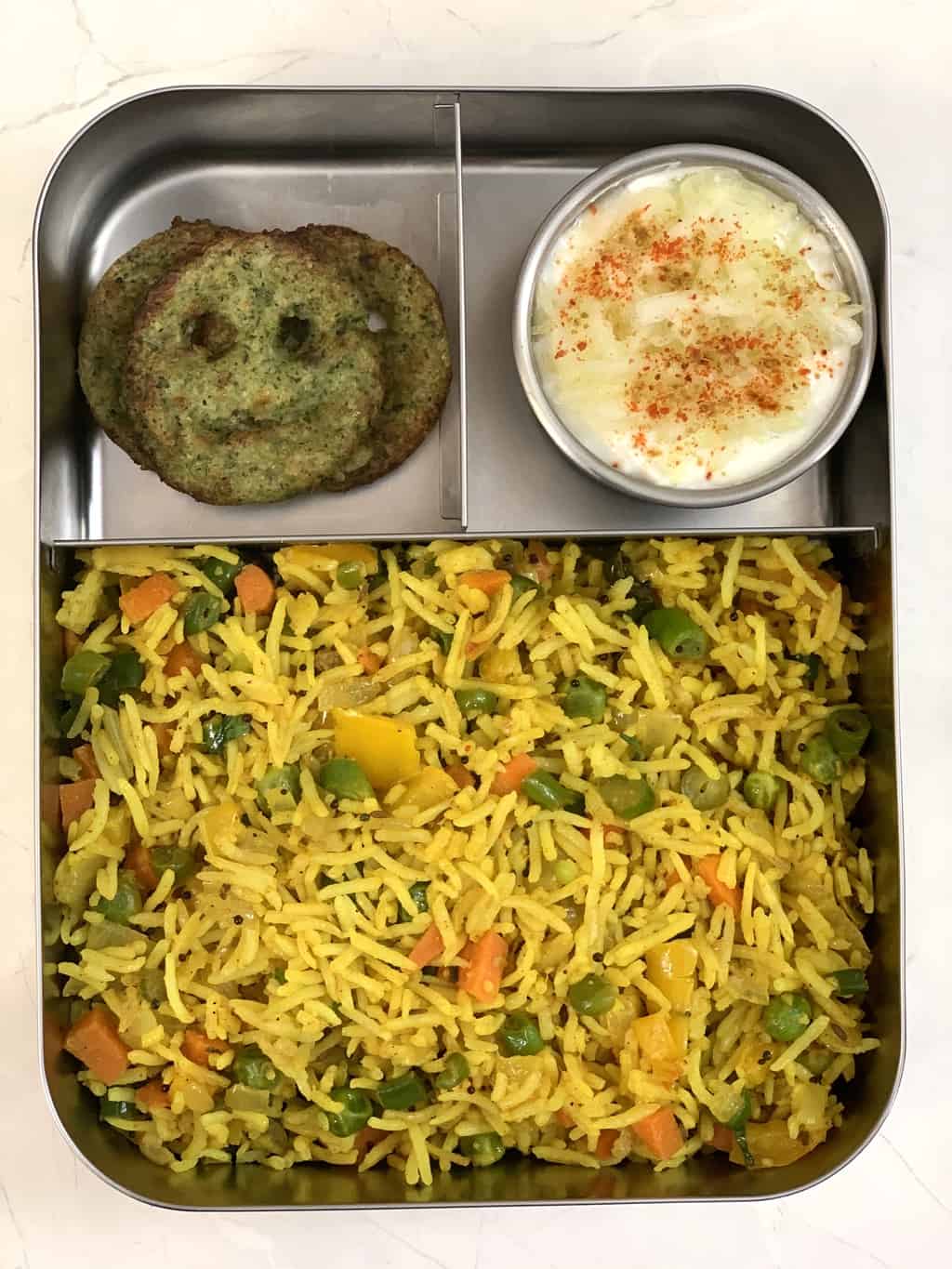 Bajra Khichdi with homemade yogurt and dates.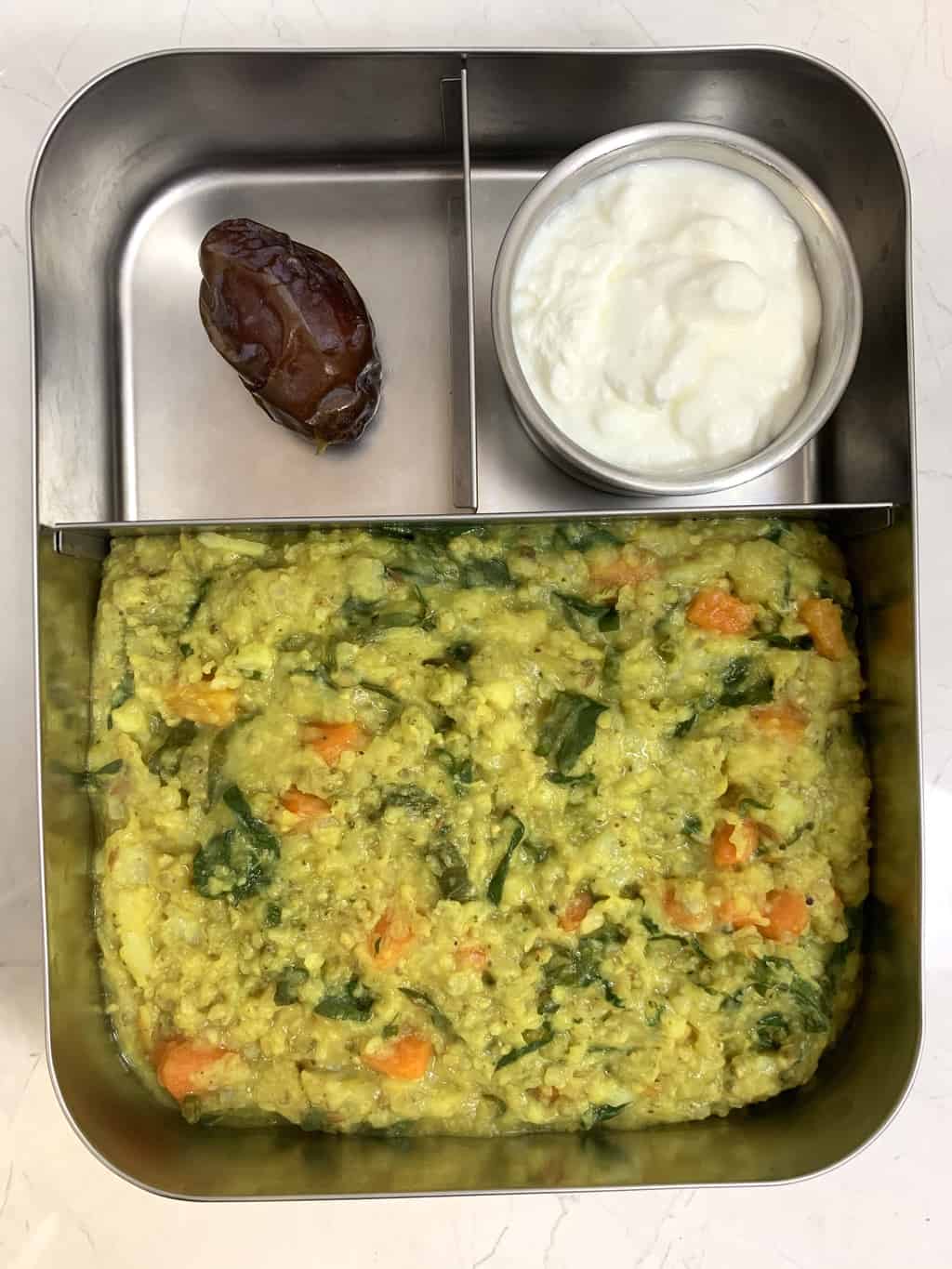 Flax seeds paratha with Rajma Masala and apple.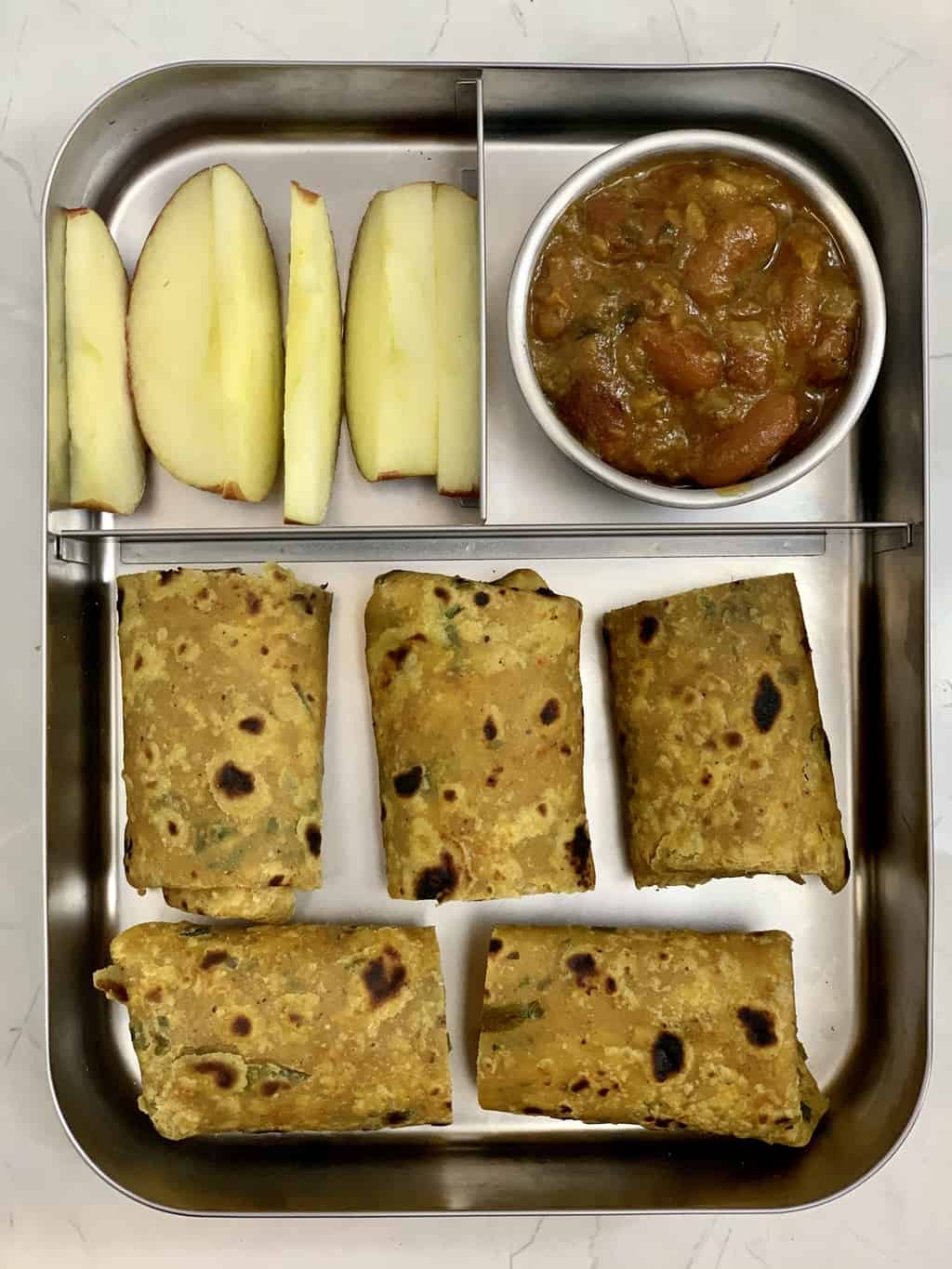 Beetroot Carrot Sandwich with Peri Peri Makhana and fruit (orange).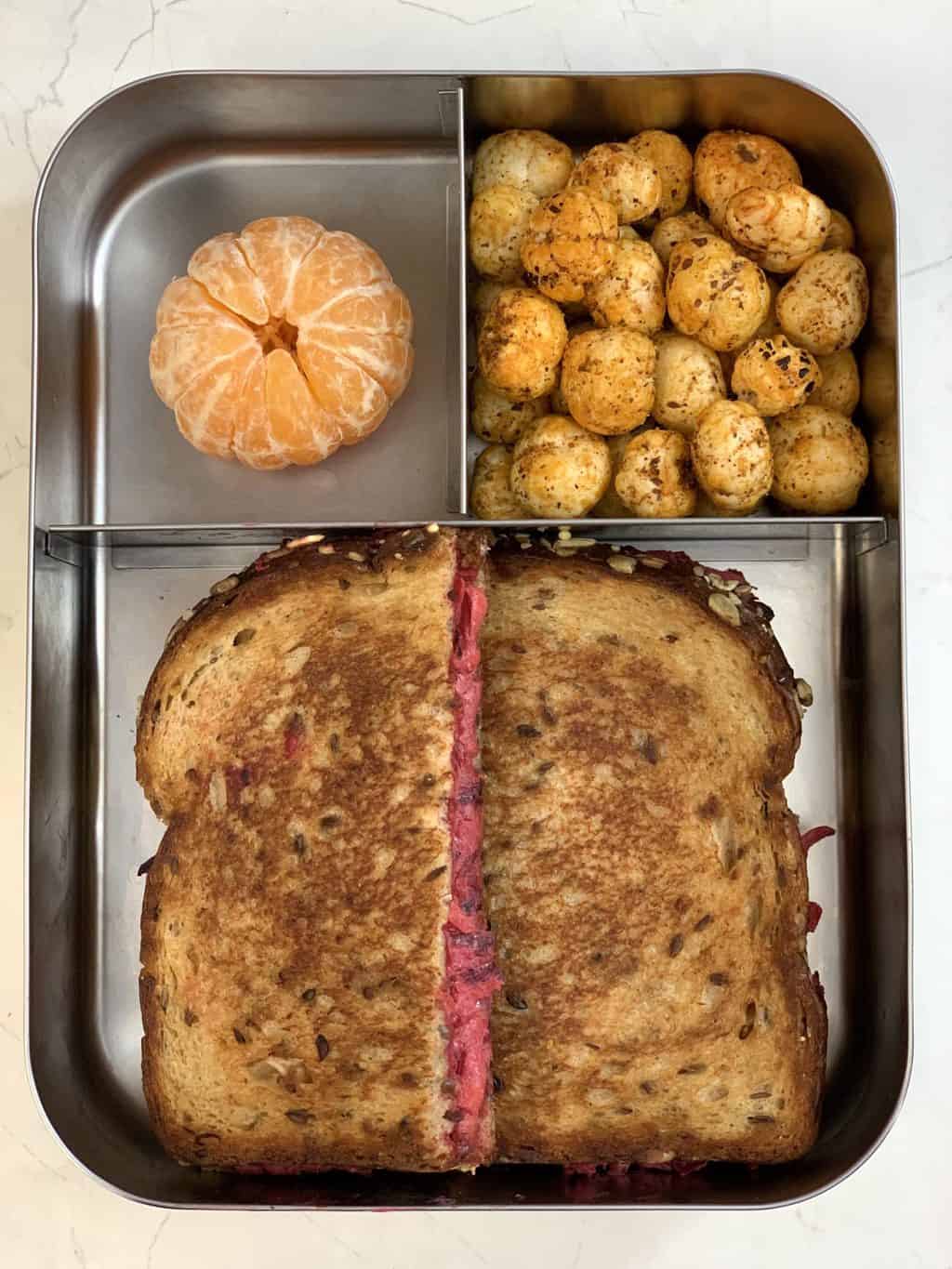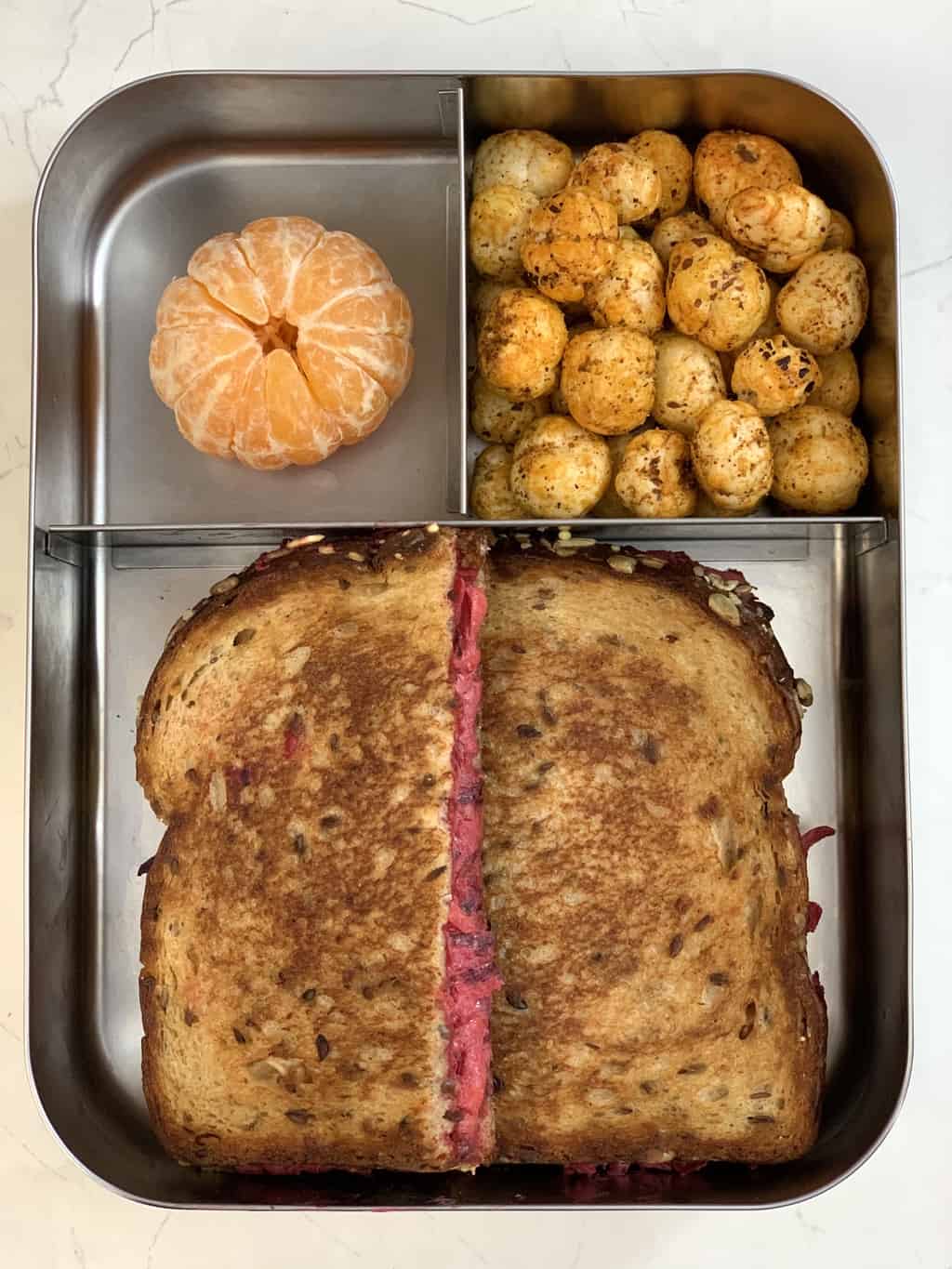 Vegetable Fried Idli with bourbon biscuit and fruit (red grapes).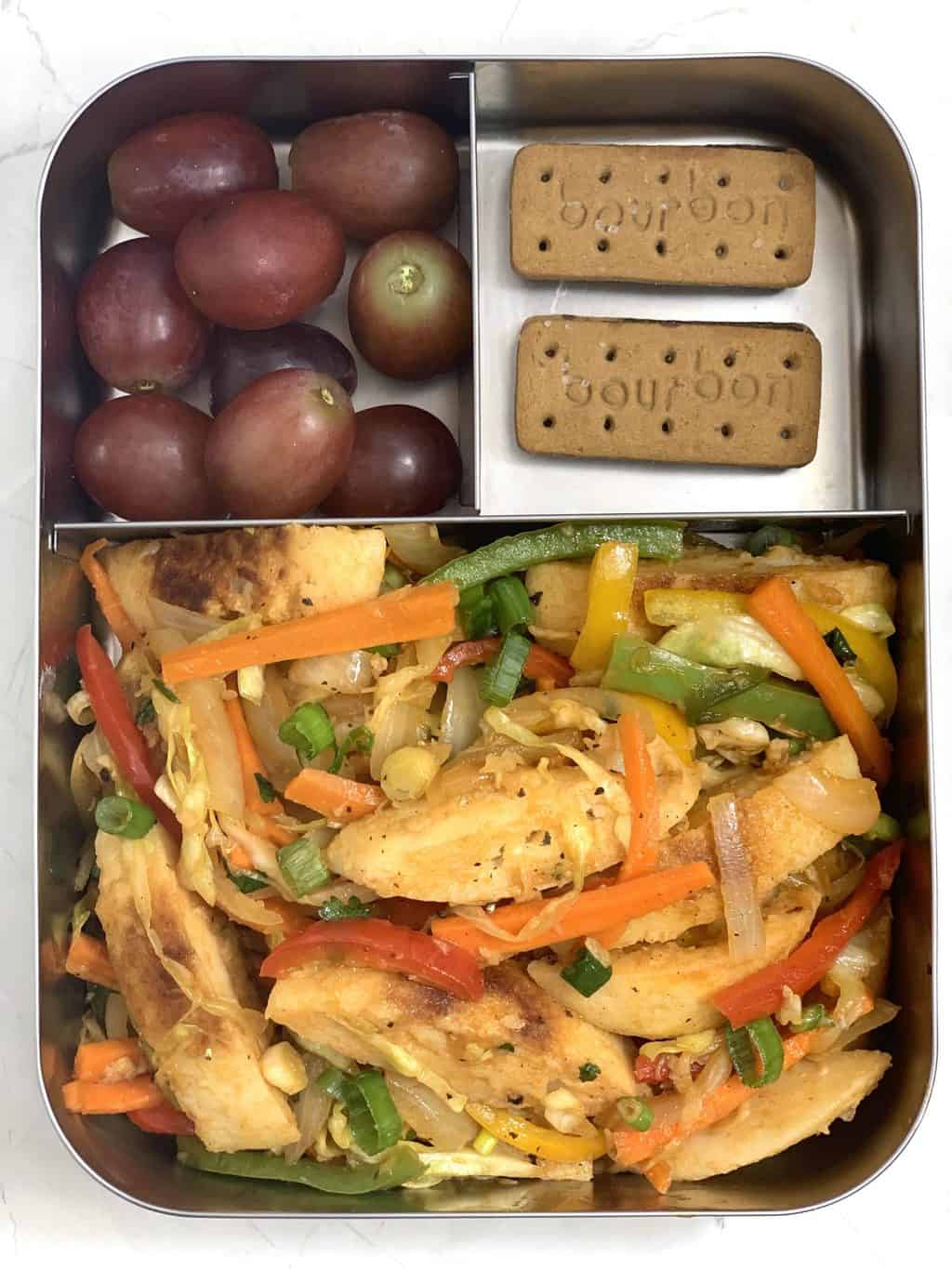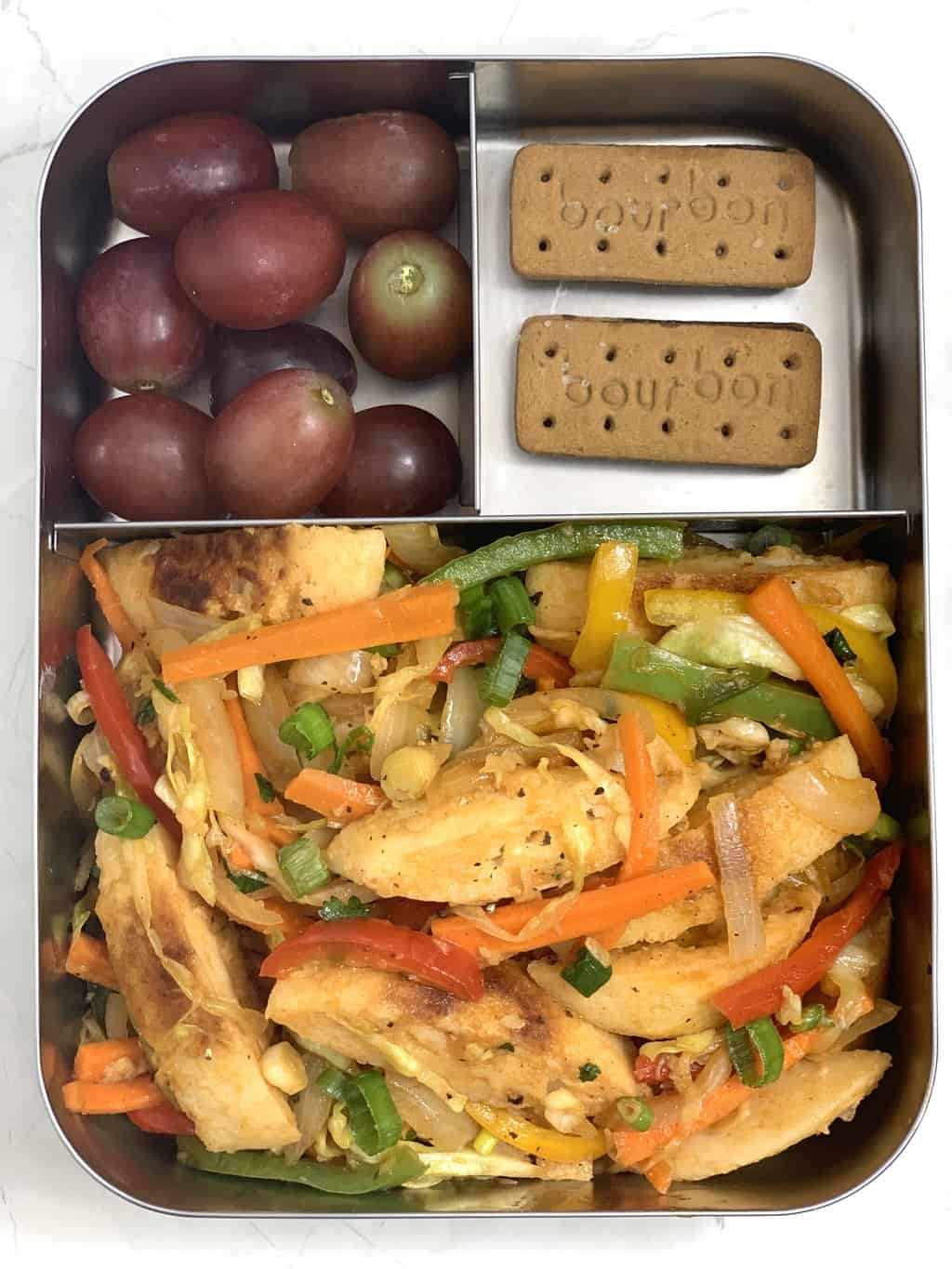 Sweet Potato Paratha with homemade yogurt, banana chips, and fruit (peach slices).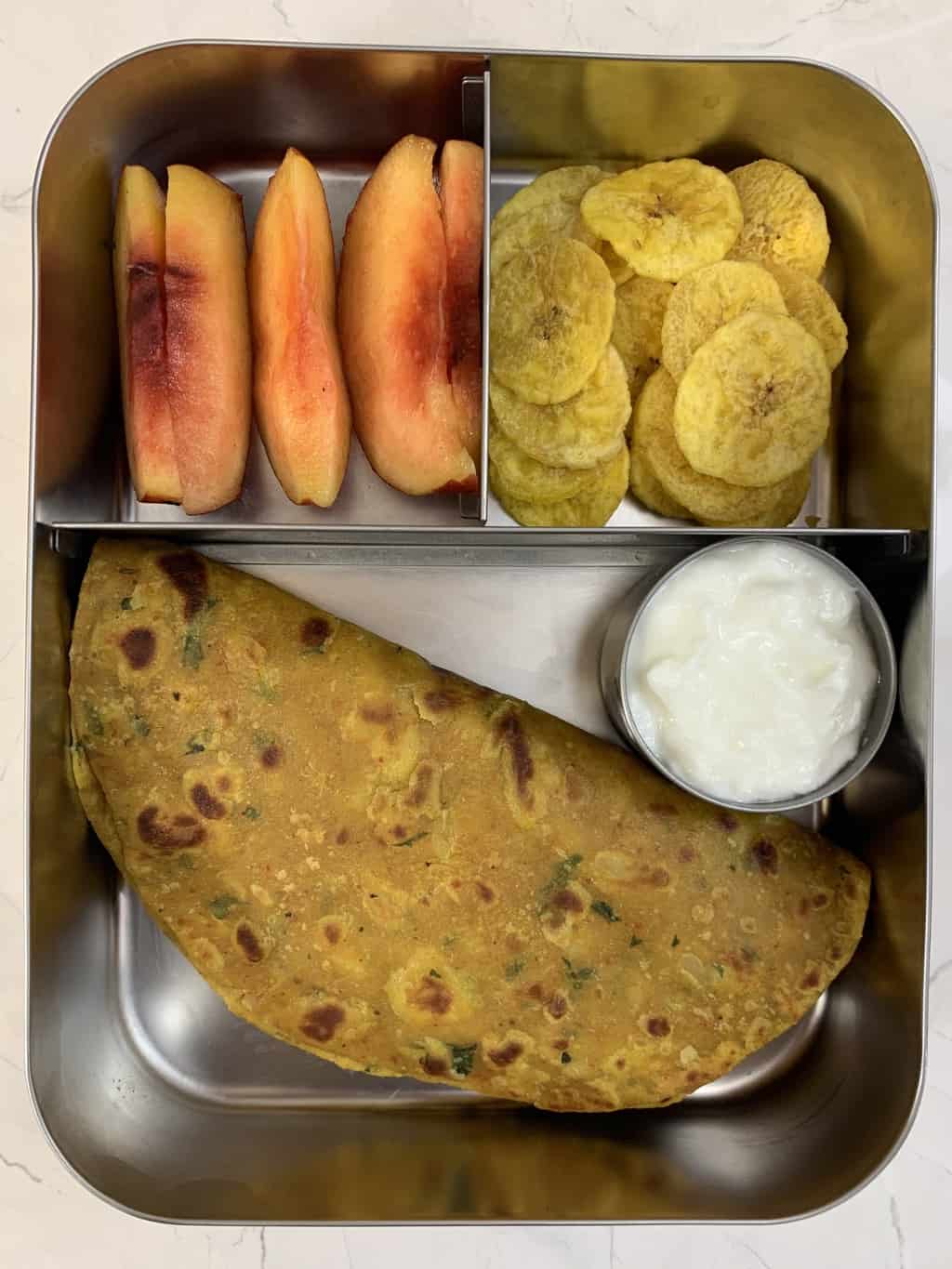 Masala Pasta with rice krispies and fruit (apple cut in a heart shape using cutter).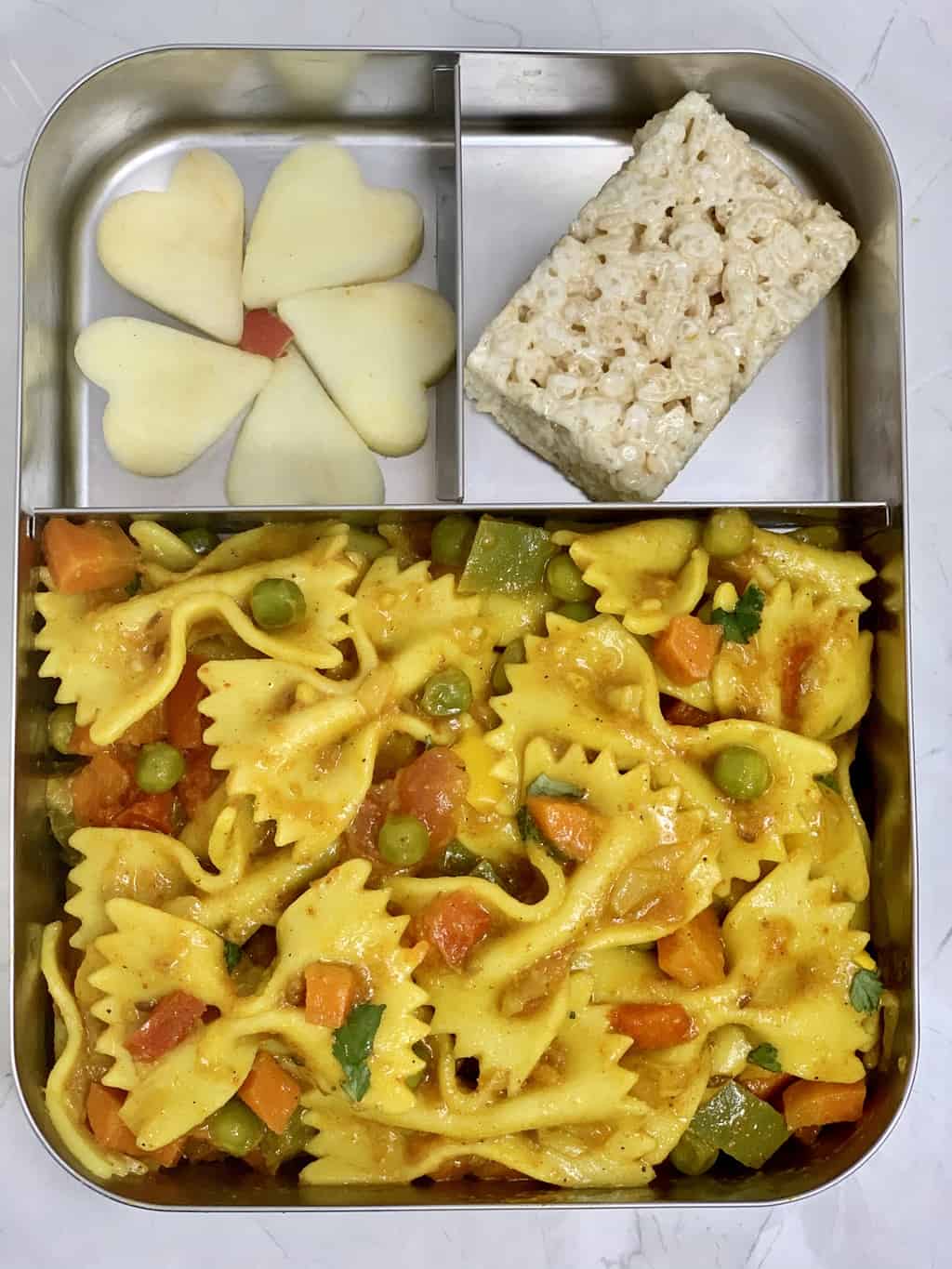 Aloo Masala Poori with Aamas and fruit (red grapes).
Vegetable Hakka Noodles with guacamole with corn chips (from Trader Joe's).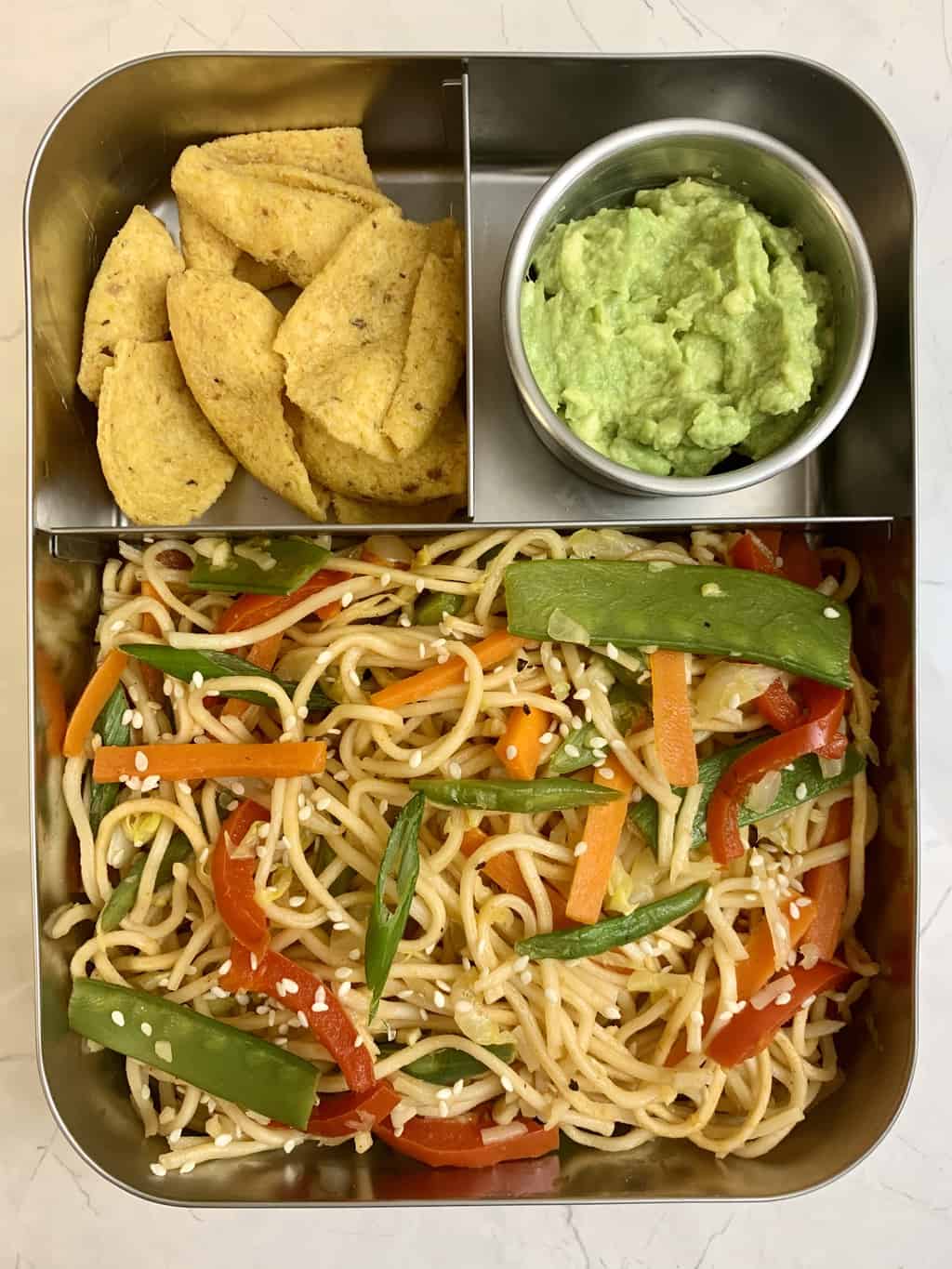 Beetroot Paratha with yogurt and fruit (pear slices).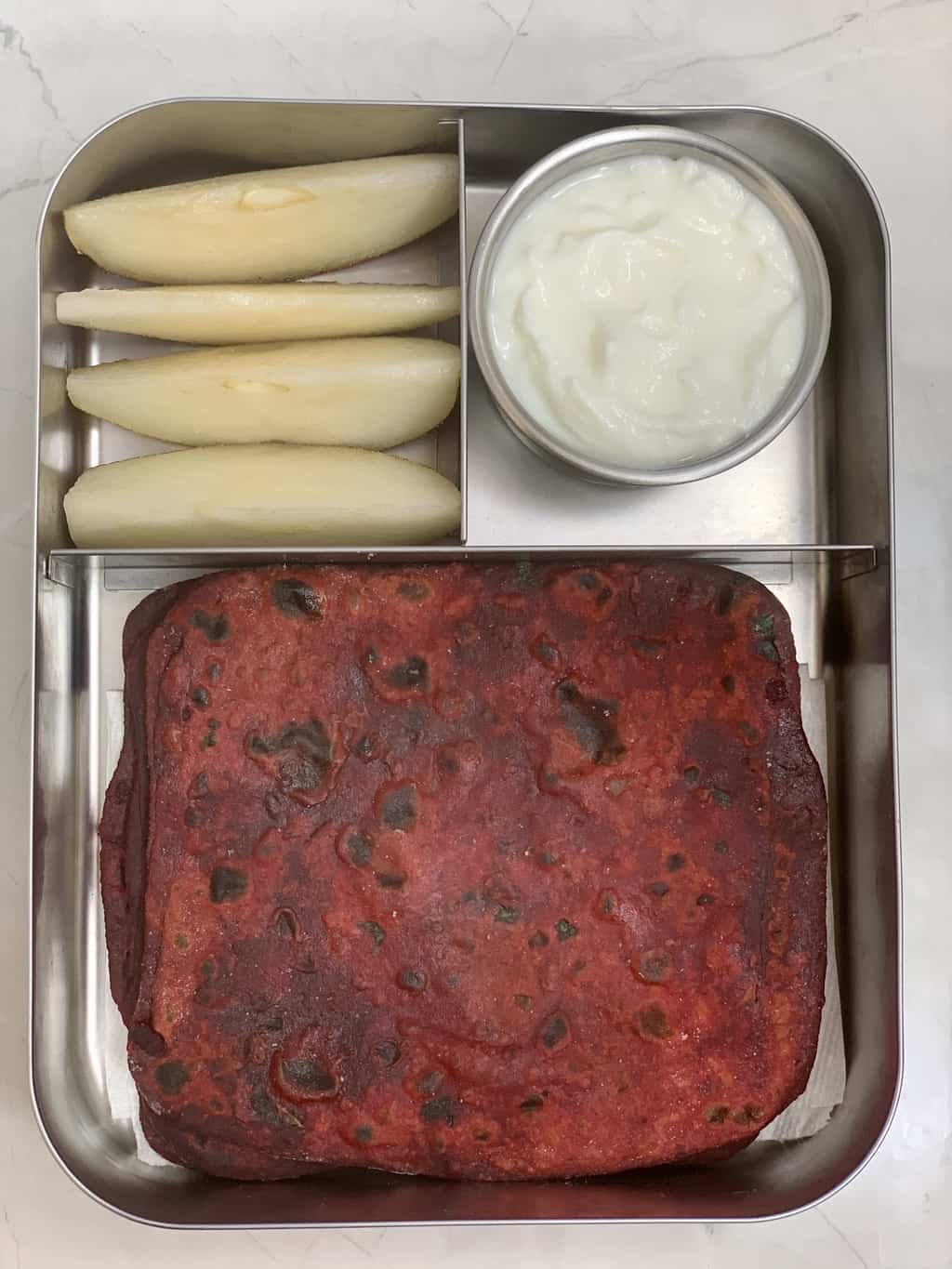 Tofu Paratha with Homemade Strawberry Chia Jam, and nuts.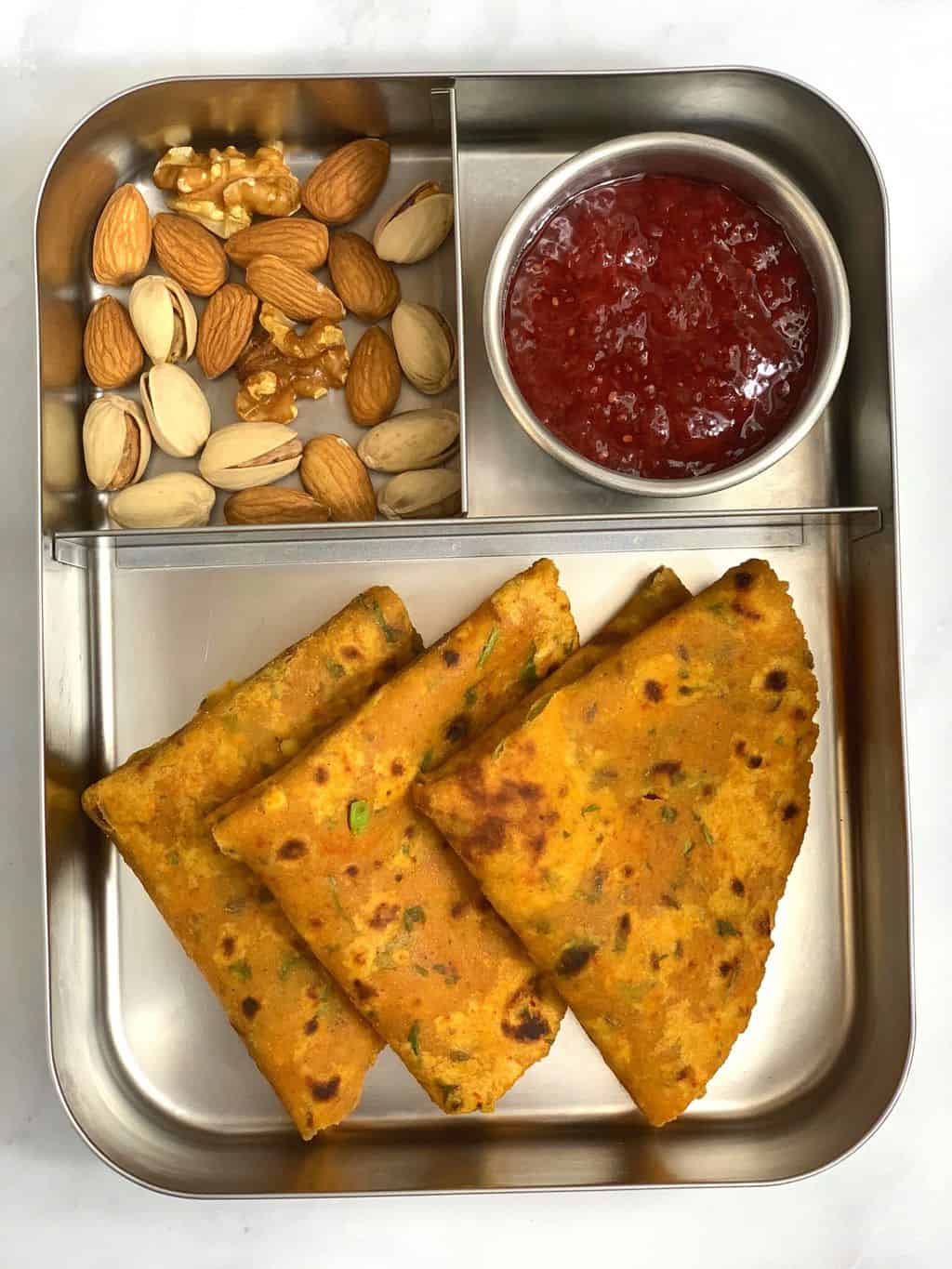 Corn Fried Rice with cucumber slices and murukku snacks.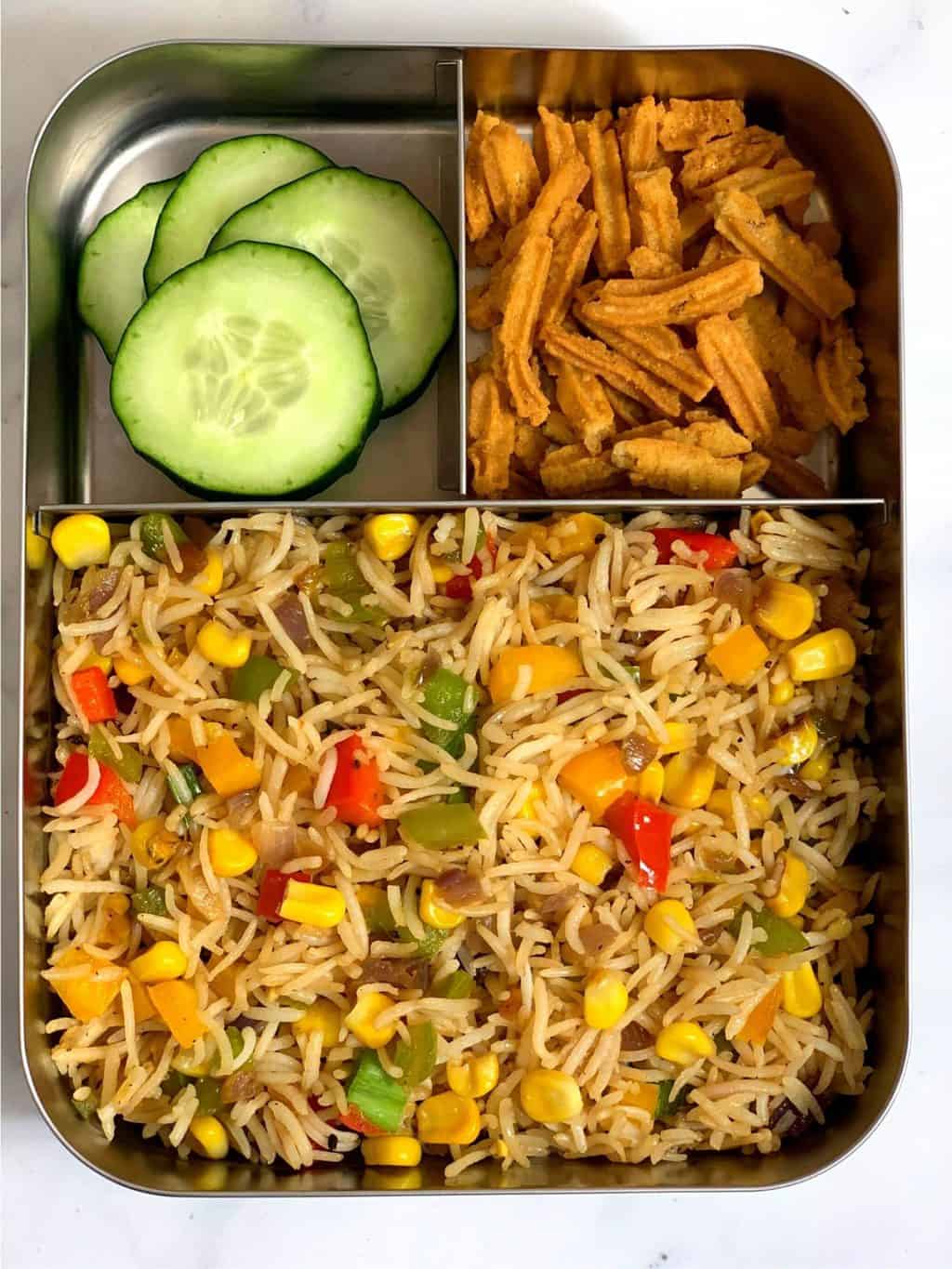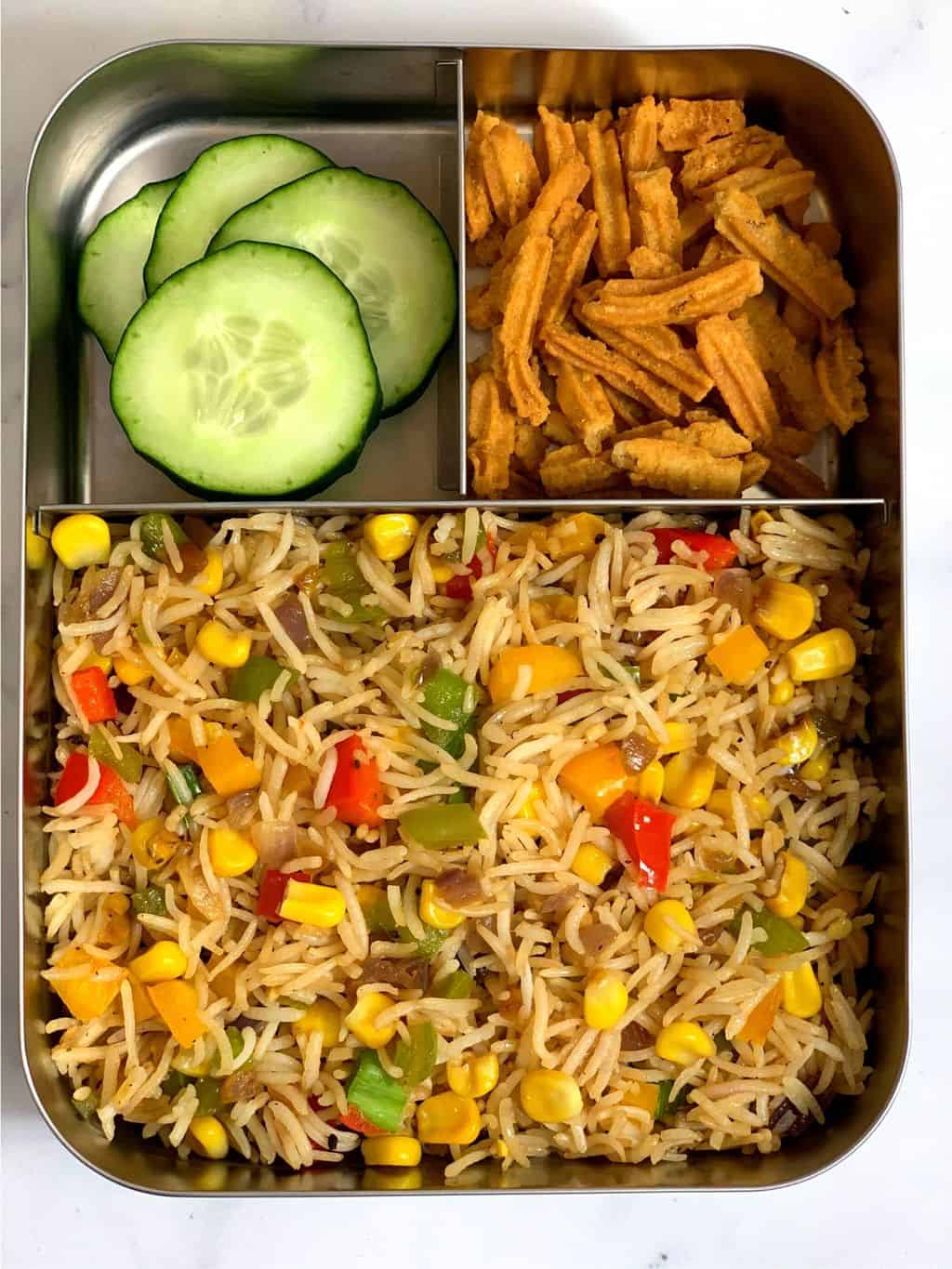 Mayonnaise Sandwich with sauteed paneer (sauteed in little olive oil, ginger garlic paste, red chili powder, turmeric, and salt) and fruit (kiwi).
Thai Peanut Noodles, banana chips, and fruit (blueberries).
Green Peas Pulao (Matar Pulao) with Boondi Raita and fruit (orange).
Podi Idli paired with plain greek yogurt and fruit (green grapes).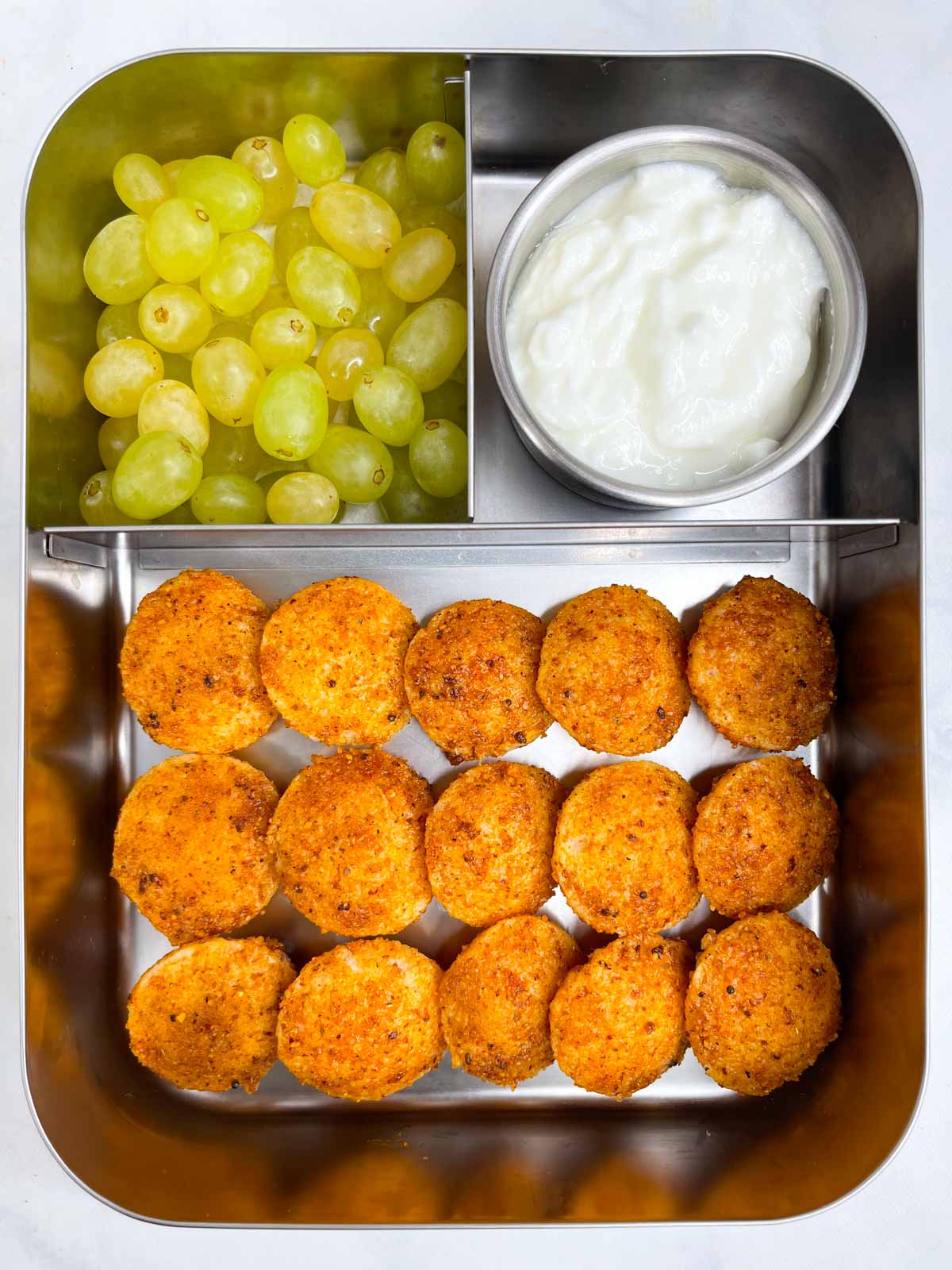 63. Lemon Rice + Yogurt + Carrot & Cucumber
Easy Lemon Rice paired with Yogurt and veggies (carrot and cucumber sticks).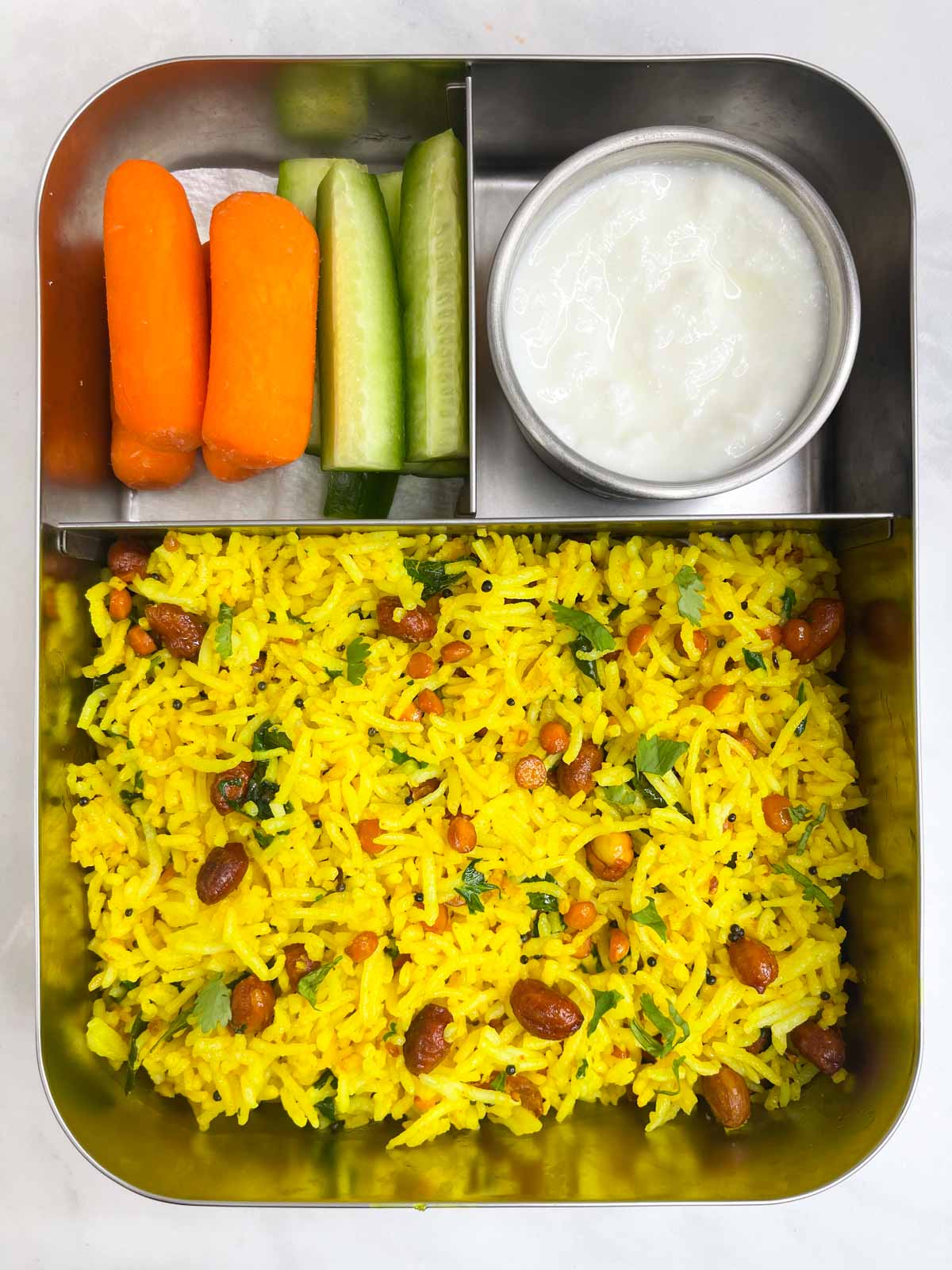 64. Pizza Paratha + Carrot + Crispy Tofu
Pizza Paratha, crispy tofu, and baby carrots.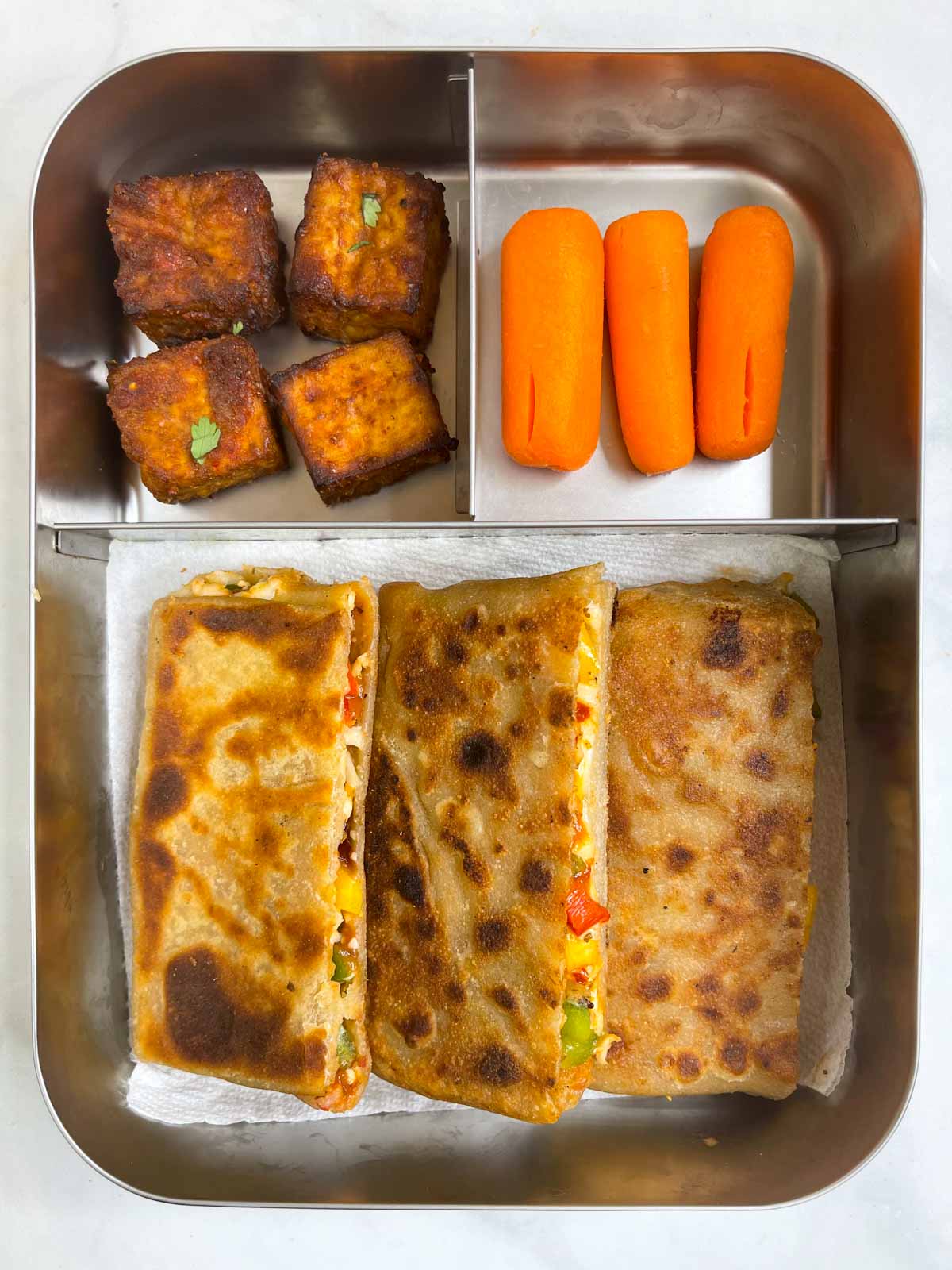 65. Vegetable Pulao + Chocolate + Fruits
Vegetable Pulao, chocolate, and fruits (orange and green grapes).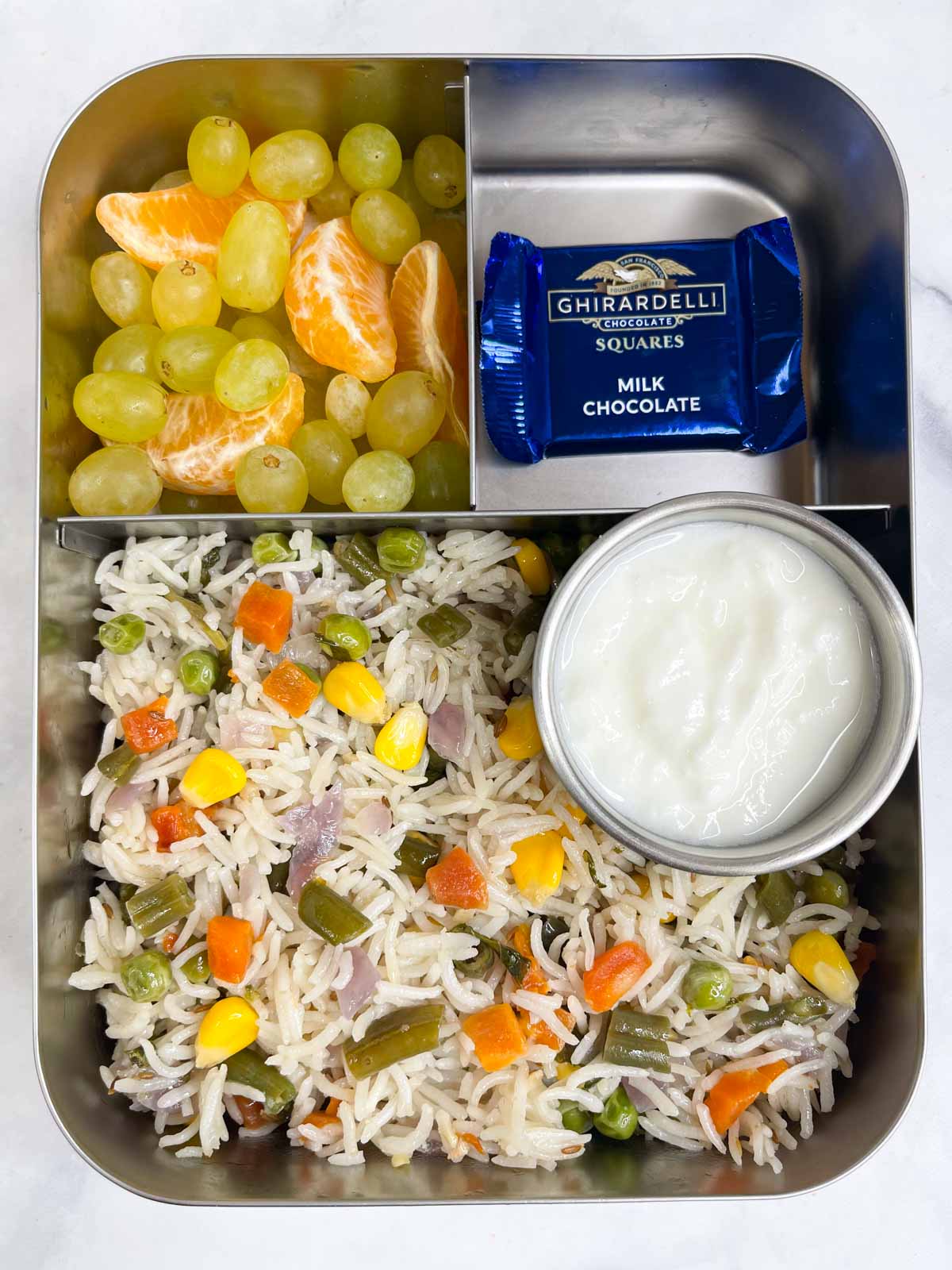 Easy Instant Rava Paddu/Paniyaram paired with Coconut chutney and Peanut butter makhana.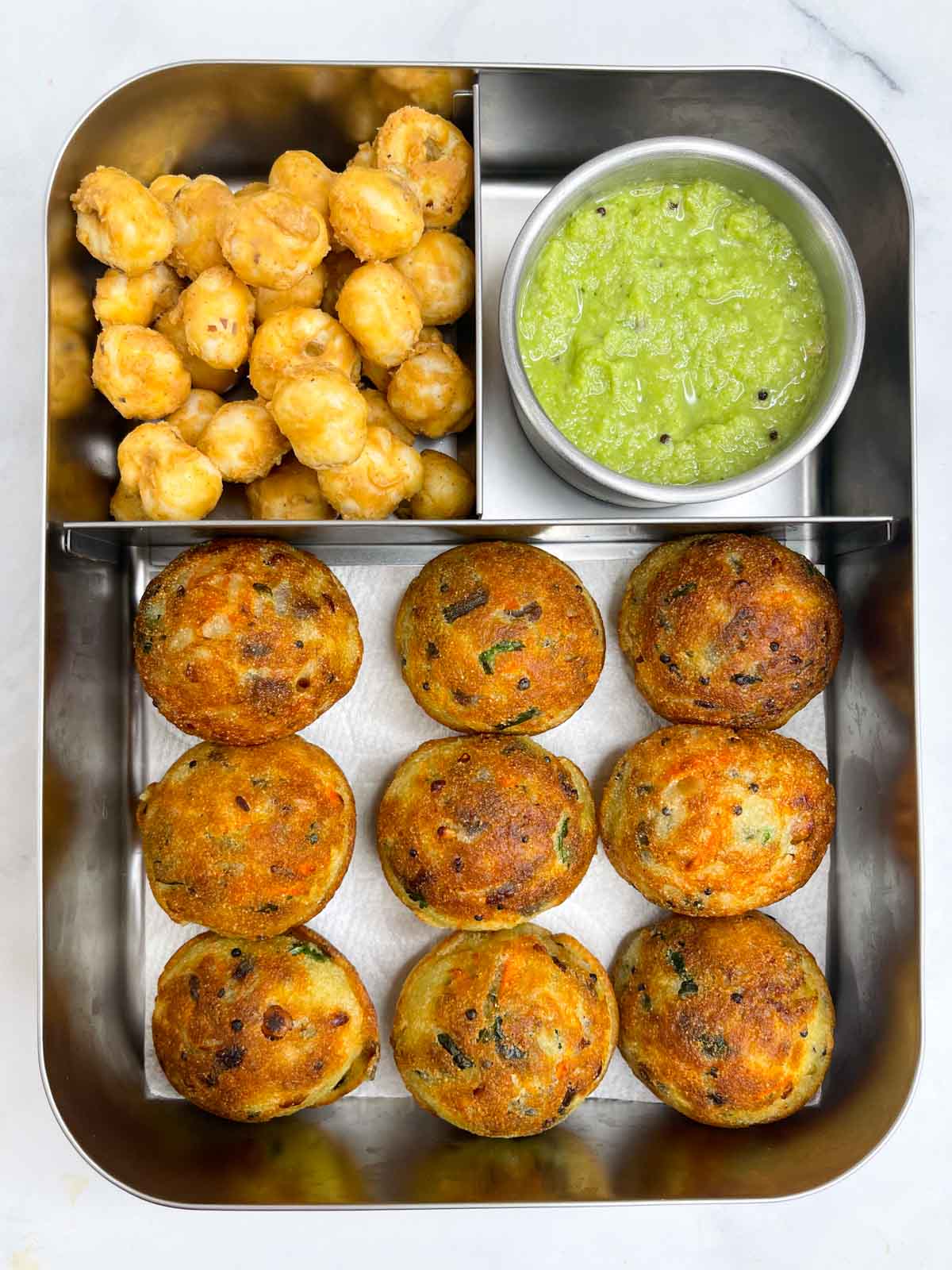 67. Mini Poori + Potato Sagu + Pears
Mini Poori's (Made a large chapati and then cut into a round shape using a cutter and deep-fried) paired with Potato Curry and fruit (pears).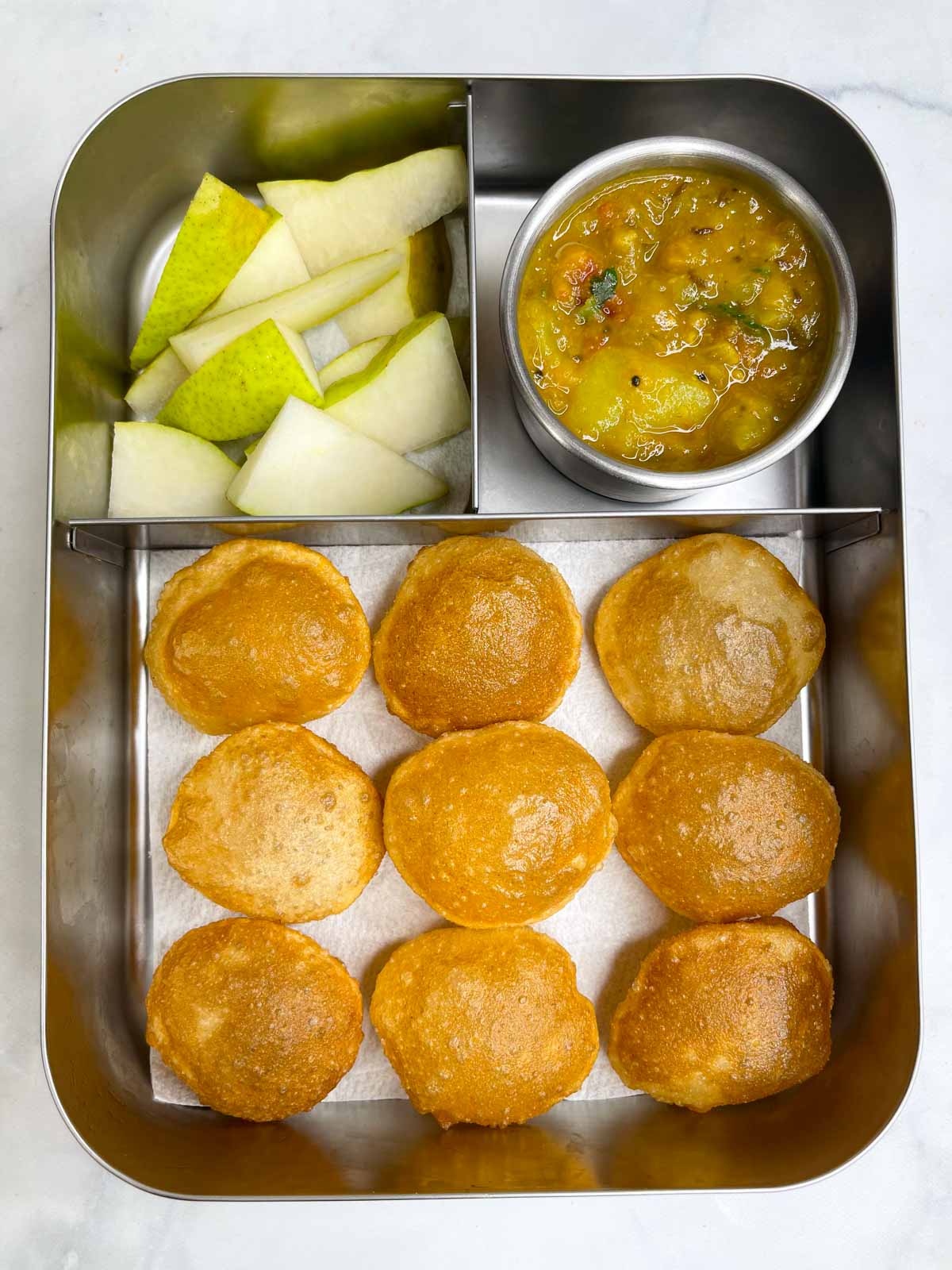 68. Rava Idli + Coconut Chutney + Dates & Apricot
Rava Idli with Coconut Chutney, Medjool dates, and dried apricots.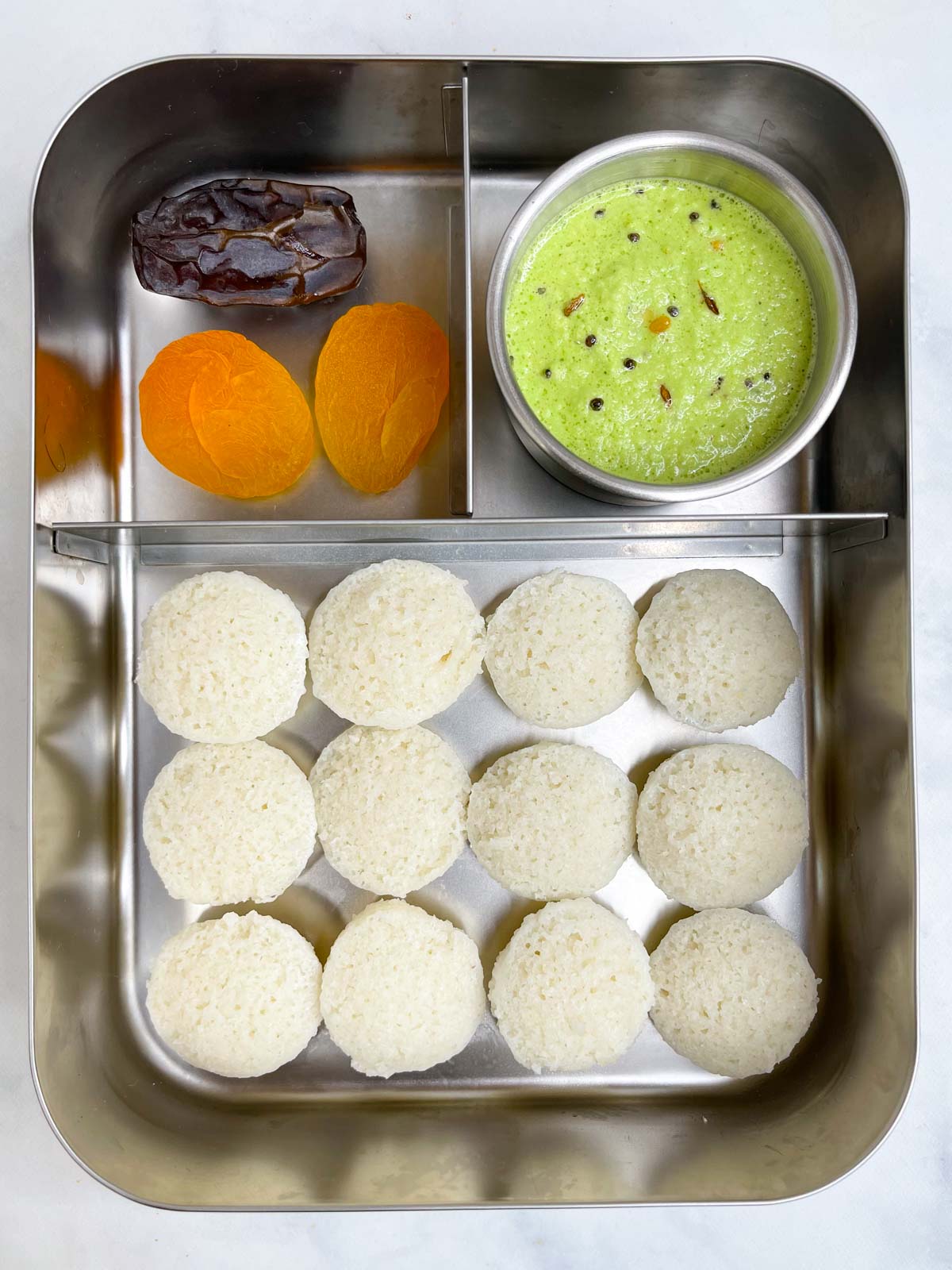 69. Veggie Burger + Chips + Guacamole
Veggie Burger is made using veggie patties from trader joes. Toasted burger bread and heated frozen veggie patty on a Tawa. Placed a slice of burger, smeared some mayo+ ketchup mixture, placed lettuce and top of it veggie patty and cheese slice. Lettuce helps to prevent burgers from turning soggy. Then added the Served with Tortilla chips and Guacamole.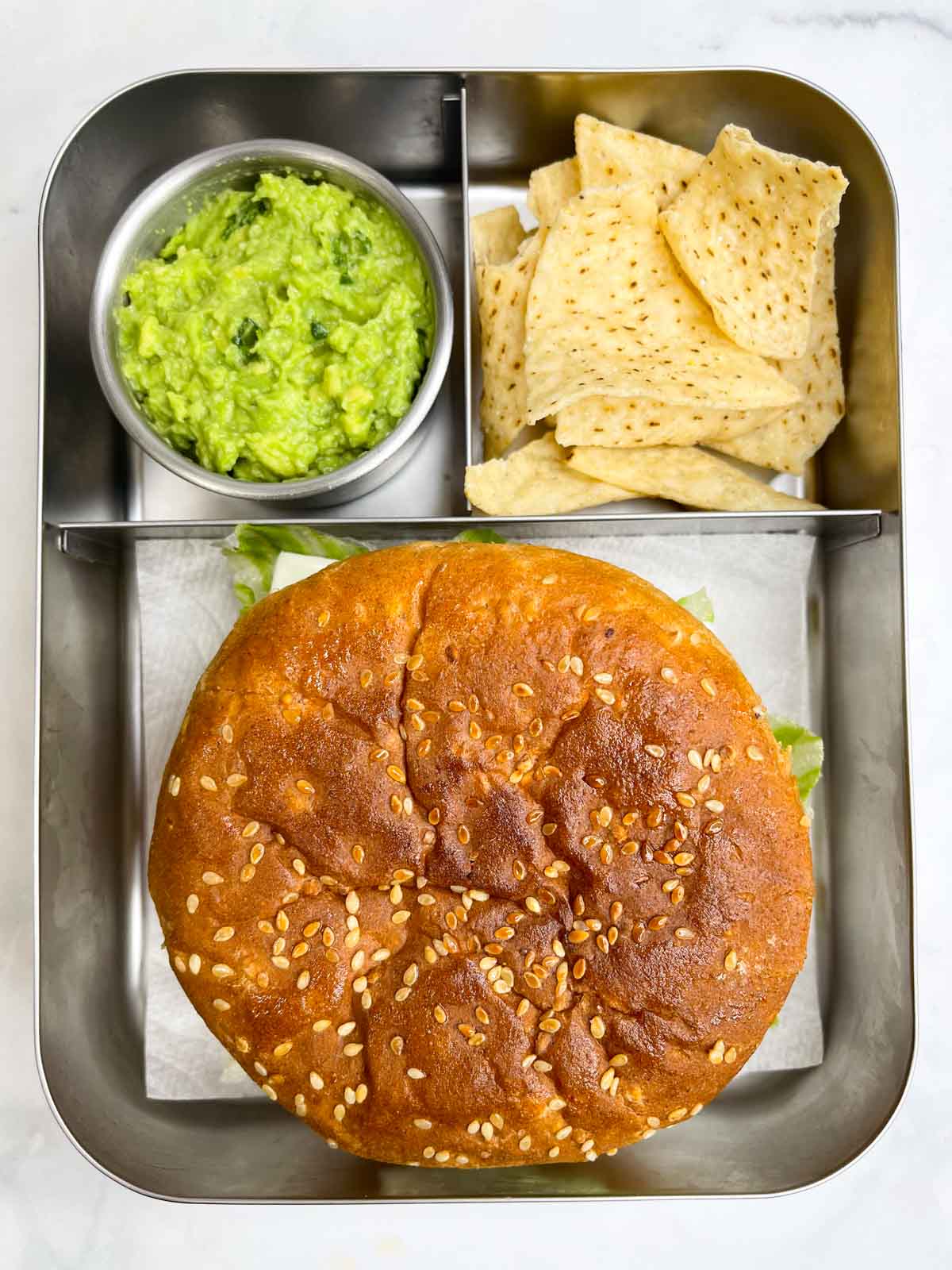 70. Chickpea Rice + Greek Yogurt + Mango+ Salad
Chickpea rice with plain greek yogurt, veggies (cucumber & grape tomatoes), and fruit (mango chunks).
71. White Sauce Pasta + Cucumber + Hummus
White sauce pasta, cucumber sticks, and store-bought hummus for dipping.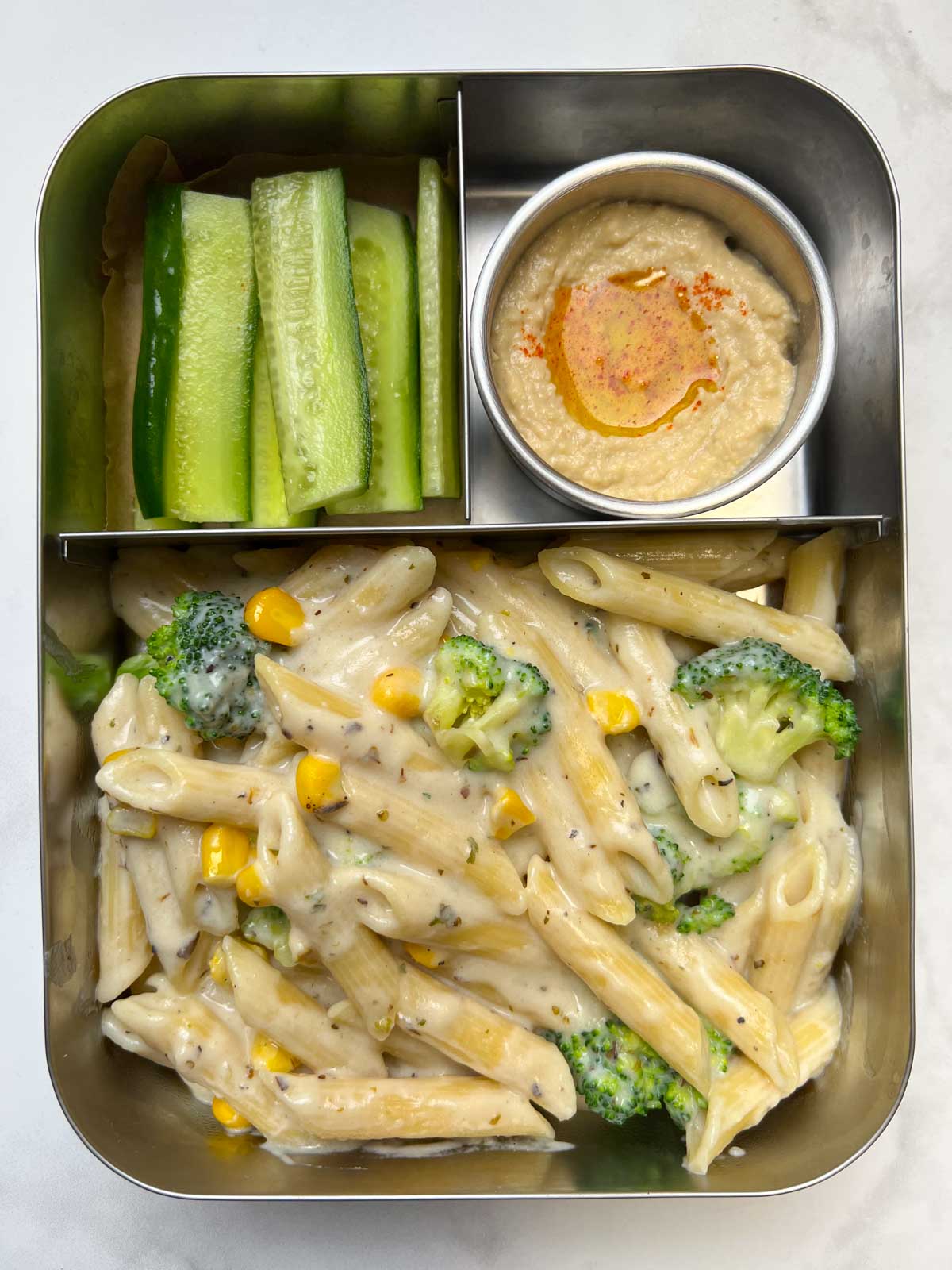 Burnt Garlic Fried Rice with tomato ketchup and fruit (red cherries).
73. Zucchini Paneer Cheela/Pancake + Yogurt + Fruits
Zucchini Paneer Cheela with yogurt and fruit (green grapes and blueberry skewers).
Recipe for Zucchini Paneer Cheela (Zucchini Paneer Chickpea Flour Pancake)
1 cup shredded zucchini
¼ cup shredded Paneer (cottage cheese)
½ cup besan/gram flour (or Chickpea flour)
2 tablespoons coriander leaves
½ teaspoon cumin seeds
¼ teaspoon turmeric
½ teaspoon red chili powder
¼ cup water or as needed
Mix everything in a bowl to get pancake consistency, and cook on the Tawa with some ghee or oil.
Butternut Squash Paratha with Mint raita and fruit (red grapes).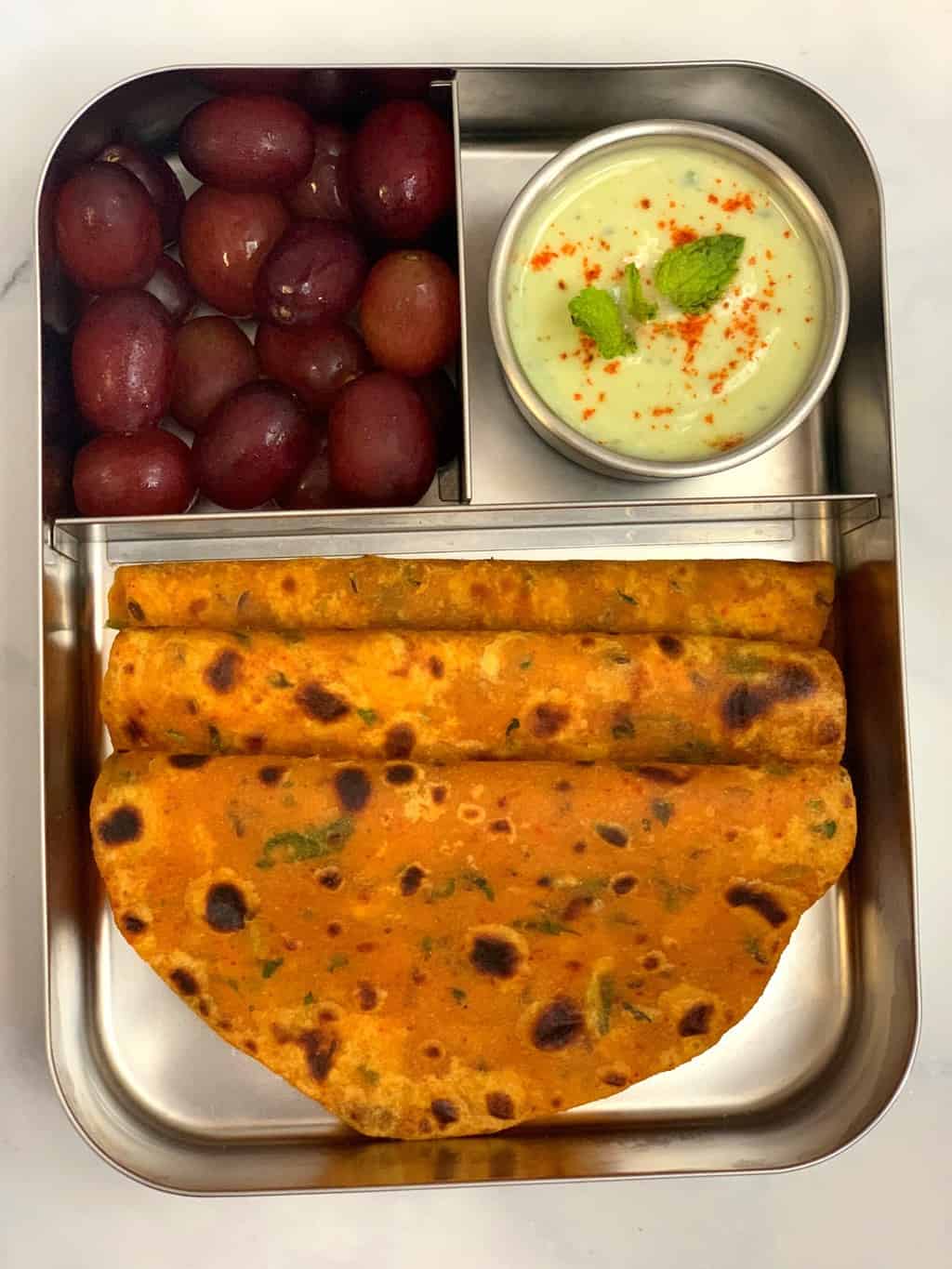 Paneer Paratha with cucumber slices and fruits (green grapes, strawberries).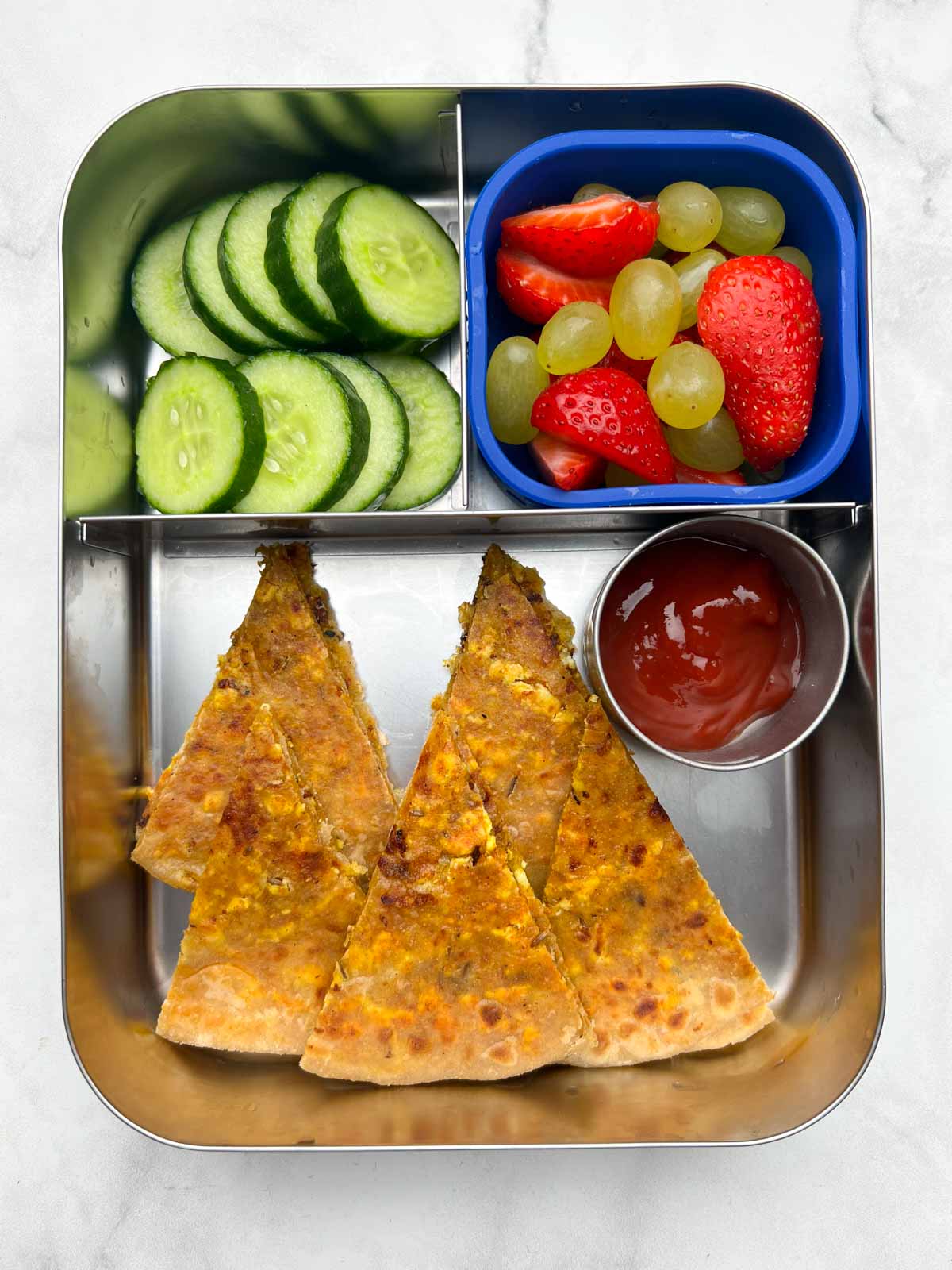 Neer Dosa with coriander coconut chutney, and red cherries.
Aloo Paratha with homemade yogurt, and strawberries.
Frequently Asked Questions
Which lunch box is best to pack kids lunches?
I prefer packing lunch boxes that have compartments, also known as bento boxes, and in a thermos that is stainless steel or BPA-free plastic container.
What is a bento lunch box?
Bento Box is a Japanese lunch box with multiple compartments, great for packing a well-balanced meal including grains, fruit, veggies, or protein.
Is stainless steel lunch box safe?
Yes! Stainless steel is BPA-free and hence doesn't leach into the foods, unlike many plastic boxes.
How to cut foods in my kids lunchbox?
Depending on the age of the kid, cut into bite-sized finger food. I prefer packing mini idli, dosa, and poori as they are bite-sized. I also prefer cutting the fruits and veggies into chunks, sticks, or attractive shapes using cutters.
How to pack roti or paratha in a lunch box?
You can wrap roti in parchment paper when they are still hot. This prevents rotis from getting soggy and keeps them soft. I do not recommend wrapping in aluminum foil because heat causes the aluminum to leach into the food, according to some studies.
More Recipes for Kids Lunchbox
Other Recipe Collections to Try from my blog
30+ Healthy Toddler Indian Breakfast Ideas
30+ Instant Pot Indian Rice Recipes
10+ Best Veg Sandwich Recipes Indian Style
10+ Paratha Recipes|Indian FlatBread Recipes
30+ Instant Pot Vegetarian Soup Recipes
5 Types of Easy Dry Chutney Powder Recipes
If you've tried this healthy kids lunch box recipe or any other recipe on Indianveggiedelight, then don't forget to rate the recipe. You can also follow me on Instagram and Facebook to see the latest recipes!
Tried this recipe?
Don't forget to give a ★ rating below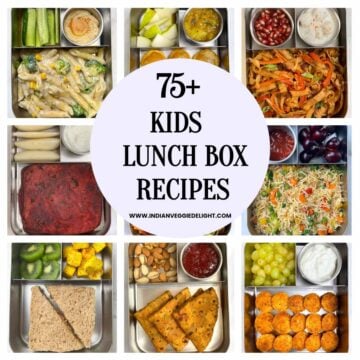 75+ Healthy Kids Lunch Box Recipes
These 75+ Healthy kids School Lunch box Recipes that your kids will actually love! These recipes are filled with wholesome ingredients, packed with nutrients and will keep your kids satisfied all afternoon.