Looking for easy, healthy Vegetarian/Vegan Indian Chickpea (a.k.a. garbanzo beans) recipes to make in your Instant Pot or Stovetop? Here is my collection of 15+ best Vegetarian Chickpea Recipes from my blog. Vegan and gluten-free recipe.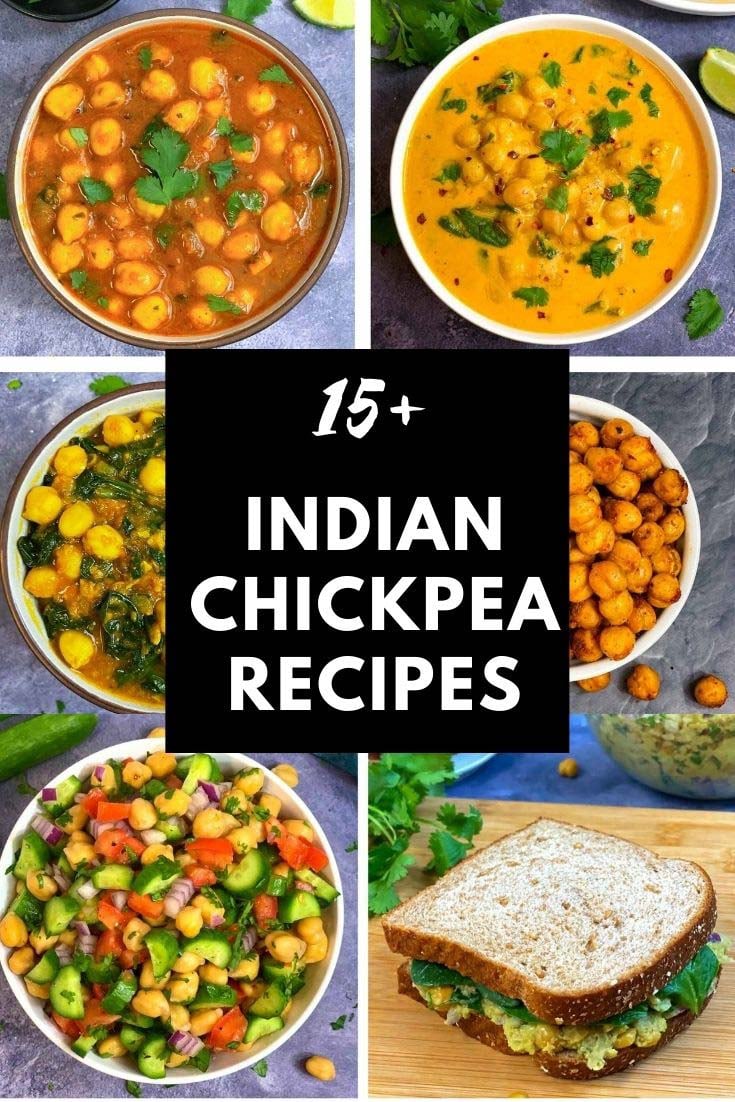 Today, I am sharing my 15+ best easy chickpea recipes, from salads to sandwiches to side dishes and mains, that you can make for your next weeknight dinner.
Jump to:
What Are Chickpeas?
Chickpeas or chick peas, also known as garbanzo beans, belong to the Fabaceae family. They have been grown and eaten in Middle Eastern countries for thousands of years. It is also important in Indian cuisine, and they have a lot of recipes with chickpeas.
These legumes are high in protein and fiber. Makes an excellent replacement for meat for people on a vegetarian and vegan diet. Other names for chickpeas are Bengal gram, garbanzo, garbanzo bean, and Egyptian pea.
Types of Chickpeas
There are different varieties of chickpeas available around the world, a few types are
Kabuli: Bigger, light-colored with a smooth appearance, and are farmed in Africa, Europe, and the Mediterranean. They are easily available in American and Indian Grocery stores.
Desi: Smaller, darker with a rough appearance, and mostly farmed in India. They are also known as Kala Chana, where 'Kala' means 'Black' and 'Chana' means 'Chickpea' in India. They are easily available in Indian Grocery stores.
Green: Regular chickpea harvested while young. They are fresh, greenish color, and have a slightly sweet taste. You can find them in the Indian grocery store or farmer's market during late spring or summer.
Health Benefits of Chickpeas
Chickpeas are rich in several vitamins, and minerals and contain moderate calories.
Chickpeas are an excellent source of plant-based protein and fiber.
It can help to lower cholesterol.
Nutrition Facts
A 1-cup (164-gram) serving of cooked chickpeas offers - (Source)
Calories: 269
Protein: 14.5 grams
Fat: 4 grams
Carbs: 45 grams
Fiber: 12.5 grams
Manganese: 74% of the Daily Value (DV)
Folate (vitamin B9): 71% of the DV
Copper: 64% of the DV
Iron: 26% of the DV
Zinc: 23% of the DV
Phosphorus: 22% of the DV
Magnesium: 19% of the DV
Thiamine: 16% of the DV
Vitamin B6: 13% of the DV
Selenium: 11% of the DV
Potassium: 10% of the DV
Check these Veggie Recipes Collections
15+ Vegetarian & Vegan Indian Chickpea Recipes
Let's look at the 15+ Vegetarian Chickpea (garbanzo) Recipes, which will offer you various options.
Appetizer/Snacks
Salads
Curries/Stir-fries
Sandwiches
Parathas
Rice
DID YOU MAKE ANY OF THESE 15+ INDIAN CHICKPEA RECIPES?
I'D LOVE TO KNOW HOW THEY TURNED OUT! LEAVE A COMMENT AND A ⭐️ RATING BELOW? SO WE CAN SEE IT AND OTHERS CAN ENJOY IT TOO! THANK YOU ♥
I hope you found your favorite Indian Chickpea recipe to make. This recipe collection list is only bound to grow more and more, as I cook more interesting recipes. So make sure, to bookmark this page by clicking the heart icon ❤️ on the right-hand side.
OTHER RECIPE COLLECTIONS TO TRY FROM MY BLOG
♥ We LOVE to hear from you If you make this recipe, please share your food photo with hashtag #indianveggiedelight on Facebook or Instagram, so we can see it and others can enjoy it too! Thank you ♥
Subscribe to my Youtube Channel for healthy & tasty video recipes.