Looking for easy, healthy Vegetarian/Vegan Indian Cauliflower Recipes to make in your Instant Pot or Stovetop? Here is my collection of 15+ best Vegetarian Cauliflower/Gobi Recipes from my blog. Vegan, Keto, or Low carb and gluten-free recipes.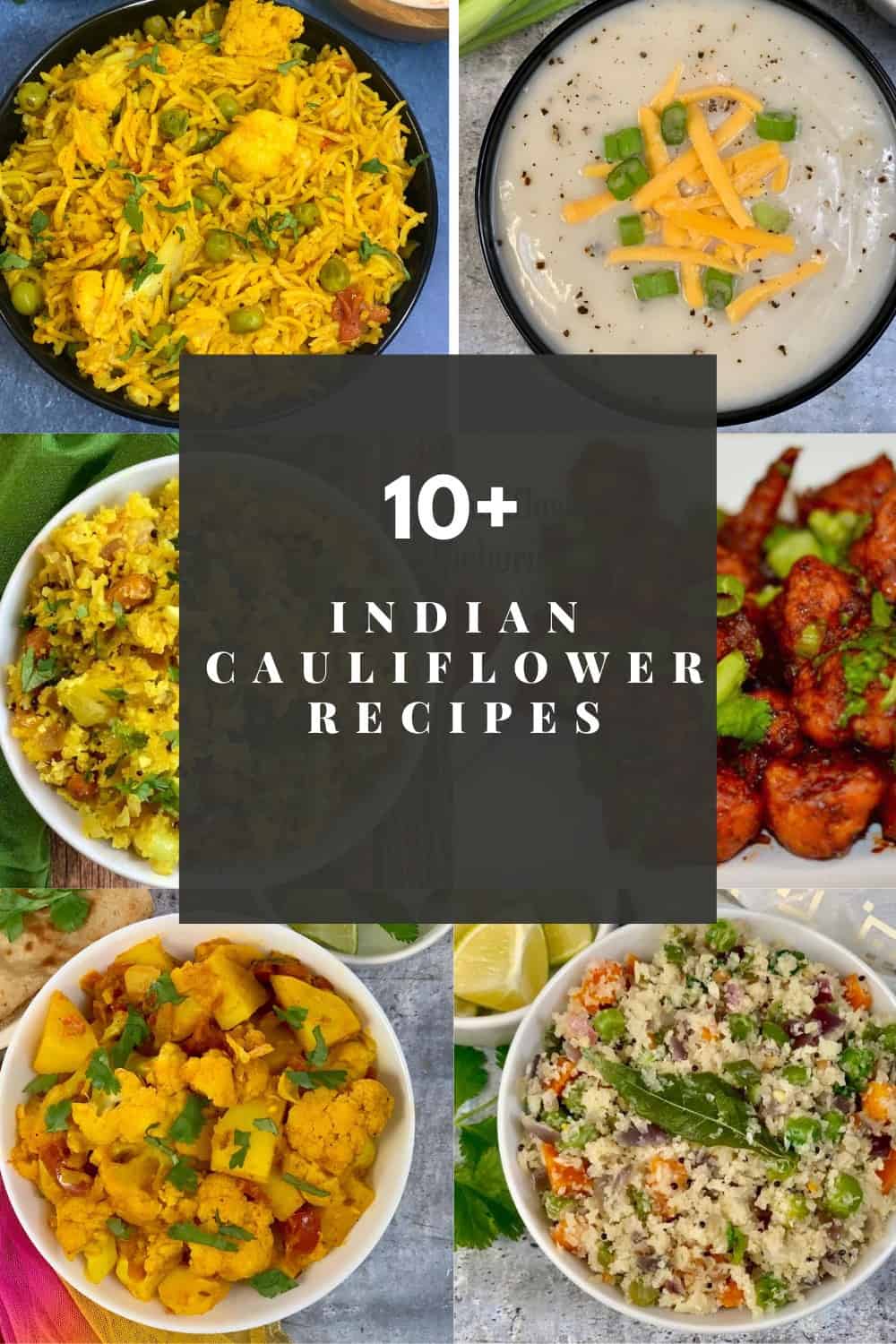 Looking for delicious, easy ways to add cauliflower to the dinner table? Here are a few simple and healthy cauliflower recipes that you will love.
Cauliflower is a super versatile vegetable and easy to cook. It can be served in a range of tasty dishes, from appetizers and stir-fries to side dishes and mains.
It is often used as a lower carb or keto substitute for grains and legumes across the world. Great way to increase your vegetable intake.
Jump to:
What is Cauliflower?
Cauliflower is a cruciferous vegetable that belongs to the Brassica oleracea family, along with broccoli, cabbage, brussels sprouts, and kale.
The four types based on color are White, Green (aka Romanesco or Broccolo Romanesco), Purple, and Orange. White heads of cauliflower are the most familiar and easily available in the market.
What Does Cauliflower Taste Like?
Raw cauliflower has a crunchy texture, with a bitter aftertaste. Cooked cauliflower has a little sweet, nutty flavor. The bitter flavor usually disappears once it's cooked.
Health Benefits of Cauliflower
Cauliflower is a good source of vitamins like C, K, B6, and minerals.
It contains a significant amount of fiber, which is important for digestive health.
Cauliflower provides an excellent amount of antioxidants, good for reducing inflammation.
Cauliflower is low in calories.
Low-carb alternative to grains like rice, quinoa, and legumes.
Nutrition Facts:
nutrients found in 1 cup, or 128 grams, of raw cauliflower - (Source)
Calories: 25
Fiber: 3 grams
Vitamin C: 77% of the RDI
Vitamin K: 20% of the RDI
Folate: 14% of the RDI
Vitamin B6: 11% of the RDI
Pantothenic acid: 7% of the RDI
Potassium: 9% of the RDI
Manganese: 8% of the RDI
Magnesium: 4% of the RDI
Phosphorus: 4% of the RDI
Is Cauliflower Keto Friendly Vegetable?
Yes, cauliflower is a low-carb, keto-friendly vegetable similar to broccoli, zucchini, bell pepper, lettuce, cucumbers, and more. For example, a cup of cauliflower contains 5 grams of carbs. Here are a few examples that can be made with cauliflower instead of grains and legumes: Cauliflower rice, pizza, tortillas, mash, mac, and cheese.
Also Check These Veggie Recipes Collections
15+ Indian Vegetarian & Vegan Cauliflower (Gobi) Recipes
I hope you found your favorite Indian Cauliflower recipe to make. This recipe collection list is only bound to grow more and more, as I cook more interesting recipes. So make sure, to bookmark this page by clicking the heart icon ❤️ on the right-hand side.
OTHER RECIPE COLLECTIONS TO TRY FROM MY BLOG
♥ We LOVE to hear from you If you make this recipe, please share your food photo with hashtag #indianveggiedelight on Facebook or Instagram, so we can see it and others can enjoy it too! Thank you ♥