Looking for easy, healthy Vegetarian/Vegan Recipes to make? Here is my blog's collection of 10+ best Indian & Global Avocado Vegetarian Avocado Recipes. Vegan, Keto or Low carb and gluten-free recipes.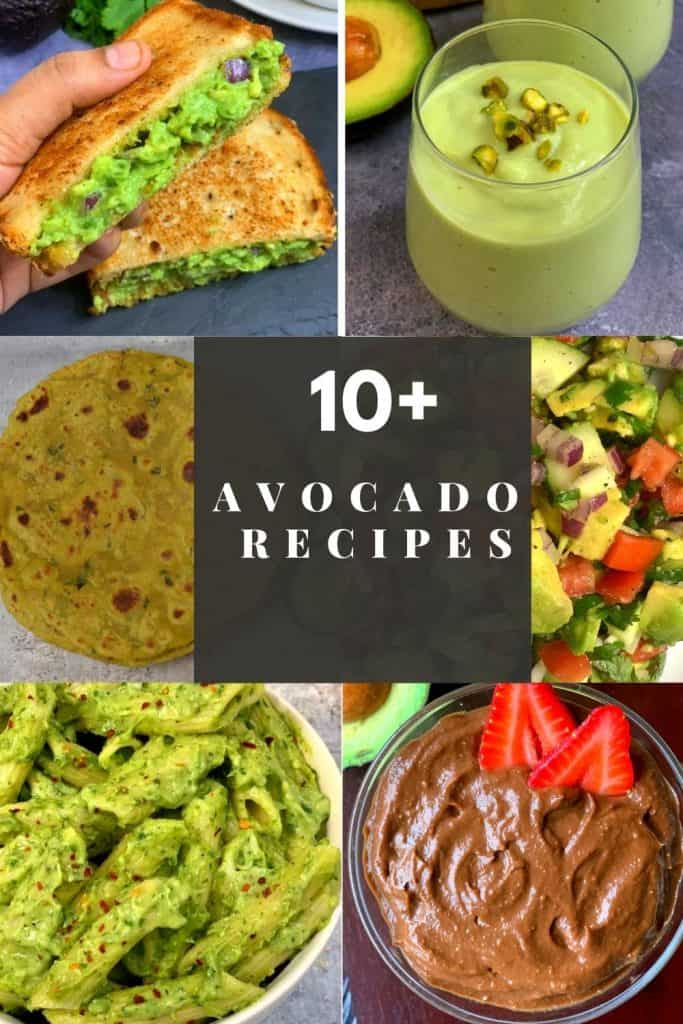 In India, Avocados are known as Butter fruit, but they are a little big in size. Avocados are high in healthy fats and one of the world's healthiest foods.
It is loaded with mono-saturated fatty acids, which are good for a healthy heart. Besides, avocados are rich in potassium, fiber, antioxidants, and many vitamins like B, K, C, and E.
Avocado is an unbelievably nutritious fruit with great nutrient value. It is incredibly popular among extremely health-conscious individuals. I feel I have just started with my collection of avocado (butter fruit) recipes & I am sure to add a lot more of these easy avocado recipes in the days to come. I have tried to come up with some Indian avocado recipes, and I hope you like them.
As avocado's popularity keeps growing, you will find them being used in a variety of dishes. Here are some cool ways to add avocados to your daily meal.
Jump to:
Avocado Recipes
Dips, Dressings, and Snacks
Avocado guacamole is the most commonly used dip in Mexican cuisine & is a must-try recipe. It is also a popular low-carb/keto avocado recipe. I have come up with an Indo-Mexican fusion snack, which is a twist to the Indian Golgappa recipe. You will surely love these avocado snacks.
Pasta Sauces
Absolutely everyone loves Pasta & Avocado Pasta is my daughter's favorite recipe. I usually add loads of baby spinach to make this avocado pasta sauce even more healthy & tasty.
Salads
Enhance the taste of your regular tomato and cucumber salad by adding avocados to it, and let this delicious avocado salad leave your taste buds wanting more. This healthy avocado tomato-cucumber salad recipe is light, fresh, and can be prepared in just a few minutes.
Toppings on Soups
Another brilliant way to enjoy avocados is to add them to soups. I love how diced avocados bring a unique flavor to my Vegetarian Taco Soup and Vegetarian Chili.
Smoothies
Whenever I looked for an answer to finding filling smoothies for breakfast, Avocado Smoothie has been my most common answer. This is both delicious and filling.
Sandwiches & Toast
Not just as a dip, but whenever I have made Avocado guacamole at home, and we had leftovers, I have to use it the next day for making yummy avocado sandwiches for breakfast. You can choose to toast or not to toast the bread based on your choice, and in both cases, this avocado guacamole sandwich tastes great.
Flatbreads (Parathas)
I personally prefer to try a different variety of healthy parathas very often, and Avocado Paratha is something you must try to appreciate its amazing taste. Pair with Raita.
Desserts
You can make a variety of desserts with Avocados. I have personally tried Avocado Chocolate Mousse at home; it's extremely easy to make. Along with chocolate, it just tastes fantastic.
Also, check these Veggie Collections
More Collections to fry from my blog
♥ We LOVE to hear from you If you make this recipe, please share your food photo with hashtag #indianveggiedelight on Facebook or Instagram, so we can see it and others can enjoy it too! Thank you ♥
Subscribe to my Youtube Channel for healthy & tasty video recipes. Looking for Instant Pot recipes, then check out my Instant Pot Recipes board on Pinterest.