This ultimate guide to different types of Indian pulses, including lentils, beans, and peas. Learn how to identify, select, store, and cook each type of pulse in Indian cuisine for a delicious and nutritious meal.
Jump to:
What Are Pulses?
The term "pulse" refers to the dried seed of leguminous plants. Pulses come in a variety of shapes, sizes, textures, and colors. These dried legumes grow in a pod of one to twelve seeds or grains.
Pulses are an intrinsic part of Indian cuisine and many other regions around the world. We use it to prepare curry, sabzis, vadas, salads, soups, and pakoras, among other things. So, every Indian kitchen always has this little grain available.
In addition to their versatility, pulses are a rich source of vitamins, minerals, protein, fiber, good carbohydrates, and other elements that contribute to a balanced diet and improve our overall health.
And, as much as we want to add nourishment to our diet, did you know that there are many different types of pulses? It's true what you just read! Some of the most common types of pulses include lentils, beans, chickpeas, and dry peas.
Each one will provide you with a burst of flavor and nourishment, regardless of which one you choose to taste.
Without further ado, let's first learn more about the color, shape, and texture of Pulses.
Difference Between Legumes, Pulses, Lentils, Dals, Beans, and Dried Peas
Legumes: Let's start the list with legumes. Legumes is a generic term used to describe a group of foods that includes lentils, chickpeas, beans, and dry peas and is an item from the Fabaceae family that is frequently used in Indian cooking. To put it another way: dal, rajma, chana, chole, etc.
Pulses: The edible, nutrient-dense seeds of legumes that have been dried, such as dry peas, beans, lentils, and chickpeas, are known as pulses. These are excellent sources of protein and fiber.
Lentils: Lentils are a type of edible legume. This annual plant is distinguished by its lens-shaped seeds. It is around 40 cm tall, and the seeds develop in pods that typically contain two seeds each. These bean types are high in both fiber and protein. It also offers crucial amino acids for human nutrition.
Dals: Dal in Sanskrit, means "to split." It refers to a split variety of dried pulses such as lentils, peas, and other legumes. The outer hull may or may not be stripped off. Dal does not require soaking before cooking. Different types of dal dishes include toor dal, moong dal, chana dal, masoor dal, and more.
Beans: Beans are seeds that belong to the Fabaceae family. They are inexpensive sources of protein, fiber, and iron. Beans can be found in various sizes and forms, including oval and kidney-shaped. It is advised to soak beans before cooking. They can be used in a variety of dishes, including chili, soups, stews, salads, and more.
Dried Peas: These come either whole or split. The two most popular varieties of field peas are green and white. They are used in a variety of dishes, including soups, stews, pasta, salads, and purees. They can also be sprouted and used in salads and sandwiches.
Commonly Used Indian Pulses
Here are some of my favorite pulses that are commonly used in Indian cooking.
Yellow Pigeon Peas (Arhar or Toor Dal)
Pigeon pea, also known as arhar or toor dal is a yellow-colored lentil with one flat side and an oblong or oval in shape. It is the most popular and commonly used dal in Indian cooking.
It has a slightly nutty flavor and creamy texture, frequently eaten with flatbreads, rice, and vegetable curries. This specific dal is a fantastic source of protein, fiber, and good carbohydrates for vegans and vegetarians.
Recipes that use Pigeon Pea:
Whole Red Lentils (Masoor Sabut) / Split Red Lentils (Masoor Dal)
Red Lentils are available in whole and split varieties. The whole red lentil is a brown-skinned, reddish-orange lentil on the inside. Split red lentils are reddish-orange split lentils without skin. It is another commonly used dal in Indian and Middle Eastern cooking and is very nutritious.
Red lentils are slightly sweet, and earthy, and have a tender texture, and they are ideal for use in dal, curries, and soups. Whole red lentils can also be sprouted like mung beans. Red lentils cook really fast and are easy to prepare.
Recipes that use Red Lentils:
Green Gram (Mung or Moong Dal)
Whole Green Moong also known as "Sabut Moong" are the small, oval-shaped green edible seeds widely used in South Asian cuisine. They have a soft texture and slightly sweet flavor.
There are different varieties of moong dal. The first is a whole green bean, whereas the second is the split variety with and without skin on. The split moong beans with skin are also called split green gram (moong dal chilka) and without the skin are known as yellow moong dal (moong dhuli).
This dal is a heart-healthy meal since it contains a lot of fiber and protein and is easier to digest. It is used for making dal, curries, khichdi, dosa, and even desserts. Whole moong can also be sprouted and used in salads, soups, stir-fries, and curries.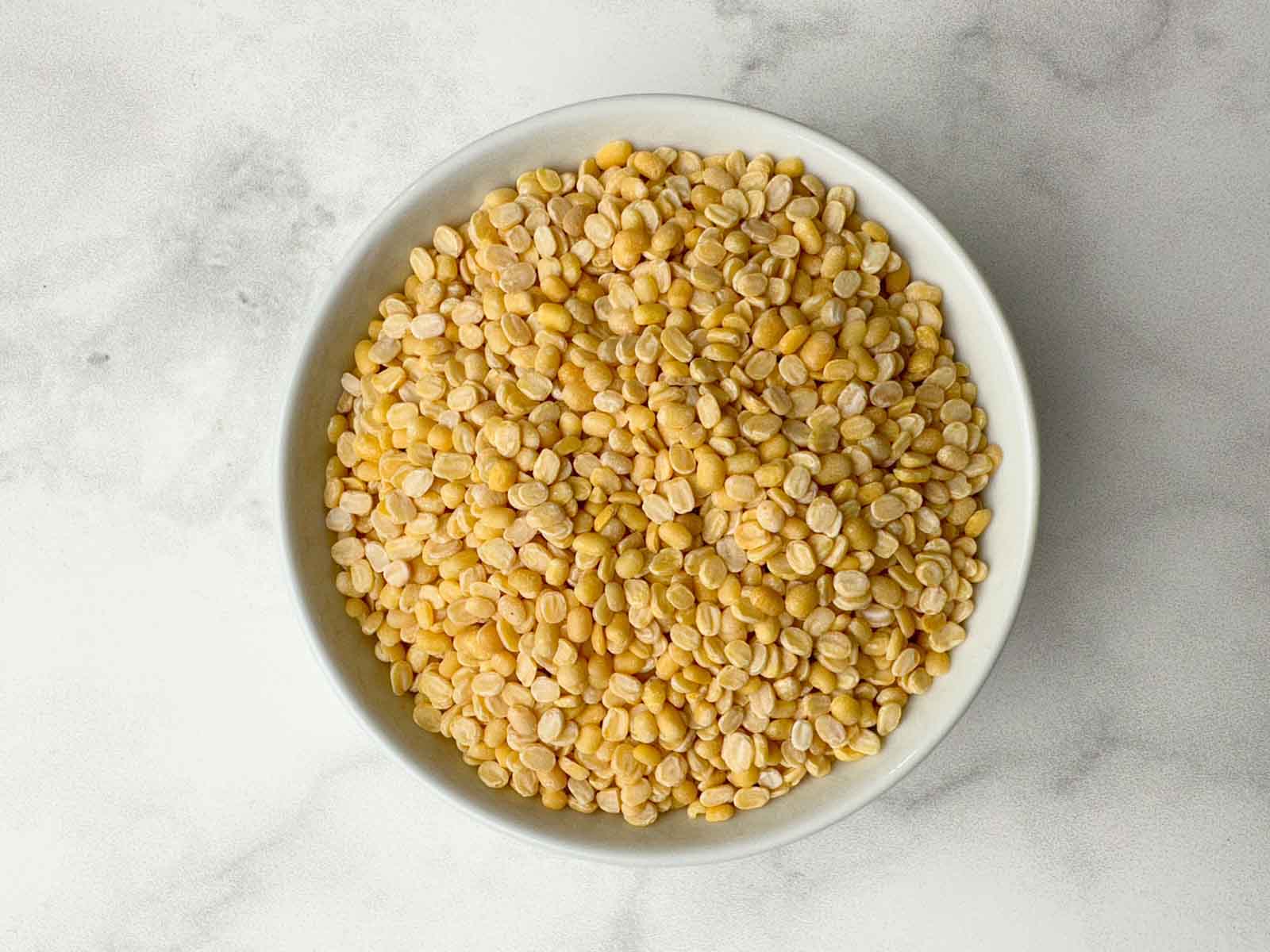 Recipes that use Green Gram:
Bengal Gram (Chana Dal)
Chana dal means "split and skinned chickpeas". It is made by splitting the kernels of chickpeas in half and polished. Chana dal has a nutty, subtly sweet, and earthy flavor. In addition to being delicious, chana dal is an incredible way to include more protein, and fiber in your diet.
Chana dal is a staple ingredient in Indian cuisine, especially in regional cuisines of Eastern India, and is often used in dishes such as curries, rice, snacks, dessert, and tempering.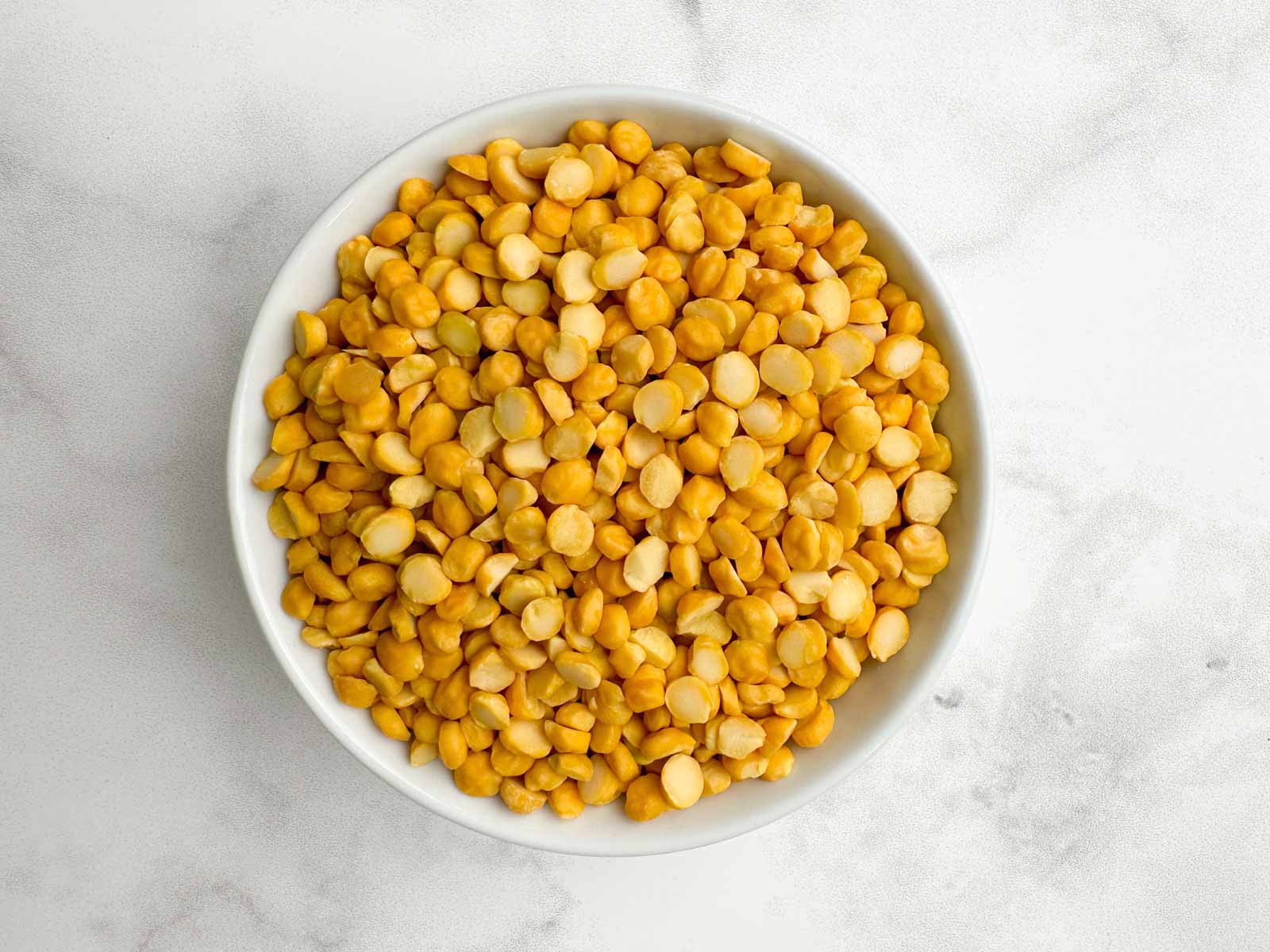 Recipes that use Split Bengal Gram:
Black Matpe Beans (Sabut Urad)
Black Matpe Beans also known as black gram, urad dal. These are little black beans, comparable in size to mung beans. They have a strong nutty taste and, after cooking, become somewhat sticky.
Black gram is available in 4 varieties Black matpe beans (sabut urad), skinless black matpe beans (urad gota), split urad dal with skin, and split urad dal without skin.
Black matpe beans are regarded as one of the most potent and versatile lentils in the family of legumes. It is a probiotic ingredient that aids in the development of gut bacteria beneficial to digestion and health.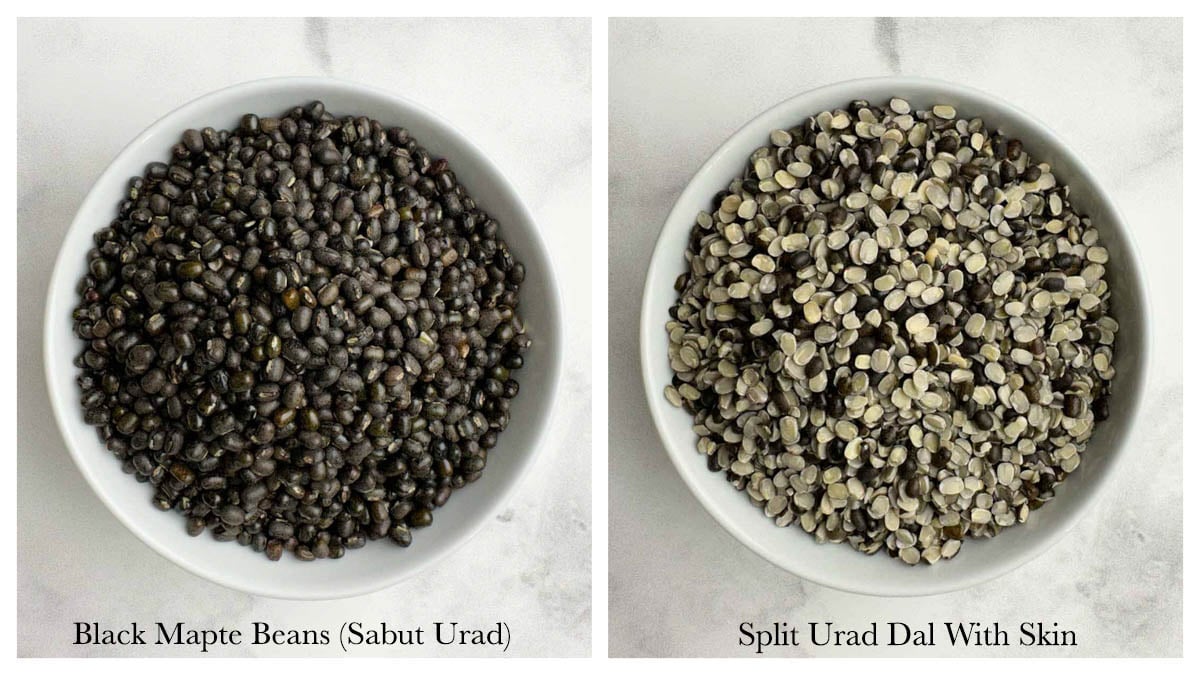 Black gram is popular in North India and is used to make tasty Dal Makhani. Besides that, you can also use it to make South India's quintessential idli, dosa, vada, papad, and more. Split urad dal is also used for tempering.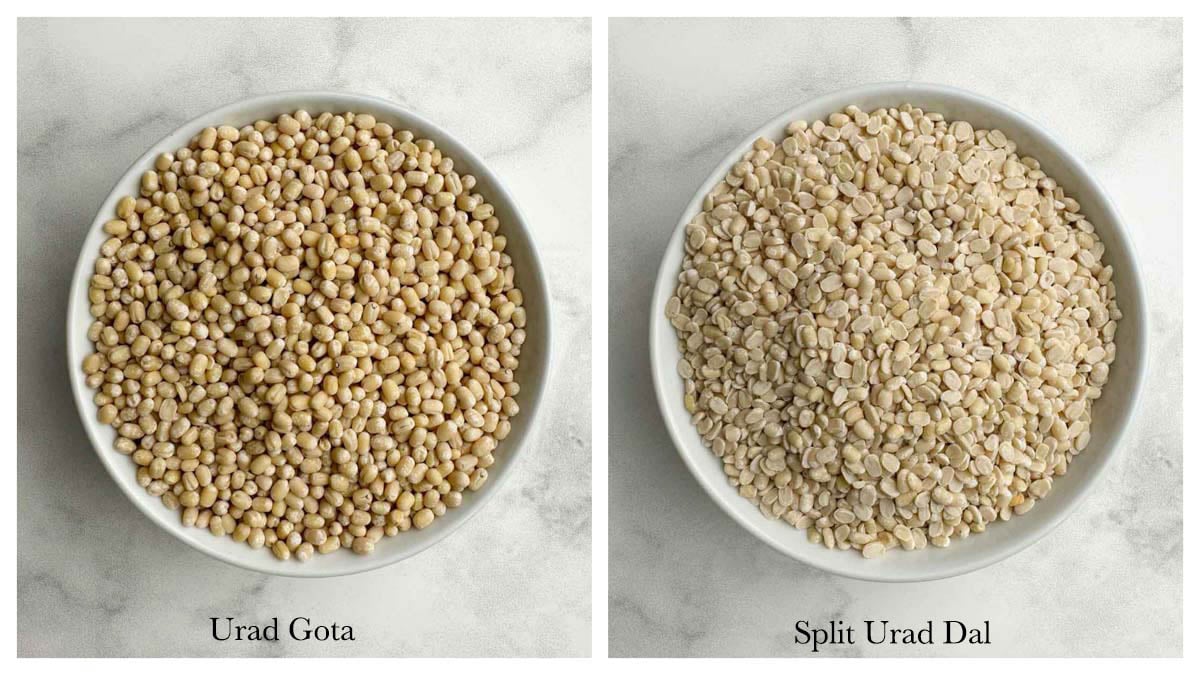 Recipes that use Black Matpe beans:
Field Beans (Val Dal)
Field beans also known as broad beans, fava beans, faba beans, butter beans, and field beans are a member of the Fabaceae family. They are highly nutritious and have high protein, fiber, and other essential vitamins and minerals.
They have a starchy and buttery texture, and delicate flavors and can be used to make dal, stuffed into paranthas, or included in soups and stews.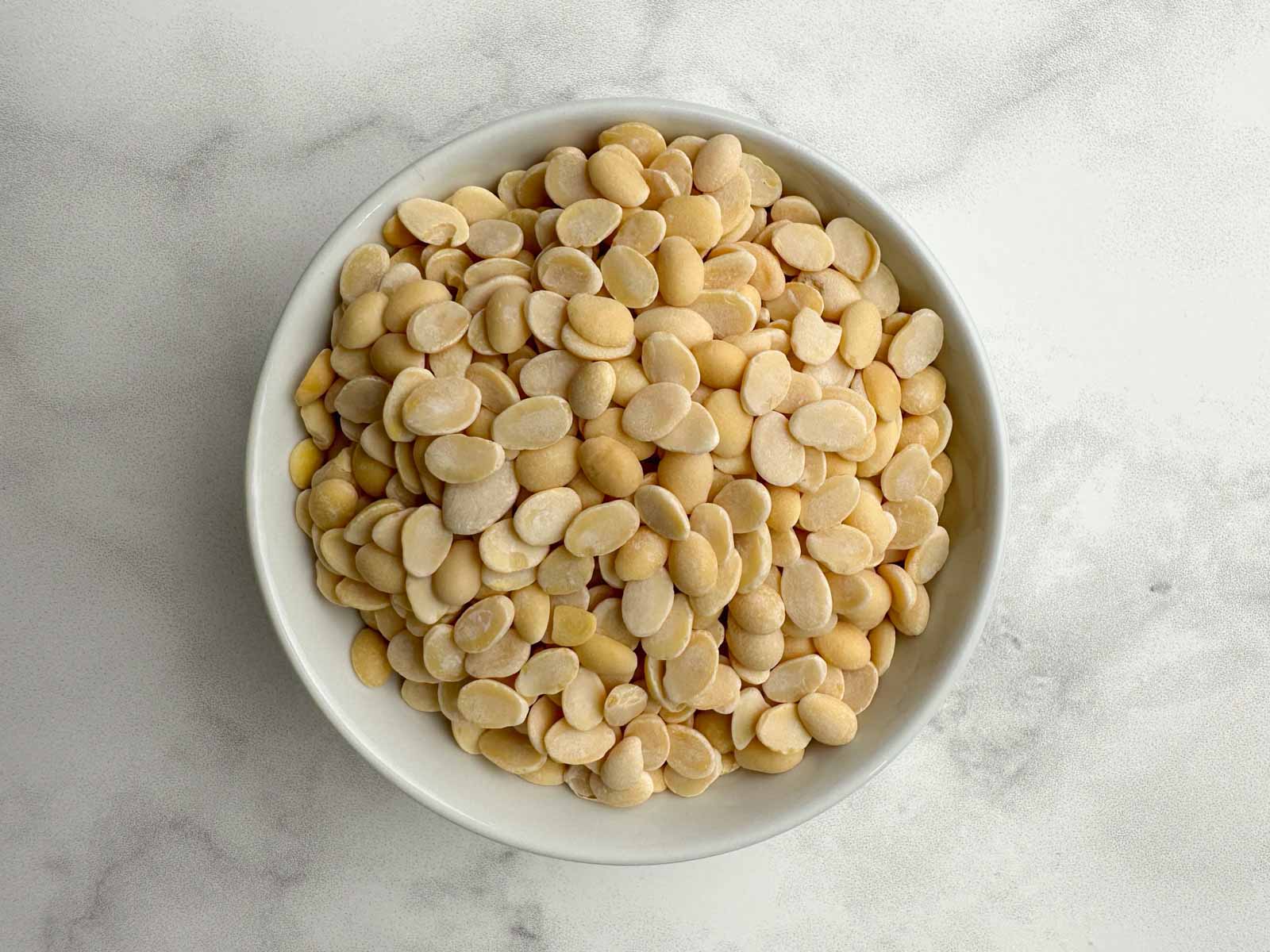 Recipes that use Field Beans:
Horse Gram (Kulthi/Kollu/Kuleeth)
Horse Gram also known as kulthi bean, kollu, kuleeth, hurali, or Madras gram is a legume native to southern Asia. It was the staple food for horses and cattle, hence the name horse gram. They are small seeds that are red, brown, or black in color and resemble the shape of a curved beak.
Horse gram is the finest form of protein you can consume if you follow a vegetarian or vegan diet. They are low in calories, high in dietary fiber, iron, and calcium, and packed with vitamins, and minerals. It is considered a superfood. It is often used in stir-fries, curries, salads, and dals.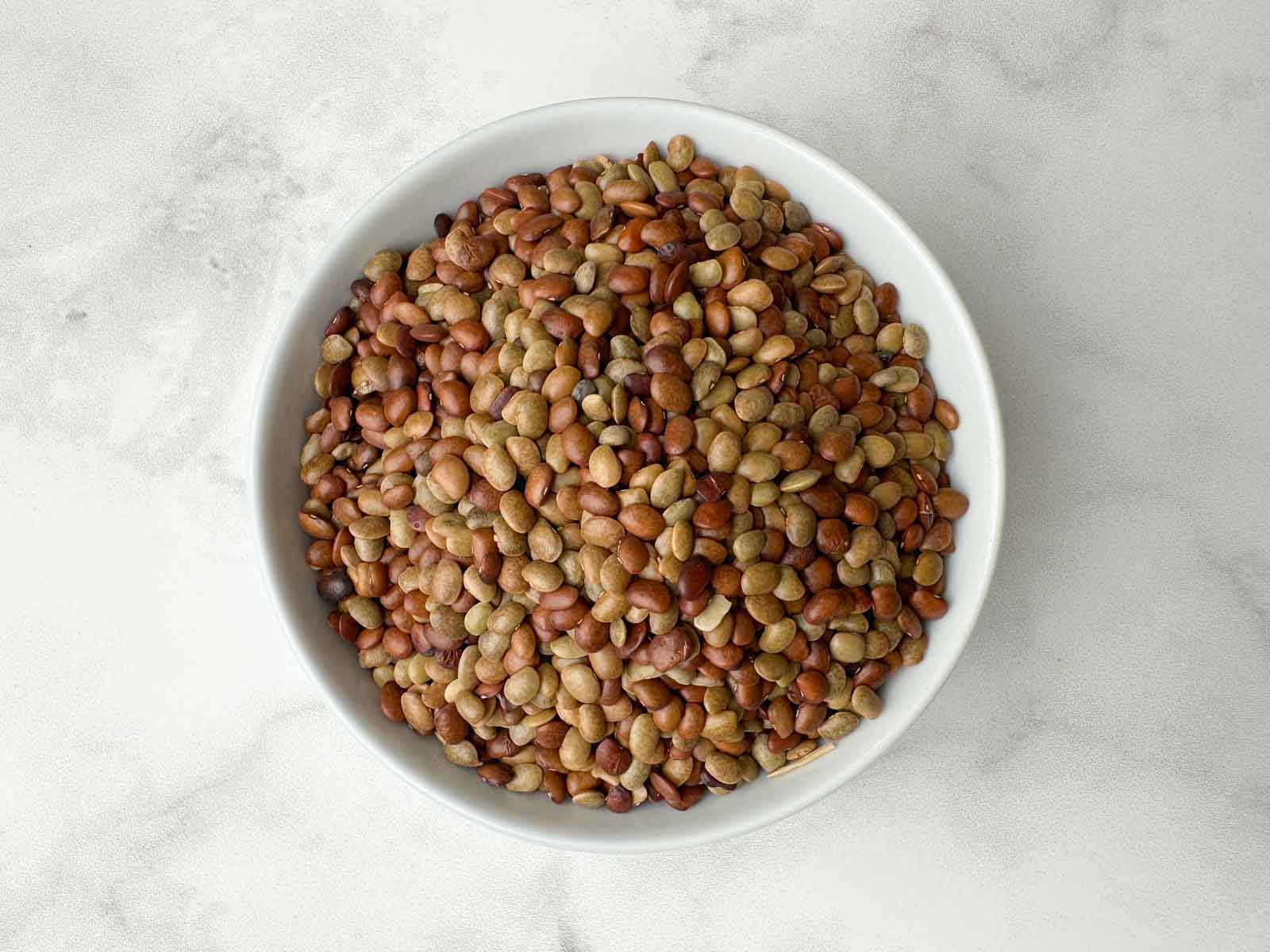 Recipes that use Horse gram:
Horse Gram Dal
Horse Gram Rasam
Turkish/Dew Gram Beans (Moth or Matki)
Turkish beans, also known as Moth dal, matki, or dew beans is a drought-resistant legume. These are also available split and de-skinned. They have a crunchy texture and sweet-nutty flavor.
Moth bean is well recognized as a nutrient-dense food that is high in protein, fiber, and zinc and can aid in stress reduction, bowel control, and weight loss. They can also be sprouted and consumed. Moth Kachori, misal Pav, usal, moth curry, salads, and other Indian dishes are prepared with this dal.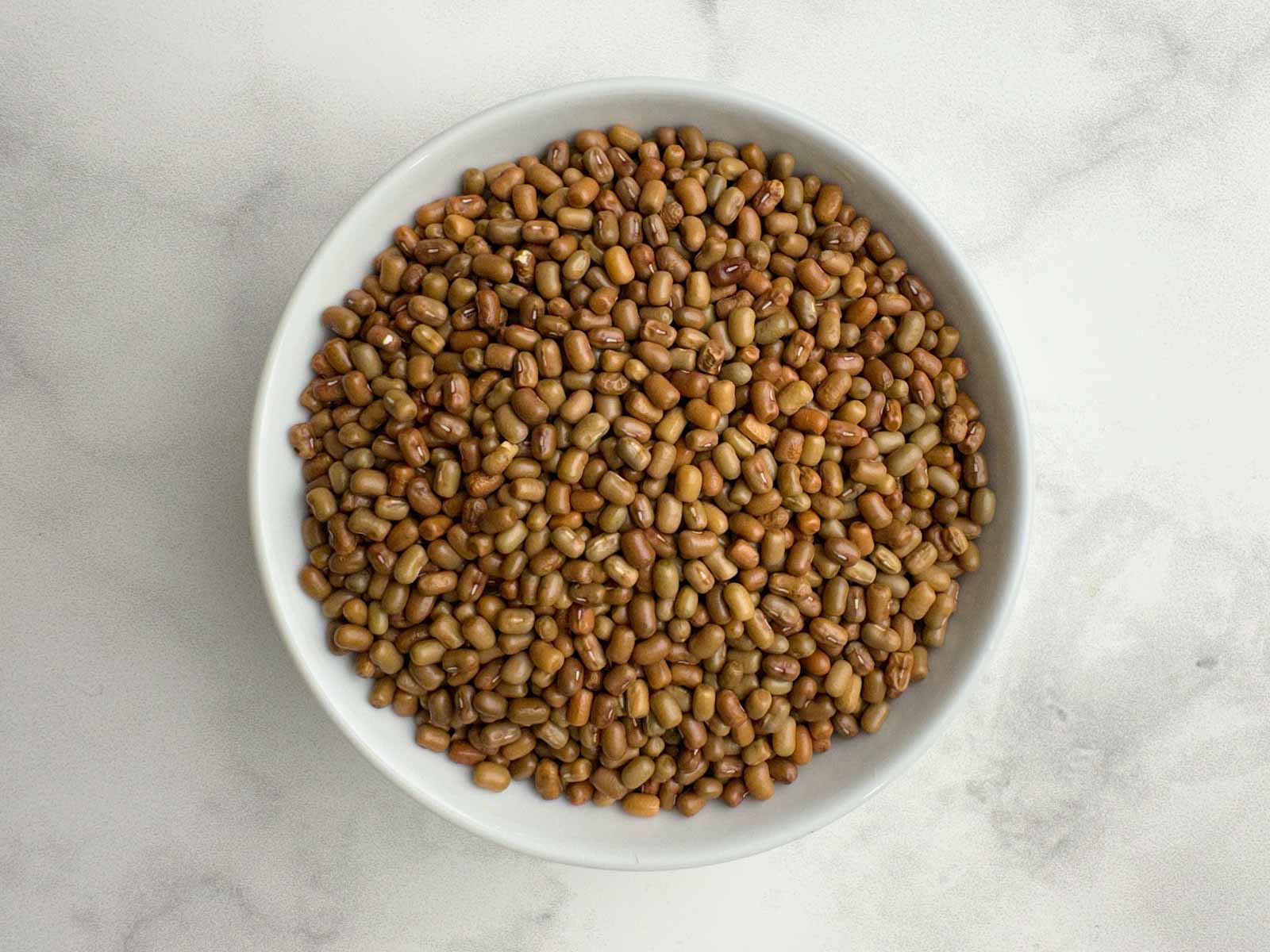 Recipes that use Moth Beans:
Matki Curry (Moth Dal)
Misal Pav
Red Kidney Beans (Rajma)
The kidney bean, also known as rajma, is shaped like a kidney and has a thick skin that is reddish brown in color. They are a good source of protein, fiber, and other essential vitamins and minerals.
It is typically included in a curry and tastes the finest when served with steaming rice. In addition, you may use it to make chillis, soups, burger patty, veg cutlets, and kebabs. All age groups enjoy this, so believe us when we say that.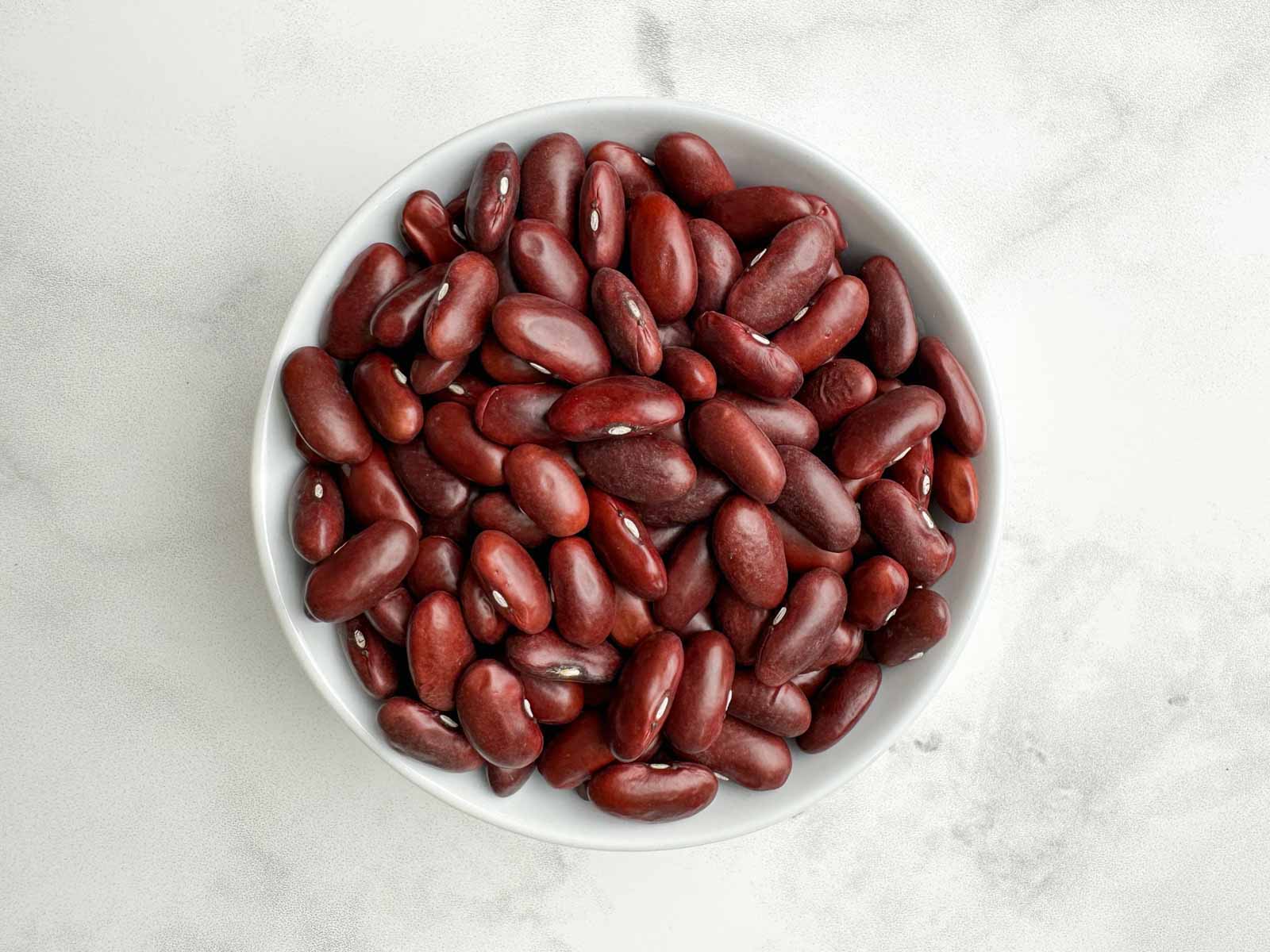 Recipes that use Red Kidney Beans:
Adzuki Beans (Chori)
Adzuki Beans are also known as azuki beans, aduki beans, red beans, red mung beans, and chori. They are small, reddish-brown oval-shaped beans commonly used in Japanese, Chinese, and Korean cuisines. Red ones are extensively used but there are also white, black, and gray varieties.
They have a slightly sweet, nutty flavor and creamy texture. They are used in sweet and savory recipes like porridge, mochi, soups, and stir-fries. In India, it's used in dishes like curries, dal, and stir-fries.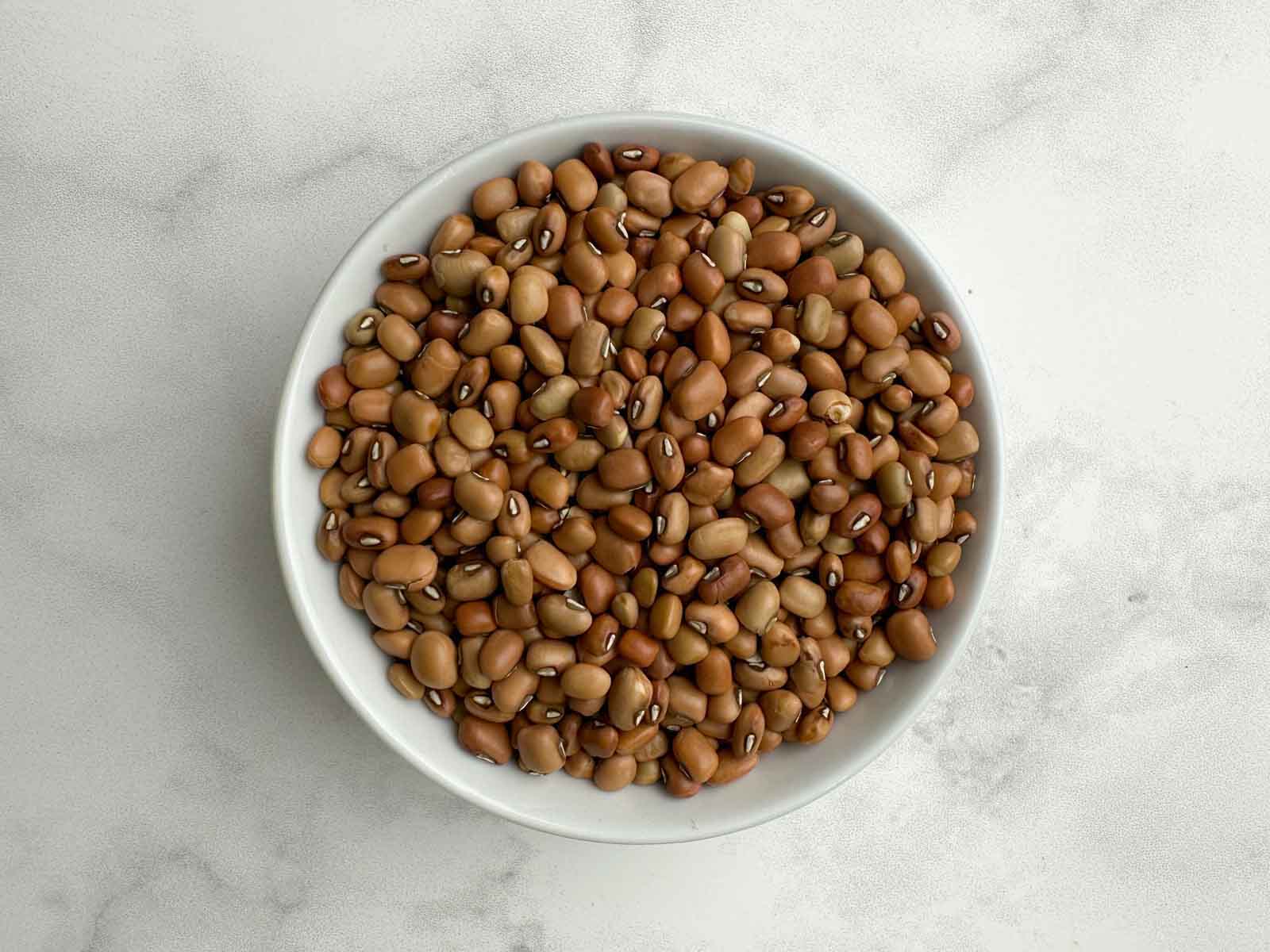 Recipes that use Red Chori Beans:
Garbanzo Beans (Chole Or Kabuli Chana)
Garbanzo beans also known as Chickpeas, are a type of legume which are spherical and beige in color, and are the most widely consumed in many parts of the world. They offer a number of health advantages and are incredibly high in protein and fiber. You really need to have these in your pantry.
They can be used in the best-known Indian dish, chole bhature. In addition, you may add it to salads, burgers, wraps, soups, etc.
Recipes that use Garbanzo Beans:
Black Chickpeas (Kala Chana)
Black Chickpeas are quite similar to traditional garbanzo beans except they are smaller and can range in color from dark brown to black. It goes by several names, including Bengal gram, kala chana, and desi chana. They have a nutty taste and a firm texture, making them adaptable. You may sprout these as well.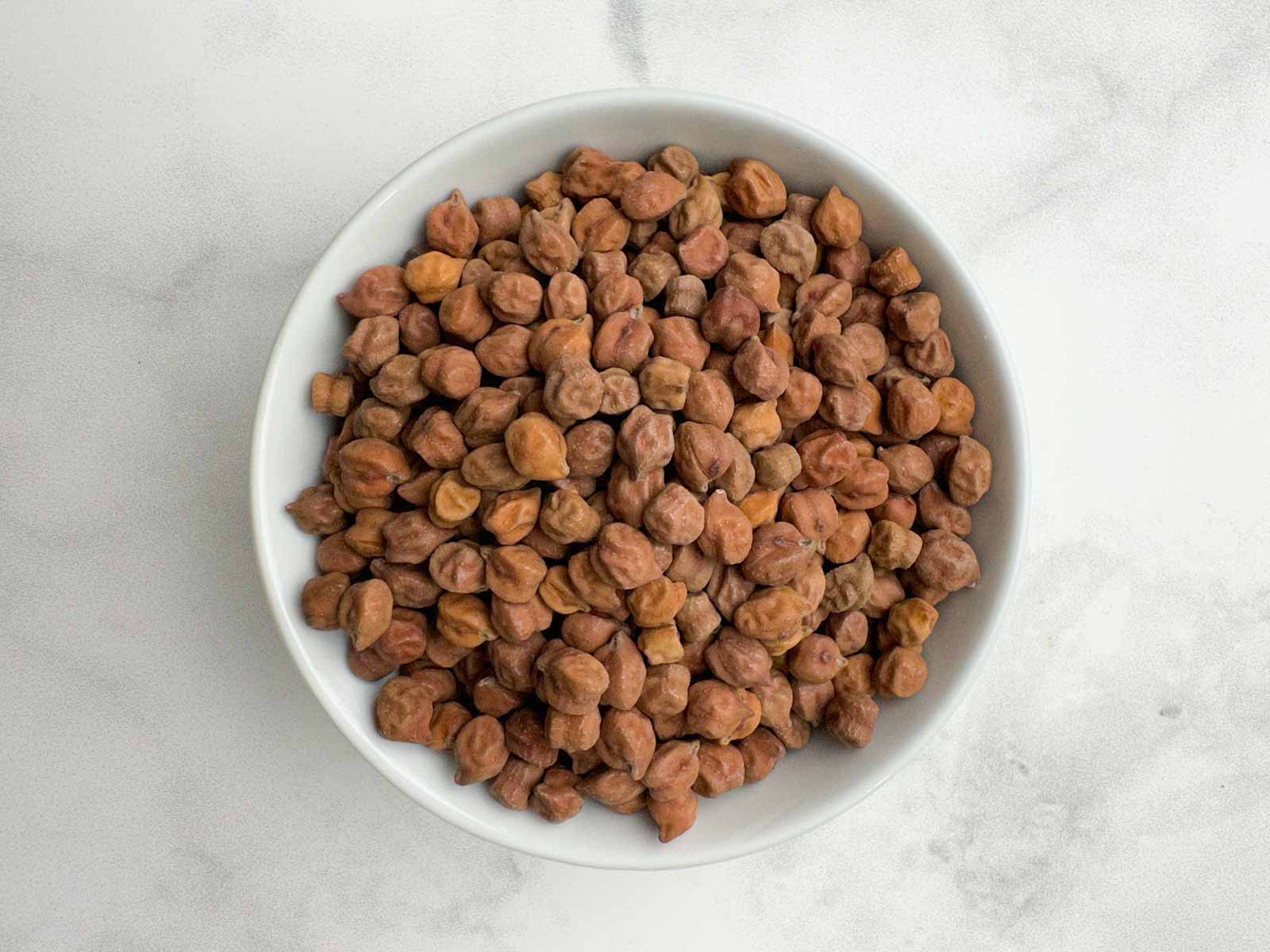 Recipes that use Black Chickpeas:
Dried Green Chickpeas (Hara Chana)
Dried green chickpeas, also known as "hara chana," are a type of chickpea (legume) that is harvested before it starts to dry in their pods. Hara chana is the dried version of green chickpeas.
Fresh Green Chickpeas are quite popular throughout the winter in India because of their excellent nutritional value. It belongs to the "Fabaceae" family and has a similar look to black (kala) chana. They are a good source of protein, iron, and folic acid.
In place of green peas, this colorful ingredient, which has a somewhat sweet flavor, is widely used in pulao. It works best with potato curries as well.
Dried Green Peas (Vatana) and Dried White Peas (Safed Vatana)
Dried peas are also known as vatana, and matara. Two common varieties of dry peas are green and white peas. White peas have a milder, slightly sweet flavor and Green peas have a stronger flavor. They are available in both whole and split varieties.
Dried peas are high in protein, fiber, and a good source of carbs. White peas are widely used in the subcontinent for a number of recipes, including, matar kulcha, ragda patties, Bengali ghughni, and others. While green peas are generally used in chaat, kachori, nimona, curries, and rice dishes.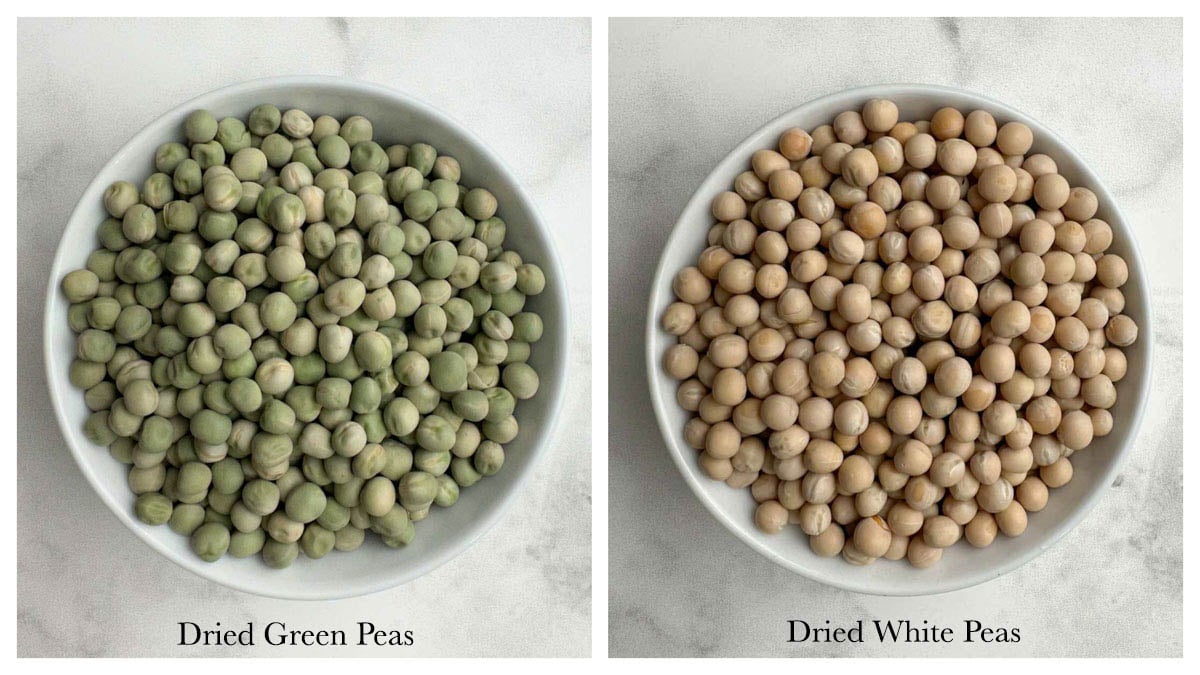 Recipes that use Dried peas:
Ragda Chaat (Matar Chaat)
Masala Puri Chaat
Black-Eyed Peas / Cowpea (Lobia/Chawli/ Raungi)
Black-eyed peas, also known as cowpeas, lobia, chawli, or raungi. It is popular in the Southern United States and in India. They are beige-colored beans with a prominent black spot, hence they got their name.
They are one of the most nutrient-dense beans and the ideal food to eat in the morning since it is high in protein and low in fat and calories. They have a creamy texture and delicate flavor and are often used in curries, stews, salads, and rice dishes.
Recipes that use Black-eyed peas:
How to Cook Pulses
Here are some tips on how to cook pulses.
Lentils: Different types of lentils have varying cooking times. Soaking lentils is not necessary but has some benefits like reduced cooking time, and improved texture. Red or yellow lentils cook faster and don't need to be soaked and whole masoor (brown lentils), benefit from soaking. Thoroughly rinse the lentils under running water to remove any stones, dirt, or debris before cooking.
Beans: Soak whole beans overnight in a large bowl of water or at least for 4 hours in hot water. They will double in size. Then drain, rinse again, and cook in water until soft and tender. Soaking beans can reduce cooking time and make them easier to digest.
In Indian cooking, a pressure cooker (or Instant Pot) is often used to cook pulses (such as lentils, dal, dried beans, and chickpeas) because it is more efficient and cooks faster than the stovetop pot.
Note: The cooking time of pulses varies based on the age, type, quality, and cooking method of the beans. Older beans may take longer to cook, while fresher beans with higher moister content will cook faster.
How To Store Pulses
Here are some tips for storing pulses.
Dry storage: Dry Pulses such as lentils, beans, and peas, are shelf stable. They must be stored in an airtight container in a cool, and dry place. Avoid storing in damp and humid conditions.
Refrigeration: Cooked or sprouted pulses can be stored in the refrigerator for up to five days in an airtight container.
Freezing: Cooked or sprouted pulses can be stored in airtight containers or freezer-safe bags for up to 3 months. Make sure to label them with the date and type of pulse.
Where To Buy Pulses
Indian grocery stores carry a variety of pulses such as lentils, beans, chickpeas, and peas including organic and specialty options.
Also, stores like Whole Foods, Sprouts, Trader Joe's, Costco, and Sam's Club sell pulses. They are typically sold in bulk bins, packaged or canned. If you don't have access to supermarkets, you can buy online from Amazon or Walmart.
I hope you got all the information you were looking for regarding the pulses. If there's anything else you would like to know, feel free to leave your questions in the comments section below.
More Recipe Collections
If you've tried this easy Indian Pulses or any other recipe on Indianveggiedelight, then don't forget to rate the recipe. You can also follow me on Instagram and Facebook to see the latest recipes!
Tried this recipe?
Don't forget to give a ★ rating below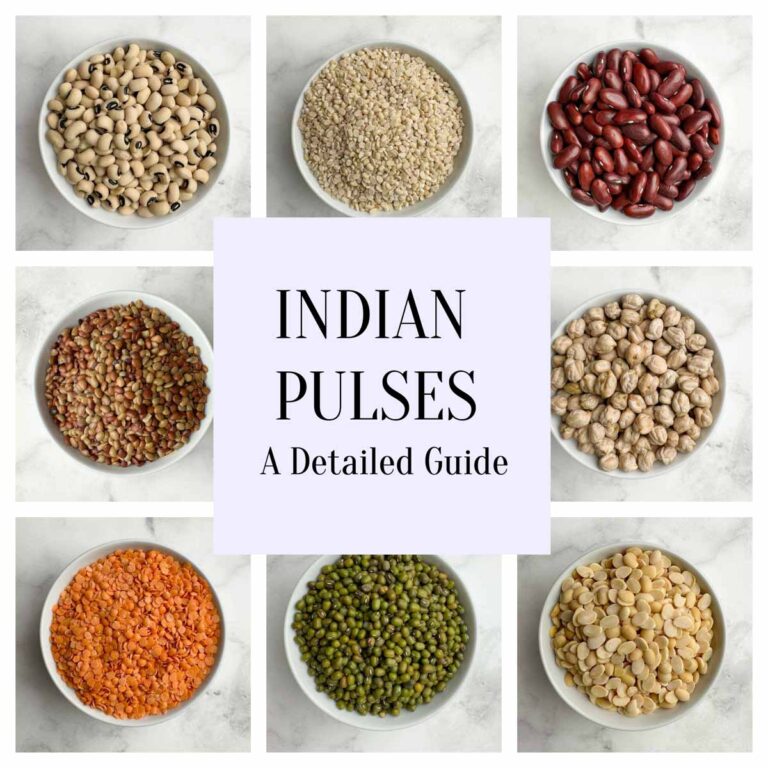 Indian Pulses
This ultimate guide to different types of Indian pulses, including lentils, beans, and peas. Learn how to identify, select, store, and cook each type of pulse in Indian cuisine for a delicious and nutritious meal.