Looking for easy, healthy Vegetarian/Vegan Indian Spinach/Palak Recipes to make in your Instant Pot or Stovetop? Here is my collection of 20+ best Vegetarian Spinach/Palak Recipes from my blog. Vegan, Keto or Low carb and gluten-free recipes.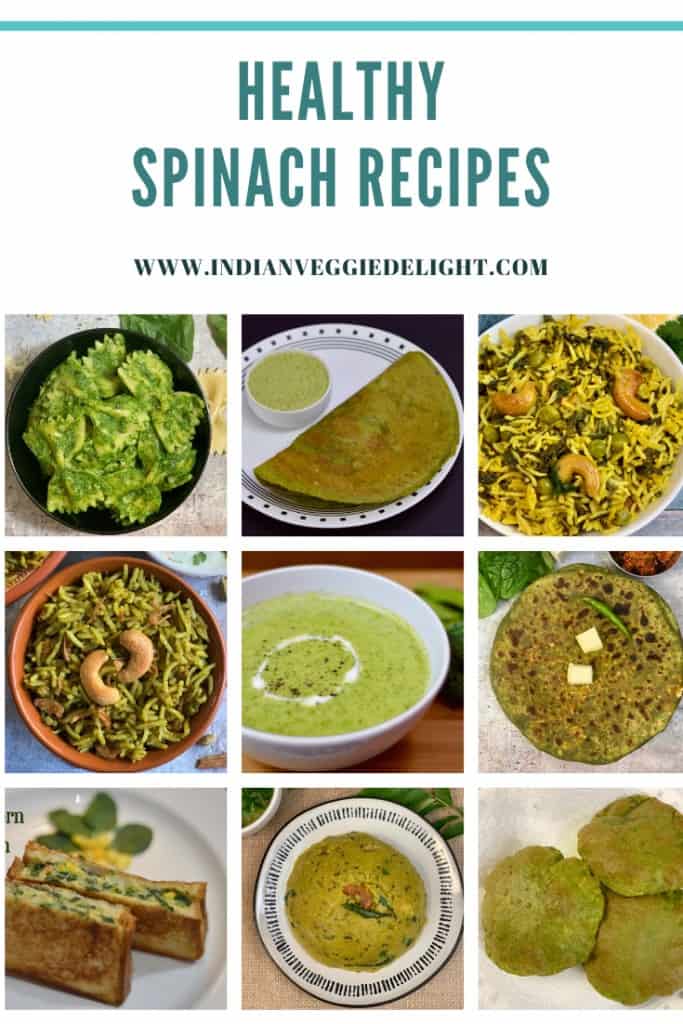 Whenever I have had conversations about healthy food with my close friends & family members, we have talked about Palak or Spinach recipes in some capacity or the other. Everybody agrees about the health benefits of Spinach & you can read about it here.
Some people love to use frozen spinach, while I personally prefer fresh spinach for my recipes. Whether you love palak in your paratha, or you prefer to have it in your rice, or you like to have it with lentils, or you want to entice your taste buds with some yummy palak appetizers, no matter what you are looking for, you will find a wide variety of cooked Indian spinach recipes on this blogpost. You will always find a baby spinach box from Costco in my refrigerator.
Healthy benefits of eating Spinach
Spinach has so many health benefits. It's loaded with nutrients and antioxidants. It is not only high in iron but rich in vitamins A and C. Eating spinach may benefit eye health, reduce oxidative stress, help prevent cancer, and reduce blood pressure levels. – Source Healthline
I promise to keep updating this collection with more such yummy recipes. You can also check my other popular vegetable recipe collection below:
20+ Vegetarian/Vegan Indian Palak/Spinach Recipes
Let's have a look at the 20+ Easy Indian Vegetarian Palak/Spinach Recipes, which will give you a bit of flair to your diet.
OTHER RECIPE COLLECTIONS TO TRY FROM MY BLOG
60+ Kids Healthy Lunch Box Recipes
25+ Instant Pot Indian Rice Recipes
18+ Instant Pot Vegetarian Soup Recipes
Subscribe to my Youtube Channel for healthy & tasty video recipes. Looking for Instant Pot recipes, then check out my Instant Pot Recipes board on Pinterest.
Pin It For Later