Looking for easy, healthy vegetarian Indian Paneer Recipes to make in your Instant Pot or Stovetop? Here is my collection of 30+ best Paneer Recipes that you can incorporate into your meals. Keto, or Low carb and gluten-free recipes.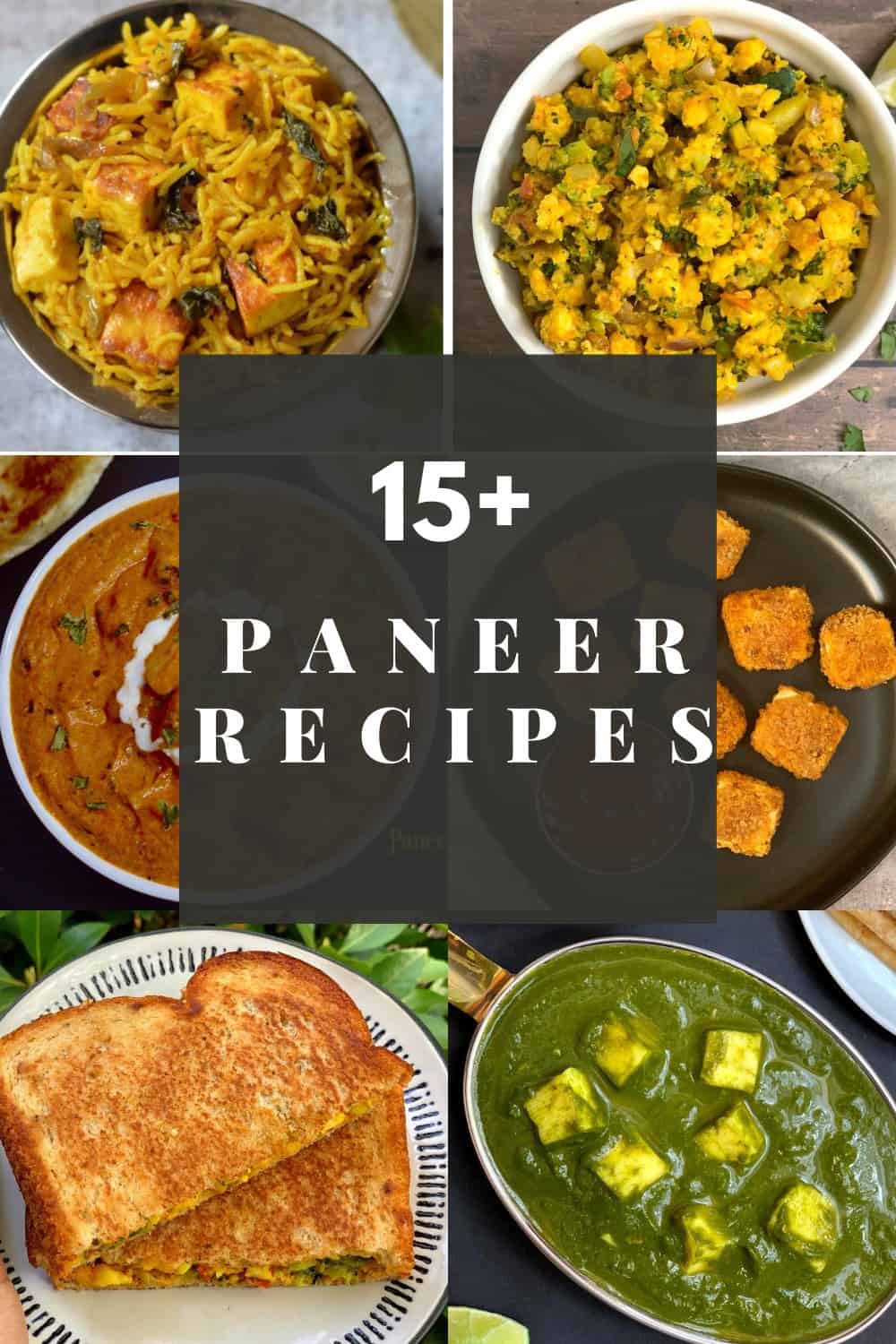 Let's agree, it's challenging to picture much-loved Indian cuisine without the versatile Paneer (Indian cottage cheese).
Paneer is a popular ingredient in vegetarian dishes of both North Indian and South Indian cuisine. It is known for its mild, creamy flavor and firm texture that holds its shape well when cooked.
Vegetarians have long taken pleasure in their most cherished food, "paneer," which can be used in any dry or gravy meal, much as non-vegetarians have their incredibly adaptable chicken.
We also include cottage cheese in a lot of our desserts. Due to its milky flavor and various health advantages, paneer is also frequently consumed raw with black pepper or added to salads.
From salads to sweets, curries like shahi paneer, paneer tikka masala, matar paneer, and kadhai paneer, there are so many recipes to prepare. These curries are often served with naan bread, roti, or rice.
Our daughter is a big fan of paneer and enjoys it in any form, be it curries, rice, wraps, or sandwiches. Paneer is a good source of plant-based protein and calcium, making it a wholesome addition to our meals.
We love experimenting with new recipes and ways we can incorporate paneer into our daily meals. Please leave a comment with your favorite paneer recipe your family loves!
Jump to:
What Is Paneer?
A delectable vegetarian option, Paneer, commonly referred to as Cottage Cheese, is a fresh, soft, crumbly cheese that is frequently used in European, Asian, and Indian cuisines.
Paneer is a non-melting and unaged cheese. It is made by curdling milk with acidic substances such as a few drops of lemon juice, or vinegar. It can be either made at home or purchased freshly made or frozen from a store.
Health Benefits Of Paneer
For a diet high in protein, paneer is an excellent substitute for meat. Paneer is the ideal diet food, low in carbohydrates and strong in protein.
Paneer is rich in calcium. The health of the bones, teeth, heart muscles, and nerves is all ensured by adequate calcium levels.
Cottage cheese can also aid with blood sugar regulation. Magnesium, which is abundant in cottage cheese, can not only prevent unexpected increases but also improve immunological and cardiac health.
Cottage cheese may also help with digestion. A reasonable quantity of phosphorus is present in cottage cheese, which aids with digestion and excretion.
How To Make Paneer At Home?
It is simple to make homemade paneer with a few simple steps and ingredients.
In the beginning, boil 5-6 cups of full-fat milk. Add two teaspoons of lemon juice or vinegar to it now. As soon as the reaction gets going, you can see the milk beginning to separate and the formation of paneer. If you don't see the reaction taking place, turn up the heat once more and boil the mixture until particles are visible in the pan.
When the milk has completely curdled, remove it from the heat. Make sure it doesn't have a milky or creamy texture. Carefully pour the curdled mixture into the lined strainer or colander and rinse with cold water. Take a cheesecloth now, and squeeze out the excess liquid. For the purpose of draining excess water (whey), hang the cheesecloth on your faucet for 30-60 minutes. Your paneer will be prepared in an hour!
Where To Buy Paneer?
Most milk dairies and sweet stores in India offer freshly produced paneer. Besides, you can also get both fresh and frozen paneer from supermarkets. When kept in the refrigerator, fresh ones typically have a shelf life of around 20 days, although frozen ones may be stored for many months.
In the US, you will find paneer in any local Indian grocery store. You can find freshly made or frozen blocks of paneer or small cubes in the refrigerated or frozen aisle to make appetizers like paneer tikka, paneer kebab, and more. My favorite paneer brands are Verka, Haldirams, Amul, and Gopi.
If you can't find an Indian grocery store nearby, some local stores and online retailers may also carry paneers such as Walmart, Costco, Whole Foods, and Amazon. Make sure to check the expiration date and the quality.
30+ Indian Vegetarian Paneer Recipes
There are so many delicious options in Indian cuisine for us to choose from, whether it's the paneer tikka from Punjab, the tea-time favorite paneer pakodas, or the rich and creamy paneer butter masala, palak paneer, and more.
We also have a collection of tried-and-true Indian paneer recipes that you shouldn't miss if you enjoy experimenting with new dishes at home. Take a look below to know about the delicious paneer recipes.
Appetizers/Snacks
Breakfast
Salads
Curries/Stir-Fries
Main Course
Dessert
Also check these Veggie Recipe Collections
If you've tried this easy Indian paneer recipes or any other recipe on Indianveggiedelight, then don't forget to rate the recipe. You can also follow me on Instagram and Facebook to see the latest recipes!
Other Recipe Collections to try from my blog
♥ We LOVE to hear from you If you make this recipe, please share your food photo with hashtag #indianveggiedelight on Facebook or Instagram, so we can see it and others can enjoy it too! Thank you ♥