These 7 South Indian healthy Dry Chutney Powder/Pudi recipes are not only easy to make but are also filled with protein, fiber as well as other essential vitamins and minerals. These are so good, that they can be eaten as side dishes with steamed rice, chapati, paratha, or even packed for picnic or vacation.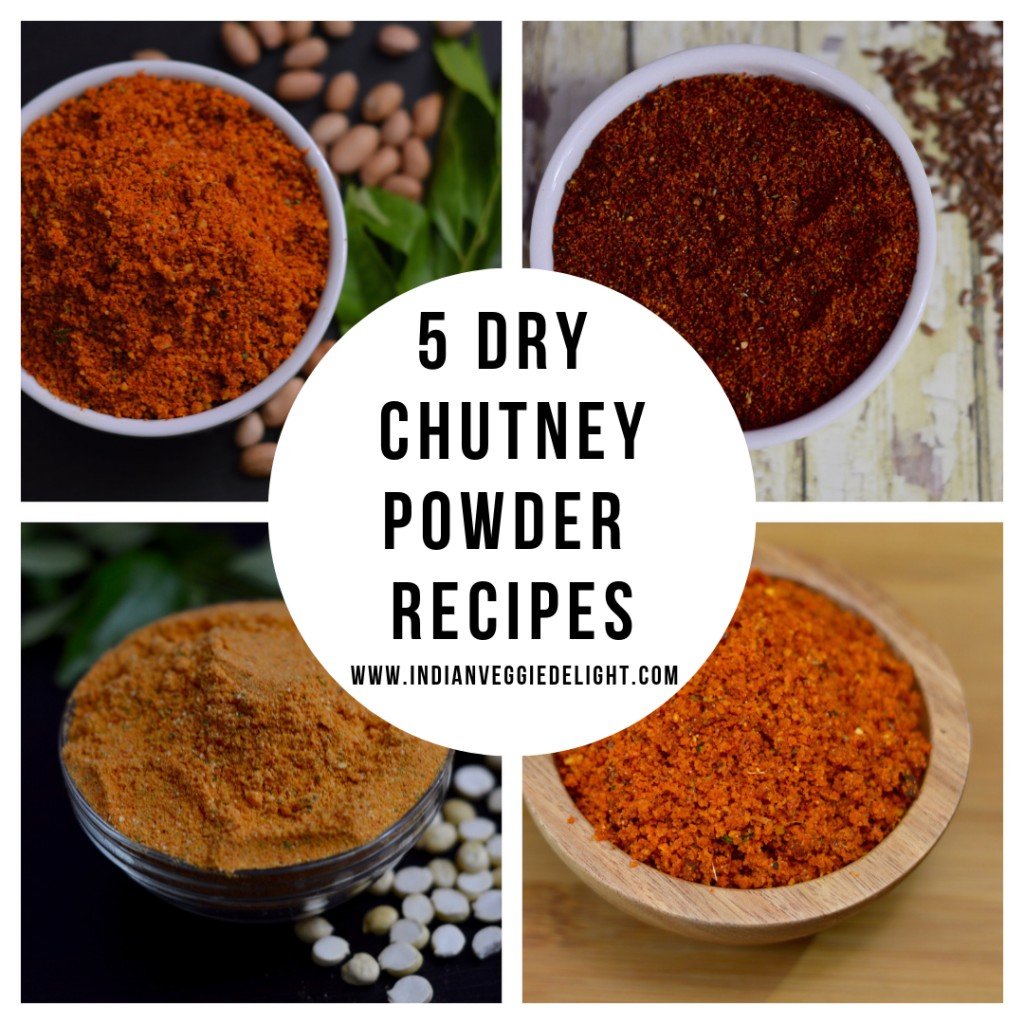 I grew up in a Karnataka home where the dining table was with a variety of dry chutney powders, chutneys, and pickles. Our family's favorite one is peanut chutney powder. Also, check my 15+ Chutney Recipes from my blog.
Hopefully, you will find these dry chutney powder recipes helpful. I always keep a few of them ready as my family likes them. These recipes come in handy when you want an accompaniment immediately, and you are running out of time and ideas.
Jump to:
What is Chutney Powder?
Dry Chutney Powder, also known as Chutney Pudi, or Podi's, is the quintessential condiment in a South Indian kitchen. These chutneys make a great accompaniment to any meal, adding a unique taste and aroma.
In most traditional meals, there is always a spoon or two of this spicy chutney pudi along with pickle and salad. It tastes great when mixed with oil or curd.
How to use Dry Chutney Powder?
Sprinkle the chutney pudi over idli, bread toast, smear on dosa, chapati, or over steamed rice. You can also use it to thicken your curries and gravies.
Spread chapati or paratha with a little dry chutney pudi with a bit of ghee or butter and roll it to give to your child as a snack or in the lunch box.
Storage Suggestions
Chutney powder easily lasts for 15-20 days when stored at room temperature in an airtight container. If you are making in large quantities, you can refrigerate up to 2 months in a ziplock, remove small portions, and use them accordingly.
Here are a few easy South Indian Style Dry Chutney Powder recipes
Other Recipe Collections to Try from my blog
Subscribe to my Youtube Channel for healthy & tasty video recipes.