Looking for Indian Style chutney recipes, these 20+ Healthy Chutney Recipes are not only easy to make but they also accompany our typical breakfast foods like idli, dosa, upma, and also evening snacks like pakora, chats, etc.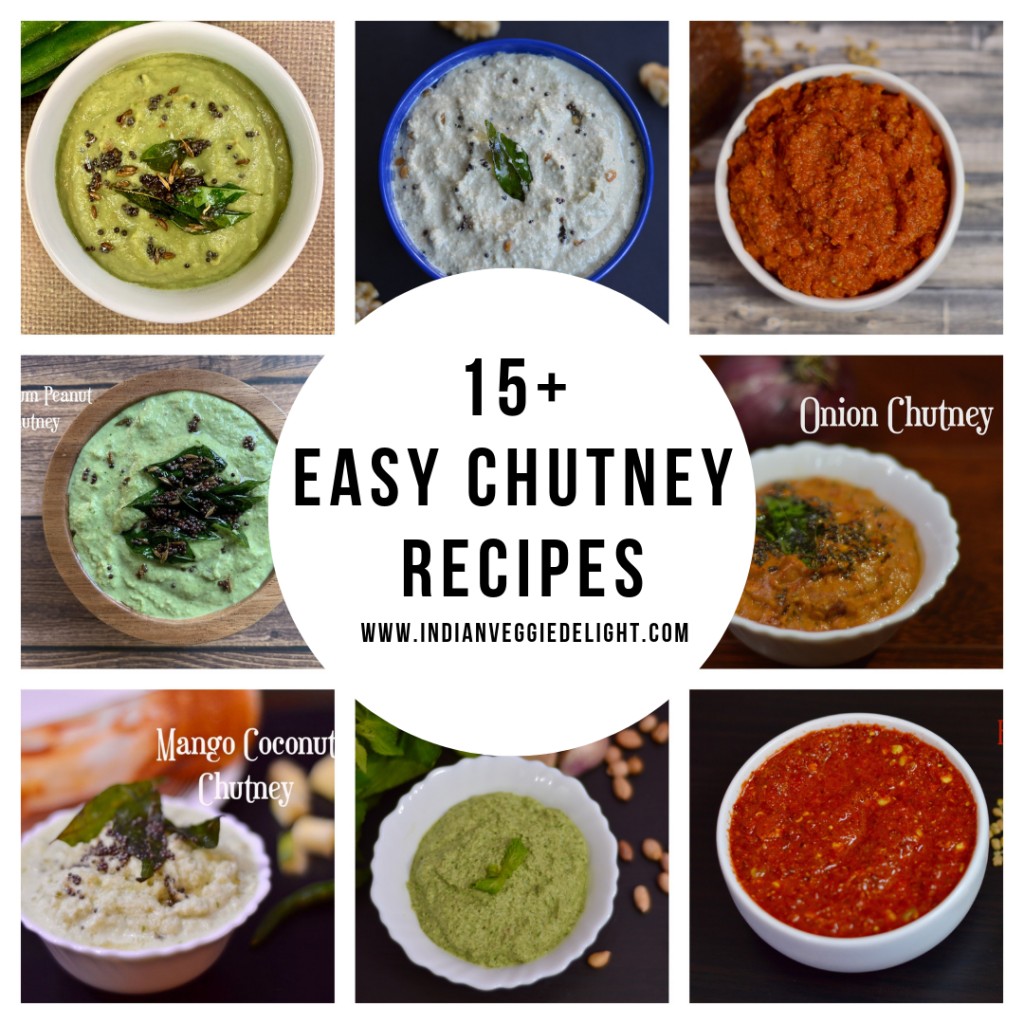 When you go to any South Indian restaurant, you are sure to find a variety of delicious Chutney recipes being served along with your favorite breakfast. Some chutney recipes go extremely well with Dosa, while some go very well with Idli or Poori or even Poha. Raw mango chutney, fresh mint chutney are my personal favorites. This post is my attempt to have a collection of all these quick, easy & healthy chutney recipes in one place.
There is one thing I would like to share here. For some Indian breakfast recipes like Talipittu/thalipeet & Open Dosa/Onion Dosa etc., some restaurants serve 'Gatti chutney' or chutney which is thick inconsistency. ['Gatti' means 'hard' in my mother tongue Kannada]. Whereas diluted chutney is a common sight in almost every South Indian restaurant.
In a local South Indian restaurant near me, they serve coconut chutney, mint chutney & tomato chutney along with the crispy dosa & I totally love it. Do check my South Indian style 5+ Dry Chutney Powders from my blog.
Do bookmark this post, I will surely keep updating this collection with more of these recipes in days to come.
20+ Indian Chutney Recipes
Other Recipe Collections to try from my blog
60+ Healthy Kids Lunch Box Recipes
25+ Instant Pot Indian Rice Recipes
8 Healthy Toddler Indian Breakfast Ideas
5 Types of Easy Dry Chutney Powder
10+ Easy & best Veg Sandwich Recipes Indian Style
Did you make any of these 15+ Chutney Recipes? I'd love to know how they turned out! Leave a comment below if you give it a try.
Subscribe to my Youtube Channel for healthy & tasty video recipes. Looking for Instant Pot recipes, then check out my Instant Pot Recipes board on Pinterest.