Looking for some healthy Quinoa recipes? Here are 12+ Indian Quinoa Recipes that can be easily prepared in an Instant pot pressure cooker or stovetop for lunch or dinner.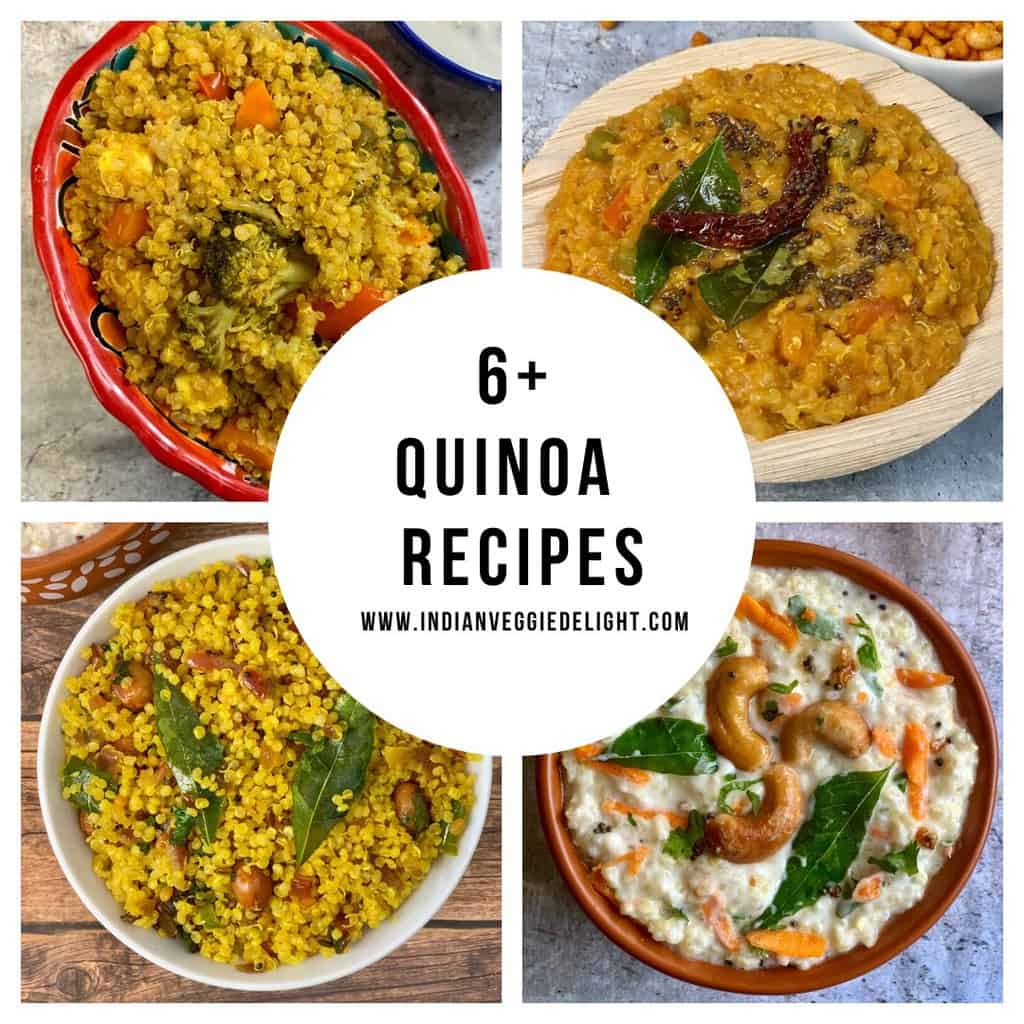 Have you tried replacing rice with Quinoa yet? asked my friend. After our conversation, I got so motivated that, I went ahead and got a huge pack of Quinoa. Now I don't know what to do with it 😢 Does this situation sound very familiar? I am sure many of you would have gone through this. Don't get stressed or worry about it.
Here, you can find a variety of healthy Quinoa Recipes Vegetarian, and hey, listen to the best part - you will surely not miss the Indian flavor. I have replaced rice in these recipes & don't miss it anymore. But keep in mind, it may take some time for you to adjust to its taste, it is for sure an "Acquired taste". I will keep adding to this Quinoa collection in the days to come.
I generally buy Kirkland Signature Organic Quinoa from Costco or Amazon. We also like Anthony's White Quinoa and Arrowhead Mills.
I promise to keep updating this Quinoa recipes Indian collection with more such delicious recipes.
Jump to:
What is Quinoa?
Quinoa (pronounced KEEN-wah or ke-NO-ah) is often described as a "superfood" or a "super-grain," it is not a grain but a seed. It grows from a plant in the goosefoot family and is considered very healthy - it contains all nine essential amino acids and is a great source of protein. There are many types of quinoa available in the market, the most popular being creamy white, red, and black. They open up to release little white curls (like a tail) as they soften.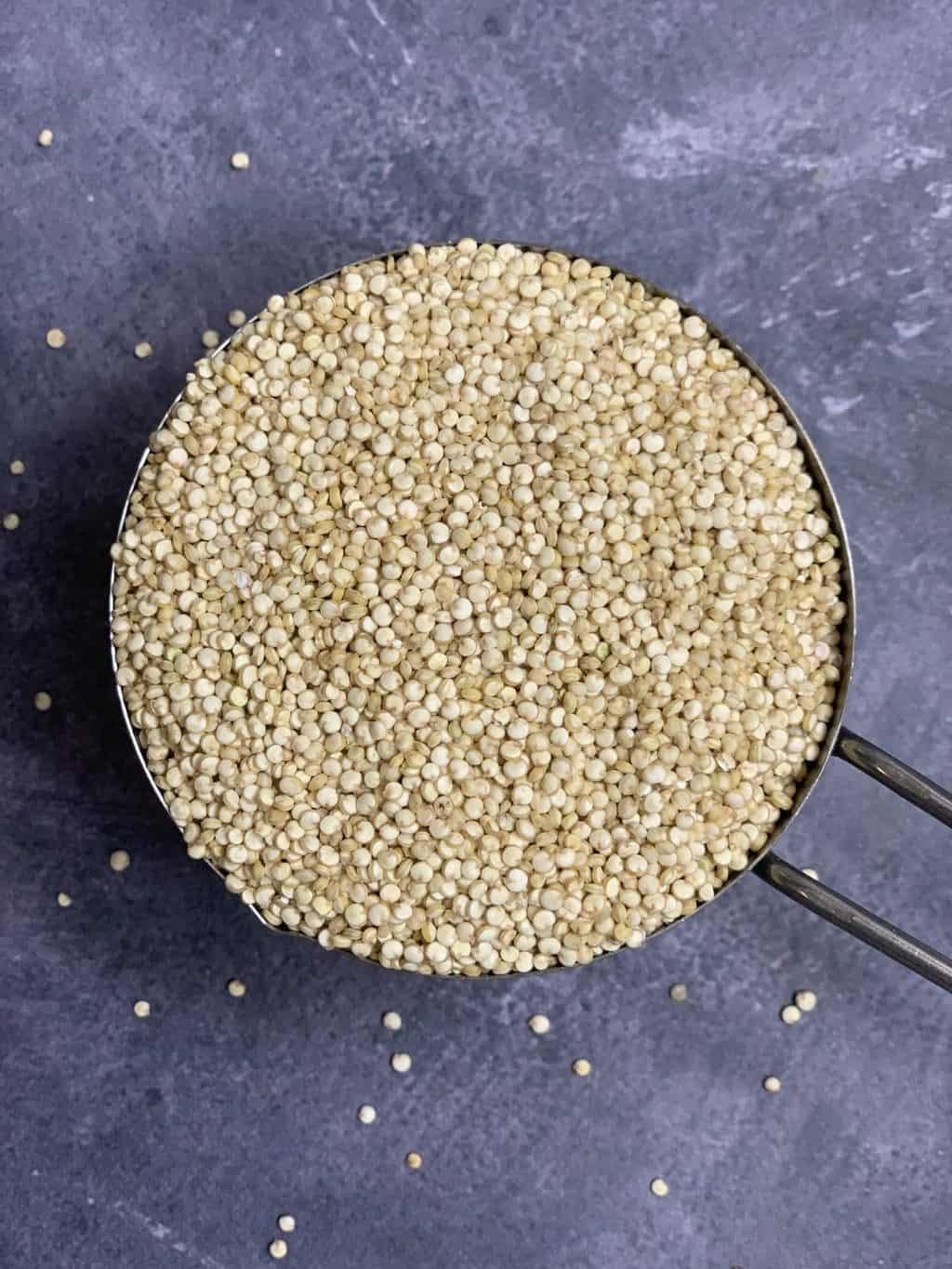 Health Benefits of Quinoa
Very High in Protein, With All the Essential Amino Acids
Very High in Fiber, Much Higher Than Most Grains
Gluten-Free and Perfect for People With Gluten Intolerance.
Has a Low Glycemic Index, Which is Good for Blood Sugar Control
Quinoa appears to be very high in antioxidants. Sprouting increases their antioxidant levels even further. - Source Healthline
Is Quinoa better than Rice?
Both foods' calories come primarily from their carbohydrate content, and a serving of brown rice or quinoa offers 39 or 44.8 grams of carbohydrates, respectively. However, quinoa offers more dietary fiber and protein than brown rice.
| 1 CUP COOKED | CALORIES | FAT (G) | CARBS (G) | FIBER (G) | PROTEIN (G) |
| --- | --- | --- | --- | --- | --- |
| Quinoa | 222 | 4 | 39 | 5 | 8 |
| Brown Rice | 216 | 1.8 | 44.8 | 3.5 | 5 |
Frequently Asked Questions
Is quinoa Gluten-free?
Yes. Quinoa is naturally gluten-free.
Is quinoa good for weight loss?
Absolutely Yes. It is high in protein, and fiber and has a low glycemic index. These properties have all been linked to weight loss.
Which quinoa is the best?
For day-to-day cooking, white quinoa is my favorite. I use white quinoa as a rice replacement in many recipes as its texture is super light and fluffy. I mostly use red or black quinoa in salads.
12+ Best Indian Quinoa Recipes
Let's have a look at the 12+ Vegetarian/Vegan Indian Quinoa Recipes made in the Instant Pot and stovetop pots.
Vegetable Quinoa Upma recipe is a simple and wholesome South Indian style breakfast dish loaded with vegetables cooked in an Instant pot pressure cooker or stovetop.
Check out this recipe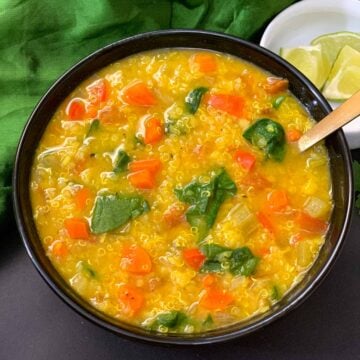 Quinoa Lentil Soup recipe is loaded with hearty vegetables, lentils, quinoa, also is nutrient dense and delicious.
Check out this recipe
This Quinoa & Black Bean Salad is hearty, full of protein, loaded with fresh vegetables, and tossed in a lime vinaigrette.
Check out this recipe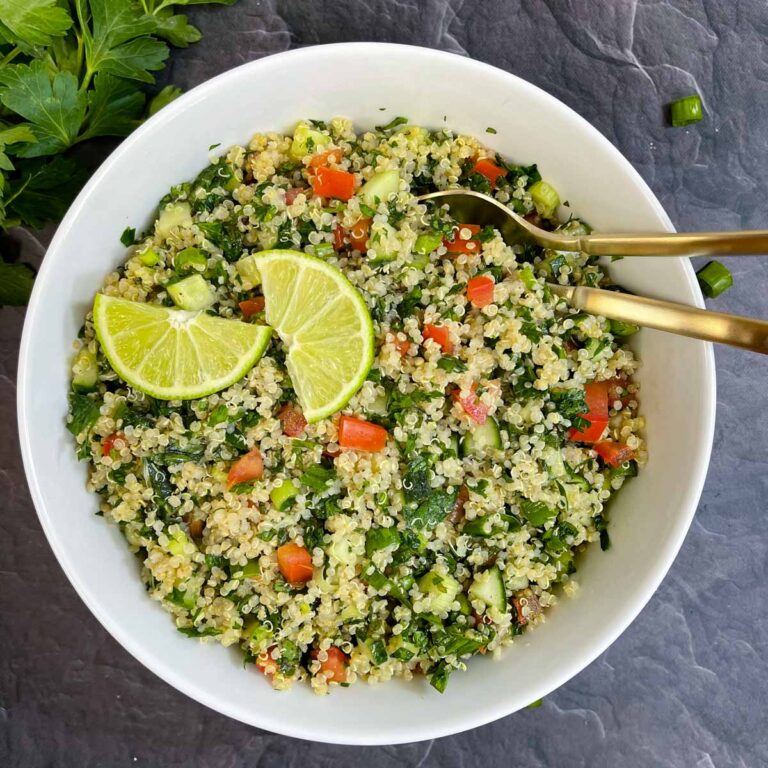 This quinoa tabbouleh salad recipe is fresh and healthy made with quinoa, tomatoes, cucumbers, scallions, loads of fresh herbs like parsley and mint, and a light lime-olive oil dressing.
Check out this recipe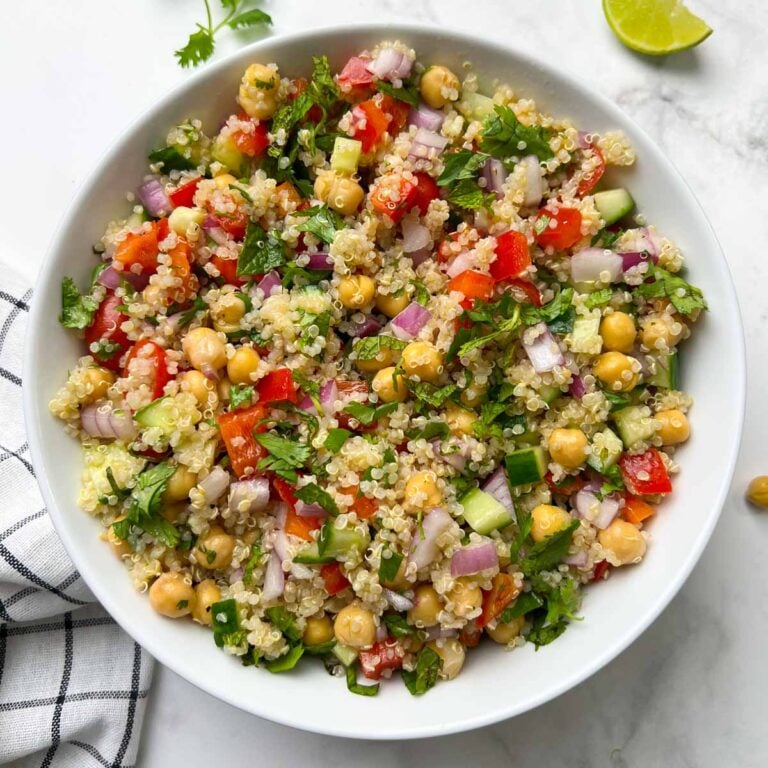 This easy quinoa salad with chickpeas recipe is the perfect summer salad! It is full of veggies, chickpeas, quinoa, herbs, tossed in a homemade lemony dressing.
Check out this recipe
Quinoa Bisi bele bath Pressure Cooker recipe is a healthy, delicious one pot meal made with quinoa, lentils and mixed vegetables
Check out this recipe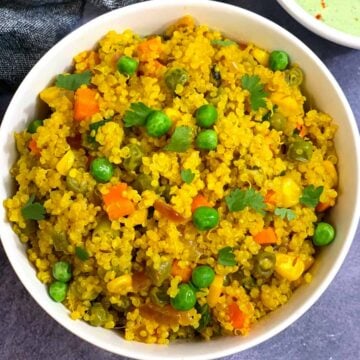 A flavorful healthy one pot meal of pulao made with quinoa and fresh cut vegetables
Check out this recipe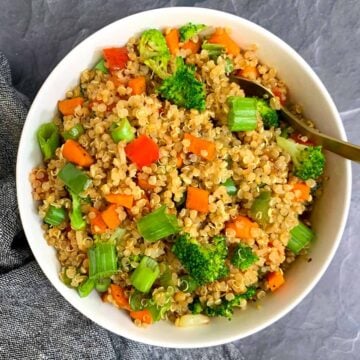 Quinoa Fried Rice recipe is a quick, easy and delicious Indian Chinese style stir fried dish that can be prepared with leftover quinoa in just 20 minutes.
Check out this recipe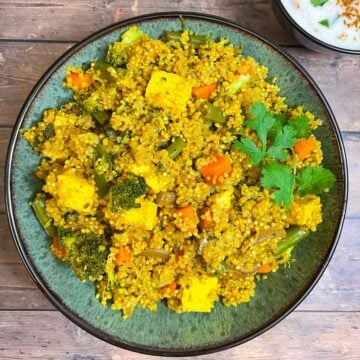 Vegetable Quinoa biryani is an easy, healthy one pot dish you can make with quinoa, vegetables and biryani masala.
Check out this recipe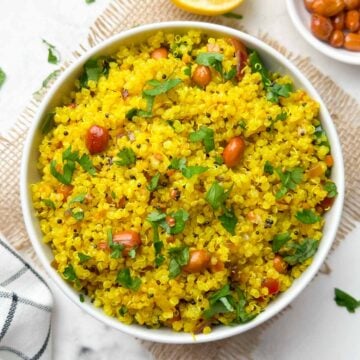 Lemon Quinoa is a South Indian style lemon rice made with quinoa. Quinoa is cooked and sautéed with onions and in a tempering of mustard seeds, lentils, curry leaves,turmeric.
Check out this recipe
Curd Quinoa is an easy and healthy South Indian recipe made with quinoa, curd (yogurt) and tempered with ginger and other Indian spices
Check out this recipe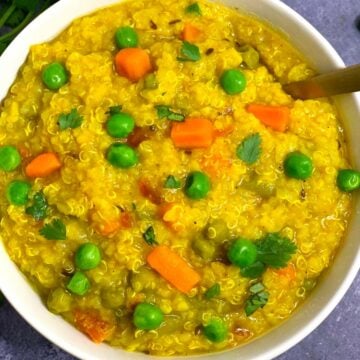 Quinoa Vegetable Khichdi is one-pot ultimate comfort food prepared with quinoa, dal, veggies and some basic spices.
Check out this recipe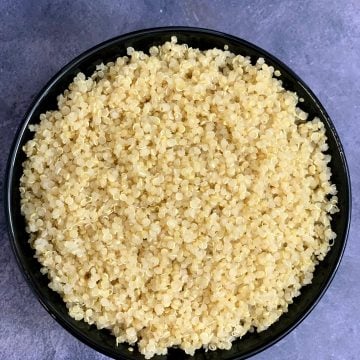 One Minute Quinoa Instant Pot is a simple and quick method of cooking quinoa in a pressure cooker
Check out this recipe
Which of these Quinoa Indian vegetarian recipes did you give a try? Share your feedback with us in the comments below.
More Recipe Collections to try
If you've tried this Healthy Quinia Recipes collection or any other recipe on Indianveggiedelight, then don't forget to rate the recipe. You can also follow me on Instagram and Facebook to see the latest recipes!
Tried this recipe?
Don't forget to give a ★ rating below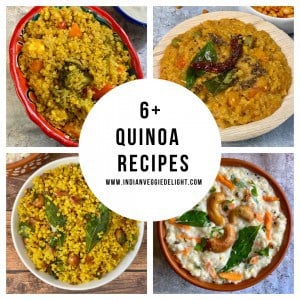 Healthy Quinoa Recipes
Looking for some healthy quinoa recipes? Here are 12+ Indian Quinoa Recipes that can be easily prepared in an Instant Pot or stovetop for lunch or dinner.