Packing healthy lunchbox for kids is very challenging for every mom and this makhana paratha is a great way to incorporate makhanas in their diet.Once you try this recipe trust me you will not be able to say it has makhanas in them.It is sooper soft and yummy.Its great for adults lunchbox too.
You can also add some flaxseed powder/meal and chopped spinach or methi leavesin these parathas to make them even more healthier.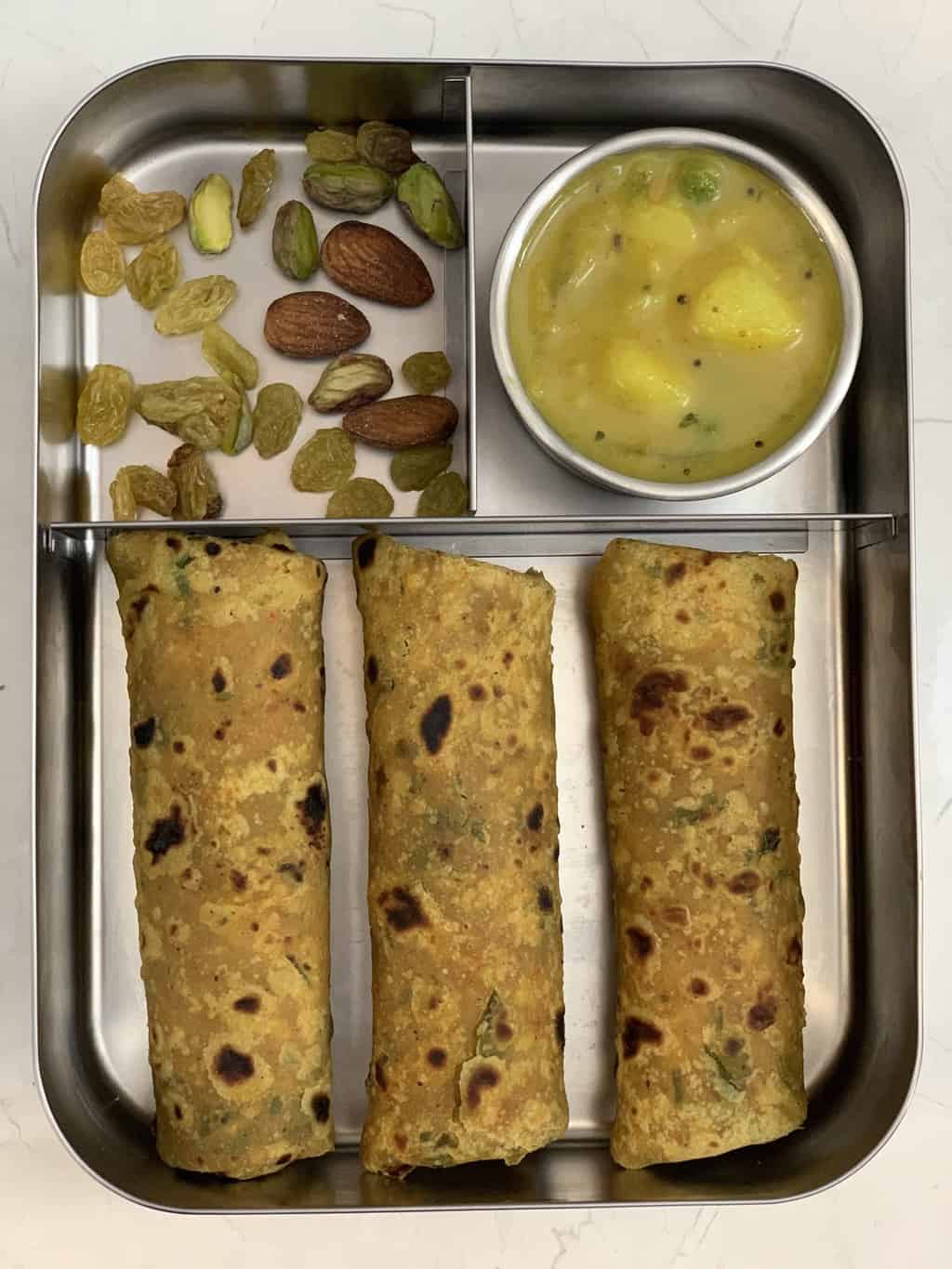 Disclaimer: I am not a nutritionist or a dietician,  I am doing what is best for my kid to create a balanced lunch.
Makhanas are popularly known as lotus seeds, fox nuts, Euryale ferox, gorgon nuts and phool makhana and are packed with the goodness of protein, potassium, phosphorus, carbohydrates, fibre, magnesium, iron and zinc
There are lot of recipes made from Makhana like Spicy Masala Makhana, Makhana Chivda ,Mint/Pudina Makhana,Makhana Kheer, Makhana Raita
KIDS LUNCH BOX #43 – Makhana Paratha + Potato Sagu + Mixed Nuts
Here is what I packed for school lunch…
LUNCH – Makhana Paratha – Here is the Recipe Link .
SNACK – Potato Sagu
SNACK – Mixed Nuts
Prep Work For The Previous Evening
You can prepare makhana powder and store for atleast 7 days in an airtight container.
You can prepare paratha dough previous night.
You can also boil the potatoes previous night and refrigerate.
Notes
Packed in a stainless steel tiffin box called Lunchbots which is Eco-Friendly, Dishwasher Safe, BPA-Free and is easily available on Amazon .Do not use plastic lunch boxes to your kids, they are toxic.
You can increase or decrease quantity based on your child's appetite.
Pin It For Later