Looking for easy, healthy Vegetarian / Vegan Indian Zucchini Recipes to make in your Instant Pot or Stovetop? Here is my collection of 20+ best Vegetarian Zucchini Recipes from my blog. Vegan, Keto, or Low carb and gluten-free recipes.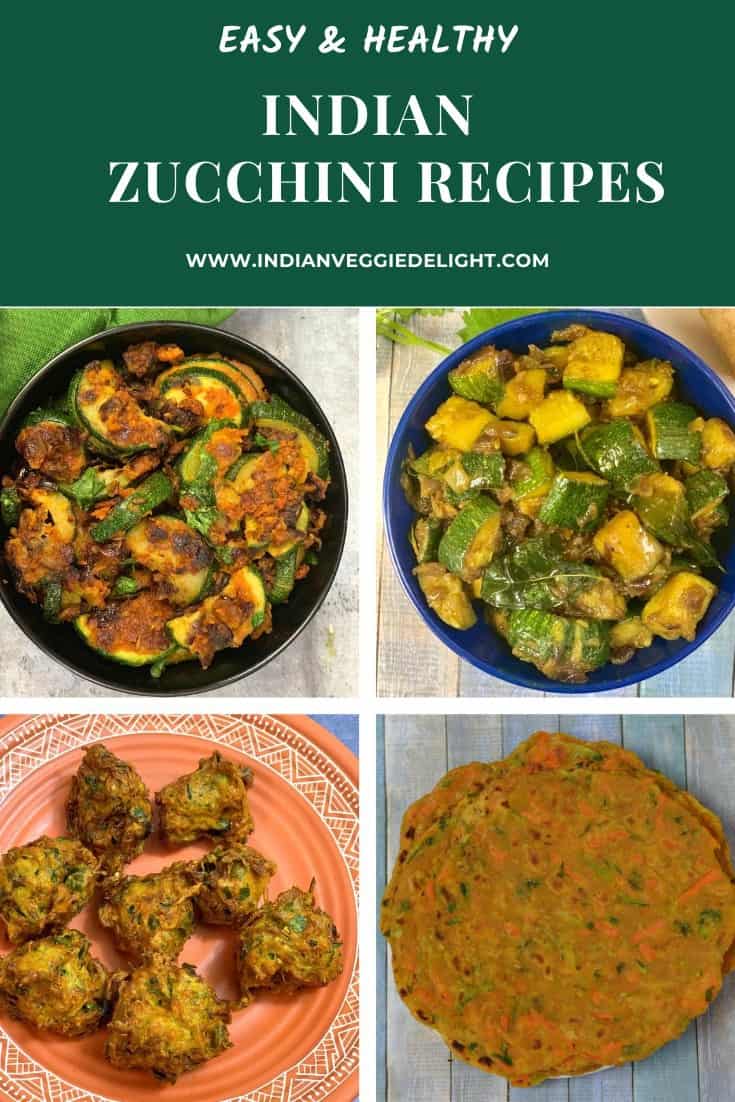 Looking for some delicious, easy ways to add zucchini squash to the dinner table? Here are few simple and healthy Indian zucchini recipes that you will surely love.
Zucchini is incredibly versatile, can be eaten raw or cooked in appetizers, curries, stir-fries, soups, pasta, salads, baked goods, and more. It suits many diets, such as keto or low-carb, paleo, and vegan.
In recent years, Zucchini squash is a low-carb winner and has gained a lot of popularity as a vegetable alternative to noodles, called "zoodles". A gluten-free alternative to traditional spaghetti.
Jump to:
What is Zucchini (Green Squash)?
Zucchini, also known as courgette in French, is a summer squash that is part of the Cucurbitaceae plant family. While many people refer to it as a vegetable, botanically, zucchini is a fruit.
It is dark or light green in color and looks somewhat like a cucumber. Zucchini's flavor is mildly sweet, and nutty, and it is eaten with the skin.
Health Benefits of Zucchini
Zucchini is a nutrient powerhouse, and below are some health benefits.
Zucchini is rich in several vitamins, and minerals, and also contains small amounts of iron, calcium, and zinc.
High in Antioxidants helps to provide various health benefits.
Zucchini is rich in water and fiber, and promotes healthy digestion.
Zucchini is rich in water and fiber yet low in calories, and helps in weight loss.
Nutritional Facts
One cup (223 grams) of cooked zucchini provides - (Source)
Calories: 17
Protein: 1 gram
Fat: less than 1 gram
Carbs: 3 grams
Sugar: 1 gram
Fiber: 1 gram
Vitamin A: 40% of the Reference Daily Intake (RDI)
Manganese: 16% of the RDI
Vitamin C: 14% of the RDI
Potassium: 13% of the RDI
Magnesium: 10% of the RDI
Vitamin K: 9% of the RDI
Folate: 8% of the RDI
Copper: 8% of the RDI
Phosphorus: 7% of the RDI
Vitamin B6: 7% of the RDI
Check other Vegetables Recipe Collection
20+ Indian Vegetarian & Vegan Zucchini Recipes
DID YOU MAKE ANY OF THESE HEALTHY ZUCCHINI RECIPES?
I'D LOVE TO KNOW HOW THEY TURNED OUT! LEAVE A COMMENT AND A ⭐️ RATING BELOW? SO WE CAN SEE IT AND OTHERS CAN ENJOY IT TOO! THANK YOU ♥
I hope you found your favorite Indian Zucchini recipe to make. This recipe collection list is only bound to grow more and more, as I cook more interesting recipes. So make sure, to bookmark this page by clicking the heart icon ❤️ on the right-hand side.
OTHER RECIPE COLLECTIONS TO TRY FROM MY BLOG