Looking for easy, healthy Vegetarian/Vegan Indian style Broccoli Recipes to make in your Instant Pot or Stovetop? Here is my collection of 12+ best Vegetarian Broccoli Recipes from my blog. Vegan, Keto/Low carb, and gluten-free recipes.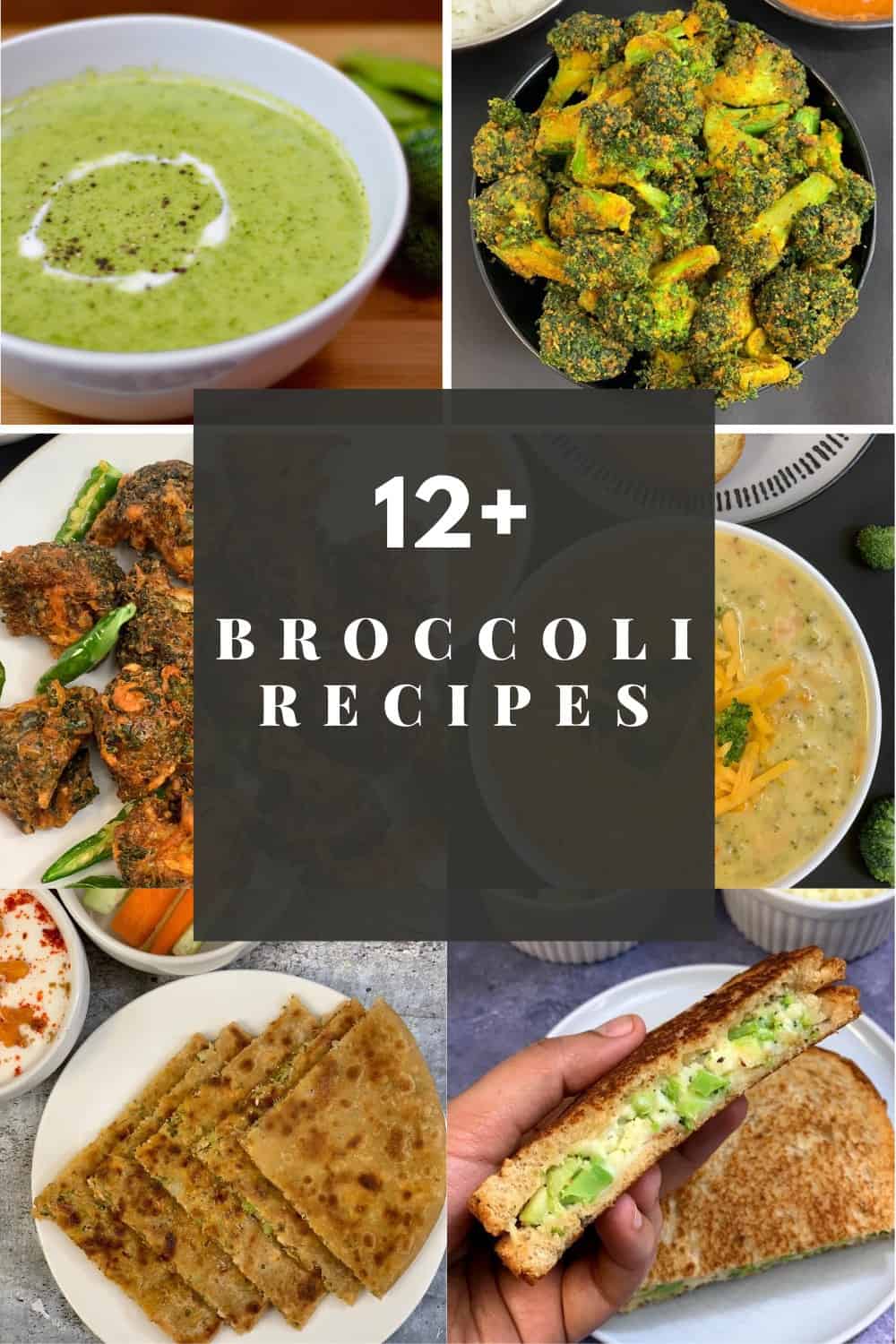 Not A Broccoli Fan? Due to its distinct taste and smell, a lot of people (especially kids) don't like eating them.
I never grew up eating this vegetable back in India. Only after I came to the United States, learned the multiple health benefits and started trying new recipes with it.
From crispy broccoli fritters, roasted broccoli, soups to sandwiches, there's so much to love about broccoli. Here are the best ways to eat this delicious broccoli vegetable.
Jump to:
What is Broccoli?
Broccoli is an edible green plant in the cabbage family whose large flowering head and stalk are eaten as a vegetable.
It belongs to the Brassica oleracea family, including cauliflower, cabbage, brussels sprouts, and kale, collectively referred to as cruciferous vegetables.
A healthy green veggie can be eaten both raw or cooked. But recent research suggests that Steaming Broccoli is the best way to retain its nutritional content. This vegetable is a powerhouse of nutrients. It is considered one of the world's healthiest superfoods.
Nutritional benefits of broccoli
One cup (91 grams) of raw broccoli provides. RDI means Recommended Dietary Intake.
Carbs: 6 grams
Protein: 2.6 gram
Fat: 0.3 grams
Fiber: 2.4 grams
Vitamin C: 135% of the RDI
Vitamin A: 11% of the RDI
Potassium: 8% of the RDI
Vitamin K: 116% of the RDI
Vitamin B9 (Folate): 14% of the RDI
Phosphorus: 6% of the RDI
Selenium: 3% of the RDI - (Source)
Is Broccoli Keto Friendly vegetable?
Yes. The best type of vegetables for a ketogenic diet are both high in nutrients and low in carbohydrates. These include broccoli, cauliflower, zucchini, bell pepper, lettuce, cucumbers, and more. For example, a serving of broccoli (3 ounces raw) has 30 calories and 3 grams net carbs.
Health Benefits of Broccoli
Broccoli vegetable has a number of health benefits.
Packed with protein, vitamins, minerals, and fiber. - (Source)
Broccoli contains multiple potent antioxidants that may support healthy cells and tissues throughout your body. - (Source)
Broccoli provides an excellent source of vitamin C, a nutrient known to support a healthy immune response. - (Source)
Also check these veggie recipes collections
12+ Indian Vegetarian Broccoli Recipes
Let's have a look at the 12+ Indian Broccoli Recipes, which will offer you a variety of options.
DID YOU MAKE ANY OF THESE 12+ INDIAN BROCCOLI RECIPES?
I'D LOVE TO KNOW HOW THEY TURNED OUT! LEAVE A COMMENT AND A ⭐️ RATING BELOW? SO WE CAN SEE IT AND OTHERS CAN ENJOY IT TOO! THANK YOU ♥
I hope you found your favorite broccoli recipe to make. This recipe collection list is only bound to grow more and more, as I cook more interesting recipes. So do make sure, to bookmark this page by clicking the heart icon ❤️ on the right-hand side.
OTHER RECIPE COLLECTIONS TO TRY FROM MY BLOG
♥ We LOVE to hear from you If you make this recipe, please share your food photo with hashtag #indianveggiedelight on Facebook or Instagram, so we can see it and others can enjoy it too! Thank you ♥
Subscribe to my Youtube Channel for healthy & tasty video recipes. Looking for Instant Pot recipes, then check out my Instant Pot Recipes board on Pinterest.