Looking for easy, healthy Vegetarian / Vegan Cucumber Recipes? Here is my collection of 20+ best Vegetarian Indian and Global Cucumber Recipes, catering to Vegan, Keto, low-carb, and Gluten-Free preferences.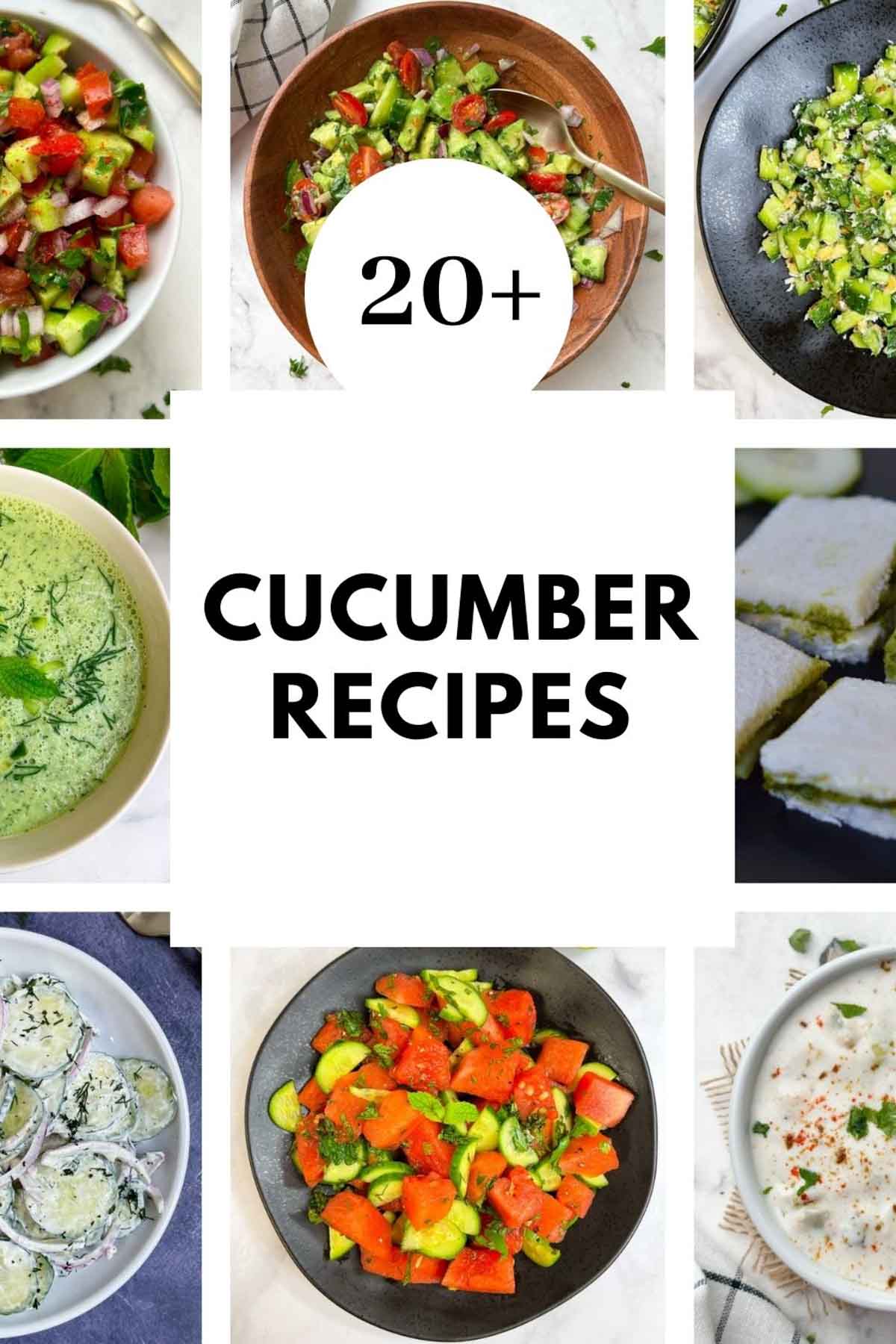 Cucumber, one of the world's most hydrating vegetables, contains about 90% water. From the classic cucumber raita, sandwich, soup, pickles, and cucumber mojito to the most basic slices of cucumber in the salad, this hydrating vegetable is truly a summer staple.
Not only in the summer season, this veggie is eaten throughout the year. What if we told you it was feasible to reimagine and transform the simple cucumber recipes? You heard us right, and we have developed some recipes that are likely to be a hit with people of all ages in light of the many advantages and adaptability of cucumber.
The best part? These recipes call for just a few ingredients in addition to being delicious. Guess what? Making them at home is quite a cakewalk, too. So, what are you waiting for? Go read below!
Jump to:
Health Benefits of Cucumber
Cucumber is a vegetable that contains 90% of water inside it. Hence making it one of the most hydrating vegetables out there.
This green vegetable is also low in calories, making it an excellent food item for weight loss.
Cucumbers are rich in essential nutrients, including vitamin C, vitamin K, potassium, and fiber.
And not to forget! Cucumber contains antioxidants that may improve digestive health and also improve skin health.
Also Check These Veggie Recipes Collections
20+ Vegetarian & Vegan Cucumber Recipes
If you've tried these easy cucumber recipes or any other recipe on Indianveggiedelight, then don't forget to rate the recipe. You can also follow me on Instagram and Facebook to see the latest recipes!
I hope you found your favorite cucumber recipe to make. This recipe collection list is only bound to grow more and more, as I cook more interesting recipes. So make sure, to bookmark this page by clicking the heart icon ❤️ on the right-hand side.
OTHER RECIPE COLLECTIONS TO TRY FROM MY BLOG