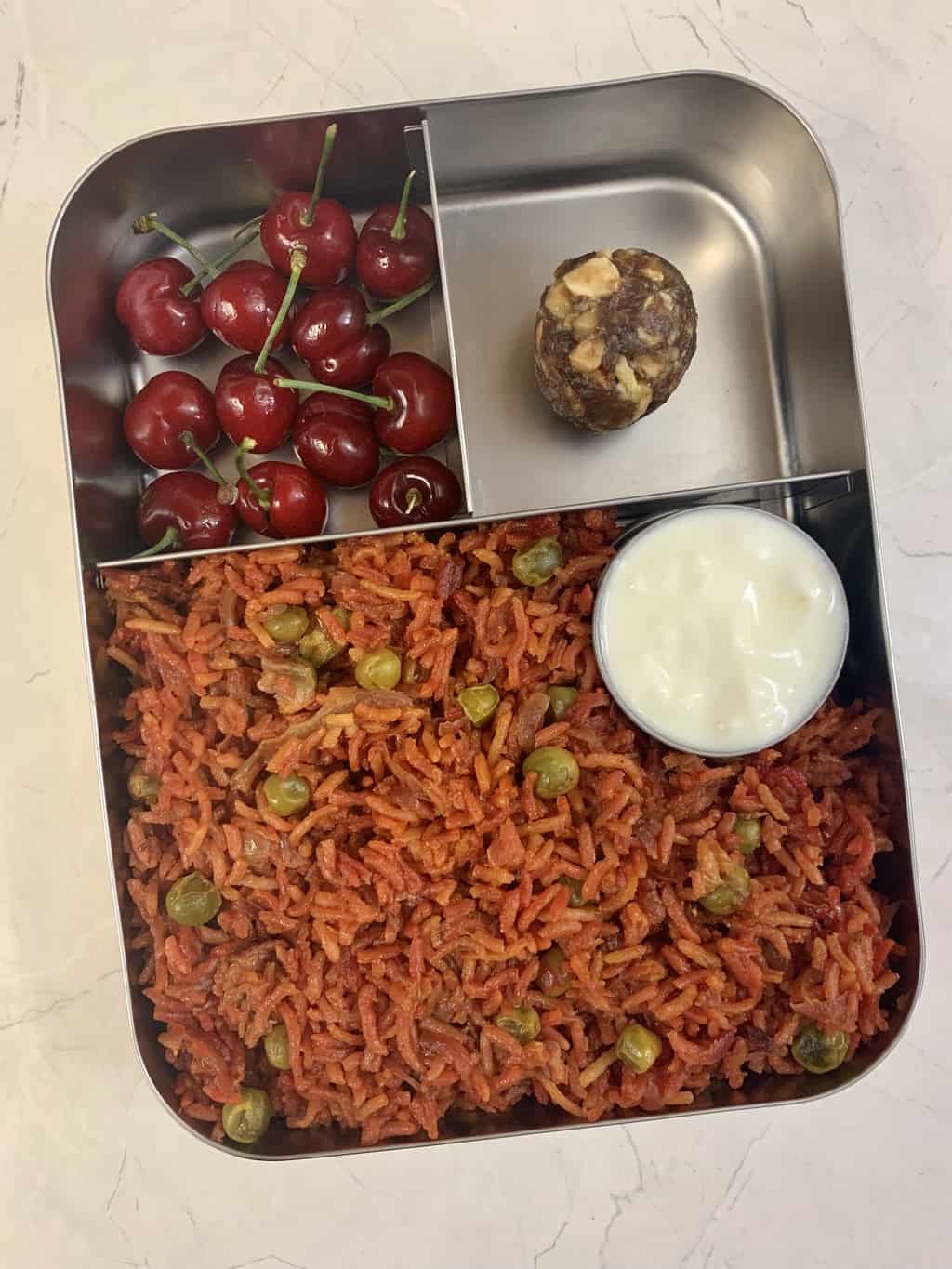 Disclaimer: I am not a nutritionist or a dietician, I am doing what is best for my kid to create a balanced lunch.
KIDS LUNCH BOX #26 – Beetroot Rice + Yogurt + Dates and Nut Ladoo + Cherries
Here is what I packed for school lunch…
LUNCH – Beetroot Rice – Here is the Recipe Link
SNACK – Yogurt –Pack this in a separate container with leak proof lid.Add a few teaspoon of milk to yogurt raita can help it not turning sour by lunch time.
SNACK – Dates and Nut Ladoo – Also known as Khajur Ladu are very nutritious ladoo.
Ingredients:
1 cup dates pitted and chopped (khajoor)
1 cup mixed nuts roughly chopped, I am using almonds and walnuts
2 teaspoon ghee
Method
Take 1 cup seedless dates in a blender or food processor and blend to coarse paste without adding any water. keep aside.
In a pan add 2 teaspoon of ghee ,roast on low flame for 5 minutes or till nuts turn crunchy.
Add in crushed dates , mix well and saute till the dates start releasing oil.May take 2-3 minutes to release oil.
Turn off the flame and allow to cool for a minute or 5 and roll them into ladoos when they are warm.
Dates and nuts ladoos can be stored in air tight container for a month or more.
Recipe Notes:
1.Soften the chopped dates in microwave for 15-20 seconds if they are hard to blend.
2.You can use any other nuts like pistachios , cashew-nuts.
SNACK – Cherries – Its Cherries season again! they are full antioxidants and have many more health benefits.My daughter loves them as well.Try to always pack seasonal and local fruits.
Prep Work For The Previous Evening
Grate the beetroot previous evening and refrigerate.
You can also make these ladoo prior and store for a month.
Notes
Add a few teaspoon of milk to yogurt raita can help it not turning sour by lunch time.
Packed in a stainless steel tiffin box called Lunchbots which is Eco-Friendly, Dishwasher Safe, BPA-Free and is easily available on Amazon .Do not use plastic lunch boxes to your kids, they are toxic.
You can increase or decrease quantity based on your child's appetite.
Pin It For Later
♥ We LOVE to hear from you If you make this recipe, please share your food photo with hashtag #indianveggiedelight on Facebook or Instagram, so we can see it and others can enjoy it too! Thank you ♥
Subscribe to my Youtube Channel for healthy & tasty video recipes.