Looking for easy, healthy Vegetarian/Vegan Indian Style Cabbage/Patta Gobhi recipes to make in your Instant Pot or Stovetop? Here is my collection of 5+ best Vegetarian Cabbage Recipes from my blog. Vegan, Keto or Low carb and gluten-free recipes.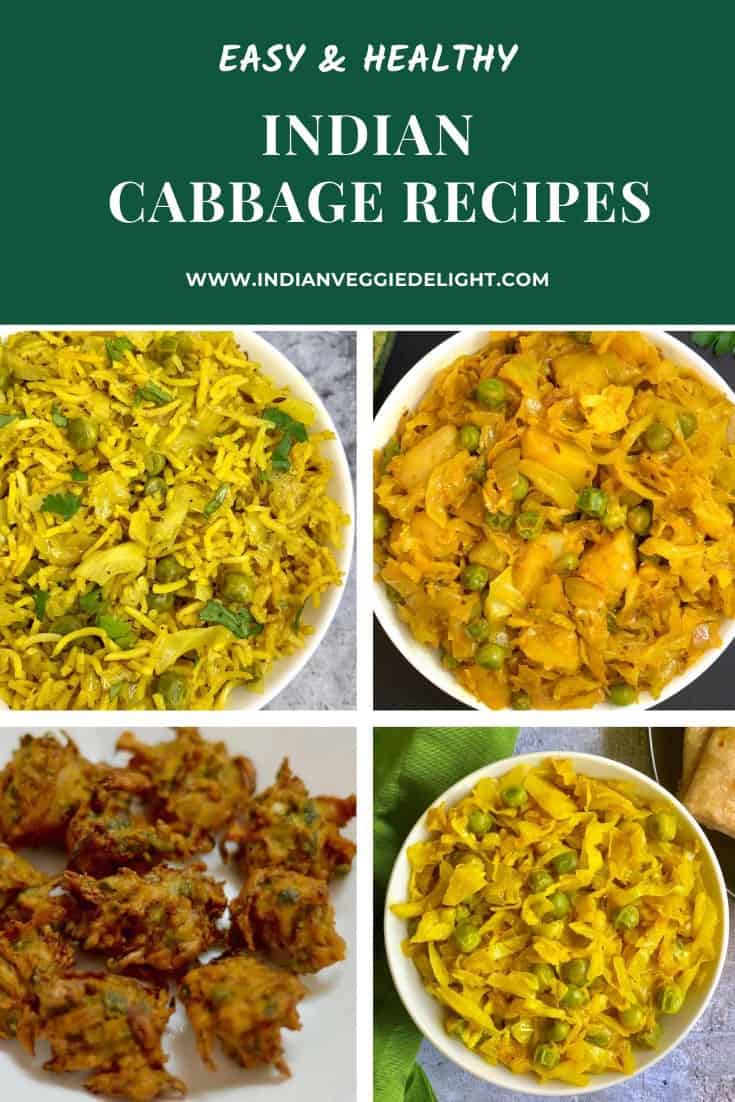 So if you are looking for "What to make with Cabbage", I've got you covered with my favorite Indian style vegetarian Cabbage recipes from soups to sandwiches, to curries to the rice dish.
What is Cabbage?
Cabbage (also known as Patta Gobi in India), is a member of the cruciferous vegetable family which includes broccoli, cauliflower, bok choy, and brussels sprouts.
There are many varieties of cabbage from light green cabbage or red cabbage, to napa cabbage and savoy cabbages. It's versatile and can be used to make other dishes like sauerkraut, kimchi, and coleslaw.
Health Benefits of Cabbage
Cabbage is a low-calorie vegetable that is rich in vitamins like C, K, B6 and minerals.
It is rich in powerful antioxidants which help to reduce inflammation.
It is a good source of fiber.
Promotes Heart health.
Nutrition:
In fact, just 1 cup (89 grams) of raw green cabbage contains - (Source)
Calories: 22
Protein: 1 gram
Fiber: 2 grams
Vitamin K: 85% of the RDI
Vitamin C: 54% of the RDI
Folate: 10% of the RDI
Manganese: 7% of the RDI
Vitamin B6: 6% of the RDI
Calcium: 4% of the RDI
Potassium: 4% of the RDI
Magnesium: 3% of the RDI
Check these Veggie Recipes Collections:
5+ Indian Vegetarian Cabbage/Patta Gobhi Recipes
Let's have a look at the 5+ Indian Cabbage Recipes, which will offer you a variety of options.
DID YOU MAKE ANY OF THESE INDIAN CABBAGE RECIPES?
I'D LOVE TO KNOW HOW THEY TURNED OUT! LEAVE A COMMENT AND A ⭐️ RATING BELOW ? SO WE CAN SEE IT AND OTHERS CAN ENJOY IT TOO! THANK YOU ♥
I hope you have found your favorite Indian cabbage recipe to make. If you find anything missing from the list don't forget to comment below with your request.
This recipe collection list is only bound to grow more and more, as I cook more interesting recipes. So make sure, to bookmark this page by clicking the heart icon ❤️ on the right-hand side.
Other Recipe Collections To Try From My Blog
♥ We LOVE to hear from you If you make this recipe, please share your food photo with hashtag #indianveggiedelight on Facebook or Instagram, so we can see it and others can enjoy it too! Thank you ♥
Subscribe to my Youtube Channel for healthy & tasty video recipes.