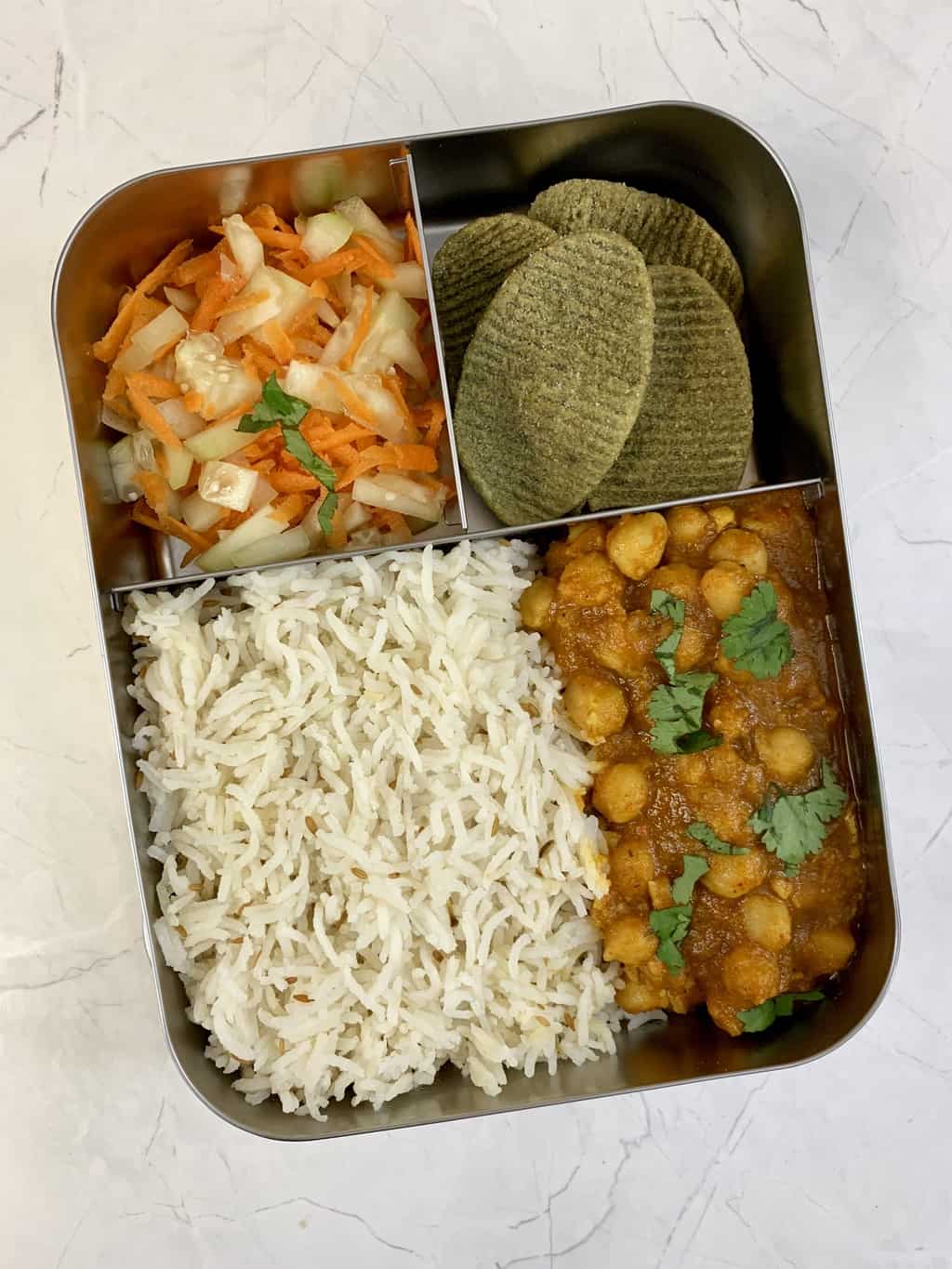 Disclaimer: I am not a nutritionist or a dietician, I am doing what is best for my kid to create a balanced lunch.
KIDS LUNCH BOX #17 – Chole & Jeera Rice + Cucumber-Carrot Salad + Kale Chips
Here is what I packed for school lunch…
LUNCH – Chole & Jeera Rice –
Here is the Recipe Link for Chole Masala (Chickpea Masala)
Here is the Recipe Link for Jeera Rice (Cumin Rice) .I have used pressure cooker (Instant Pot) to make jeera rice.When i pack jeera rice for my kids box i just hand pick whole spices like cinnamon ,cardamom so that it doesnt come into mouth while eating.
SNACK – Cucumber-Carrot Salad – I just mixed together grated carrot with some finely chopped cucumber and sprinkled some salt , pepper and lime juice.
SNACK – Kale Chips – I got these from Costco and are healthy variety of chips.
Prep Work For The Previous Evening
Soak Chickpeas|Chole|Channa previous night.
Notes
Packed in a stainless steel tiffin box called Lunchbots which is Eco-Friendly, Dishwasher Safe, BPA-Free and is easily available on Amazon .Do not use plastic lunch boxes to your kids, they are toxic.
You can increase or decrease quantity based on your child's appetite.
Pin It For Later
♥ We LOVE to hear from you If you make this recipe, please share your food photo with hashtag #indianveggiedelight on Facebook or Instagram, so we can see it and others can enjoy it too! Thank you ♥
Subscribe to my Youtube Channel for healthy & tasty video recipes.