You will find a list of 35+ best vegetarian salad recipes, perfect for summer or any time of the year, everything from green salad, chopped vegetable salad, grain, fruit, and pasta salads. The list includes salad recipes from Indian, Mexican, Asian, and Mediterranean cuisines, and more!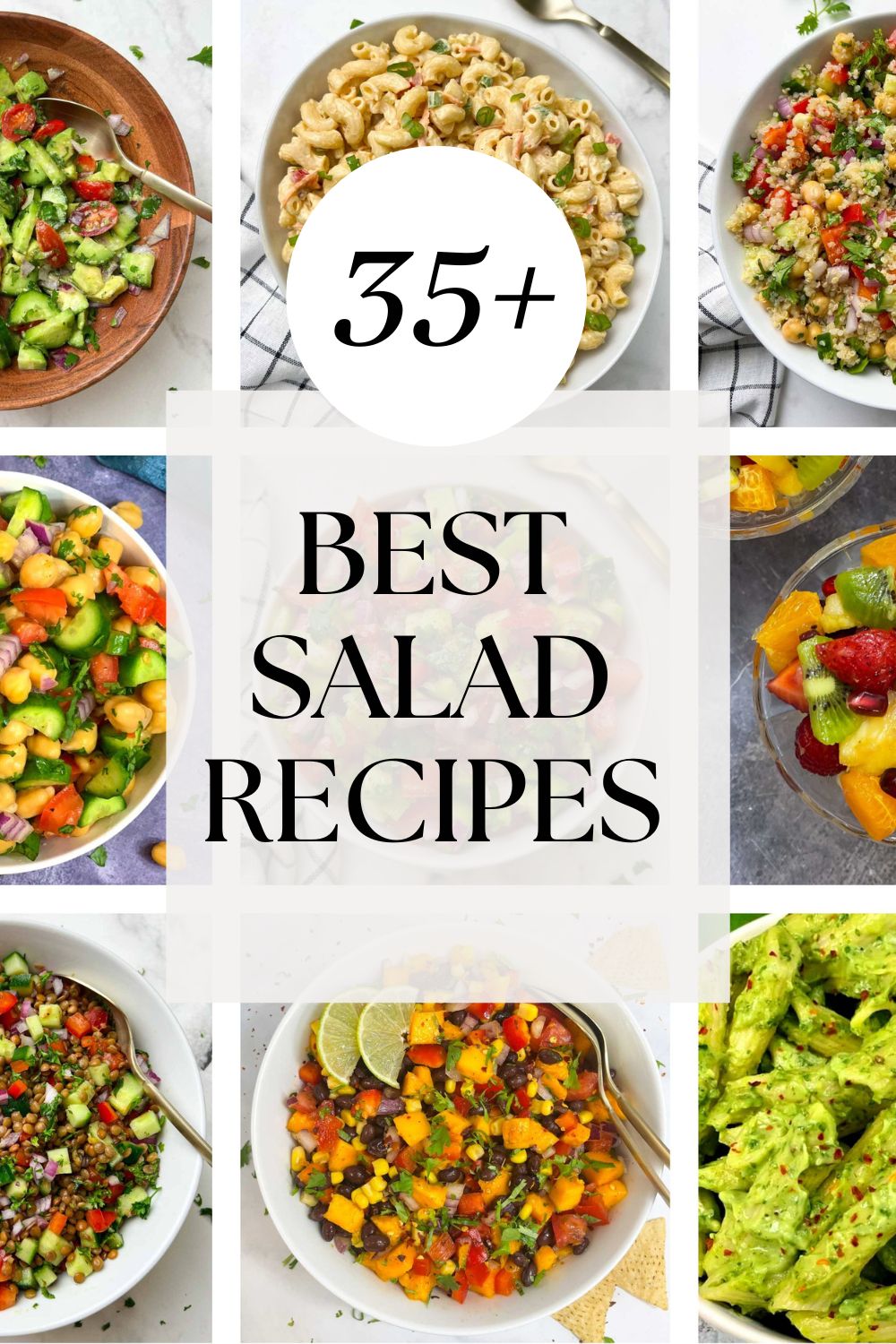 We sometimes prefer not to consume oily, deep-fried foods. Salads are a great option during these situations. Salads are a great way to complement the meal and help to balance out the rich and spicy flavors.
For the uninitiated, a salad is a combination of cold or raw items like lettuce, tomatoes, and cucumbers. It is frequently served as part of a meal together with other foods; however, you may simply eat it alone.
Salads are a favorite food among those who follow a healthy diet. It's essential to include fresh fruits and vegetables, as they are packed with a variety of nutrients including fiber, micronutrients, vitamins, and minerals, providing benefits that our typical meals may not offer.
Different Types Of Salads
You may find many different salads if you search around and explore. Every region of the world has a distinctive method of making salads. Indian salad, Thai salad, Caesar salad, etc. are a few examples. Most of these salads fall into one of three subcategories: tossed, composed, or bound.
We'll explain tangy and delectable around the world salads to you in this post. You probably have tasted many different salads, but we guarantee that these salads are unlike any other. Learn the recipes by reading on.
Jump to:
How to Build The Best Salads
Start with seasonal vegetables or/and greens base, add a filling protein, whole grains (optional), toss in healthy fats, and drizzle vinaigrette/creamy dressing (or sauce).
Greens & Veggies - add raw greens like lettuce, baby spinach, kale, arugula, or mixed greens. Some popular raw veggies that go in the salads are cucumber, tomatoes, carrots, onions, celery, bell peppers, cabbage, and broccoli. These veggies are packed with fiber and rich in essential vitamins and minerals.
Dressings - Some popular salad dressings/sauce are the classic vinaigrette, balsamic vinaigrette, ranch dressing, thai peanut dressing, or olive oil.
Add Protein - You can add sauteed tofu, paneer (cottage cheese), cheese, edamame, and legumes (like kidney beans, chickpeas, lentils, and white or black beans) for plant-based protein.
Whole grains - Some popular whole grains to use in salads include cooked brown rice, quinoa, and bulgur. These grains add texture, flavor, fiber, and protein.
Healthy Fats - Avocado, nuts and seeds, salad dressing made from extra-virgin olive oil are great options. Nuts like walnuts, pistachios, almonds, peanuts, pecans, cashews, and seeds like pumpkin seeds, sunflower seeds, sesame seeds, chia seeds, flax seeds, and hemp seeds are great salad toppings. Toast the nuts first to bring out their flavor.
Pick Seasonal Produce - Always pick the veggies and fruits that are in season, as they will taste fresh and delicious. Bell peppers, sweet corn, zucchini, mangoes, melons in the summers, and pumpkin, butternut squash, sweet potatoes, cauliflower, and green peas in the winter.
Healthy Salad Recipes You Must Try
Let's have a look at the 35+ Easy Vegetarian Salad Recipes that you can make for your lunch or dinner.
Chopped Salad Recipes
Grain Salad Recipes
Pasta Salad Recipes
Sweet and Fruit Salad Recipes
If you've tried this easy best salad recipes or any other recipe on Indianveggiedelight, then don't forget to rate the recipe. You can also follow me on Instagram and Facebook to see the latest recipes!
Subscribe to my Youtube Channel for healthy & tasty video recipes.