Looking for easy, healthy Vegetarian/Vegan Indian Lauki (Bottle Gourd) recipes to make in your Instant Pot or Stovetop? Here is my collection of 10+ best Vegetarian Lauki also known as Dudhi, Doodhi, Giya Recipes from my blog. Vegan, Keto or Low carb and gluten-free recipes.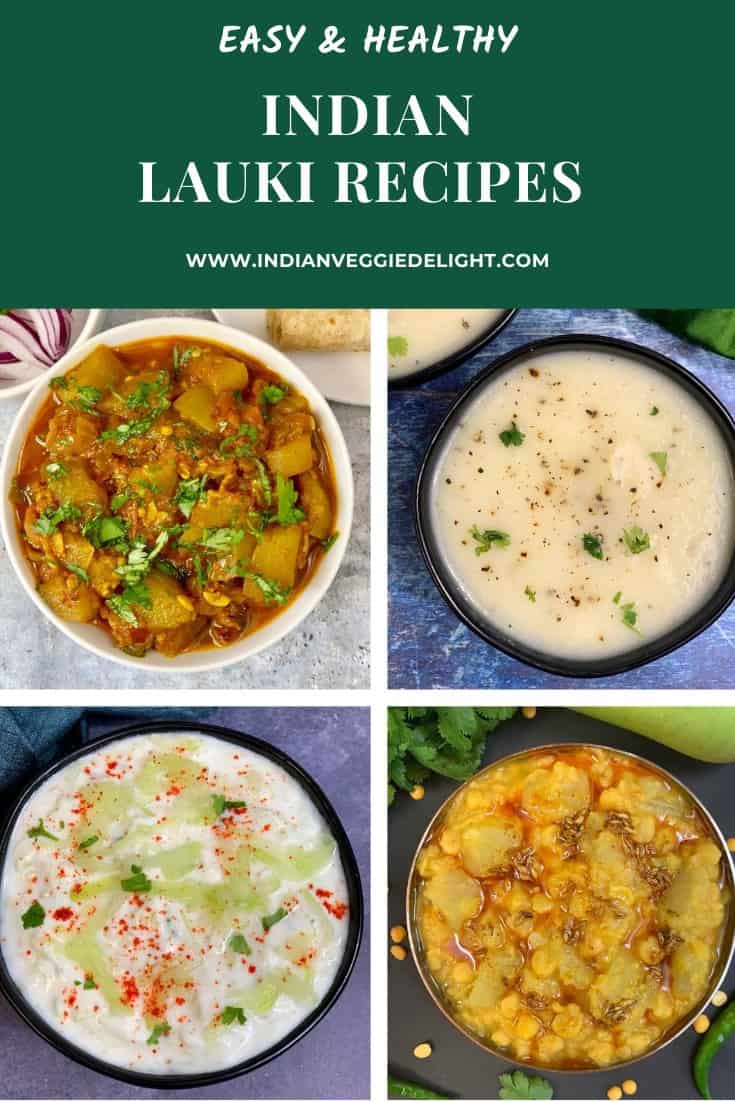 Jump to:
Bottle gourd, also known as Lauki, is a versatile vegetable that is widely used in Indian cuisine. It is a low-carb, low-calorie vegetable, a healthier substitute for starchy vegetables in the diet. It is used variety of dishes such as curries, raita, soups, and flatbreads.
From classic dishes like lauki kofta and lauki chana dal to lauki soup, lauki smoothies, possibilities are endless. Lets discover new and exciting ways to relish this delectable vegetable.
What is Lauki (Bottle Gourd)?
Lauki (or bottle gourd) is also known as calabash, long melon, which is a vine grown for its fruits, either harvested young or used as a vegetable in many countries including India, China, and Southeast Asia. This fresh, tender vegetable has a pale green smooth skin and white, bland flesh inside. It is used in Indian cuisine to make soups, curries, stews, flatbreads and desserts.
There are many names for Lauki, it's known as Bottle Gourd in English. They are also known as Cucuzza, Calabash, Opo Squash in other countries.
In some other Indian languages, it's also also known as
Hindi - Lauki
Gujarati - Dudhi/doodhi
Punjabi - Ghiya/ghia
Kannada - Sorekai
Telugu - Sorakaya
Tamil - Surai kai
Malayalam - Churakka
Marathi- Dudhi bhopala
Bengali - Lau
Nutritional Facts of Lauki?
Here is a summary of the nutritional facts of lauki (per 100 grams of lauki):
Calories: 15
Fat: 0.13 g
Cholesterol: 0 mg
Sodium: 1.44 mg
Carbohydrates: 1.68 g
Dietary Fiber: 2.2 g
Protein: .53 g
Vitamin A: 7.34 mcg
Vitamin C: 4.3 mg
Calcium: 19 mg
Potassium: 124 mg - (source)
Healthy Benefits of Eating Lauki
Aids in digestion.
Helps with hydration
Low in calories, helps to loose weight.
Boosts immunity
Supports heart health
Good for skin and hair
How do you Pick a Bottle Gourd?
Look for the following, when you are buying bottle gourds.
Select gourds that are heavy for their size and have an even, cylindrical shape.
The skin should be smooth, even and hard to the touch, with no bruises, cracks, or holes.
A healthy bottle gourd should have a uniform light green color. If it has pale yellow or light brown patches, it indicates gourd is old or overripe.
Tips for Storing Lauki
Fresh lauki: You can store the fresh lauki in the refrigerator for up to 5-7 days. Wrap it tightly in a plastic wrap and store it in the fridge.
Cut lauki: If you have cut lauki, then store it in an airtight container in the refrigerator and use it within 1-2 days.
Cooked lauki: If you have steamed or cooked lauki, you can store it in the refrigerator in an airtight container for up to 2-3 days.
10+ Indian Vegetarian Lauki Recipes
Let's have a look at the 10+ Easy Indian Vegetarian Lauki Recipes, that you'll love.
More Veggie Recipe Collections
If you've tried this easy Indian Lauki Recipes collection or any other recipe on Indianveggiedelight, then don't forget to rate the recipe. You can also follow me on Instagram and Facebook to see the latest recipes!
Other Recipe Collections to Try
♥ We LOVE to hear from you If you make this recipe, please share your food photo with hashtag #indianveggiedelight on Facebook or Instagram, so we can see it and others can enjoy it too! Thank you ♥
Subscribe to my Youtube Channel for healthy & tasty video recipes.