Looking for easy, healthy vegetable Indian Raita recipes to make as a side dish for pulao, biryani? Here is my collection of 10+ Indian yogurt dips from my blog.
You can also find a variety of other Indian vegetarian curries, beans, lentils, and rice recipes.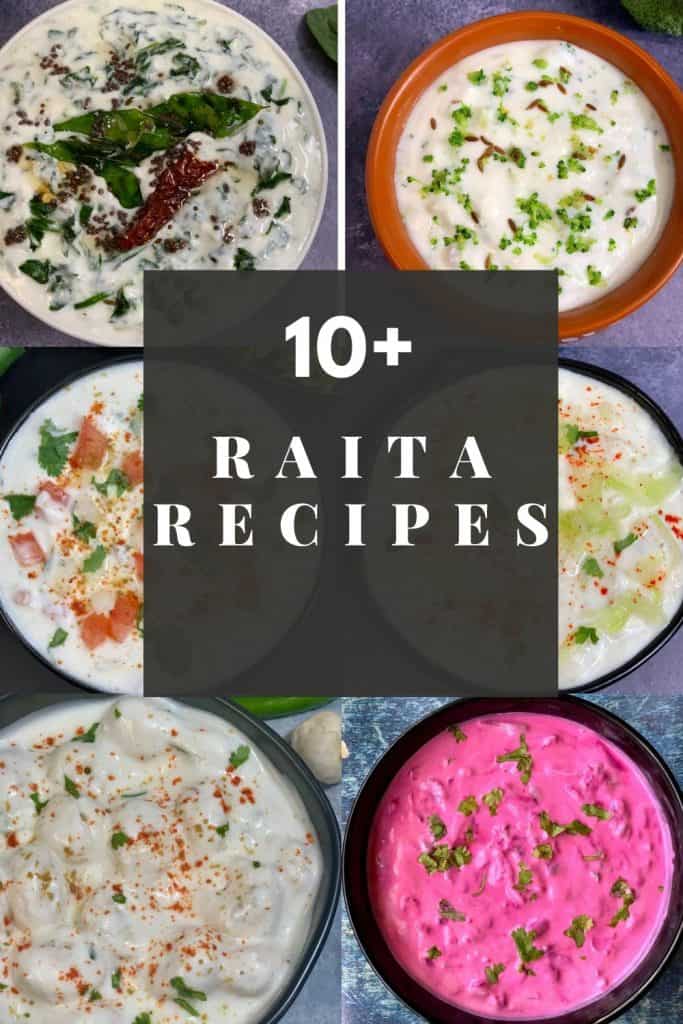 If you think of the summer, you will immediately become distracted by thoughts of cold and hydrating meals and drinks. While cold beverages like smoothies, juices, and shakes are the classic summertime choices, some particular sides and accompaniments provide a cooling contrast to our typical hot and spicy regular Indian meals.
One of the most popular additions to our lunch and dinner tables, for instance, is raitas. Thanks to the addition of refreshing dahi (yogurt). In addition to being remarkably simple and quick to make, raitas are light on the stomach, chilled, and refreshing.
Whether served alongside standard parathas, pulao, or biryani, beaten curd blended with vegetables and spices may improve flavors and provide diversity to the meal. Also, it has a tonne of fascinating variants. One just can't get enough of them, whether it's boondi raita, nutritious beetroot raita, or crisp mixed veg raita.
What Is Raita?
Yogurt that has been combined with a little bit of sugar, some spices, and sometimes vegetables and other textural ingredients is known as raita. It is an Indian condiment that is paired with a regular meal for a refreshing affair.
Here are a few Indian Raita Recipes
Let's have a look at the 10+ Indian Raita Recipes, which will offer you a variety of options:
More Recipe Collections from my Blog
25+ Instant Pot Indian Rice Recipes
18+ Instant Pot Vegetarian Soup Recipes
10+ Easy & best Veg Sandwich Recipes Indian Style
10+ Phool Makhana (Lotus Seeds) Recipes
DID YOU MAKE ANY OF THESE 10+ INDIAN RAITA RECIPES?
I'D LOVE TO KNOW HOW THEY TURNED OUT! LEAVE A COMMENT AND A ⭐️ RATING BELOW? SO WE CAN SEE IT AND OTHERS CAN ENJOY IT TOO! THANK YOU ♥
Subscribe to my Youtube Channel for healthy & tasty video recipes. Looking for Instant Pot recipes, check out my Instant Pot Recipes board on Pinterest.