Looking for easy, healthy Vegetarian Indian Moringa/Drumstick leaves recipes to make in your Instant Pot or Stovetop? Here is my collection of 10+ of the best Vegetarian Moringa recipes from my blog. Vegan, Keto, or Low carb and gluten-free recipes.
Jump to:
What is Moringa?
Moringa Oleifera is a plant called the drumstick tree belonging to the family Moringaceae. It is native to tropical regions of South Asia and India.
From its seeds (pods), flowers, fruits, and roots, almost all parts of the moringa plant are edible and have been used for medicine for centuries. It's widely used in making dal, sambar, curries, parathas, and soups in India.
Drumstick is also known by several names, such as
Nugeekayi soppu in Kannada,
Murungai keerai in Tamil,
Munagaku in Telugu,
Muringayila in Malayalam,
Shajan in Hindi,
Shevaga in Marathi.
Moringa Leaves Nutrition
Moringa greens are an amazing source of essential vitamins such as vitamin B complex, C, K, and beta carotene. Also rich in minerals like calcium, iron, zinc, and manganese and has a good amount of protein and dietary fiber.
Moringa leaves are a powerhouse of antioxidants that can protect your cells from damage and may boost your immune system.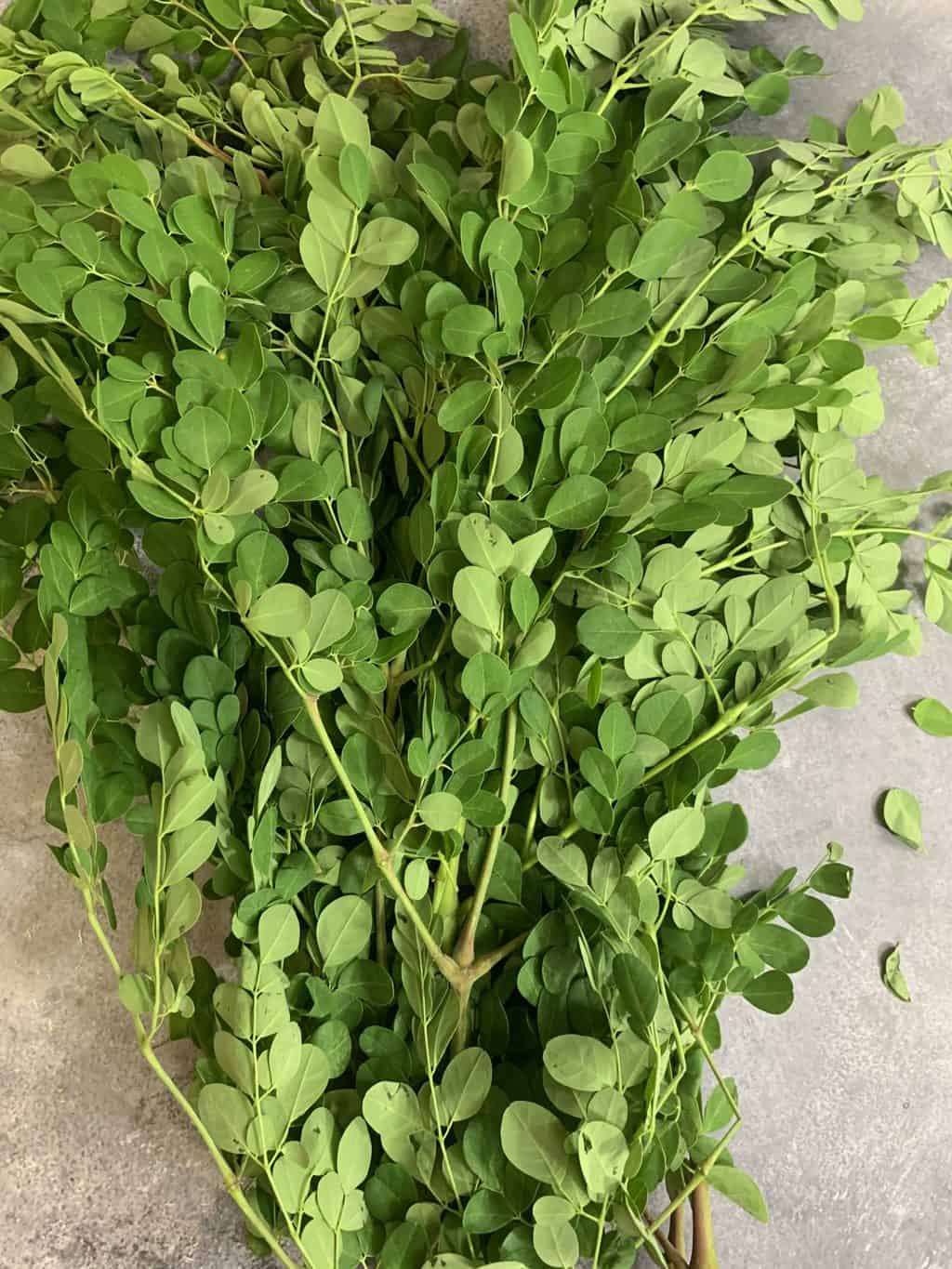 Health Benefits of Moringa/Drumstick Leaves
Moringa is a superfood and has multiple health benefits, few are
Good For Heart
Regulates Diabetes
Lowers The Risk Of Cancer
Fights Infection
Reduces Cholesterol Level
Good for Pregnancy And Lactation
Where do you find fresh Moringa leaves?
You can find these fresh moringa leaves at your nearest Indian grocery stores here in the Bay Area, California. You can also find them in your local farmer's market or health food stores.
When you have excess, you can also spread fresh drumstick leaves on a cloth or large plate and sundry in a covered area for 1-2 days (do not put in direct sunlight as it will affect the green color of the leaves) or can be dried under the fan as well. Use them when fresh leaves are unavailable.
Also check vegetable recipe collection
10+ Indian Vegetarian Moringa/Drumstick Leaves Recipes
Let's look at the 10+ Indian Moringa Leaf Recipes, which will offer you various options.
I hope you have found your favorite Moringa recipe to make. If you find anything missing from the list, don't forget to comment below with your request.
This recipe collection list is only bound to grow more and more, as I cook more interesting recipes. So do make sure, to bookmark this page by clicking the heart icon ❤️ on the right-hand side.
OTHER RECIPE COLLECTIONS TO TRY FROM MY BLOG
♥ We LOVE to hear from you If you make this recipe, please share your food photo with hashtag #indianveggiedelight on Facebook or Instagram, so we can see it and others can enjoy it too! Thank you ♥
Subscribe to my Youtube Channel for healthy & tasty video recipes.