Looking for delicious and easy-to-make Indian vegetarian chaat recipes? Here is a collection of classic and innovative fusion chaat recipes that will tantalize your taste buds!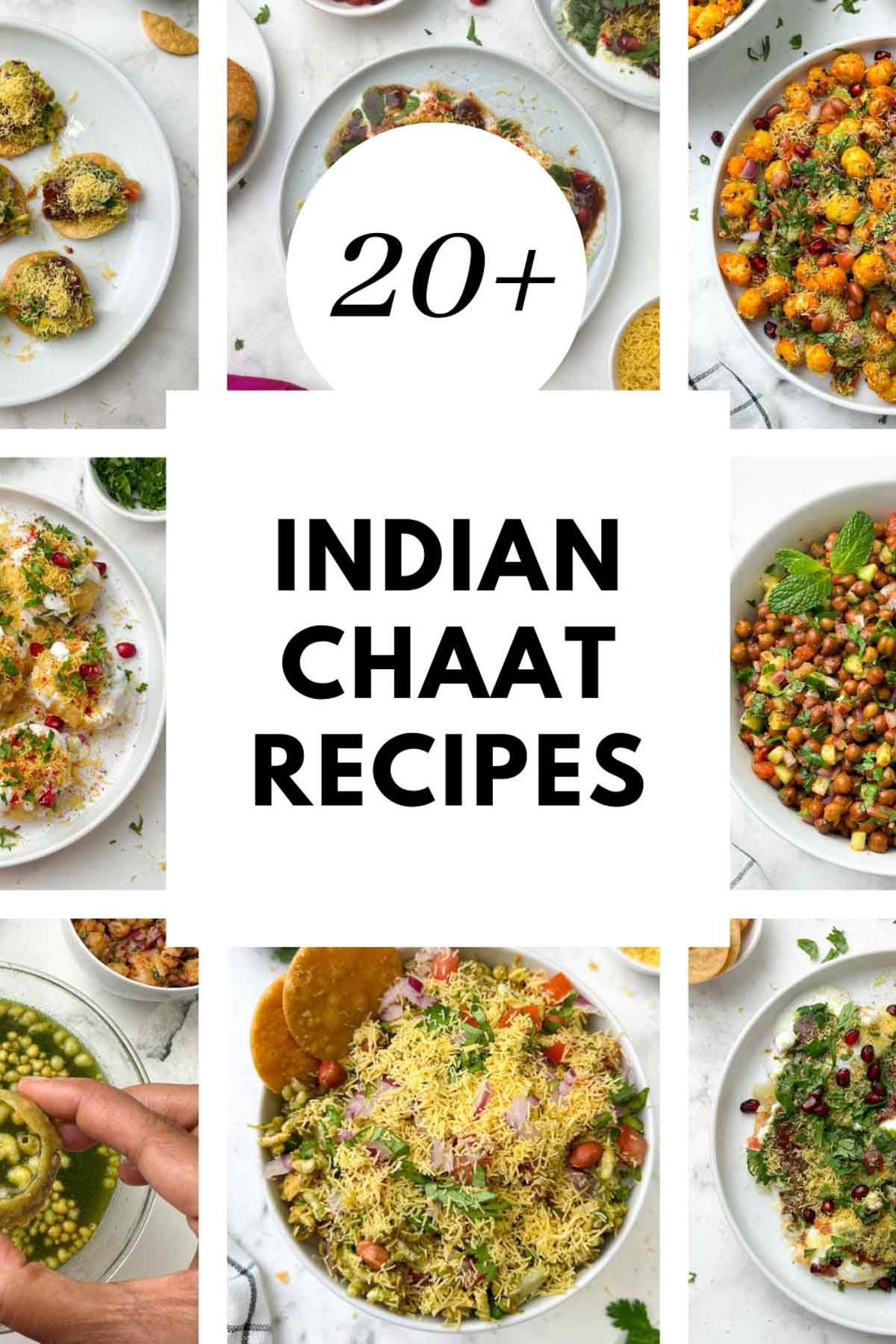 We must admit that a hot plate of chaat captures our hearts instantaneously. Chaat is an indulgence of flavorful tikki, papdi, bhalla, etc, served with aloo, chutney, masala, and sev.
Indeed, it would not be an exaggeration to claim that chaat characterizes India's street food culture. And if you look closely, you might discover different kinds of chaat all around India. The list of delectables includes classic favorites like papdi chaat, dahi bhalla, basket chaat, samosa chaat, raj kachori, gol gappe, and more to innovative fusion twists like avocado pani puri, sweet corn chaat. Each of these recipes fills our taste with an explosion of flavor.
The wonderful thing is that chaat recipes allow you to be as inventive as you like. Simply changing a few components will make it distinctive and likable to your taste.
Jump to:
What Is Chaat?
The name "chaat" is believed to have originated from the chatpatta flavor and feeling, which is best described as salty, sweet, and tangy in most savory Indian snacks and dishes.
It may also possibly have been derived from the term chatna, which means "to lick" when enjoying a flavor on the sides of the tongue. Chaat can be prepared in several ways and with a wide range of components.
20+ Indian Vegetarian Chaat Recipes
We have created a list of a few of our favorite Indian chaat recipes. Read below to learn about them in detail.
Fusion Chaat Recipes
More Recipe Collections
If you've tried this easy Indian vegetarian chaat recipes or any other recipe on Indianveggiedelight, then don't forget to rate the recipe. You can also follow me on Instagram and Facebook to see the latest recipes!