Looking for vegetarian Indian Food Gluten-free recipes? Here are the best delicious 60+ gluten-free dishes from breakfast, appetizers, main dishes, and desserts that your family will love.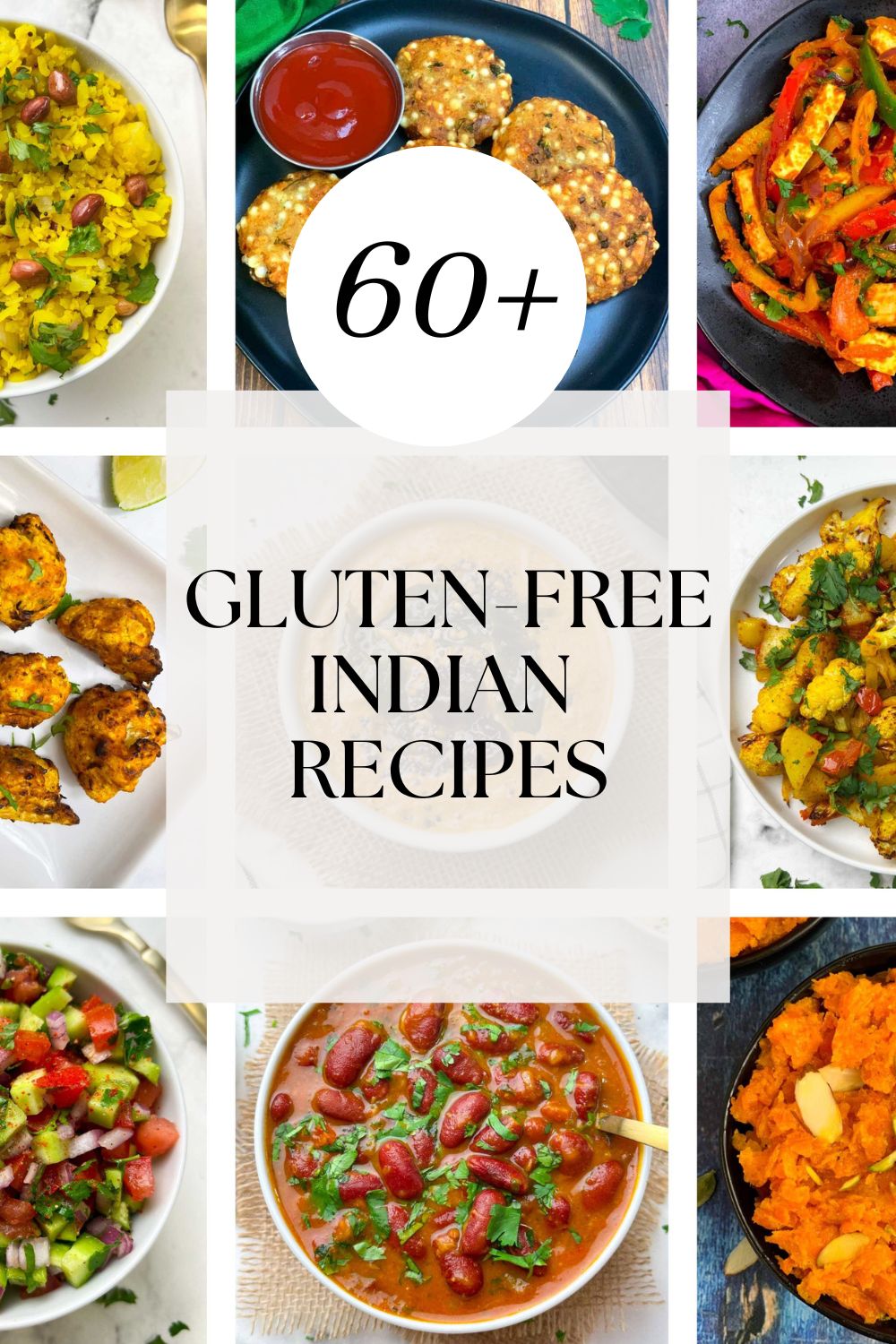 Jump to:
Most of the recipes in Indian cuisine are naturally gluten-free that include gluten-free ingredients such as rice, millet, veggies, beans, and legumes like chickpeas and lentils. Heritage or ancient gluten-free grains include Bajra, Jowar, Ragi, Amaranth, and Rice.
Recipes with wheat, rye, barley, or food products cross-contaminated with gluten must be removed for a "Gluten Free Diet". Hing (Asafoetida) is one of the common spices which mostly has gluten, and is found in store-bought spice mixes in India. Hence its recommend to buy whole spices and make spice mixes at home to avoid cross-contamination.
These days, a lot of Indian restaurants carry specific gluten-free menus or have items labeled as gluten-free on their regular menu. If you do not see anything labeled as gluten-free, make sure to discuss it with the chef or waiter of the restaurant as a lot of Indian dishes are inherently gluten-free.
So here is the blog post with a collection of 60+ gluten-free Indian recipes that you will love. You can find 150+ gluten-free recipes on my blog.
What is Gluten? Who needs to avoid it?
Gluten is a naturally occurring protein largely found in grains like wheat, barley, and rye. It is common in foods such as bread, pasta, pizza, cakes, and cookies. Gluten makes the bread airy and chewy texture.
For people who have gluten sensitivity or celiac disease, eating gluten can have an immune reaction and cause serious health issues.
How do you Avoid Gluten in Indian food?
Replace whole wheat flour (atta), with chickpea flour (besan), jowar flour, ragi flour, bajra flour, quinoa flour, almond flour, or coconut flour to make Indian breads like roti or chapati.
Avoid using Hing (Asafoetida) or use gluten-free Asafoetida.
Substitute semolina (sooji/rava) with gluten-free options like quinoa flakes, millet, rice, or tapioca pearls (sabudana).
Use Gluten-free oats instead of regular oats. Oats themselves do not contain gluten but may be cross-contaminated while it is processed.
To thicken curries, and sauces use arrowroot powder, cornstarch, or almond meal instead of all-purpose flour (maida).
Tips for Gluten-Free Eating
Here are a few examples of gluten-containing ingredients that may sneak in, when preparing an Indian dish.
Spices: Indian spices are mostly gluten-free. Garam masala, curry powders, turmeric, cumin powder, coriander powder sitting in your pantry are naturally gluten-free. Just check the ingredients list on the spice packets to ensure they don't have any added "Wheat flour" or "Maltodextrin". A common spice called Hing (or Asafoetida) nearly always contains wheat flour. So use or buy gluten-free asafoetida (compounded asafoetida).
Indian breads like Naan, Chapati, Poori, and more: Many Indian breads are made with whole wheat flour or all-purpose flour (maida).
Maida: Finely milled refined wheat flour is found in Indian fast food,sweets, breads, namkeens, cookies, cakes, and other items.
Sooji (or Rava): Semolina is wheat-based and is often used to make batter for Indian dishes, upma, idli, ladoo.
Vermicelli (or Semiya): Indian-style thin noodles made from wheat.
Fried foods: Fried foods like cutlets, and koftas often contain breadcrumbs that contain gluten. Also, there is more risk for cross-contamination as they are cooked in the same oil, or fryer.
60+ Vegetarian Gluten-Free Indian Recipes
Let's have a look at the 60+ Easy Indian Vegetarian Gluten-Free Recipes.
Breakfast Recipes
Appetizers and Snacks
Salads
Curries & Stir-fries
Lentils, Beans & Peas
Rice Recipes
Condiments
Chutneys, pickles (achaar), and raita, are the essential condiments in any Indian meal.
Desserts
I hope you found your favorite Indian Gluten-Free recipe to make for your next meal. This recipe collection list is only bound to grow more and more, as I cook more interesting recipes. So do make sure, to bookmark this page by clicking the heart icon ❤️ on the right-hand side.
If you've tried this healthy gluten-free Indian recipe collection or any other recipe on Indianveggiedelight, then don't forget to rate the recipe. You can also follow me on Instagram and Facebook to see the latest recipes!