Looking for delicious and easy-to-make Best Vegan Indian Recipes? Here is a collection of authentic and wholesome Indian plant-based dishes, from flavorful curries to dals, savory snacks to rice dishes, that will tantalize your taste buds!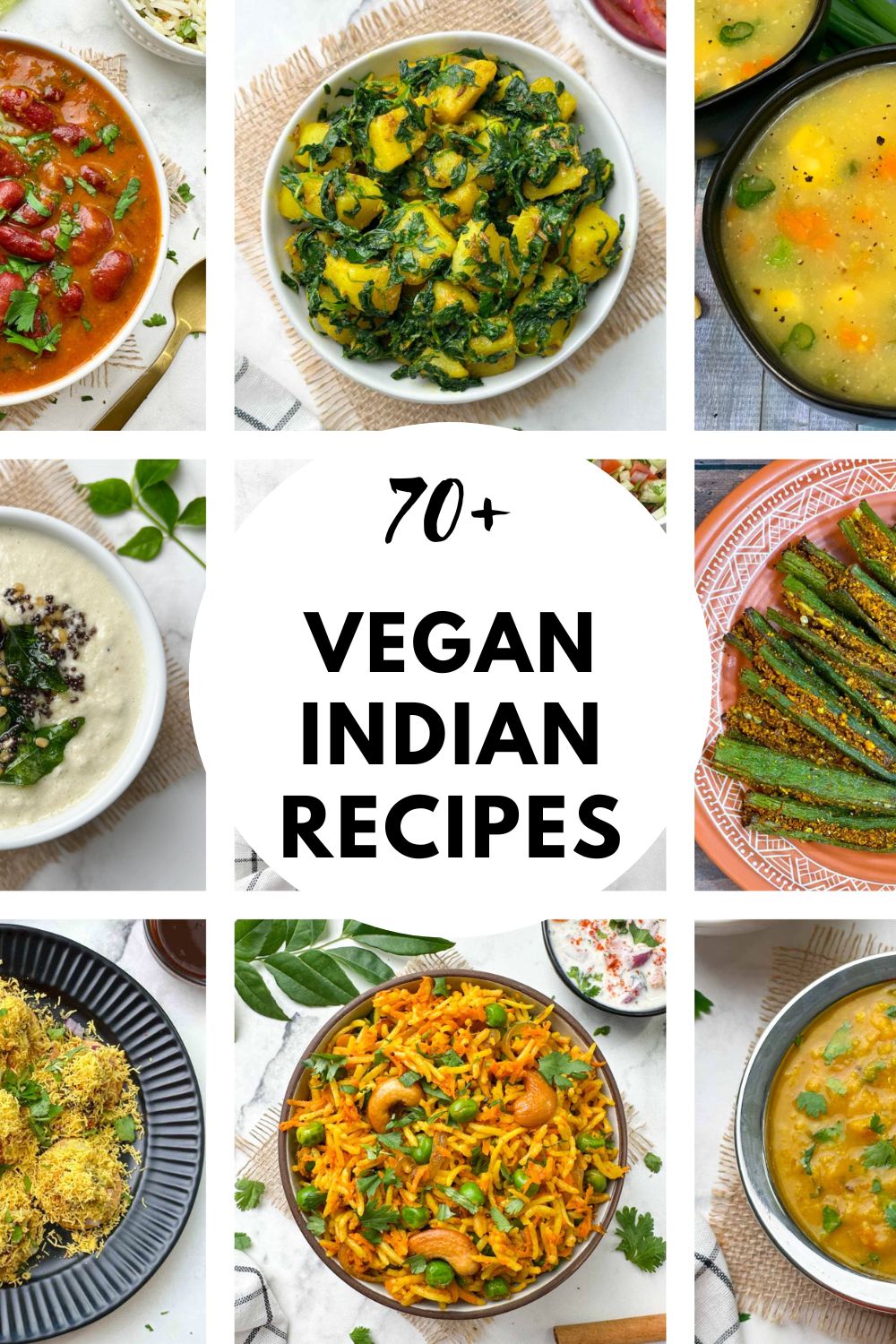 Indian food is one of the best cuisines in the world, and nobody can deny that. Its rich flavors, diverse ingredients, and health benefits truly set it apart. Vegan dishes from India are delicious, varied, and nutritious. They contain a wide range of ingredients, including lentils, chickpeas, vegetables, spices, and herbs.
Chana masala, aloo gobi, baingan bharta, and samosas are a few of the most well-liked foods. The use of herbs and spices in Indian cooking is well recognized for giving the food flavor and nutrients. Indian vegan meals are a wonderful way to consume tasty food while eating healthy. Having said that, we have shortlisted 70 Vegan Indian recipes for you all. These recipes are tried and tested!
Jump to:
How to Veganize Indian Recipes
Indian cuisine consists mostly of Vegetarian recipes. However, with a few substitutions, many of these dishes can be made entirely vegan. Here are some common substitutions to consider:
Substitute Meat/Chicken With Pulses:
Pulses are a staple of Indian cuisine and a good source of plant-based protein. They are also high in fiber and complex carbohydrates. You can prepare different curries, soups, and even some snacks by using pulses.
Substitute Ghee With Vegan Butter Or Coconut Oil
Vegan butter and coconut oil are both good options for baking and cooking. They both have a very mild flavor and are also nutrient-rich.
Substitute Yoghurt With Plant-Based Yoghurt:
Plant-based yogurt is made from non-dairy ingredients. It involves ingredients like soy, almond, or coconut milk.
4. Substitute Paneer With Tofu.
Tofu's versatile texture and ability to absorb flavors make it a great alternative for paneer in curries, tikka masala, bhurji, tandoori, and more.
70+ Vegan Indian Recipes
Let's have a look at the 70+ Easy and healthy Indian Vegan Recipes that you can make for your breakfast, lunch, or dinner at home.
Chutney & Condiments
Salads & Soups
Appetizers & Snacks
Breakfast
Breads
Main Dishes (Lentils & Curries)
Rice & Millet Recipes
More Recipe Collections
If you've tried these easy vegan indian recipes or any other recipe on Indianveggiedelight, then don't forget to rate the recipe. You can also follow me on Instagram and Facebook to see the latest recipes!