Looking for Vegetarian/Vegan Keto Diet Indian Food Recipes to make in your Instant Pot or Stovetop? Here is my collection of 70+ Best Indian Keto or Low Carb Recipes from my blog.
You can also find a variety of other Indian vegetarian keto curries, breakfast, and dessert recipes.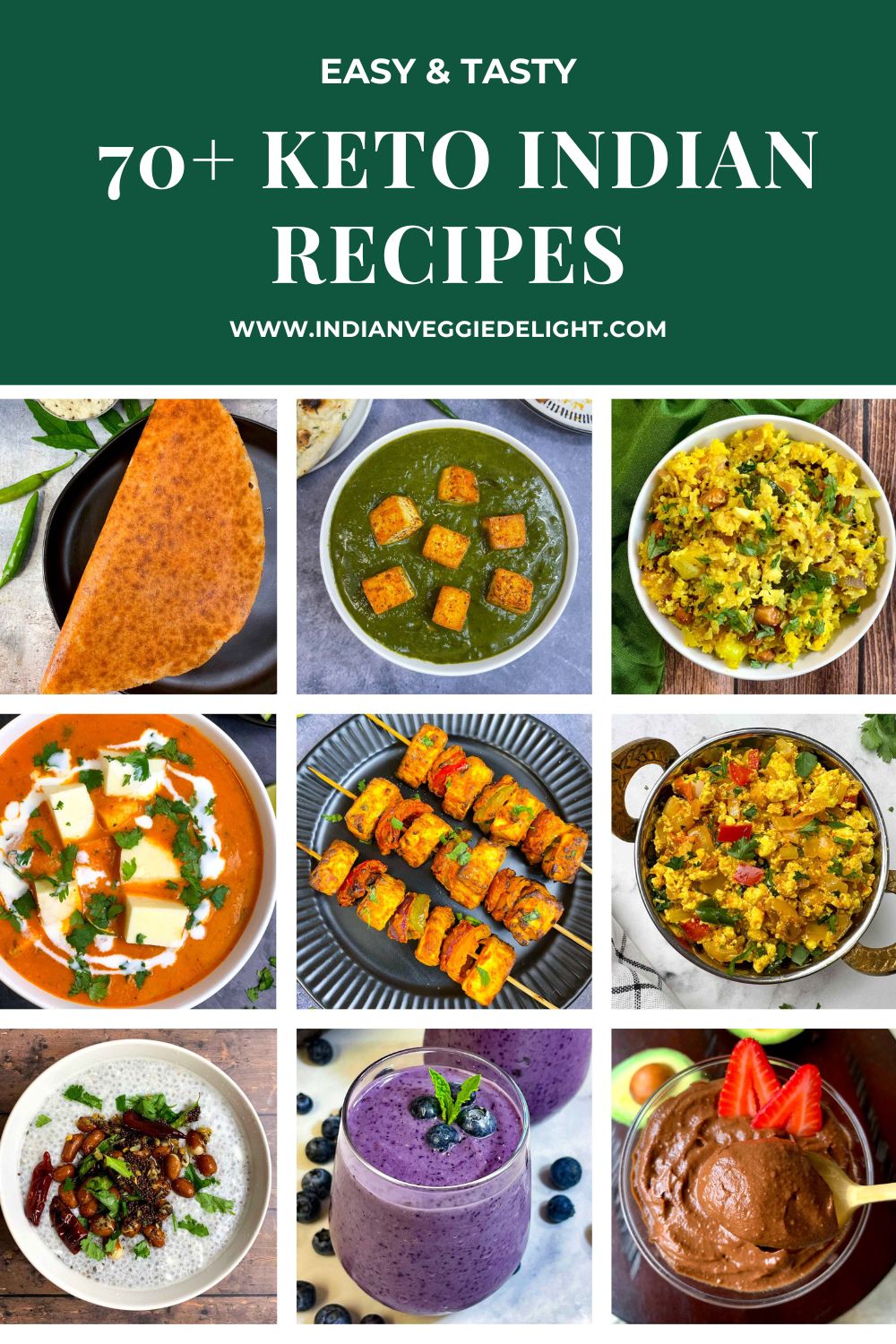 Jump to:
What is Ketogenic Diet?
The ketogenic diet is a high-fat, adequate-protein, low-carbohydrate diet. The diet forces the body to burn fats rather than carbohydrates - Source Wiki.
How does Keto Diet work?
The key with any keto diet is to trigger the process called ketosis. It's actually a process to force your body to utilize the excess fat as energy instead of carbohydrates.
On the contrary, the logic should be that anything high in fat or protein but low in carbs can be considered a keto food since that will trigger the ketosis process.
What foods should you strictly AVOID while on Keto?
Legumes or Beans: chickpeas, lentils, green peas, kidney beans, etc.
Root vegetables like potatoes, yam, sweet potatoes, carrots, beetroot, etc.
Grains and Cereals like whole-wheat products like bread, pasta or crackers, rice, barley, millet, semolina, bulgur, oatmeal, cereal, etc.
Fruit: all fruits, except avocado and moderate portions of berries like strawberries, blueberries, and raspberries.
Sugar or Sweeteners like carbonated drinks, sweets, fruit juice, pastries, smoothies, ice cream, candy, chocolates, jaggery, honey, maple syrup, coconut sugar, agave, dates, etc.
Unhealthy Fats: processed vegetable oils, trans fat, etc.
Alcohol: beer, wine, liquor, or cocktails.
Sugar-free diet foods: sugar-free chocolates, sweeteners, syrups, puddings, desserts, etc.
What foods to eat on Keto?
Eggs: local, pastured, or omega-3 whole eggs.
Low Carb Veggies: cauliflower, french beans, broccoli, mushrooms, bottle gourd, brinjals (eggplant), zucchini, bell peppers, asparagus, green leaves like spinach, kale, tomatoes, onions, peppers, etc.
Butter and Cream: grass-fed butter, heavy cream, coconut cream. Peanut butter and almond butter are also good options.
Cheese: unprocessed cheeses like mozzarella, cheddar, cottage cheese (paneer), goat, cream cheese, or, blue.
Nuts and Seeds: almonds, walnuts, pecans, hazelnuts, flaxseeds, pumpkin seeds, chia seeds, hemp seeds, etc.
Healthy Oils: extra virgin olive oil, clarified butter (ghee), coconut oil, and avocado oil
Sweeteners: stevia, erythritol, xylitol, monk fruit
Avocados: Whole avocados or homemade guacamole
Condiments: salt, pepper, herbs, and Indian spices
How to follow an Indian Vegan Keto diet
Designing an Indian Keto diet plan for vegans may be a little complicated, but some options are still open.
Soy milk, almond milk, coconut milk, nuts (almonds, walnuts, peanuts), and seeds (such as flax seeds, chia seeds, pumpkin seeds, and hemp seeds) are good options to include in your diet, other than vegetables.
Disclaimer: I am NOT a doctor, nutritionist, or dietician, so please don't take any of this as medical advice. One must only go on a Keto diet after consultation with an expert or doctor.
My husband tried the Keto diet for a considerable amount of time & his weight loss was very, very evident. Many of my friends asked what Indian food is, keto, So I wanted to document the recipes and share them. The collection below is the Keto diet for Indian vegetarians without eggs recipes.
There are many types of Keto diet, namely Strict (clean) keto, Dirty keto, and Lazy keto. So my husband followed the Lazy keto diet, which is a less restrictive option than a standard keto diet for tracking macronutrients. This could help someone lower their carbohydrate intake and potentially lose weight.
I have taken the liberty to share certain keto alternatives for some recipes shared below, which may not be completely keto compliant. This prevents people from getting overwhelmed when they switch to a Keto diet plan. This is left to the individual's preferred keto diet choice as we know there are multiple types of ketogenic diets available. So stick to what suits your diet plan.
I promise to keep updating this collection with more delicious recipes.
Low Carb/Keto Diet Indian Food Recipes
Let's have a look at the 70+ Easy Keto (Low Carb) Indian Vegetarian Food Recipes, which will give you a bit of flair for your keto diet.
Keto Breakfast Recipes
Keto Appetizers/Snacks
Keto Curry Recipes
Keto Soup & Salad Recipes
Keto Lunch/Dinner Recipes
Air Fryer Roasted Vegetables
Side Dishes/Condiments
Keto Juice & Smoothies
Keto Dessert Recipes
60+ Gluten-Free Indian Recipes
25+ Instant Pot Indian Rice Recipes
18+ Instant Pot Vegetarian Soup Recipes
12+ Instant Pot Indian Dessert Recipes
15+ Paratha Recipes|Indian FlatBread Recipes
10+ Easy & best Veg Sandwich Recipes Indian Style
DID YOU MAKE ANY OF THESE KETO INDIAN FOOD RECIPES?
I'D LOVE TO KNOW HOW THEY TURNED OUT! LEAVE A COMMENT AND A ⭐️ RATING BELOW? SO WE CAN SEE IT AND OTHERS CAN ENJOY IT TOO! THANK YOU ♥